In the category of standout childhood memories, learning to ride a bike has to be one of the most cherished, especially in our mountain towns. Learning how to ride a bike involves going outside, spending time with your parents, constantly hitting dirt and grass, and that beautiful, freeing moment when you can finally balance and glide alone on two wheels. A childhood bike ride is a rite of passage, a step into independence, and a fabulous use of family time. It's also on decline.
The National Sporting Goods Association shows a 43% drop in childhood cycling since 2000. Compound that with a national rise in childhood obesity, decline in mental and emotional health, and a decrease in quality family time, and our youthful memories are starting to look a little different. Teton Valley residents, former bike shop owners, and current creative minds behind the Buddy Pegs children's series, Scott Fitzgerald and his wife Jannine, are working to change that.
"The bicycle is an important part of growing up beyond our nostalgic memories," says Fitzgerald. "Bikes help kids develop self-confidence, resilience, a sense of freedom and independence, a connection to others, their community, and the outdoors." That's a lot to lose, which is why the family has created a line of storybooks and podcasts designed to get kids back on bikes.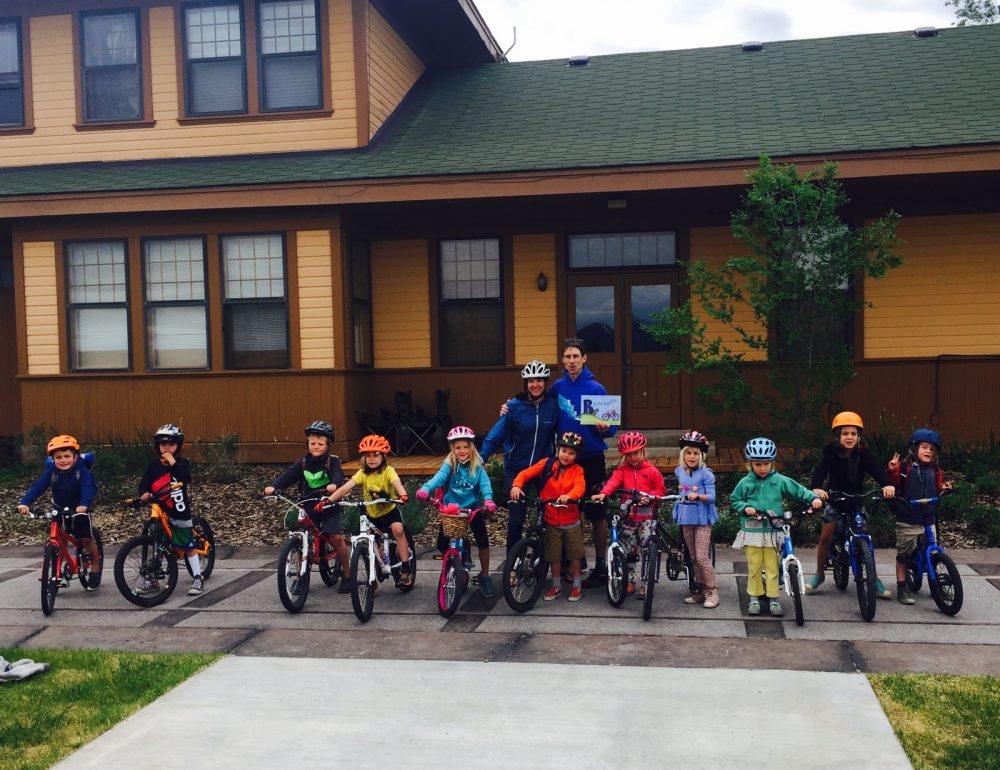 Bikes have shaped much of Fitzgerald's life. After moving west and working as a bike mechanic, he and his wife opened up their own shop in the Teton Valley. That shop, Fitzgerald's Bicycles, became the largest bike-only shop in the region, while making national top-100 and top-50 lists.
In their 14 years running the business, the Fitzgeralds gained a sense for how cycling and riding could build healthy citizens and strong community. "We grew more and more passionate about bicycle advocacy and getting more people on bikes," says Fitzgerald. "At that same time, our son was born and children's media entered our lives."
The world of Buddy Pegs, which includes a book and podcast series, will launch its second book Kickstarter campaign on June 20th.
Soon, their household was run not only on the chatter of cranks and part orders, but on the lives led by their son's favorite characters. They watched as childhood cycling declined, and multimedia elements changed the way kids interacted with stories, and decided to create their own healthy story telling.
"Kids today get bombarded with media and gadgets that don't set them up for success," says Fitzgerald. "We build old-school media for modern kids." Old-school media includes physical storybooks as well as audio podcasts that encourage kids to develop creativity and cognitive abilities through listening, rather than passively watching a screen.
So, the Fitzgeralds created the world of Buddy Pegs, where the citizens of Spokesville run their bike shop and have adventures with their animal pals. They have launched one Buddy Pegs book, and are gearing up for their second launch, fueled by the Kickstarter campaign on June 20th. They also write, produce, and publish free podcasts on a weekly basis that chronicle the lives of their characters in an easy, accessible way.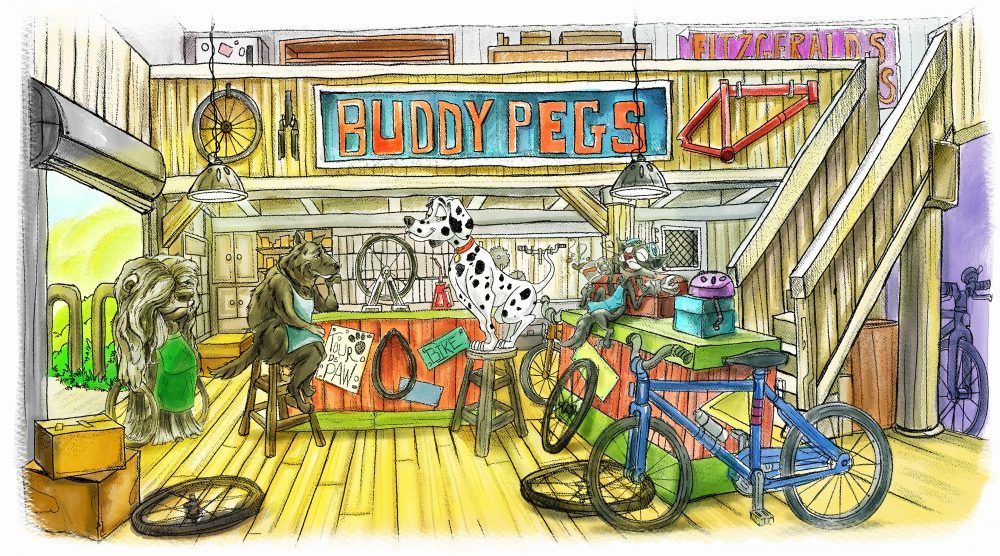 "Kids used to sit around the radio and listen to stories. Now, parents can play a podcast in the car, or when they're making dinner to entertain their kid," says Fitzgerald. "We're building an ecosystem of stories and platforms where kids can connect with characters in a modern, authentic way."
The goal of the Fitzgeralds is not just to write good stories, but to build healthy lives that encourage hard work, community values, and a sense of adventure. "Bicycles have brought me all the great things in my life" says Fitzgerald, he hopes they can do the same for today's kids, too.
To listen to Buddy Pegs podcasts, order their first book, or support the launch of their second, visit BuddyPegs.com. Be the first to contribute to their June 20th campaign and receive VIP rewards like swag and book discounts.