Consider the experience of walking into a bike shop. There always seems to be an organized chaos and upbeat energy to these spaces, doesn't there? The room is characterized by the smell of fresh tires, the seemingly endless array of gear new and old, and the phone ringing off the hook in the busy season. The sounds of wrenches, pumps, and ticking wheels dance with each each other, as do the steady team of bike mechanics. Sometimes it's worth visiting a shop just to watch these technical magicians glide over, under, and past each other to adjust, tighten, or grease their respective bike part. The scene is whimsical, yet get-things-done-sical, and is the fuel to many-a-bike-junkies' daydreams.  
Now, hone in on your image of the mechanics themselves. They're probably a little greasy, rather busy, and undeniably happy. In all likelihood, they are also all male. That's not surprising, because there just aren't that many female bike mechanics. Although the rate at which women participate in the bike industry (riding, competing, recreating, working) is nearly equal to men, only 10% of those women are mechanics. Why are female bike mechanics so scarce, and what's going on to change that scarcity?
Kelly Valyou might be able to answer those questions.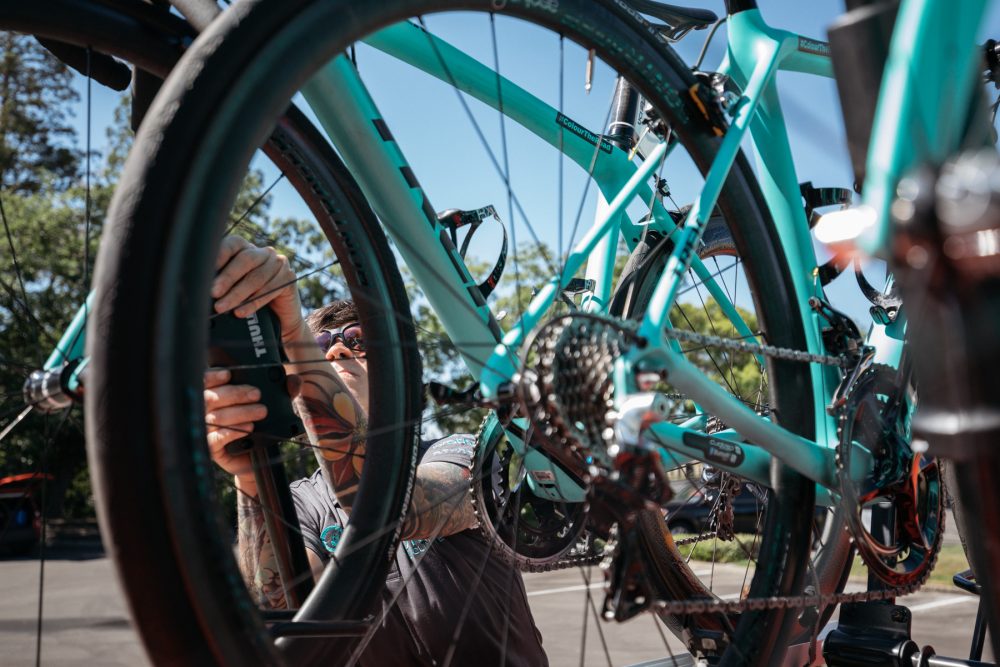 Native to upstate New York, Valyou has bounced around the west working for different shops and pursuing different projects in the bike industry. She currently works as an "ordinary mechanic" at Bicycle Sport Shop in Austin, Texas. As it turns out, her story of being an ordinary mechanic is an extraordinary accomplishment.
"It's very hard to break into the scene," says Valyou of the bike service industry. "Being a female mechanic takes certain personality, a huge level of patience, and drive, and ability—to be shut down consistently and always go back for more." While there are classes and certifications necessary to work as a mechanic, almost all of the job's skill comes from apprenticeship and experiential learning. So, anyone who wants to be a mechanic has to find both a teacher who will work with them and clients who will hire them.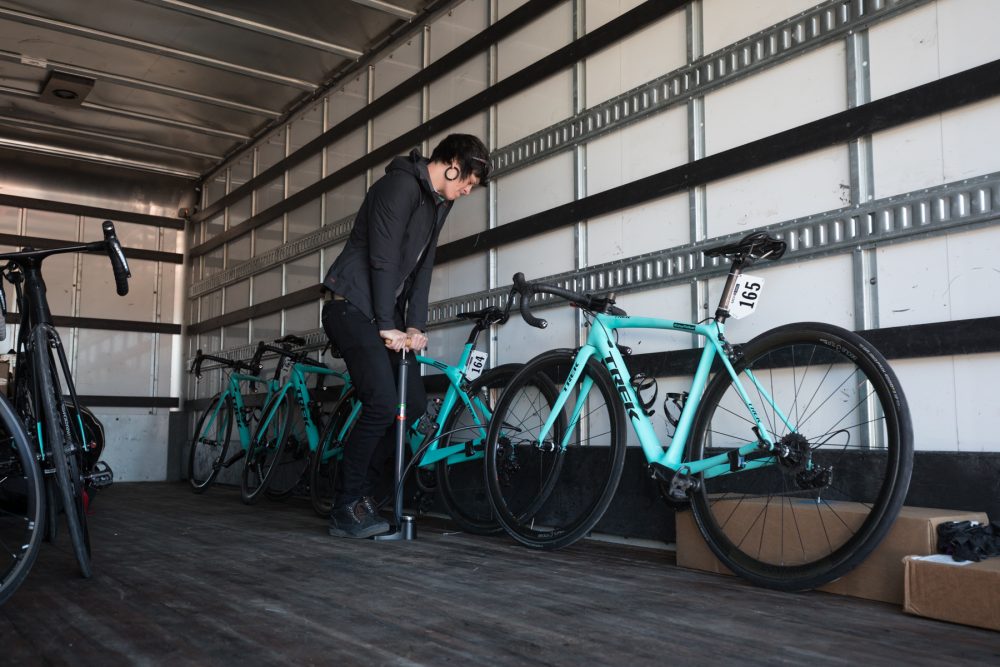 Demographically, the cycling community, particularly in mountain biking, is becoming more and more representative of the population, at least in terms of gender. So, as the number of female cyclists continues to grow, why aren't there more female bike mechanics?
"It's intimidating, and a constant battle," Valyou answers. She works at a large shop in Austin that employs 10 other mechanics and service people. "A customer, man or woman, will always look to the male mechanic rather than me. That's based on years and years of assuming that men are more technically advanced than women, which obviously isn't true."
Again, most people just don't expect to see a woman at the mechanic's desk. Facing those false assumptions and stereotypes became a regular part of Valyou's job. "Being constantly shut down like that is tough. I work full time, that's nine hours a day, five days a week of being questioned on my abilities," she says. After a while, though, any mechanic earns the respect of their clients or their shop that opens doors to greater opportunities.
Last year, Valyou received a scholarship to attend Trek's Certified Service course for expert technicians. As part of the program, she was flown to Trek headquarters in Wisconsin where she spent a week learning about technique, product, and hardware specifics from representatives from other leading brands in the industry. Shortly after her graduation from the course, she received an offer from Trek to go to the Tour of California and support their women's pro team. She had to say yes.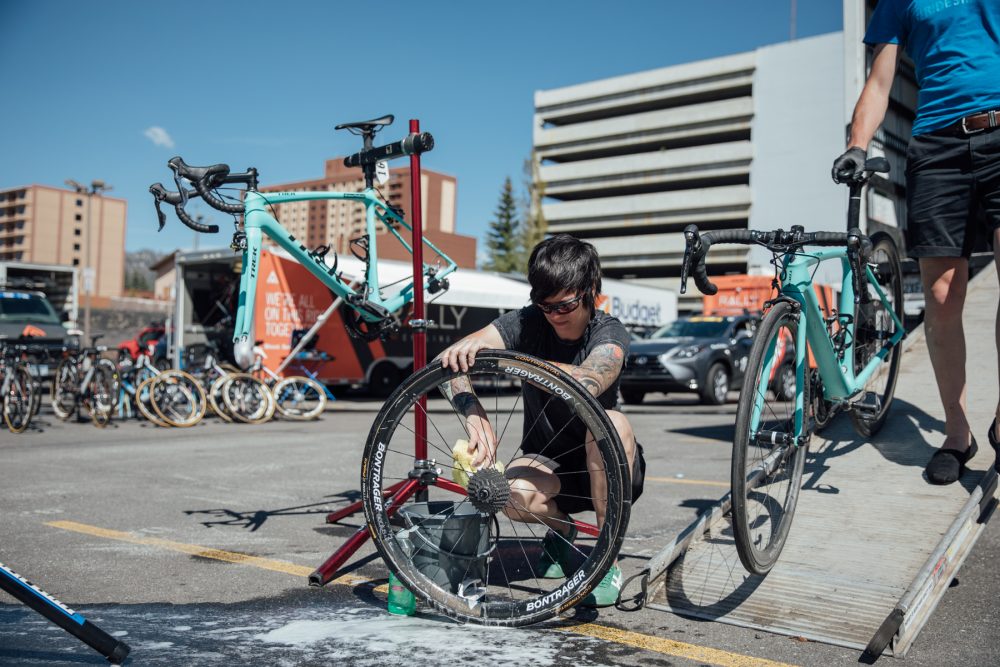 "At first I was definitely a little intimidated," she says of the opportunity. She had never worked for a pro road team before, and being a mountain biker, wasn't sure how she would handle the pressure of such a big road race. Upon meeting the team of young riders from the UK, her nerves settled. Where she expected intensity and pressure, she found confidence and comfort. The team saw no technical difficulties during the stage race, which, in the best possible way, disappointed Valyou.
"You hope not to have to jump out of the car, because that means it's not good for your team," she says, referring to the support vehicle that follows athletes during the race. "But, I really wanted to jump out of the car, at least just to see what I could do under pressure. I always want to test my abilities, to see where I can improve or what I can do better next time."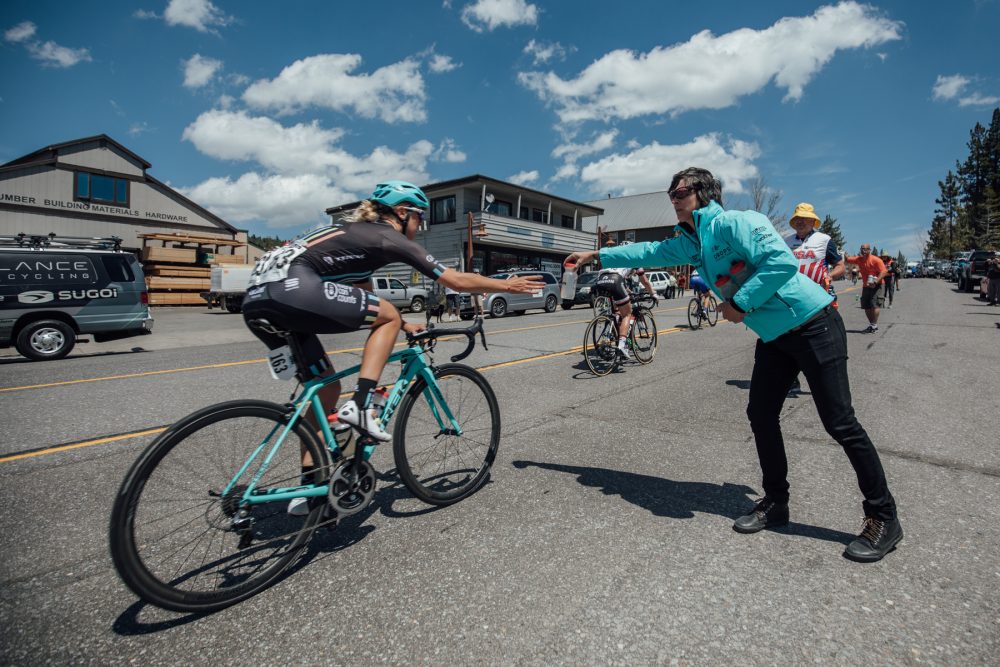 That desire for stress, for the chance to perform, only comes with a certain amount of comfort and confidence in one's abilities. Contrary to how some women might feel, Valyou has embedded herself into the cycling community and made the space her own. I ask her how she thinks more women can do the same.
"Offer courses. Volunteer. Give opportunities," she answers. Like Trek offering scholarships for women to get their certifications, she has set up informal classes through Bicycle Sport specially for women. These classes regularly reach max capacity.
Additionally, there are dozens of women's riding clinics and groups available in different towns and regions. These low-pressure situations that are about learning to ride and having fun makes women feel ownership over an activity that may originally have felt foreign to them. Valyou volunteers with a group called Ride Like a Girl in Austin.
"The best part of these things is the open discussion. Women can ask me anything and we can talk about it," she says. "That conversation creates and openness and awareness. There's a way that women teach each other that has a certain energy and empathy, and that's liberating." In other words, no one coming to her clinics is feeling like a stupid girl who doesn't know how to change a tire, which is just the kind of sentiment that keeps women away from the technical aspects of sport.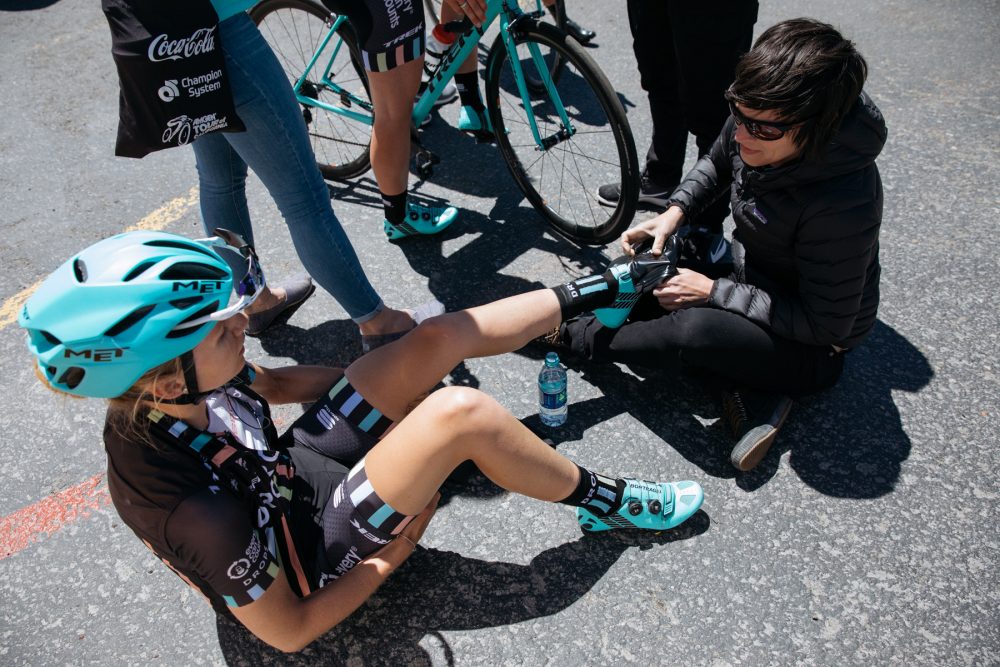 "That's why I keep kickin it in the field. Not only is it my passion, but I love helping empower women. I hope to go further and get to become an ambassador for women in some way or form." Some would say that, by virtue of her choice of profession, she's already done so.
To finish, I ask her what technical things she loves most about being a bike mechanic.
"I love doing suspension. I love rear air can services, dropping the lowers of the fork. Fixing flats really fast. It's what I do. I love wrapping bars and making them look perfect and beautiful. I love problem solving any derailer issues, knowing the sound and feel to fix the problem. And my range goes from anything from the 1970s to 2017, so I'll be restoring a hybrid and then installing a shock next, you know?"
No, I do not know. But I sure as hell would hire her to do all of that and maybe even teach me a thing or two.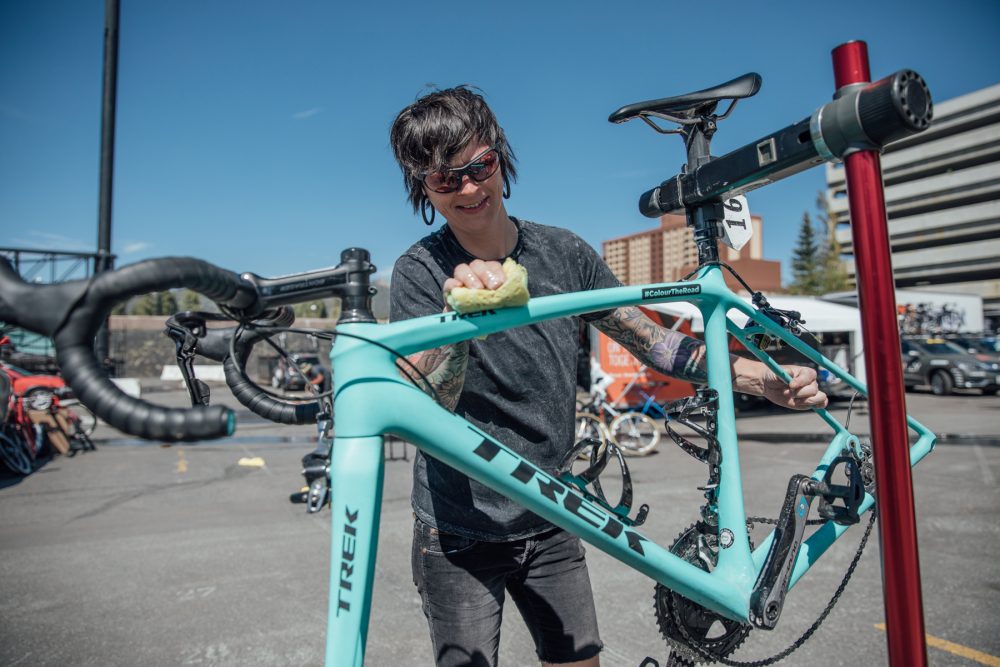 Are you a woman who likes bikes? Get involved in your community with these resources and groups:
California:
Truckee Women's Mountain Bike Camp
Women-tailored Mechanic Clinic in Reno
Colorado:
Idaho:
North Idaho Princess Pedalfest
Sun Valley Women's Bike Clinic
Montana:
Whitefish Great Northern Cyclery
New Mexico:
Santa Fe Bike Maintenance Basics
Oregon:
Utah:
Park City Trek Mountain Bike Clinic
Wyoming:
National Mechanic Opportunities:
Trek (the program Valyou attended)