My introduction to Cody Barnhill's Alaska roots? An iPhone photo taken that afternoon of Cody's trip down memory lane with his best friend from high school, Saraj Gottstein. The photo captured the two of them in mid-air doing a full moon, booty-out, spread-eagle jump off of a cat track just below the top of the tram at Alyeska Ski Resort. Apparently, this is a Saraj-Cody Classic, and I can't say I was surprised—after all, his Christmas card last year was a completely nude backside shot of his girlfriend and him taken in many feet of powder somewhere in the Idaho backcountry… well, it was complete nudity if you didn't count the Santa hats.
Cody Barnhill is an Alaskan wild child with a penchant for big mountains, deep snow, and building things. Though he now lives in Ketchum, Idaho, and hasn't been in the Great White North full-time since he was 18 years old, he is still an Alaskan and says he always will be. He was born and raised in a house that sits 10 miles southeast of Anchorage on Flat Top Mountain. A quarter of a mile from the end of his dirt road and driveway is the access point for Anchorage locals to the 495,000 wild acres of Chugach National Forest. His childhood home, and the house in which his parents still live, sits outside of the municipal line, which, for the Barnhills, means no city water and no city electricity. This home has been off-the-grid since his parents bought it in the early 1980s, and before Barnhill was born. Of course, he spent time in places that were hooked in to the grid, but for 18 years of Barnhill's life, living in a generator-powered home was the norm.
"When you're a kid, you just adapt to what your family does and it's normal. It wasn't a big deal to have to fill up five 5-gallon diesel cans when we went to town just to bring them up here so we could fill our generator to charge our batteries. And it was normal to think about how often we needed to fill the water tanks and how long we could use the lights. It taught me a lot, actually," says Barnhill about growing up off the grid.
The western slope of Flat Top Mountain was not just home to Barnhill, it was an incubator. Everything he has pursued since he left home in 2001—his career as a professional big mountain skier, music, and understanding sustainable living—can be directly tied to his life on the mountain. If you are a ski film junkie, you may know Barnhill as the star in the outrageous and memorable 2013 Sweetgrass film, Valhalla, or from his more recent appearance in the 2014 film From the Road. Barnhill's ski career began as soon as he learned that he could stand up on a sled and go down a hill in his backyard at the age of three.
He's also the bass player in the Ketchum, Idaho-based band The Sheep Bridge Jumpers. His parents are still Dead Heads, and, every now and then, will raise a glass to Jerry. Over the years though, their house has become home to thousands of records from different artists, new and old, and a fine sound system as well. Down days at home afforded Barnhill and his brother, Dylan, hours to play along to these albums and make music together.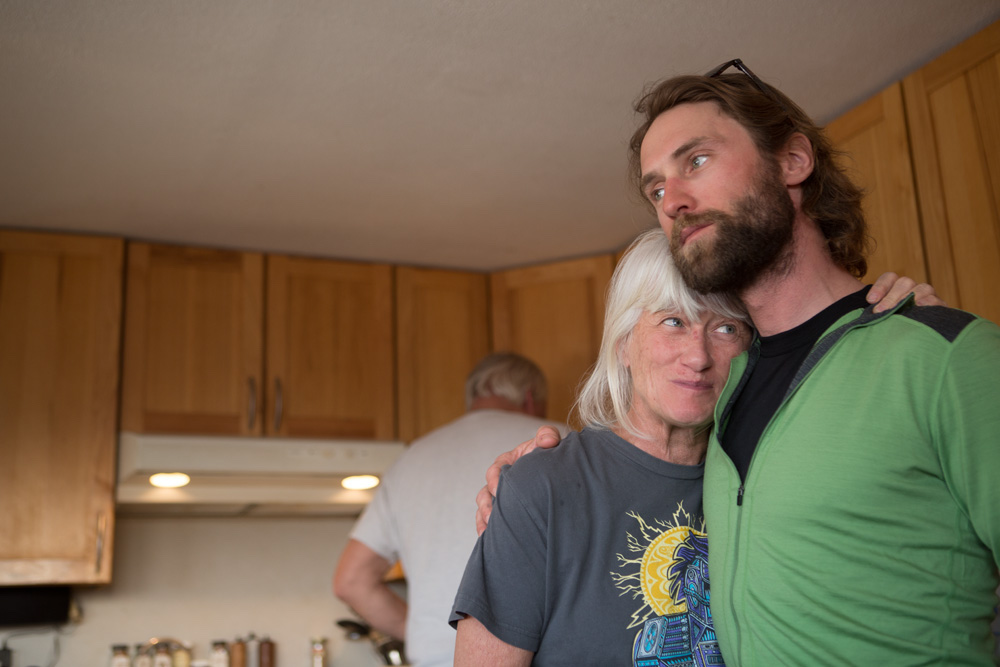 Barnhill is also tinkerer. The guy can fix or build anything if you give him enough time, and his specialties lie in alternative energy and mechanically innovative inventions.
"The first pair of twin tips I ever saw were the ones that Cody built in our shop when he was a teenager," says his dad, Mark Barnhill. "I had just bought him three brand-new pairs of racing skis and came home one day to see a pair of them in a vice and Cody behind them holding a torch in his hand and a wrench in his mouth. Oh, I was mad, but I guess it was Cody expressing his creative and engineering brain."
Barnhill took this know-how to the Lower 48, where he designed skis for 4FRNT Ski Company in Salt Lake City. Although his time as a designer for 4FRNT was short-lived (he transitioned from being a designer to being a sponsored athlete), Barnhill has taken his passion for design with him to his current sponsor, Dynafit. For the last several years, Barnhill has been collaborating with other big mountain skiers to design the perfect North American backcountry ski. In 2015, the Chugach Ski, a ski that Barnhill co-designed with Dynafit athlete Jamie Laidlaw, won two outstanding awards at the SIA (Snowsports Industry America) Gear Show, and has continued to grow in popularity since then.
"You know," says Mark, rounding out his thoughts on his son's engineering smarts, "We have always made it work here [in Alaska], and he just dug into that. He makes it work too. He Macgyvers everything himself. That's my boy."
MacGyvering seems to have been just as much of a guiding force in Barnhill's life as skiing has been. From solar panel installation to good old-fashioned construction, motorcycle mechanic work, bicycle building, and even renovating alpine touring bindings to make them more lightweight for hiking and more efficient for aggressive backcountry skiing, it really seems like there's nothing Barnhill can't do. Despite his mechanical engineering smarts, it is his interest in understanding how off-grid living and alternative energy can improve, and become accessible to people in every income bracket, that has directed his career lately.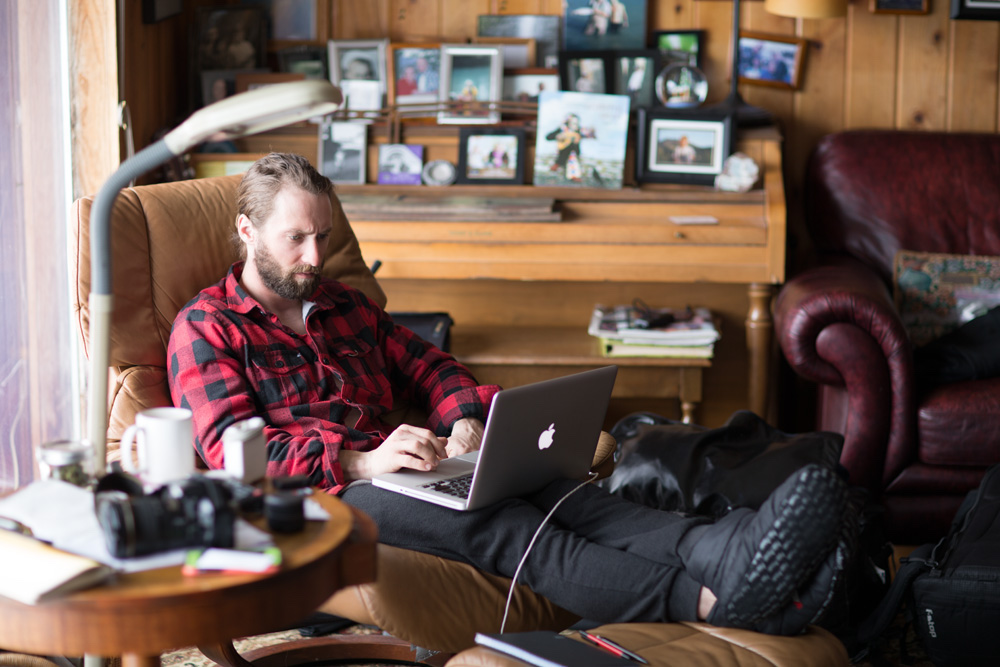 Barnhill hasn't fully moved away from the ski industry—he is still a sponsored Dynafit athlete, and skiing is his soul food (How can you not smile when you're doing naked spread-eagle jumps with your best friend?)—but his attention has turned to how the global human community can live more harmoniously with our planet. He is seeking to push his understanding of how energy and off-grid living can bring our current culture into a new era of clean energy consumption without compromising any standards of living.
"Energy is everything, and because it's everything, we should be able to harness what's around us," Barnhill says as he begins to illuminate his thoughts on alternative energy. He is currently pursuing a degree in Energy Systems Engineering because he sees an opportunity for growth and lasting change in the industry.
He is not chasing this dream because he wants to learn about what sustainable energies currently exist, and be able to install the existing technologies for family homes and businesses. Rather, Barnhill is going down this new path because, "I think that even the best alternative energies available right now are deficient, and that there is a better way to harness what's available to us without needing sunlight, dammed rivers, or wind. The whole purpose of me doing this program is so that I can speak the language of what energy is and understand exactly how it functions." He's thinking about kinetics, magnetics, and gravity, and wonders how he can create a machine that would harness those forces to perpetually generate power.
What's refreshing about Barnhill and his goals, as he pursues his degree and career in Energy Systems Engineering, is his economic and environmental approach to this ongoing project. Solar panels and wind turbines are cost-prohibitive for many alternative energy enthusiasts. Furthermore, the world is too beautiful a place, the rivers too wild, and the mountains too great to be compromised for energy's sake. "I want to figure out the simplest way to harness the energy that is constantly moving around us—from that, I want to create a simple machine that will allow any individual to generate power in their own space."
Bringing power to the people with a dash of radical self-reliance? That right there seems like a true Alaskan wild child's dream.