Not many ski movie fans have the wherewithal to sit and quietly peruse the credits at the end of adrenalin-packed premieres. That's part of the reason the names of most filmers, editors, producers, and others who toil to deliver the annual ski inspiration and entertainment to audiences each fall remain unknown. And why, most likely, you have never heard the name Jill Garreffi.
Yet whether the name rings a bell or not, Garreffi, has worked with Teton Gravity Research (TGR), a Jackson, WY-based, two-decade old powerhouse in producing ski and action sports films, for the last eight years. Garreffi is one of the most influential people behind the scenes in the movies that you see, as part of the trio headed by lead editor Blake Campbell, that creates the ski movies. It's not unique that their names and roles are under the radar, but she represents a rare breed as a woman who holds not one but several influential senior roles at TGR. Garreffi travels the globe with a camera, keeps mics on the athletes, offloads footage, makes sure the crew never runs out of memory cards, and as each story unfolds, tries to figure out how to best capture content to tell that story. Then she heads back to the office to prep the action and help edit the movie itself.
Ask her about how she got to where she is, or express admiration that she's made herself indispensable and firmly ensconced in multiple stereotypical boy's clubs: action sports, cinematography, and ski movie editing, and Garreffi looks entirely nonplussed. In her mind, first, she saw a job and a career she wanted, then she discovered the company she wanted to work for, and she went for it. What's special about that, Garreffi seems to wonder.
"I know I showed a lot of interest and enthusiasm from the beginning, so [TGR] put some effort back into me," she says." However, it has been far cry from any sort of ski industry affirmative action: the driver that fueled Garreffi's rise in the company was she didn't focus on being an unusual candidate, she focused on doing the job she wanted.
"Jill works circles around everyone else," says Todd Jones, cinematographer and co-founder of TGR. "You can rarely get her to even have a beer at the end of the day. She's just always getting stuff done, and she's critical to us now."
Garreffi grew up skiing and ski racing in western Massachusetts, but from grade school on, she knew she wanted to work in film, and graduated from Boston's Emerson College with a film degree and one summer's experience of interning at TGR. The draw of working in film in New York or Los Angeles was lost on her, so she turned to TGR and asked for a job after graduation. The answer was no.
That wasn't the answer she was looking for, so in 2008 Garreffi headed back to Wyoming and showed up at the office anyway. She paid the bills with a job at a camera shop in town, and kept on showing up at the office, until, eventually, they had handed her enough tasks so that it was time to put her on the payroll. It didn't take more than a few months, and that persistence was a mere hint of what was to come.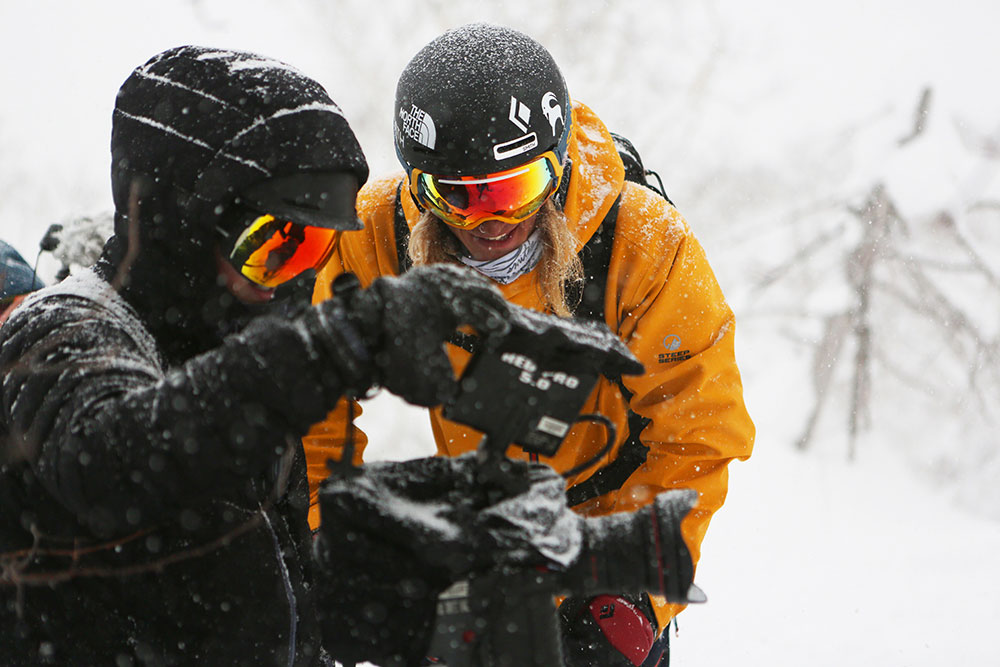 While Garreffi worked with notable dedication and drive in the post production and editing role she was placed in, her real goal was get to back behind the camera – which, in action sports, entails following professional athletes around in various mountain ranges and cities around the globe. It's a hard job to do and a harder job to land, but Garreffi, after biding her time in post for a few years, asked Jones to put her in the field.
"It's much easier to work in post-production," says lead movie editor Blake Campbell. "Making the leap from sitting behind a computer to being out in the field and traveling doesn't happen very often. Not many people successfully make that transition. But Jill was hungry from the get-go, and created her own opportunities."
Garreffi stayed true to form in her quest to film, refusing to let statistics stand in her way. Those statistics are daunting, and don't affect just action sports and ski movies: the arguable apex of it all, Hollywood, even suffers from a dramatic gender inequality in female filmers and directors, among other things. Female producers lead the way with 25% of the field, but the most glaring gap, according to a study released by the New York Film Academy, as of 2012, a mere 2% of cinematographers in Hollywood are women.
For Garreffi, the trust she had built with the TGR crew through hard work and passion came through for her, and the company decided to give her a chance. They haven't regretted it one bit, according to Todd Jones. "Jill's one of the few in the field – find me one girl who is out there shooting this stuff," says Jones. "When she said she wanted to get out in the field, I knew it wouldn't be easy for her. But I knew she was capable, and she would bring an amazing work ethic, and a creative, artistic eye, so I supported it."
"It really is a male dominated industry, that's just the way it is, but still, you are hired on your talents and credibility," says Marnie Walsh, a freelance film and TV producer also based in Jackson, WY. "Production is grueling mentally and physically, 18-hour days are common. You are doing this because you love the job – only a very persistent and tenacious person can survive, male or female. Its not easy, you don't make much money, but if you're able to keep going for it, you've got to be doing something right."
Garreffi took the chance she had been given and ran with it, but being given an opportunity to try still doesn't mean much unless you deliver what you were hired to do. "Going into the field to shoot – my first trip was to Austria – was intimidating," she said. "It's still really challenging, traveling and being with boys in the mountains for a month. You have to keep up with pro athletes, and do it all with a much heavier camera pack."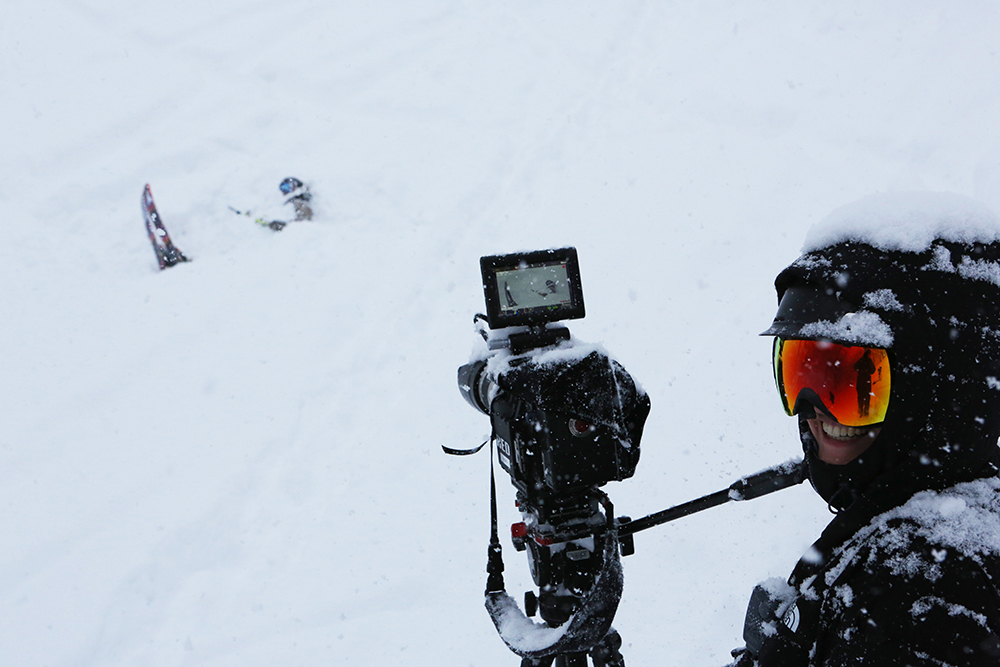 It didn't take long for Garreffi to find a niche which separated her from the roster of male filmers vying to capture the intense action shots. She focused on the human drama, emotion, and other aspects of trips that allows a story to be told, instead of just one crazy ski line after the next. "That's my element now; I go on trips to make sure we get the story," she said. "All the cameras are usually pointing one way, and mine is pointed the other, making sure we capture the reactions and the other side of the story."
As it happens, you don't have to stray far from the tree to see the influence Garreffi has already had. The third member of TGR's editing trio, Morgan Conway, was brought on as Garreffi's intern and as risen to assistant movie editor as well, making two-thirds of TGR's movie editing crew female.
The ultimate take-away from Jill's career path, however, may be the reminder that hard work does pay off for anyone driven to achieve their goals. "I think that Jill has inspired both men and women," says Todd Jones. "She knows what she is doing, is driven, does the dirty work, and makes it happen."