I have been to Ashland, Oregon, only a handful of times but on each visit, I find myself lured further into its charms like Alice descending into Wonderland. One might imagine seeing the White Rabbit pop out of the bush in the leafy, verdant Lithia Park that beckons visitors with its magical springs. And a king or queen may actually be mid-soliloquy nearby at the Shakespeare Festival if you listen closely enough, though hopefully ordering no one's beheading. A stroll through the streets may indeed find you eventually seated at a table enjoying magical mushrooms, not of the hallucinogenic variety but of the palate-pleasing wizardry kind concocted by local chefs.
This is a town with a vibrant arts scene, a walkable downtown, a range of foodie-centric restaurants, a craft beer scene, a burgeoning wine culture, trails for hiking, biking, and running, and, amazingly, a ski area that is both affordable and fun. It's also a college town, a feature that brings its own youthful vibrancy. It would be tempting to call Ashland a lovely little hamlet given its well known history as the home of the Oregon Shakespeare Festival, but it offers so much more than that. Add to this paradisiacal scene some of the loveliest people around and you get the idea of why this is a magical town.
Each time I visit Ashland, I come away with 100 more reasons to fall in love with the place.
Originally a Shasta Indian village, the Ashland Mills formed the basis for population growth and the establishment of the town. However, the town ironically developed its personality with the growth of the Chautauqua Movement that began at the turn of the century in upstate New York. The town of Chautauqua was the birthplace of the educational, cultural, and social experience that was driven by a grassroots desire to bring people together in a shared growth experience. Music, lectures, plays, and art formed the basis for "summer camp" adult educational events that eventually spread around the country. Theodore Roosevelt purportedly said that Chautauqua was "the most American thing in America."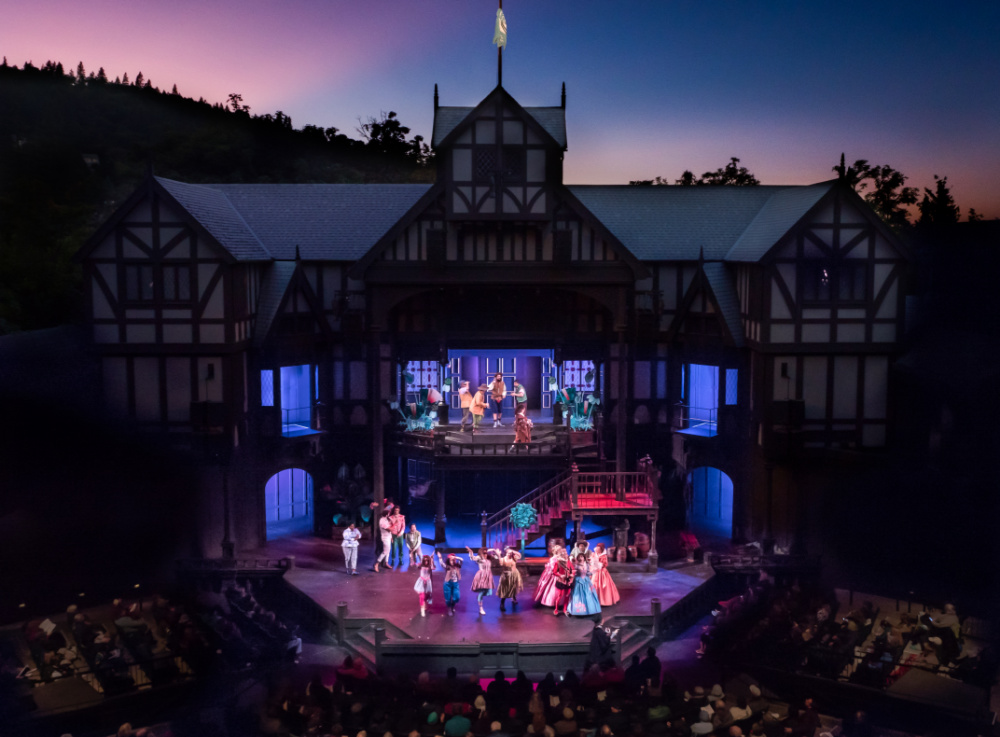 In the late 1800s the Chautauqua Movement found its way to Ashland and the town became the region's cultural center with help from the Southern Pacific Railway that connected Sacramento and Portland. The festival was held in a beehive-shaped building that bordered the 93-acre Lithia town park. Visitors and townspeople could stroll from the lily pad-lined ponds and blooming flower gardens in the park to the lectures and shows in the theater. In 1935, a young teacher, Angus Bowman, from The Oregon Normal School (Southern Oregon University today) was inspired by the similarity of the original dome-shaped building to the authentic Shakespearean theaters. He convinced the city to allow for two summer festivals featuring Shakespearean plays. Thus began the Oregon Shakespeare Festival (OSF). It unfailingly continued through the Depression and the diversion of railway traffic and has since become one of the oldest and largest Shakespearean stock theaters in the United States. And in the true vein of the Chautauqua Movement's drive for growth, OSF recently began to introduce other classic and cutting-edge contemporary plays to the audience. In 2019, OSF hired Nataki Garrett, a 2022 United States Artist Fellow and first Black woman in the role, to lead the organization as its Artistic Director and she was able to secure $19 million in funding for the theater during the pandemic, ensuring the continuing success of the venue.
Dovetailing the little gem of culture that is the OSF, Lithia Park gives us the fairytale setting of enchanted gardens and magical springs. It's named after the lithium spring that burbles forth from the ground, and I like to believe that this is the source of the easygoing demeanor of the inhabitants of Ashland, although perhaps they are just actually happy because they live in Ashland. But lithium has been found (in microdosing amounts) to have an inverse relationship to psychiatric disorders, so maybe they are on to something. And if you want to try it out, there is a fountain within the park where you can sip (or chug) some of the famous lithium water. However, prepare yourself as it supposedly smells like eggs. But, hey, whatever works! After imbibing from the fountain of calm, you can stroll through the Lithia rose garden, Japanese garden, duck ponds, and acres of hidden craggy pathways. You may come upon a mystical deer or two that will watch you unblinkingly as they roam carefree through the park. If you are visiting in the winter, plan on ice skating in the outdoor Ashland Rotary Centennial Ice Park and warming yourself with hot cocoa at Zoey's cafe just a few blocks away.
Once you are downtown, continue your wandering and discover all the delectable farm-to-table restaurants, locally owned shops, artisan markets, and galleries. The Ashland Springs Hotel, with its Beaux Arts-Gothic-esque presence, is a foundation of the charming nature of Ashland. Built in 1925, it was once the tallest building between San Francisco and Oregon. If you are looking or an elegant, perhaps I dare say romantic, experience, eat within the hotel at Larks Home Kitchen Cuisine, which boasts a delicious seasonal farm-to-table menu sourced from local producers. I had the best fried chicken I have ever had in my life and I'm from the South, so that's saying a lot. And as a winner of Wine Spectator's 2022 Restaurant Award, it is now also known as a top destination for wine lovers.
And the wine being corked all around Ashland in the Rogue River Valley is rivaling Northern California's reign. With 33 wineries, 37 tasting rooms, and 88 vineyards, there is a plethora of wines to sample and enjoy. With the hilly climes of the area around Ashland, you can enjoy the Bordeaux-happy, lower elevation wines such as cabernets, merlots, and malbecs to the higher elevation varietals like chardonnay, pinot noir, and pinot gris.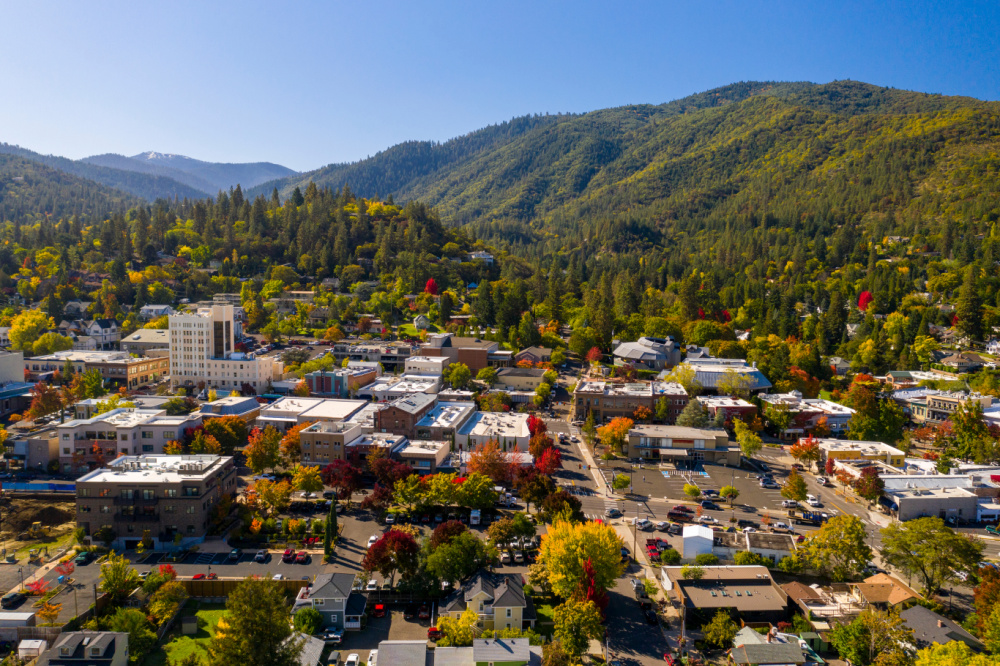 Bordering the town, within the Siskiyou Mountain Range, lie 45 miles of runnable, bikeable, hikeable, and rideable trails as part of the 15,000-acre Watershed Trail System. If you want to venture further, travel about a half-hour to Mt. Ashland, where the Pacific Crest Trail crosses through.
In winter, take your skis and ski Mt. Ashland, the local ski resort fondly nicknamed, "steep and cheap." This nonprofit ski area prides itself on an incredibly progressive approach to skiing. They are committed to keeping the lift tickets affordable ($70 for a full day), staying environmentally and financially sustainable, and providing access and ski programs for the local community.
Amazingly, Ashland lies right on Interstate 5, just over the border from California, so even though it feels like it is its own universe, it is very accessible by road trip. Or fly into Medford, rent a car, and explore the entire area from the Rogue River Valley to Crater Lake National Park. Spring, summer, winter, and fall, Ashland seems to have it all.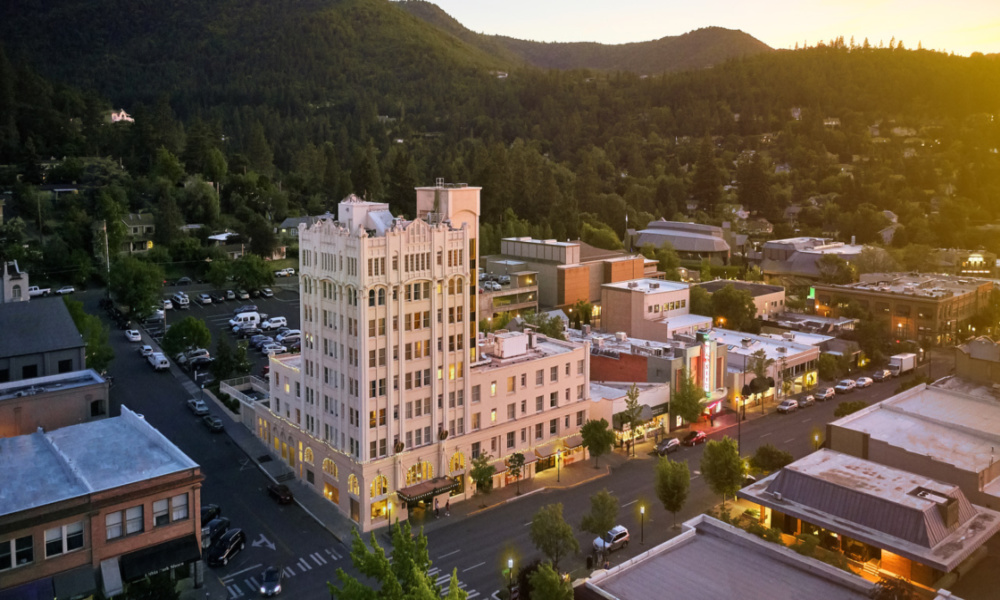 STAY
ASHLAND HILLS HOTEL AND SUITES
Just three miles outside of downtown, strategically located on the I-5, lies the retro-groovy-meets-country-club Ashland Hills Hotel. Think green velvet sofas and rattan peacock chairs spread on 15 acres with rolling hills, tennis courts, a swimming pool, and cruiser bikes. A wall of vinyl and an orange egg chair definitely set a tone for fun. The Luna Cafe within the hotel has exceptional food that may make it difficult to eat elsewhere even though you should. Kids yes, dogs yes. ashlandhillshotel.com
ASHLAND SPRINGS HOTEL
Downtown and evocative of a romantic European inn with various room layouts, this is a fantastic place to base yourself for walking to restaurants, shops, and the famous theater for some Shakespeare. ashlandspringshotel.com
LITHIA SPRINGS RESORT
Take Ashland up on its history with mineral springs healing and soak in the sulfur-rich tubs at Lithia Springs Resort. A relaxing oasis of a hotel, you can enjoy the Waterstone Spa steps from your light and bright bungalow or suite. Neutral-toned furnishings accented with dabs of blue lull you into a state of calm here. lithiaspringsresort.com
THE MCCALL HOUSE
This sumptuous B & B boasts beautiful suites and carriage house accommodations, amazing breakfasts, and is walkable to downtown. The Victorian mansion was built for Captain John McCall and his wife, Lizzie, in 1883. Lots of history—and all the comforts of today. mccallhouse.com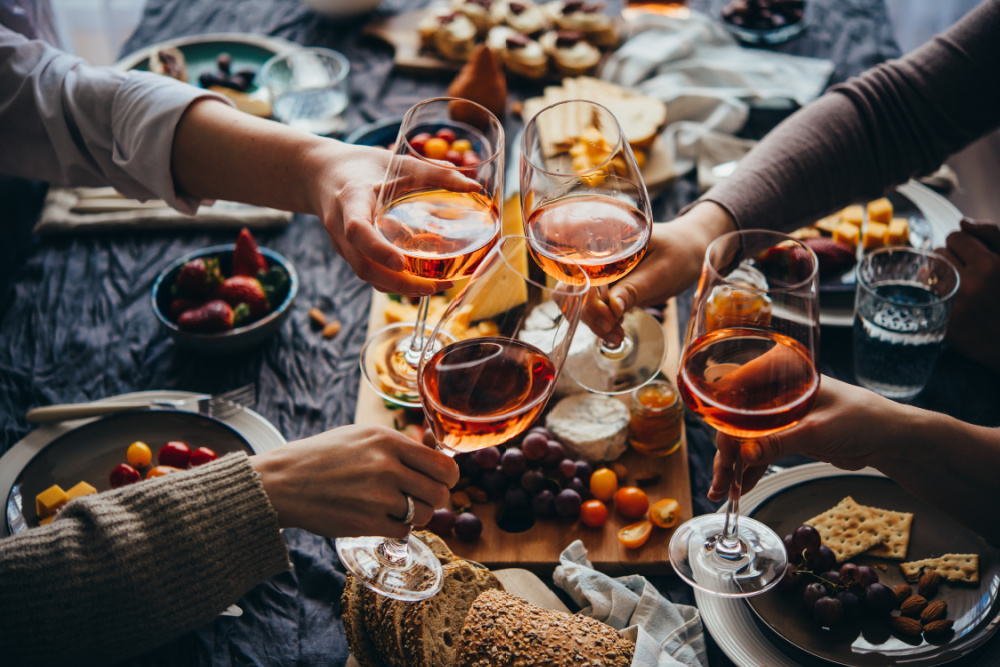 EAT/DRINK
MORNING GLORY
An Ashland institution. Have a mimosa as big as your head and a seared tri-tip steak omelet. Be pre-pared to wait 30 minutes to get in, but you'll agree, the wait is worth it. morninggloryashland.com
DOBRA TEA
Delicious vegetarian bowls, pas-tries, and an extensive tea menu. They support local farmers and herbalists and sell prepared and loose teas. A lovely place to relax and contemplate. dobrateaashland.com
LARKS HOME KITCHEN CUISINE
Start at the gorgeous 1920s bar with a crafted cocktail and dine in the restaurant with seasonally inspired, locally sourced inventive menus. And do yourself a favor and try the fried chicken. larksashland.com
BRICKROOM GATHERING HOUSE
You can have breakfast, lunch, and dinner here. I dare you to try them all. Delicious, family-friendly, and casual. And, they amazingly offer a late-night menu for those nights out on the town. brickroomashland.com
SKOUT TAPHOUSE AND PROVISIONS
Auspiciously located on the plaza across the street from Lithia Park on the Ashland Creek. Explore the craft beers and food menu here while you enjoy the views of the people and plants. Or, take advantage of their to-go menu, head into the park, and dine al fresco. skoutashland.com
GIL'S
Kid-friendly, beer-drinking, college-esque hang. A classic Ashland spot; great after-bike/hike feel. gilsofashland.com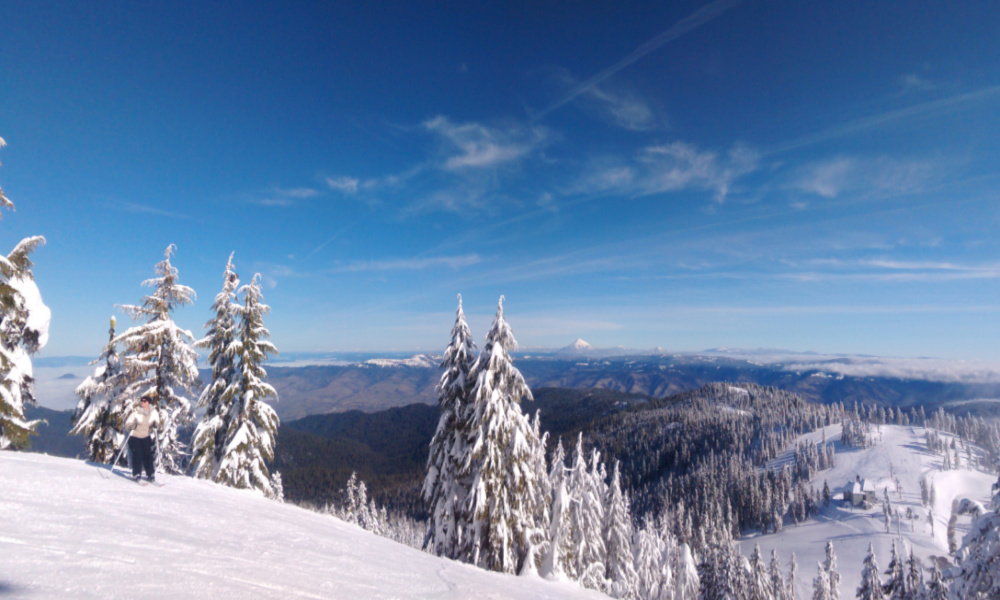 PLAY
ASHLAND MOUNTAIN ADVENTURES
Book a shuttle with these guys to shuttle you and your friends to the numerous trailheads in the Siskiyou Mountains. They will keep you posted on what's open and closed. Forgot your bike? Don't worry, they rent them! ashmtnadv.com
MT. ASHLAND SKI AREA
Open December through April, with 240 acres of trails and an average annual snowfall of 265", this little gem of a ski area is surprisingly chock-full of great runs. The highest point in the Siskiyou mountain range, the ski area is only a half-hour from downtown Ashland and a fun, affordable winter ski adventure. mtashland.com
ASHLAND ROTARY CENTENNIAL ICE RINK
Open November 17, the outdoor ice skating rink in Lithia Park is a wonderful way to experience the magical side of the park in winter. Inexpensive skate rentals ($3) and admission fees (adults $5, kids $4, kids under 5 free) make this a lovely way to enjoy a wintry Ashland. ashland.or.us
OREGON SHAKESPEARE FESTIVAL—IT'S CHRISTMAS, CAROL!
OSF's campy, musical comedy about Carol Scroogenhouse and her wacky time-traveling journey to her soul. Plays November 23, 2022 -January 1, 2023. osfashland.org
RELAX
CHOZU BATH AND TEA GARDENS
Follow the tradition of the Japanese bath with a signature Chozu body treatment. Sip a warming tea and enjoy traditional Japanese small-plate delicacies and cultivate your inner calm. chozugardens.com