Here at BigLife, we love testing out the latest and greatest in mountain-related clothing and gear. Striving to discover brands that are authentic, emerging, innovative, or all of the above is something that we're passionate about. And when the products turn out to be even better than anticipated, well, that's just the icing on the cake. Check out the details and our experiences with a few of our favorite fresh finds for kicking off the winter season and beyond.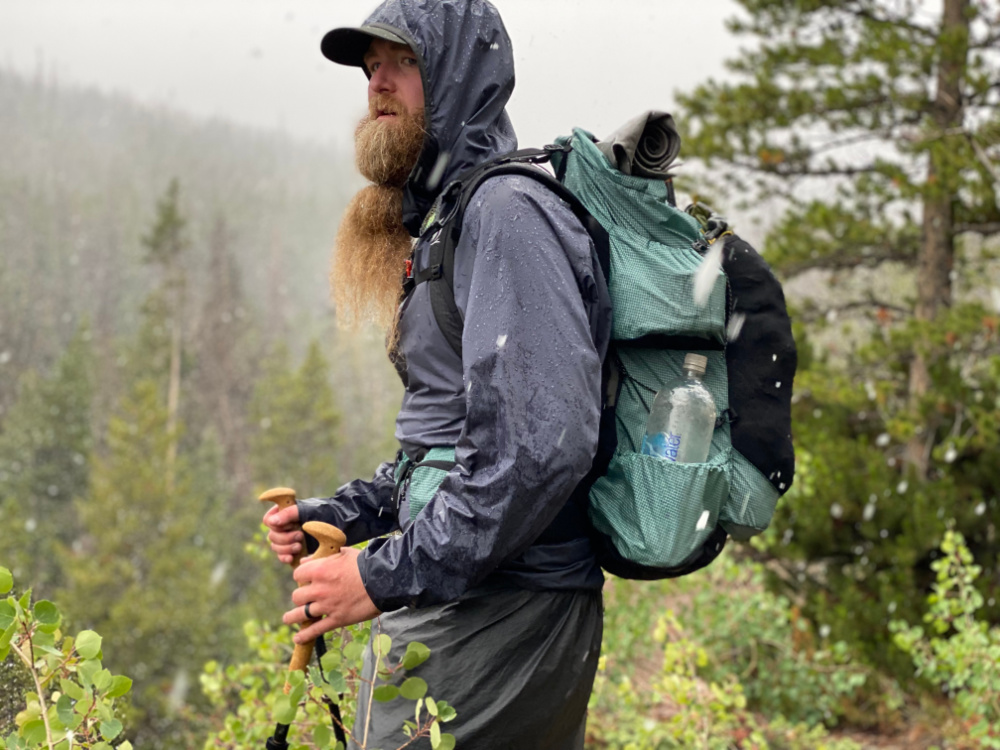 Outdoor Vitals
Based in Cedar City, Utah, the essence of Outdoor Vitals was sparked in 2013 when Founder Tayson Whittaker began preparing for a backpacking trip. He realized that the gear he had at the time was simply heavy, bulky, and cumbersome. It would have been impossible for him to really enjoy the trip when being thoroughly weighed down. Ultimately these kinds of experiences spawned a new thought process that Whittaker now dubs Living Ultralight. Outdoor Vitals applies this philosophy to every piece they produce including apparel, sleeping bags, pack systems, shelters, pads, pillows, hammocks, and more.
The mission at Outdoor Vitals is to help outdoor enthusiasts cultivate the Live Ultralight mindset by providing the best gear, education, and industry transparency that they can. OV believes in making gear that is simultaneously reliable, durable, innovative, and lightweight. In turn, this inspires confidence in one's equipment and physical ability while out exploring the wilderness. Feeling light and free on the trail is enabled because you simply bring what you need and nothing extra.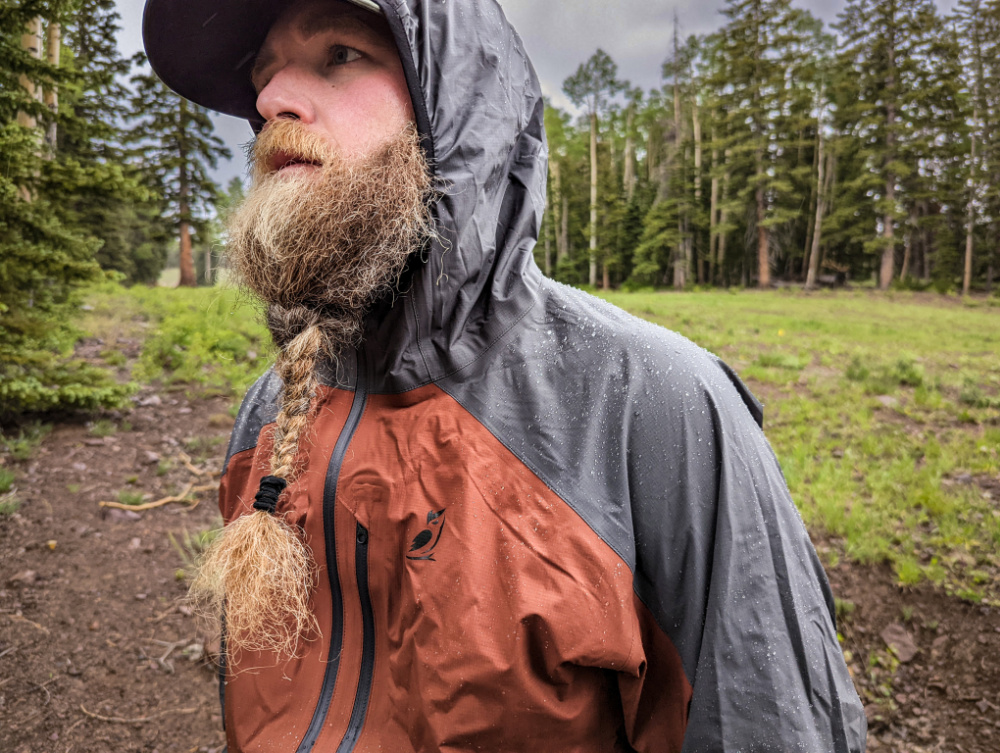 Shortly after that backpacking epiphany in 2013, Tayson Whittaker went on an international trip where he decided to take only a carry-on bag, boldly leaving behind three checked bags. The simplicity of this trip was profoundly liberating. Going ultralight in unfamiliar areas proved to break down barriers and opened up doors for lifelong travel and adventure experiences for Whittaker.
It's now eight years after its official inception and Outdoor Vitals is stronger than ever. "Who would have known that my dream of starting a self-funded, direct-to-consumer brand in a crowded retail & investment-backed industry would have grown this far?" reflects Whittaker. And they're also giving back in partnering with Charity: Water which is a non-profit with a mission to bring clean and safe drinking water to people in developing countries. 100 percent of donations to Charity: Water go directly to the field.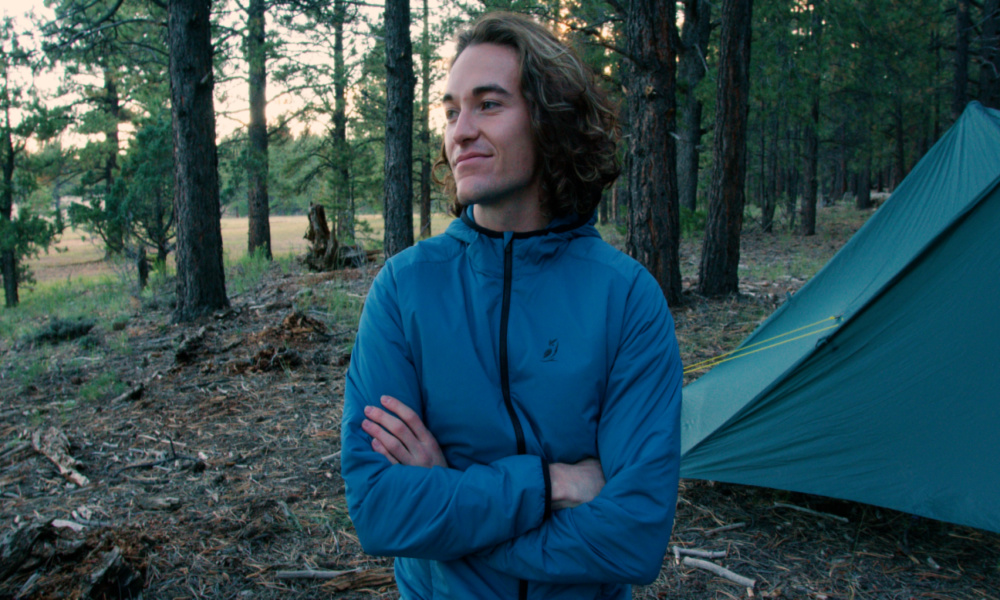 Outdoor Vitals Men's and Women's Vario Jacket
Weighing in at just ten ounces, the Vario is OV's highly innovative new insulated jacket designed for adventurous and/or physically demanding forms of recreation such as Nordic skiing, ski mountaineering, ski touring, fat biking, trail running, backpacking, etc. Both men's and women's versions of the Vario boast a timeless, simple aesthetic and stylish colorways that allow this cushy and comfy jacket to transition from active mode to chill out mode with ease.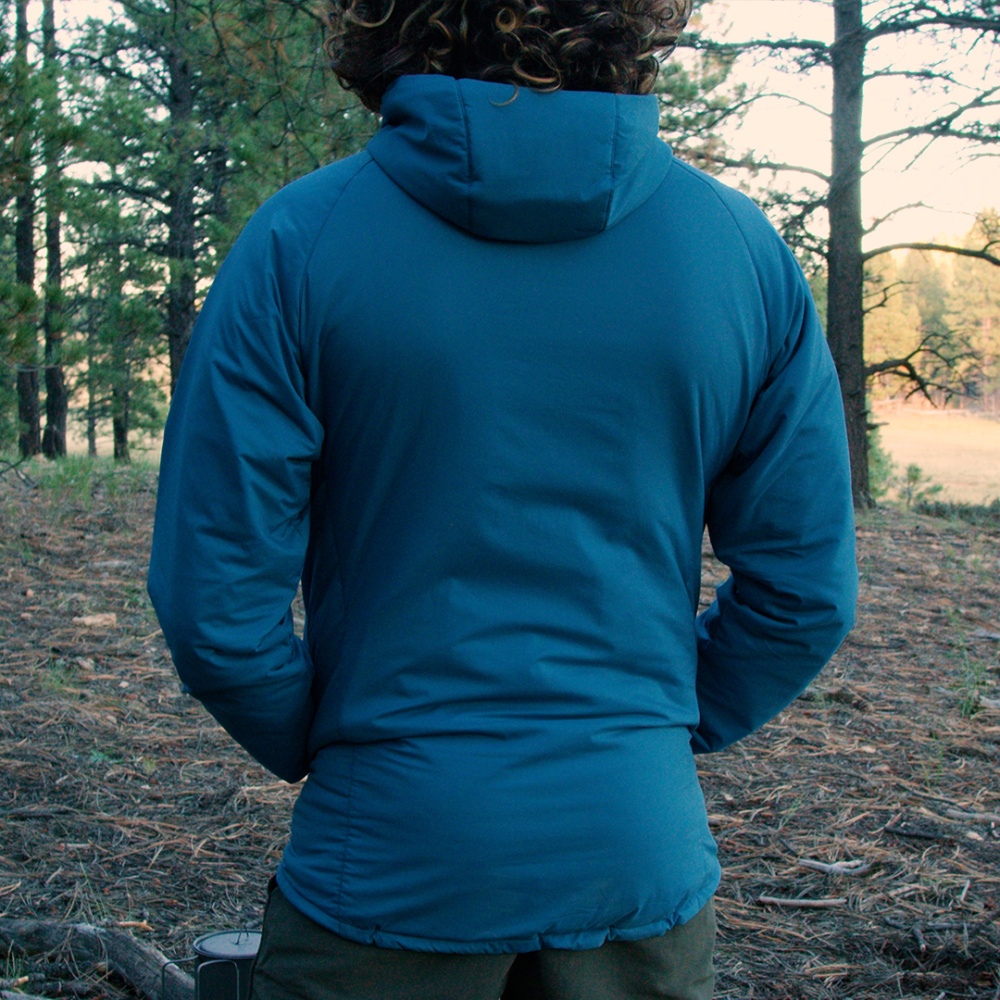 The first thing you notice when pulling this piece on is definitely the softness and stretchiness of its inner and outer materials. The Vario utilizes what OV calls 3DeFX Insulation. Is this just another gimmicky, outdoor brand marketing term? Not at all. Four types of spiral-shaped fibers are intertwined to give 3DeFX Insulation more loft and stretchability than traditional microfiber synthetic insulations. This insulation actually stretches with the wearer as he or she moves, allowing heat to escape to keep the body core temps moderate. Relating this to our tests in the field — whether it be on the XC skiing trails, snowshoeing in the hills, or skinning up the mountain — we found that we often had greatly underestimated the warmth of this ultralight jacket by wearing too many layers underneath. As long as you don't get too aggressive with your base layers, the Vario breaths and dumps heat with the best of them.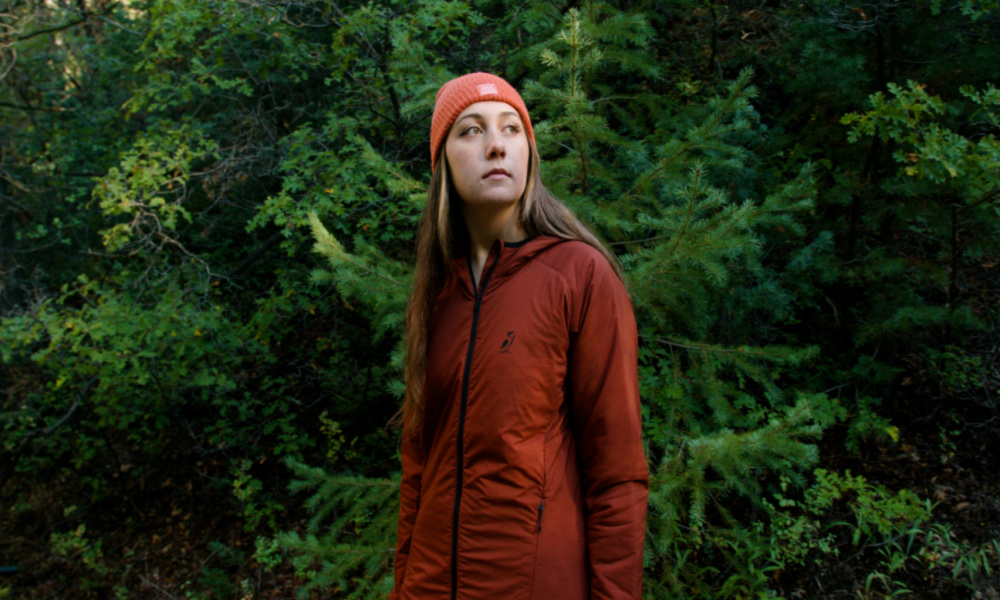 Aside from the 3DeFX technology, this jacket is equipped with more innovations in the realms of insulation and breathability. Body mapped insulation placement allows the Vario to vent more for the areas of the torso that are typically the hottest. Generously perforated underarm vents are designed to get rid of too much body heat quickly. While we can't say we consciously noticed the body mapped insulation working its magic in real time, we definitely were aware of the underarm vents cycling heat away from the body and keeping us from over cooking. The outer material of the Vario is so plush and soft to the touch that it got us testers worried about durability and tearing easily. OV addressed this dilemma by utilizing 20D Ripstop Nylon on the jacket's exterior. It's DWR-treated to make it excel as a performance windbreaker with toughness against the elements.
The full zip Vario comes complete with an unobtrusive insulated hood that fits well over a regular billed cap or beanie, two deep zippered hand pockets, and small thumb loops to keep the ends of the sleeves under gloves. But does it pack well? Of course! This 10 oz. jacket can literally be compressed down to the size of a grapefruit. We tried this and OV isn't lying.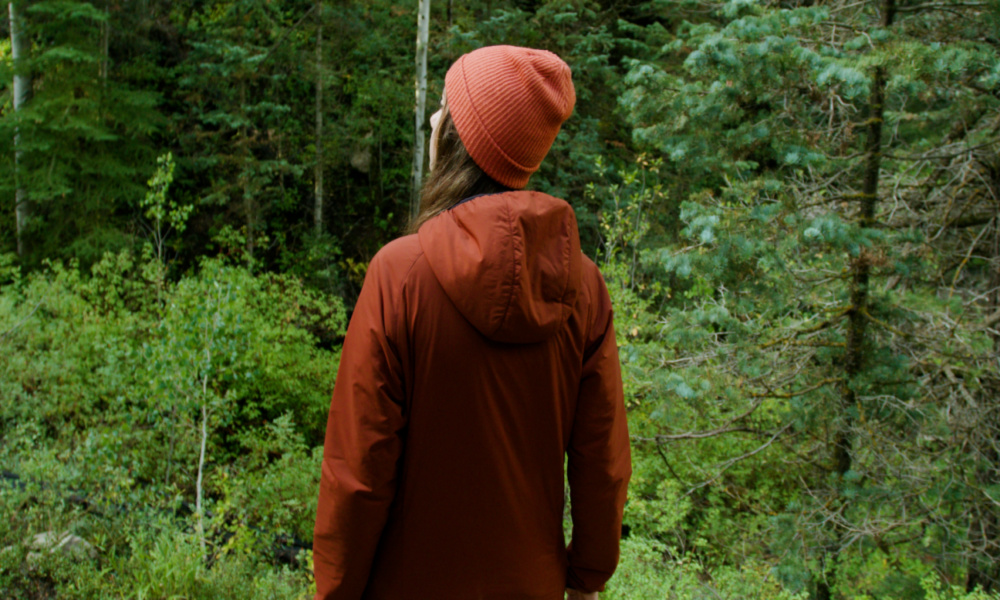 Outdoor Vitals also cares about sustainability so much that a whopping 50% of their insulation (all sourced and created by Toray) is recycled. The result is a hybrid 3DeFX insulation that has been proven to have 0% performance degradation after extensive testing by the OV team. That's a very strong win-win in our book. outdoorvitals.com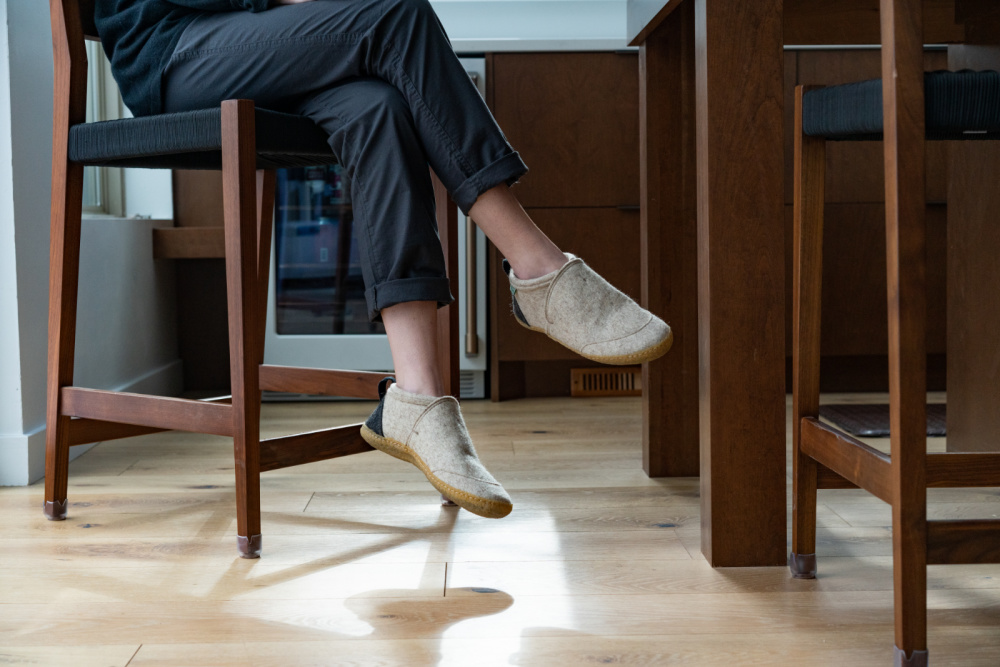 Kyrgies
Produced by traditional felt artisans and originating from the high, unfenced fields of Kyrgyzstan, Kyrgies wool is non-mulesed, sustainably crafted, and supports a local women-led business enterprise that enables the footwear to be produced on the global scale. Kyrgyzstan's capital of Bishek is a gateway to Kyrgyz Ala-Too mountains and Ala Archa National Park, which both showcase glaciers and wildlife trails. A Central Asian mountain city with a vibrant tradition of the arts, Bishek is also where Kyrgies creates their wool wares before they are shipped to the company HQ in Virginia. Long story short, the mountain lifestyle, tradition, and materials of Kyrgyzstan are in the DNA of every single pair of Kyrgies.
Each piece of wool from the Kyrgies partner's workshop goes through a complicated, multi-step process that involves carding, felting, washing, cutting, shaving, and molding. All of these products are checked for quality three times along the production line. The entire process takes six weeks and is done almost entirely by hand while using wool, soap, and dye. Handmade artisan enthusiasts can check out the step-by-step production at https://kyrgies.com/pages/craftsmanship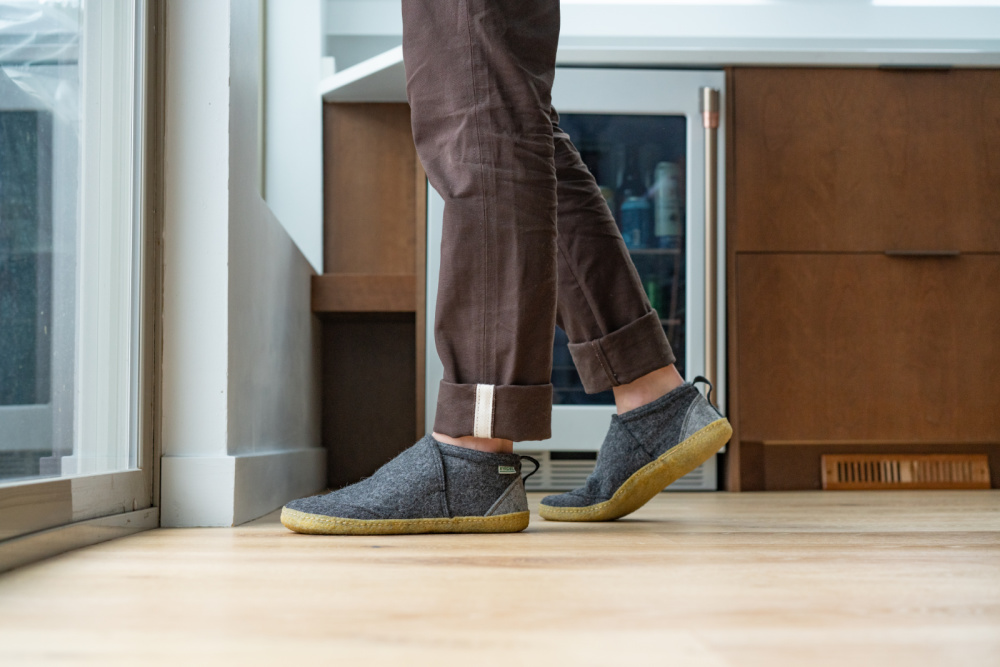 Aside from harvesting and crafting 100% natural wool using environmentally friendly methods, Kyrgies also prides itself in using vegetable tanned leather for the soles of its footwear. Vegetable tanned leather uses plant extracts instead of toxic chemicals in the tanning process, making it better for the planet. Vegetable tanned leather has also been proven to age more gracefully and gives off a more unique patina. Other environmentally conscious efforts that Kyrgies implements are minimal packaging using recyclable materials, not wasting a single gram of wool in their workshop, and being Climate Neutral Certified since 2020. This brand has also been a proud member of international nonprofit 1% for the Planet since 2017, when Kyrgies was founded.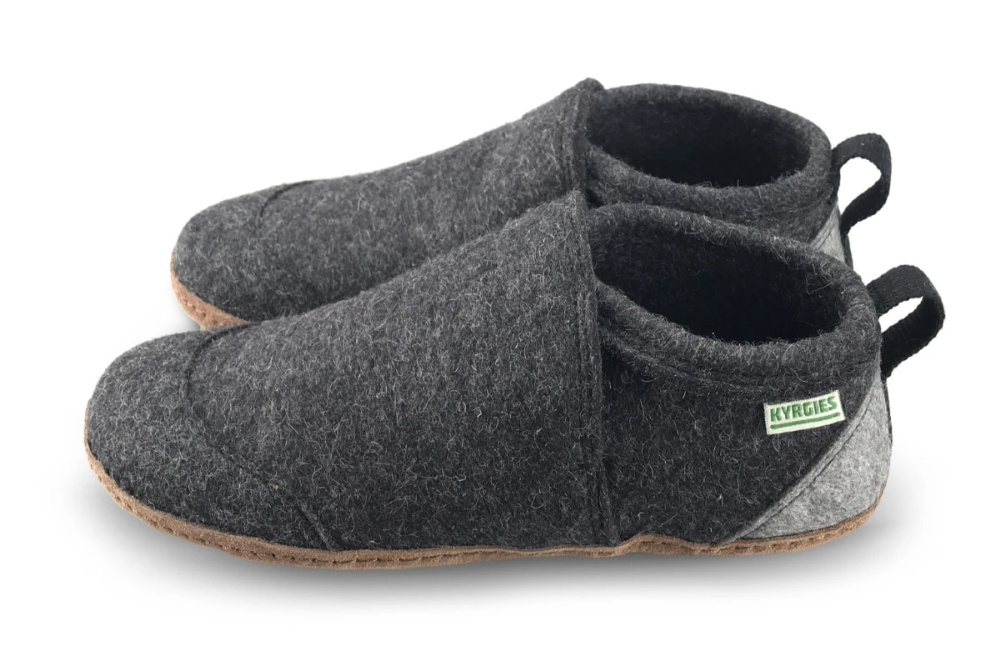 Kyrgies Men's and Women's Tengries Walkabouts
House shoes? Indoor slippers? Outdoor slippers? All of the three combined has to be the consensus among us testers here at BigLife. Never before have we had the pleasure of experiencing wool footwear with such high levels of comfort, versatility, and durability. The Tengries Walkabouts are uniquely and subtly stylish with crepe-style soles and several different two-tone wool color options to choose from. These puppies are easily wearable in almost any handful of mountain town settings whether it be après time at the lodge, desk time at the office, tinkering time in the garage, or coffee time in the kitchen.
Little things first. We appreciate that the Walkabouts come with little loops at the back of the ankle areas because they are virtually impossible to step into without using your fingers. While this doesn't allow for absolute ease of entry, we like the fact that the uppers enclose the ankles snugly because it allows for better retention of warmth and a better overall fit. After all, we do believe that when it comes to house shoes, the comfy factor reigns supreme.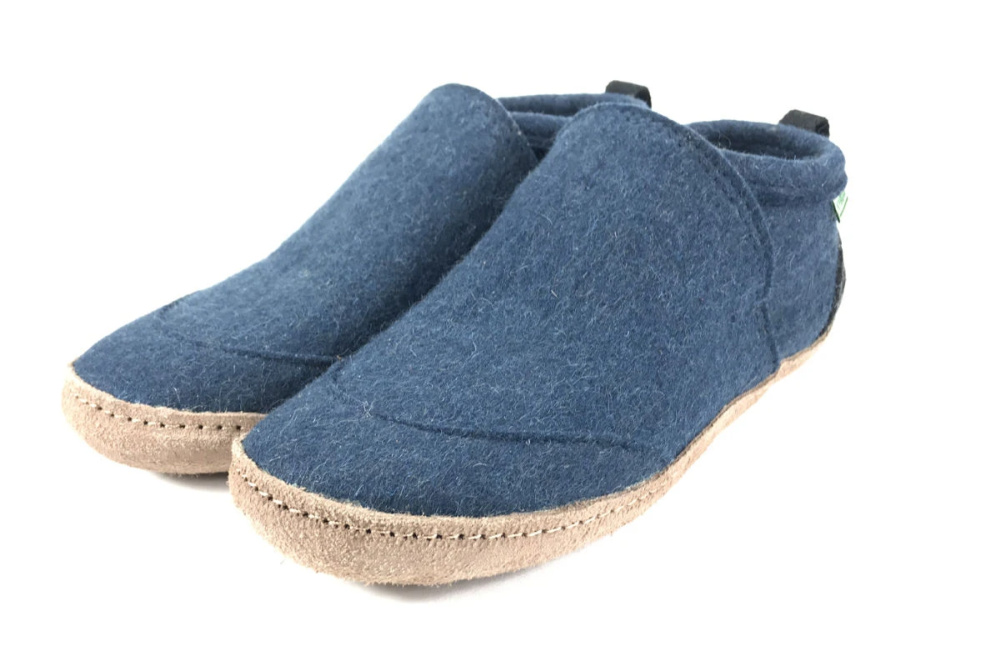 And speaking of comfort, the Tengries Walkabouts check just about every box we can think of. Cozy warmth? Check. It's the pliable wool from Kyrgyzstan. A fit that isn't too roomy as well as not too snug? You bet. It's the pull-on style. Just the right amount of support for the feet when strolling? Check again. It's the sole made from vulcanized milk of rubber which provides excellent support, grip on varying surfaces, and insulation from the elements.
Another takeaway of note about the Walkabouts has to be how it excels in the durability department. Most of the other quality wool house shoe brands we have experience with have worn out after several months of daily wear. As in holes in the toe box uppers and soles that start to lose their traction. This is not the case with these Kyrgies. The wool seems thicker and tougher than other brands and the souls are still extremely grippy and well-intact after a whole six months of daily use.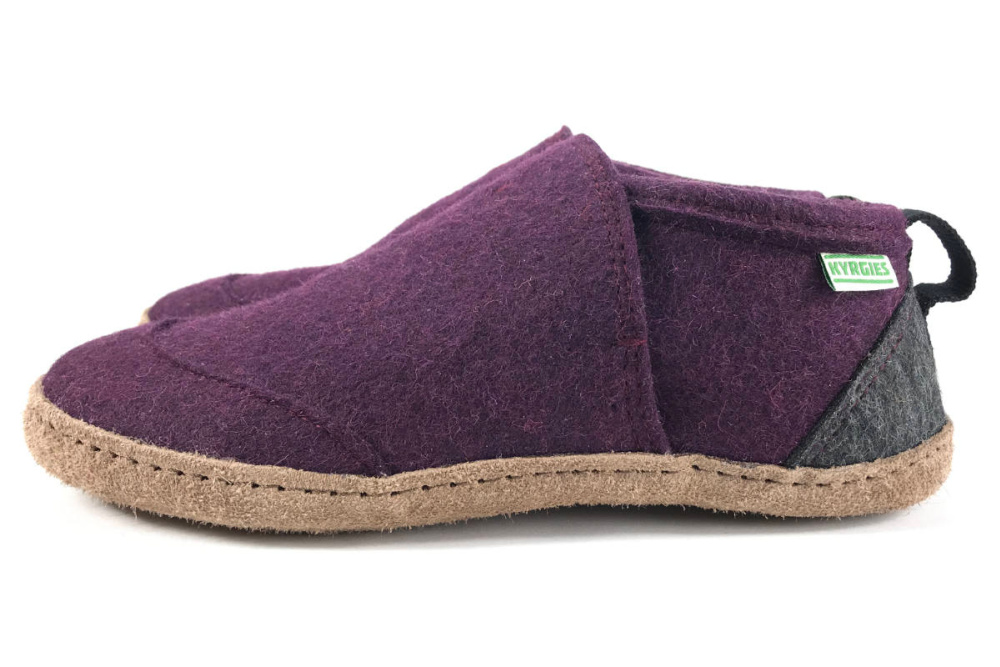 If you're looking for a new pair of the best indoor/outdoor house shoes in the genre, the search is over. kyrgies.com