I could feel the buzz as soon as I boarded the bus linking Crested Butte to its ski resort. Roof-high piles of snow flanked every downtown doorway and parking lot, and storms had dumped 30 more inches on Colorado's Elk Mountains earlier in the week. So I expected leftovers that morning, but the skier sitting beside me was thrumming with excitement. 
"They're opening Teo Bowl today," he volunteered, nodding like a beanie-wearing co-conspirator. And just like that, I was swept up into Crested Butte's quirky tribe of badasses. 
Because if you're not already an expert when you arrive at this mountain, it'll turn you into one. Crested Butte Mountain Resort is gutted with terrain that's so steep and cliffy that it hosted some of the first-ever extreme skiing competitions back in 1991. Yeah, you'll find some mellow groomed runs, but manicured uniformity isn't what enticed powder pilgrims to this remote enclave. People here like their slopes weird. 
That love of eccentricity is even more obvious three miles downhill from the resort, in the town that miners founded back in 1880. Residents haven't buffed the idiosyncracies out of their Victorian houses and storefronts; you'll see no pop-tops or contemporizing renovations along Crested Butte's compact grid of streets. Instead, folks showcase their buildings' character with colorful paint and artwork. They're just as flamboyant about personalizing the cruiser bikes that they ride year-round, no matter the weather—practicality be damned.  
Yet Crested Butte's quirks don't make it cliquish. I didn't have to bribe my bus neighbor for the day's powder tip. And that afternoon, when I lurched off The High Lift and joined the crowd of 30-odd people waiting patiently for ski patrol to drop the rope to Teocalli Bowl, no one made me feel like an interloper. They just widened the circle of stoke.  
"Thanks for getting Teo ready for us!" somebody shouted to a grinning member of the snow safety crew. "Sorry it took us a while," he replied, unhooking the rope to let the crowd surge toward the traverse. We became a hoard of Muppets, giddy and goofy—and shockingly kind. At many resorts, a rope-drop cues a cutthroat stampede that trammels the slow or inept. But here, the 10-minute ridgeline hike to Teo's entrance became a chummy parade of revelers who issued words of encouragement to anyone who stumbled or wheezed. Random shouts of joy echoed among the evergreens.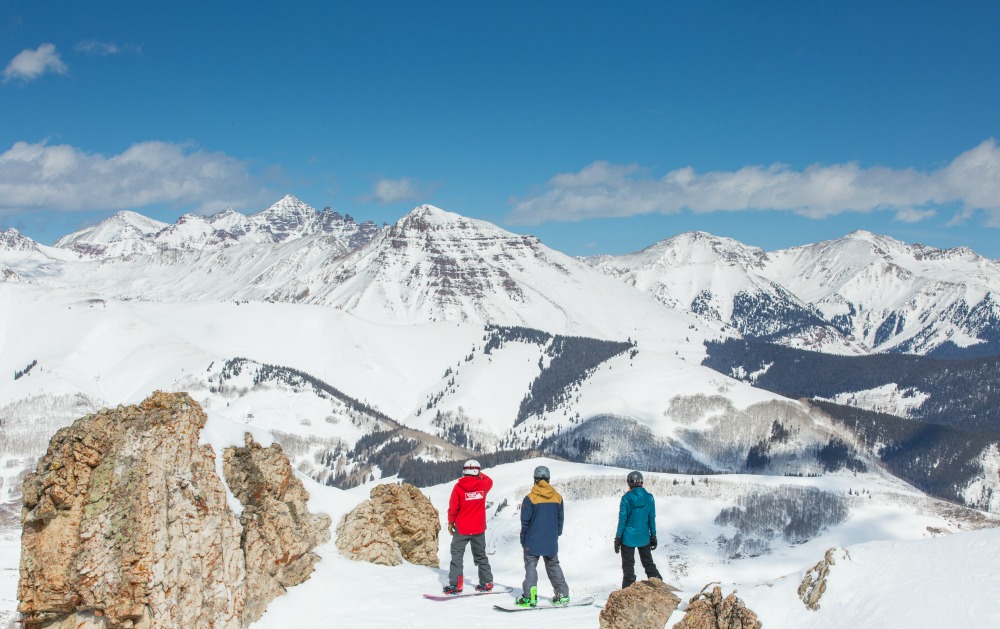 My descent down a tree-lined chute on Teo's far side was signature CB: steep, soft, and spiked with bouldery drops. But what made it unforgettable was the feeling that I was among friends—which is increasingly rare in the (increasingly commercialized) world of lift-served riding.  
When Vail Resorts announced in June of 2018 that it was buying Crested Butte Mountain Resort from the Mueller family, I joined many locals in worrying about the future. Valued at some $13 billion, Vail Resorts definitely knows how to monetize ski areas, but it's also been accused of replacing authentic ski experiences with corporate conformity. Will the big-dollar overlord stamp out Crested Butte's boho individuality—or can this hill stay weird?  
**** 
Geography has always kept Crested Butte out of the mainstream. Located 230 miles southwest of Denver, "It's at the end of the road, literally," says Jamie Starr, who was born and raised among CB's 1,600 residents. Thickets of mountains surround the town on all sides but the south, where the Slate and East Rivers flow toward Gunnison. Those pointy peaks make CB one of the prettiest places in Colorado—which is saying something—but they also make it hard to reach. No interstates roar past these slopes, so nights are utterly silent, but career jobs are in short supply: Starr now works for DPS Skis in Salt Lake City, and those who stay juggle several jobs. 
Other western settlements mined for gold and silver, which gave rise to glamorous opera houses and fancy lifestyles, but Crested Butte's coal industry supported more of a blue-collar culture. Even that had fizzled by the 1960s, when an influx of hippies (many with advanced degrees) established CB's counter-cultural bent. "It's a melting-pot for people who are intellectual, but also very independent-minded about how they express themselves and their creativity," says Starr, who grew up participating in CB's silly, sometimes pagan-based festivals like Flauschink (flushing away winter to welcome spring) and Vinotok (honoring the harvest mother while burning The Grump). "They're really quirky, fun occasions that celebrate not only community cohesion, but also the cycles of nature," Starr says.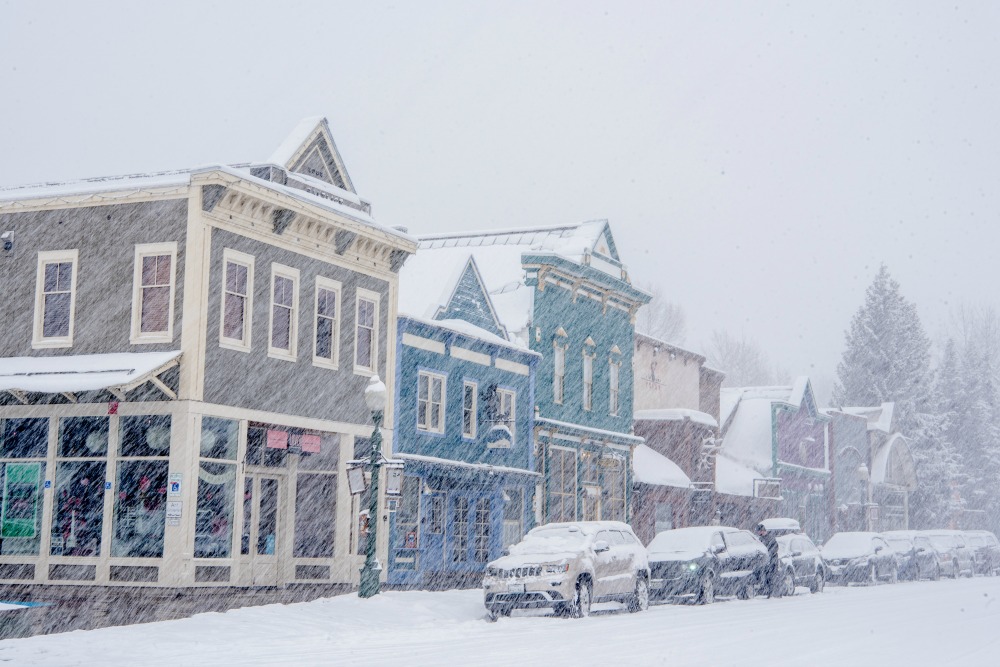 That devotion to nature and the environment meant that in 1979, when AMAX mining proposed a billion-dollar molybdenum mine on the Red Lady Mountain where locals earn their turns, Crested Butte fought it down. Sure, it promised financial prosperity, along with environmental pollution that the community deemed unacceptable. So the tiny town waged its watershed battle against big-dollar exploitation—and won. 
Now, Vail Resorts poses a different kind of corporate takeover. "If [Vail] comes in and brings McDonald's and KFC, that won't fly here," says Bill Dowell, a 36-year local and CBMR ski patrol director (who also moonlights as a musician and woodworker). "But if Vail is willing to come in and spend some money to upgrade our existing facilities, I'm all for it." In fact, Vail has pledged $35 million in improvements at the four resorts it acquired this summer, including CBMR. 
Besides, says Dowell, not even Vail Resorts can blandify Crested Butte's famously challenging landscape. "The reality is, we don't sit on 2,000 acres of beginner terrain that [Vail] can magically develop. We are a technical mountain, and our calling card is our expert terrain." It attracted extreme skiing legend Wendy Fisher, who still lives and coaches in Crested Butte. And it taught Starr all the life skills he would later need. "It's the type of place where one mistake could mean your life," he explains. "So by skiing there, I learned how to be independent, how to heed the mountains' warning signs, how to trust myself. It shaped not only the skier I became, but also the person I became." 
For now, the corporation is vowing to preserve that unique character. "We strive to maintain distinct experiences at each of our mountain resorts," says Vail Resorts spokesperson Liz Biebl. "Honoring the history of Crested Butte Mountain Resort and the surrounding community is crucial to us, and we know it's important to our guests."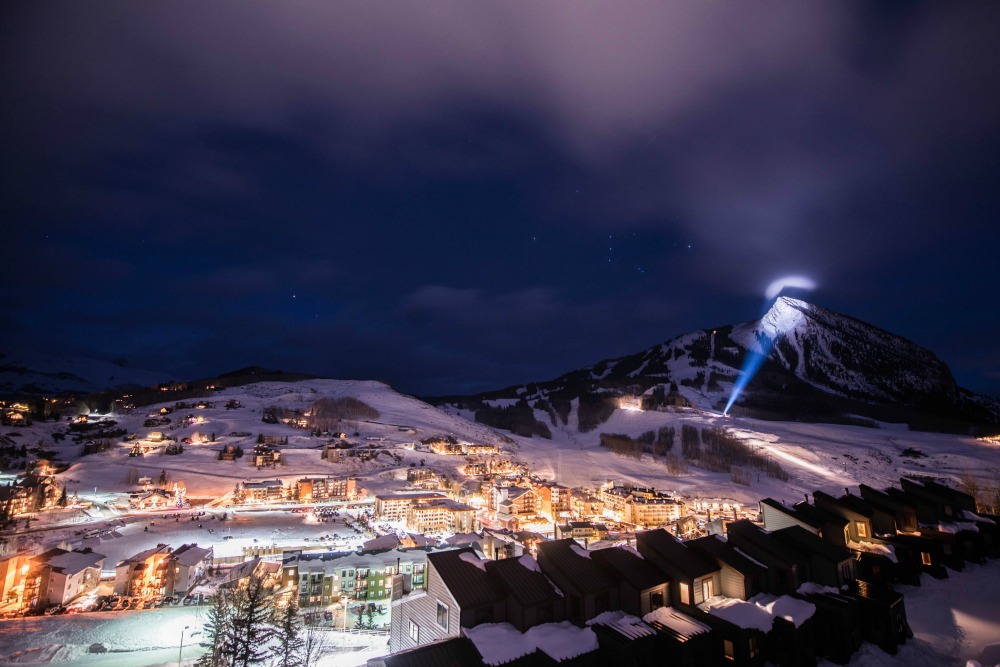 What's important to Dowell, however, is that Crested Butte still has some "rough edges," as he calls them—and only time will tell whether Vail Resorts can rein in its polishing effect as it develops the resort. "My hope is that it retains its character," he says. But ultimately, keeping the quirk may come down to one simple factor: traffic. Vail's management is likely to bring in a lot more visitors. 
"We were happy to share [Crested Butte] with people because for a long time, we were out of the flow," says Dowell. But skier visits are already creeping up, and Vail's Epic Pass (which includes access to 65 resorts worldwide) promises to spike that number even higher.  
So if you want to wait at Teocalli's rope with 30 people instead of 100, go now.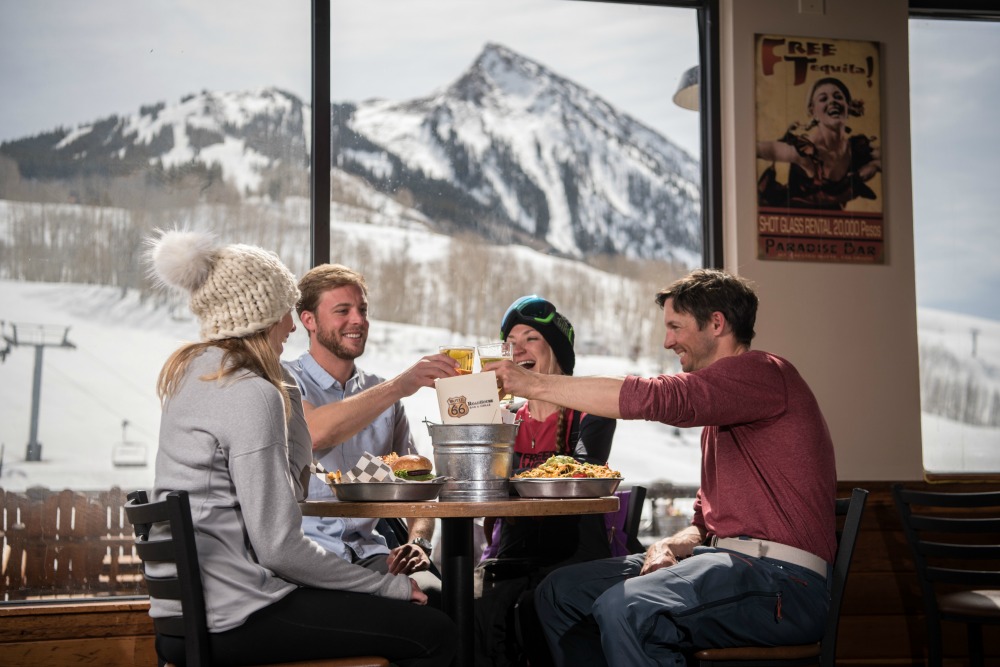 EAT 
The Last Steep 
This mainstay serves up a massive slice of CB character, starting with the tunnel-like staircase you climb to enter the sloping Victorian rooms and tiny, four-stool bar. Décor includes a 10-gallon aquarium with the kind of bubble-burping treasure chest that's coveted by every school-aged fish-owner. And the food's just as satisfying as the ambiance. Burgers are great, fish tacos are tasty—and prices are surprisingly low, given the quality. thelaststeep.com 
Bonez 
Sip rare tequilas and mescals amidst new-school quirk—skeletons and Mexican folk art fill the walls to the soaring ceiling. Locals and tourists crowd in together at the bar's long communal table for killer street tacos and enchiladas filled with whatever inspires the chef that day. And the free stickers (depicting ornate octopi, zombie machinery, and long-haired skulls) will make your water bottle the best-dressed in ski-dom. bonez.co 
Third Bowl 
It's never too cold for ice cream—not when it's small-batch stuff made with local milk and homemade marshmallows and fudge. After churning up creamy treats at home, owners Kendall and Matt went public with flavors such as honey lavender and lemon beet. Once you climb the stairs to this squeaky-floored, second-story café above Elk Avenue, you'll be hard-pressed to order just one scoop. thirdbowl.com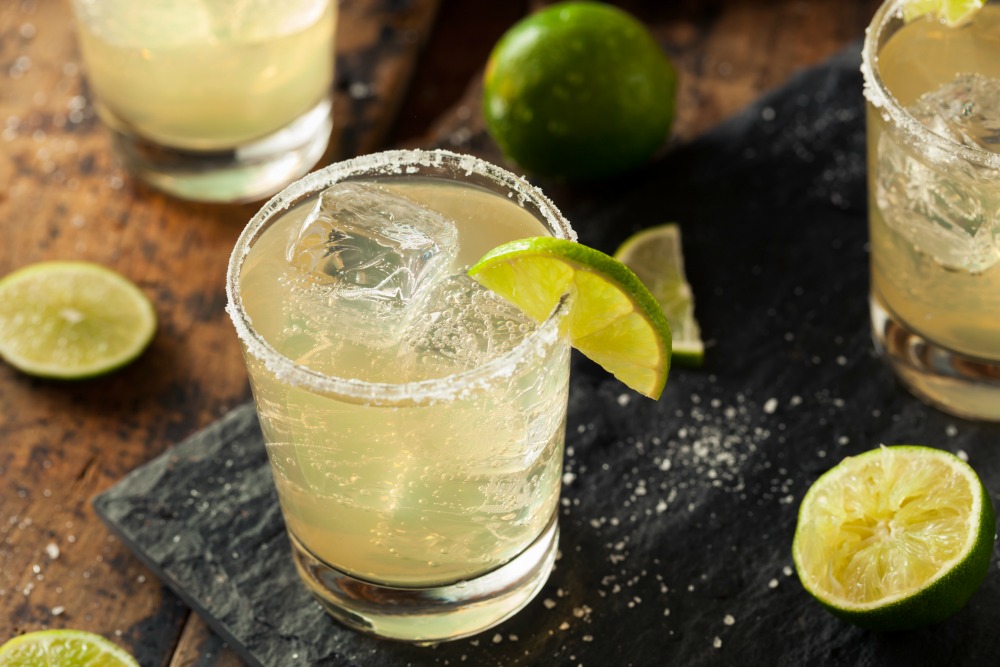 DRINK 
The Ice Bar at Uley's Cabin 
Gaze out at the mesmerizing vistas of the Elks' snowy sharks' teeth surrounding the on-mountain deck and its wooden Adirondack chairs, or belly up to the ice bar—which, as advertised, is topped with blocks of ice that keep your suds frosty no matter how long you nurse them. Go ahead and order a second round…from Uley's, it's an easy descent via beginner boulevards to the base. skicb.com 
Montanya Distillers  
Think rum must come from the tropics? This distillery will convert you to the mountain-made versions, distilled in Crested Butte from Louisiana sugar cane. Brick walls and wooden ceiling beams make this bar and tasting room a cozy spot for a dram. Try an Old Fashioned or Sazerac made with rum instead of whiskey, or enter the Golden Age (with mango puree, fresh lime, and rum infused with roasted jalapenos). montanyarum.com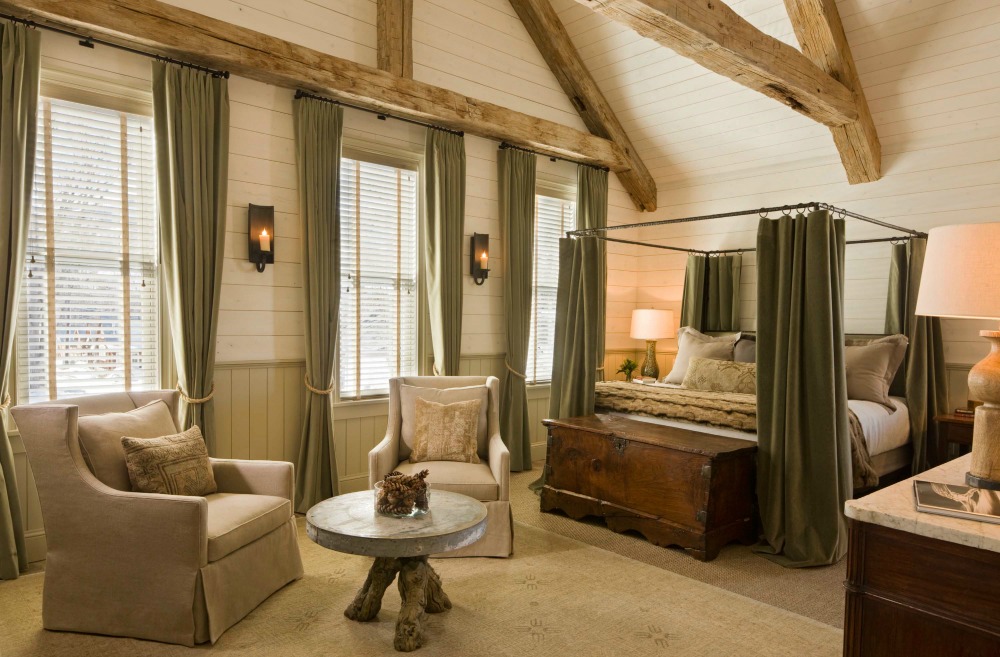 STAY 
Crested Butte Hostel 
Yeah, you can throw down in a bunk (for $25-$40), but most of this hostel's beds are in private rooms that are basic but comfy—like your friend's guest room, but without the sleeper sofa. The shared kitchen and dining room make it easy to prepare meals, and a gas fireplace makes the massive lounge an inviting spot for DIY après. crestedbuttehostel.com 
Scarp Ridge Lodge 
Luxury outfitter Eleven Experience kept the bones of this turn-of-the-century Croatian Hall (circa 1902) but stuffed it with sumptuous furniture, high-end Jack Black spa products, and even an indoor saltwater pool. The result is CB quirk, elevated. From the rooftop hot tub, you look out over the grid of downtown streets that are dwarfed like toy-train houses by Mount Crested Butte itself. elevenexperience.com/scarp-ridge-lodge-colorado-winter/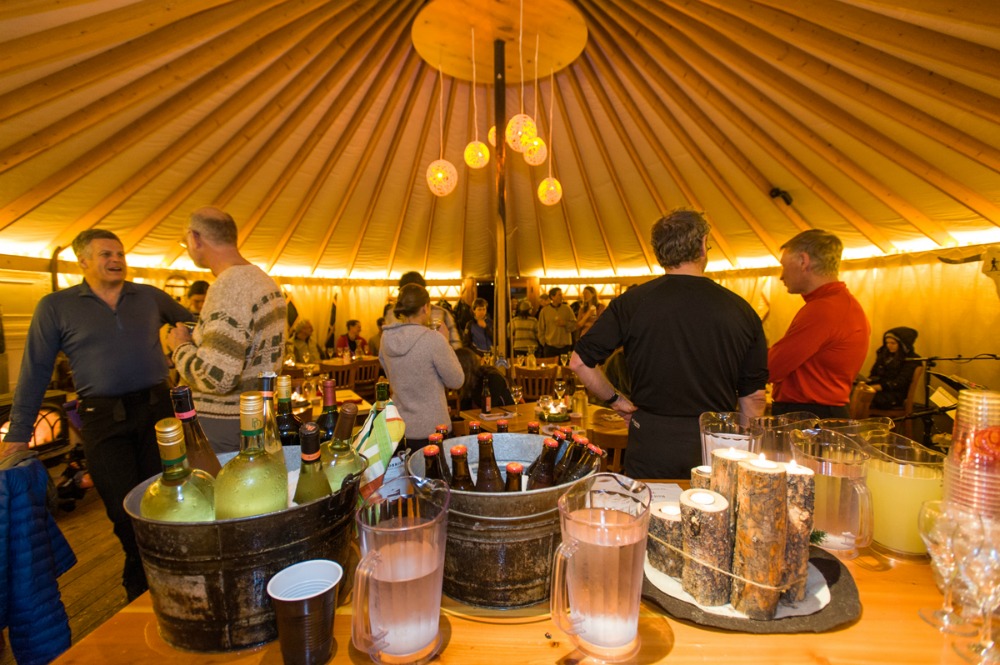 EXPLORE 
Magic Meadows Yurt Dinner 
Even without the grub, kicking and gliding along the 31 miles of trails groomed by Crested Butte Nordic would rank as a bucket list experience. But add in a five-course meal and live entertainment, and the experience becomes downright magical. After skiing or snowshoeing for one mile along the Slate River to Magic Meadows Yurt, you tuck into beef tenderloin or Scottish salmon, and maybe kick up your heels (or just clap along) to crooning guitarists before gliding away beneath the stars. cbnordic.org 
Wednesdays with Wendy 
Several times each season, extreme skiing champion Wendy Fisher shares her secrets with mere mortals. Intermediate workshops: January 9, February 13, and March 13, 2019. Advanced workshops: January 16, February 20, and March 20, 2019. $135/person. skicb.com/wendy