Nestled on the shores of the mighty Columbia River, and in the shadow of Oregon's tallest peak, Mt.  Hood, Hood River, Oregon, has long been home to those seeking sanctuary and adventure in the great Northwest. Originally inhabited by Native American tribes who took advantage of the Columbia River's abundant salmon and other natural resources, the region became known to the rest of the world in 1805 when Lewis and Clark first came upon the stream that is now known as Hood River. 
As settlers began to make their way through this area over the next 50 years, legend has it that some of them were nearing starvation and were forced to eat dogs near the river. That is how the river and area were nearly stuck with the unpopular name "Dog River." But that moniker didn't sit well with Mary Coe, a pioneer who called the area home. In the 1850s, she succeeded in getting the area name changed from Dog River to Hood River, inspired by the towering volcano from which it flowed. 
Today, with Mt. Hood offering year-round skiing, a huge network of biking and hiking trails, world–class kayaking in nearby White Salmon, Washington, and some of the best windsurfing and kiteboarding on the planet, Hood River is known as one of the premier recreation spots in North America. 
About an hour drive east of Portland, Hood River lies in the heart of the Columbia River Gorge, an 80–mile canyon that features steep, forest–covered cliffs punctuated by towering waterfalls. Green, rolling fruit orchards and farmlands with views of a snow-capped Mt. Hood and Mt. Adams offer scenery so amazing it doesn't even seem real. Situated between the wet, temperate rainforest of the Cascades and the dry deserts of eastern Oregon, Hood River features sunny summers and rainy winters (rain in lower elevations = powder in higher elevations!). No matter the season, Hood River is an adventure traveler's dream destination.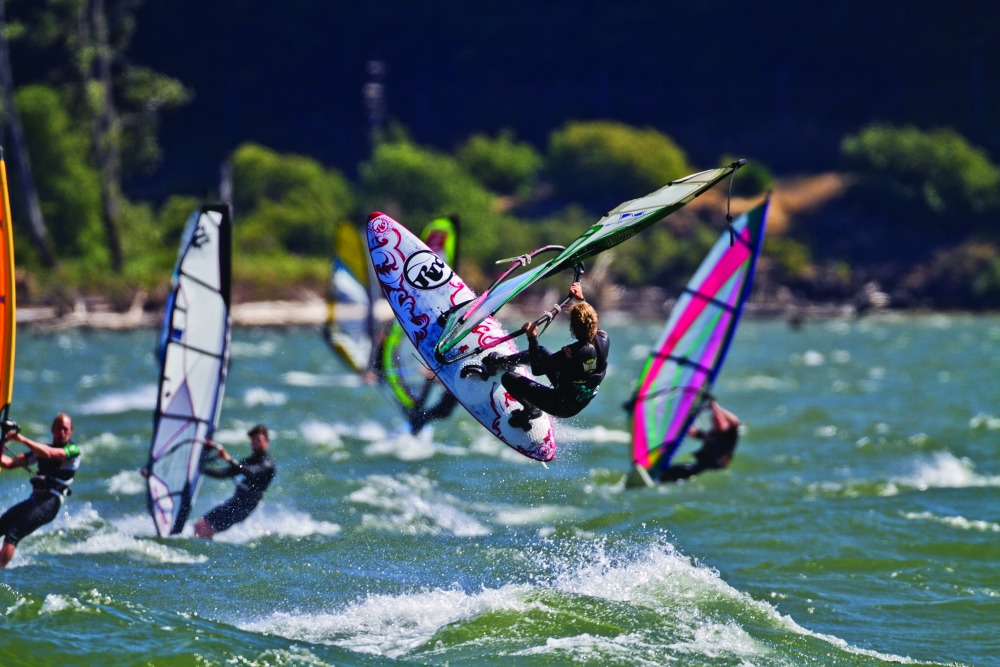 There aren't many places where you can ski, hike, bike, windsurf/kite, or river raft/kayak all in the same day. Yes, it's ambitious (and absolutely not required) to tackle all of these activities in one day, but it's POSSIBLE due to that age-old real estate adage, "location, location, location." If you're inclined toward ambitious adventures, here's a go-get-em kind of day.  
NOTE: Those of you who like to sip your coffee slowly in the morning and take your time getting after it, don't worry. You're not obligated to fit it all in. Take your time and pick and choose over the course of many days.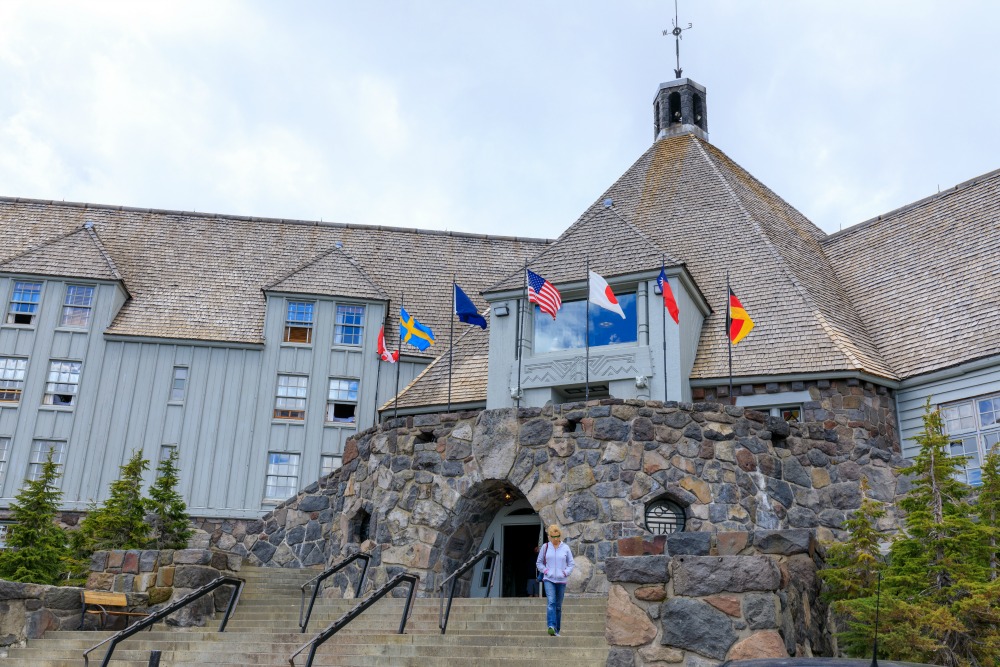 Start your day off riding chairlifts and skiing morning laps at Timberline Lodge on Mt. Hood, which serves up the longest ski season in North America. With the Palmer chairlift spinning June through September, your lust for skiing can always be fulfilled on this iconic mountain. Although the ski scene on Mt. Hood is dominated by the race and freestyle camps, there is plenty of space available for the public to join the fun. With nightly grooming and sparse crowds in the morning, you can enjoy soft and smooth laps before the sun begins to take its toll on the snow. Head back to the parking lot mid-morning and swap out ski boots for hiking boots to hit the legendary Pacific Coast Trail (aka Timberline Trail) for amazing views of Mt. Hood. Hike through wildflowers and glacier-fed drainages carved into the flanks of this towering 11,250-foot volcano. 
In the mood for more? After a scenic one-hour drive from Mt. Hood to the town of Hood River, it is time to get wet. Link up with Wet Planet Whitewater for an afternoon rafting trip down the White Salmon River. Fed by the glaciers of Mt. Adams, the White Salmon boasts crystal–clear waters that float through narrow basalt canyons and forested valleys, providing a classic look at the lush scenery the Pacific Northwest is known for. For experienced kayakers, the White Salmon and stretches of the Hood River offer plenty of whitewater options.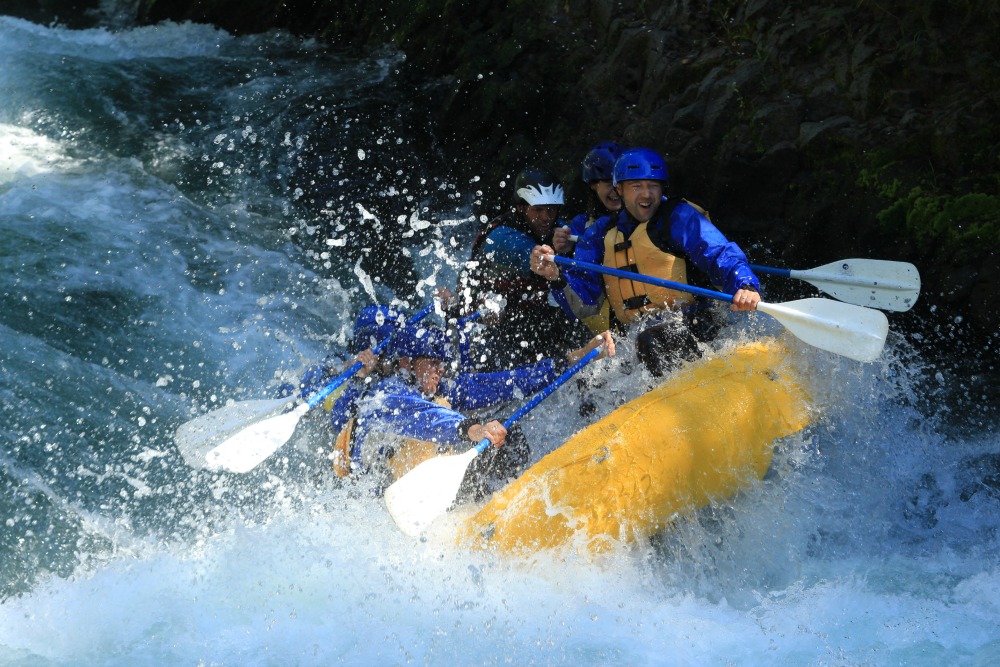 While whitewater is always a good option, the dominant watersports here are windsurfing and kite boarding. Known as the "Windsurfing Capital of the World," Hood River benefits from westerly winds that are accelerated when squeezed through the high canyon walls of the Gorge. This geographic feature creates consistent winds to go along with warm summer temps, generating ideal conditions for these water-based wind sports. With easy access and specific areas for beginners and experts alike, Hood River is the place for windsurfing and kiteboarding no matter what your skill level is. 
In the summer, the sun sets around 9pm, so the evening is a great time for a bike ride. Just a 10–minute drive from the waterfront, the Post Canyon trail network is a local's favorite and serves up everything from buff machine-made flow trails, sizeable jumps, and raw, old-school singletrack. Ride loop after loop in a myriad of ways, enjoy the cooler temps of the evening hours, and explore the deep forests before descending on the town of Hood River for some much-needed food and drinks. At this point you are either fired up for more or completely exhausted, but remember, living BIG is not done in your sleep, so keep the good times rolling with a night out on the town. Hood River's dining and nightlife options are as varied as its recreational options, so dive in and enjoy a nightcap on your legendary day. 
Eat 
Taqueria El Cuate 
With all the activities keeping you busy in Hood River, swing by this red taco truck parked at the Hood River News on State Street for quick, yet delicious Mexican food. Known for high-quality food and ingredients, and passionate and friendly owners, El Cuate is the lunch spot for tacos, burritos, and even burgers. Voted best taco in Oregon!  facebook.com/elcuateBT/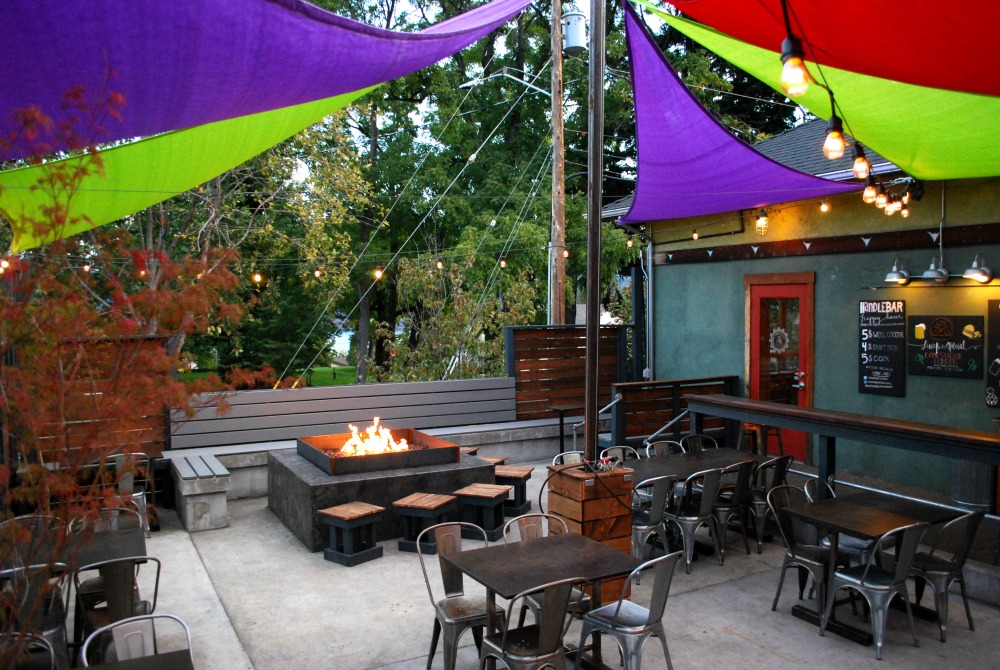 Kickstand Café  
Perhaps the one restaurant in Hood River that can keep up with your all-day adventure plans, the Kickstand Café serves up delicious coffee and breakfast, hearty lunch and dinner options, and a full bar serving the outdoor firepit to unwind and relive your epic day. This is not pub food, as the Kickstand features fusion cuisine made fresh with local ingredients, freshly made donuts daily, and fireside s'mores to keep the good vibes coming after the sun has gone down. kickstandcoffee.net   
Celilo 
Celilo offers a refined yet relaxed dining atmosphere in the heart of downtown Hood River. With a focus on providing local and seasonal ingredients, it is not uncommon to have their chefs foraging in the woods for morel mushrooms during the day and serving them on plates that night. Enjoy high–quality, locally–grown food paired with a distinctive selection of Oregon wines in one of Hood River's premier restaurants. celiloretaurant.com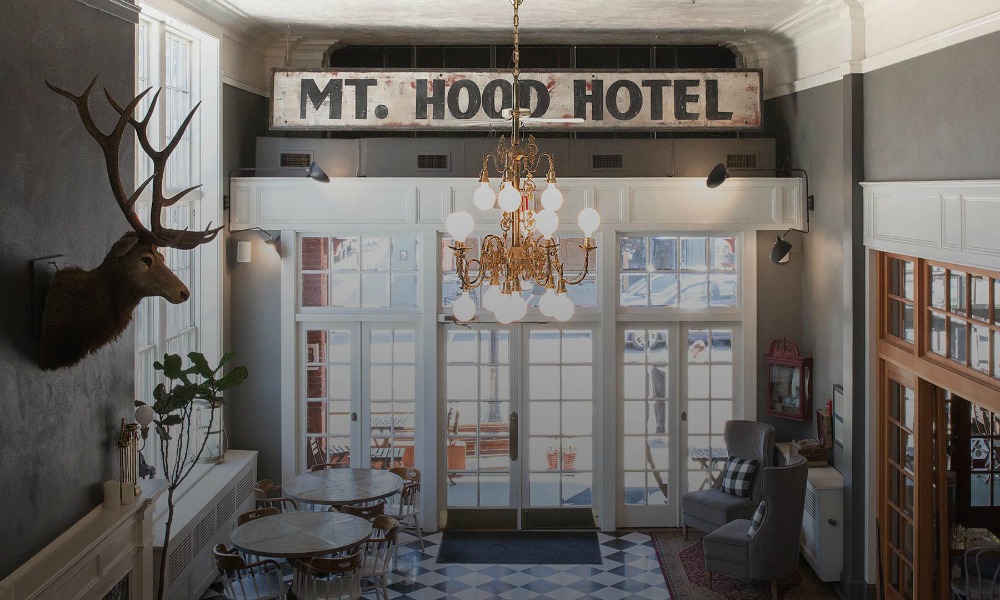 Stay 
Hood River Hotel 
Built in 1911, the Hood River Hotel is a classic spot in the center of downtown. The rooms range from standard hotel rooms to full suites with living rooms and feature vintage elements of the past mixed with high-tech comforts of today. Views of the Columbia River, dog–friendly options, and a unique and historic vibe make the Hood River Hotel a spot to check out. hoodriverhotel.com   
Sakura Ridge 
Located 15 minutes outside of Hood River, Sakura Ridge is a quaint and quiet B&B located on a 72–acre farm that offers stunning views of Mt. Hood. With five rustically elegant rooms surrounded by lush gardens and orchards, Sakura Ridge is the perfect spot for a romantic getaway. sakuraridge.com  
Columbia Gorge Hotel 
Listed on the National Register of Historic Places, the Columbia Gorge Hotel is an elegant property perched atop tall cliffs lining the Columbia River. With gorgeous views, a 200-foot waterfall cascades onsite and manicured gardens match the beauty of the area, while 40 guest rooms, a full-service spa, and spacious common areas offer plenty of indoor comfort. columbiagorgehotel.com