There is something about a knife. The way it feels in your hand—its grip, spine, and tip, and the sounds it makes as it slices, chops, and peels. Whether you're a soldier or survivalist, hunter or hiker, chef or collector, it's all about the blade—Fixed or folding, carbon or stainless, angled, hooked, or serrated. The power of the blade has forged our love for humanity's first tool, with a history that dates back over two and half million years and is defined by its indispensability. From the coveted I. Wilson knife of the Sheffield Cutlers Guild in England (whose knives were gifted by mountain men Lewis and Clark) to the Navy SEAL Ka-Bar, from the fusion of art and technology in the Japanese and German marvels to the Buck buried in your glove compartment, a knife can start a fire, slice bread, carve wood, shave a beard, and save a life.
The art of the knife has been perfected and passed down for generations. The knife makers of today are both artists and technicians producing in small, personal workshops around the Mountain West, or as part of a larger manufacturing company. Here, we introduce you to a few masters of their craft—a few who inspire us in the wild, on the hunt, in the kitchen, and with our everyday chores to commit to the cut and savor a long-lasting relationship—with our well-made knives.
NEW WEST KNIFE WORKS Jackson Hole, Wyoming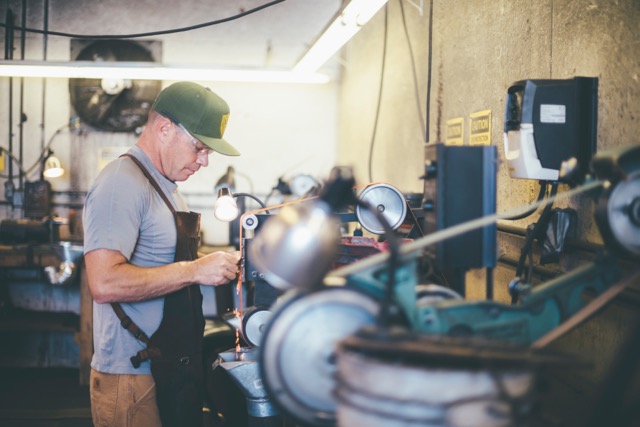 Rows of New West Knife Works' sharp knives line the walls and fill the cases at the Mountain Man Toy Shop off of Jackson's Town Square. It's the place to throw a tomahawk or gift your father, son, or yourself with a handmade blade, or claim a set of ravishing kitchen knives. Founder Corey Milligan explains that his shop is rich with "dangerous toys for big boys." Currently, Milligan's commitments alternate between his flagship store and his workshop of highly functioning designers, forgers, and manufacturers in Idaho Falls, Idaho.
A former river guide and chef, Milligan began knife making 20 years ago. He says, "When I started making knives, the choice was a white handle or a black handle!" Nothing inspired him and no blades impressed him. A doer rather than a complainer, Milligan began designing his blades for manufacture in Japan.
In these early stages of his knife making career, Milligan traveled throughout the country displaying his work at art shows, surrounded by glass blowers, sculptors, and jewelry makers. He developed a respect for craftsmanship at its highest level. But, he says, the blade shows were what blew his mind. "The bladesmiths were artists with multiple skills in metallurgy, woodworking, and lapidary. It's all these things that have to come together with precision. It takes time, practice, and experience to produce custom knives."
To go into business, Milligan identified a gap in the field—cutlery as haute cuisine. He knew chefs wanted a blade worthy of a warrior with an exceptional appetite for strength and sharpness. He recognized that knives share a dual image of status and service, and he craved pretty and powerful.
During the 10 years Milligan manufactured in Japan, he fantasized about utilizing Damascus steel (a unique steel made by welding multiple layers and repeating the process, which produces a stunning pattern and extreme strength) in a kitchen knife. But experts claimed that it couldn't be done. Then, Shun Knives debuted an ultra-sharp knife produced with Damascus steel. Milligan explains that he was initially disappointed. He also had significant pressure to "keep up with the Japanese." But, he says, "I kept doing my thing and staying in my lane." That focus paid off when he found the ultimate partner in aeronautic steel known as CPM-S35VN.
This "powder metal steel," made by Crucible Industries in collaboration with renowned knife maker Chris Reeve, decoded a list of issues knife makers had tirelessly attempted to solve, such as how to keep a knife very sharp without it chipping, staining, or breaking. Fact: the higher the carbon content, the harder the knife is.
Milligan added to his line of chef knives by laying down some serious choices for all who visit his brick-and-mortar shop and website. His G-Fusion line includes Santoku, chef, fillet, paring, utility, chopper, bread, deli, cleaver, hunter/forager, and that custom Damascus. His new Santoku (with a Teton silhouette replacing grind lines) debuted this fall.
Sure, Saveur might have picked Milligan's knives as one of their favorites, but as every man knows, when your product is chosen by Playboy Magazine as the first of "60 Things That Every Man Should Own, Know, or Do," you have arrived.
After perfecting his heirloom kitchen knives, Milligan had an urge to demonstrate his mountain man skills with a bigger blade. The tomahawk.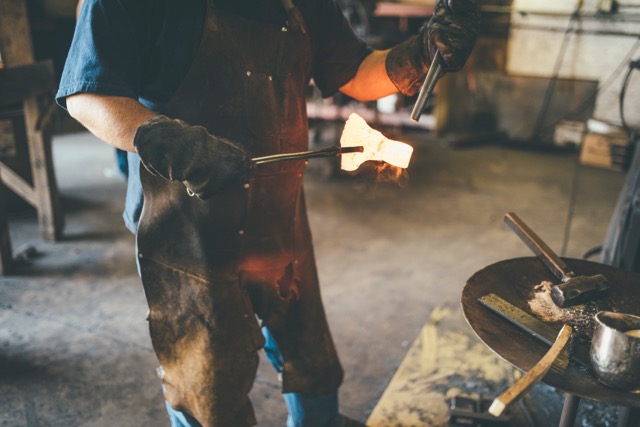 Dennis Moon, VP of Forging at NWKW workshop in Idaho Falls, hand forges more tomahawks in one week than most companies forge in a year. And, because this traditional axe is one of the "dangerous toys for big boys" at Milligan's Mountain Man Toy Shop, there's no rest for Moon. "Everyone loves throwing a tomahawk," Milligan states. "It's a very simple tool, but incredibly challenging to make. It's all done by eye." And, Moon's eyes focus like lasers on technique. Word to the adventurous out there: if you visit Milligan's shop, there's an alley there where they will indulge your tomahawk-throwing urge.
BEHRING MADE KNIVES Missoula, Montana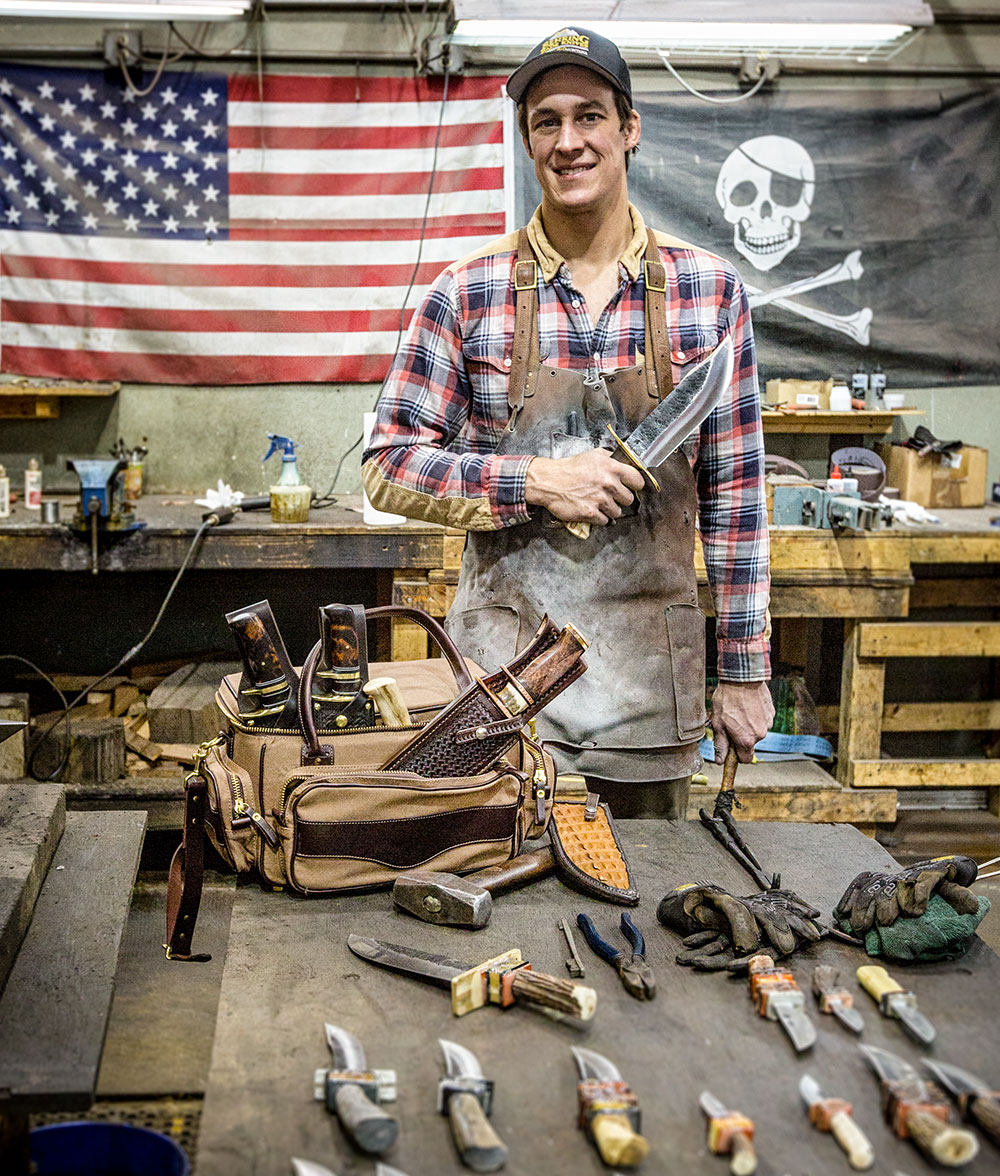 Before the sun crests the Bitterroot Mountains, James Behring, a custom knife maker, begins the day by carefully selecting the steel for his hand-forged knives. Knives are in James' blood, and he's also had a lifetime of study to feed his passion.
His father, Jim Behring, founder of Treeman Knives in Michigan, offered James an apprenticeship after college. Treeman's reputation for tactical knives is known throughout U.S. Special Forces circles. But this apprenticeship was the logical conclusion to a lifetime spent fascinated by knives. James recalls visiting his grandparents in northern Michigan and finding his father's treasure. He says, "My grandmother had a drawer full of my father's things from when he was a little boy, and among the matchbox cars, metal trinkets, marbles, and a compass was a handmade wooden knife. I stuck it in my waistband and ventured out into the vast forests."
When he was ready, James struck out on his own, shifting his location nearly 2,000 miles west to Missoula, Montana, to open Behring Made Knives.
The process of knife making begins with patience and precision using tools that can maim and burn. It appeals to those who think like scientists and dream like artists. Behring is both. On the scientific side, he knows his metals. It's probably safe to say that knife makers know metallurgy and the ASM Metals Reference Book like a bookie knows the spread.
On the artistic side, Behring understands classic design and craftsmanship. Each blade begins as a blank (also known as a billet). Held by tongs, it is forged by heating it in a hearth with temperatures over 1,600 degrees. Once the billet is removed from the forge, Behring's hammer will shape it on the anvil before it is rough ground. The process continues as it's heated up again, quenched in oil, and placed in an oven. This hardening, annealing (the relief of stresses in the metal during forging), and tempering recipe is often intuitive. The whole enterprise has the potential to be a hot mess or a glorious example of the dance between nature's elements and man's ingenuity. It all depends on the skill of the maker.
Behring sources the materials for his handles within the United States, which could mean Alaskan musk ox, Georgian stag, or found objects from his own hunt. "The beauty in a wood burl, or the magnificent color in a piece of fossilized walrus ivory, the nuances in the horn and bone, all lend unique character to our knives."
Grinding, polishing, buffing, sanding, and sharpening are all performed with an exacting eye honed from failure as much as from success. "The trick is striking a balance between function and beauty," Behring says. "At the end of the day, as beautiful as a knife is, it has to be sharp, comfortable, and functional. That's really the goal."
KRAMER KNIVES Olympia, Washington
Bill Kramer from Olympia, Washington started Kramer Knives and now his knives are known around the world. He was the first Master Smith admitted for crafting the perfect kitchen knife and whose relentless pursuit of excellence is practiced through the Japanese concept of Kaizen in his effort to continuously improve. He's appeared as a judge on Bravo's Top Chef and Anthony Bourdain swooned over his process in his series, "Raw Craft." And, then there's the first woman inducted into the ABS, Audra Draper from Riverton, Wyoming who celebrated her 20th year of attendance at the all mighty BLADE Show in Atlanta, GA. These master bladesmiths represent a craft that only the crème de la crème of artisans can achieve.
Often knives are not always about the 'making,' sometimes it's about the business. There's a woman who's been in the knife industry for over 30 years. Her name is synonymous with some of the most sought-after knives designed by her now ex-husband.
CHRIS REEVES KNIVES Boise, Idaho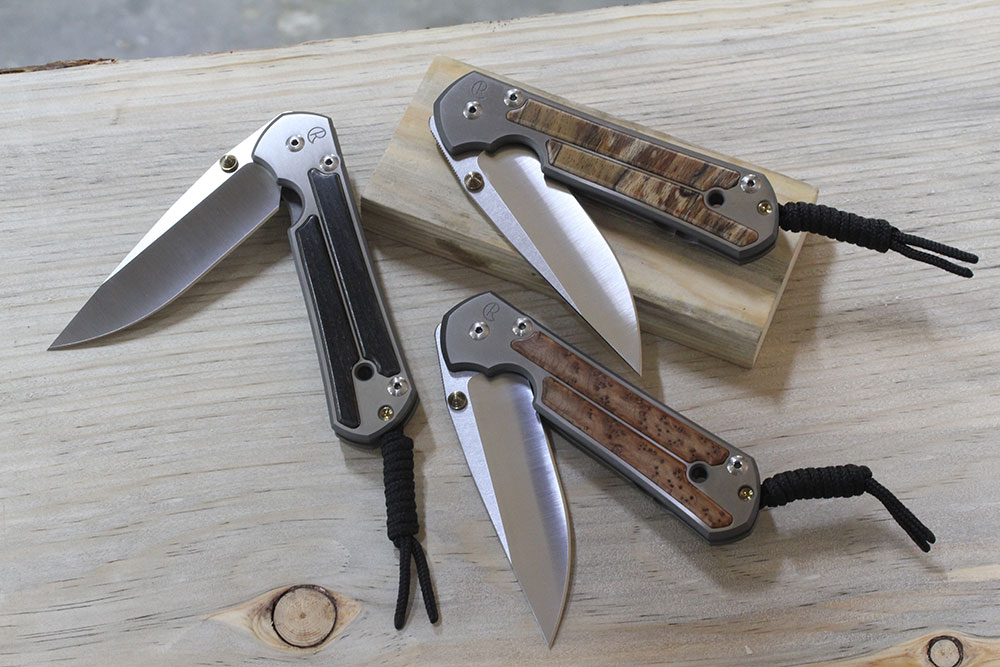 It was South Africa in 1984 where Anne Reeve began in her life in the knife industry. Underfunded but with ample determination, Chris and Anne put all they had into producing the best knives possible, but because of escalating production costs, potential trade embargos, and political unrest, they soon realized a move to the US would benefit their chances for success. In 1989 they landed in Boise, ID. Within three years, they had attended dozens of knife shows and received flattery for Chris Reeve's one-piece "high-dollar, purely custom knives." Then, low and behold, his model, the Sebenza was revealed. Zulu for the word "work," the Sebenza is a handmade folding knife that rocked the world.
Anne says "Without sounding boastful, the Sebenza's Integral Lock © has become the yardstick against which other folding knives are measured. Between the brilliance and simplicity of the design, and our exceptional standards of manufacturing quality, Chris and Chris Reeve Knives have raised the bar in the industry." The titanium frame lock with the feel of a "bank vault" is an EDC (Every Day Carry), which means users rarely leave home without it.
With honors and resources, in 1991, the Reeves invested in a computer controlled machining center (CNC) to address the deluge of backorders, and their future. It's been bright ever since. Incorporating the business, producing fixed blade knives, moving twice into new and larger facilities contributed to their meteoric rise and longevity in the knife world. Currently with an unprecedented 15 times as the recipient of BLADE Magazine's Manufacturing Quality Award industry peers and the public alike praise the craftsmanship and iconic designs. "We work hard daily to implement the tightest tolerances in the industry and simply don't accept any second best."
The illustrious history continued. Similar to another father and son legacy (Jim and James Behring), the prolific Grant and Gavin Hawk of G+G Knife Design in Boise, ID created an earthquake in the knife world by collaborating with CRK for their Ti-Lock design. When the Hawks "brought the concept to us, we were excited." Isolating the lock mechanism on the blade rather than the knife body might have seemed simple, however the engineering feat, Anne admits, makes it "the most challenging knife for us to produce."
Throughout the last two decades Zulu names have embodied the acclaimed razor sharp models, Umnumzaan ('the boss') and Inkosi ('chief') among others.
However, our diverse customer base celebrates because "we have down to earth hard working knives, and also elegant embellished collectible knives. We have customers who save diligently to buy a knife, and some who have 20, 40, even over 100 of our knives. Some get used hard everyday; others are "safe queens."
Reeve has been lucky to have his greatest influences, Ted Dowell (d.), Bob Lum (d.), and Bill Harsey (their collaboration resulted in the 'Yarborough' for U.S. Army Special Forces), as his most generous friends. Recently semi-retired, he remains as Anne describes, "as an exceptionally creative mind." Today Anne wholly owns Chris Reeve Knives. With forty employees and a wide range of manufacturing tasks, she confesses, "while I certainly could not have foreseen fully owning the company, the past 30 years have given me all the training I needed." For 15 years she has carried the Mnandi ('very nice'), which describes this woman whose blade has been strong and sharp since day one.