MMMmmmm slack season in the mountains. Crowds thin, kids go back to school and we excitedly pull out our layers with a hopeful eye on our ski gear. However, just because summer has come to an end doesn't mean that the dusty days of trail roaming have to end as well. In fact, with less traffic on the trails and select access to the few deciduous trees we have out west, fall riding is some of the best in the year.
With a hankering to explore new trails and seek crazy autumn views, I polled a handful of western mountain riders on their favorite spots to ride in each state. I asked what rides had the highest foliage to intensity ratio, accessibility to town, and general epic-ness. No surprise, there was some overlap, which led to this semi-definitive list of the best rides in the autumn west (at least the ones that aren't total secrets).
Utah
Park City:
Armstrong to Spiro
If you're looking for the greatest foliage to mileage ratio possible, hit Park City's Armstrong to Spiro loop mid-September to have your shorts blown off by some brilliant aspens. The loop is a big crowd pleaser amongst the earn-your-turns contingent because it demands about 2,000 feet of one-way climbing before transitioning into a flowy, fun descent back to the parking lot. Nearly the entire ride weaves through trees, leaving you feeling like you're riding through a kaleidoscope this time of year.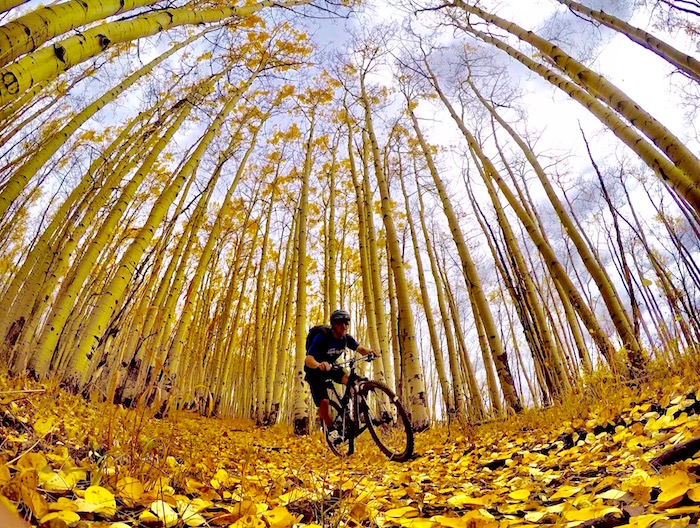 Salt Lake City:
Crest Trail to Mill D
Starting with a climb notoriously named "Puke Hill," Crest Trail riders dance along 10,000ft to the tune of views of the Salt Lake and Wasatch valleys. The entire ride has about 1,500 vertical feet of climbing and 3,600 of descent, which makes earning your altitude at the start of the ride more than worth the ripping return home. Starting at Guardsman's pass, the view of changing aspens from the top of Deer Valley will energize the entire 15 mile ride across the crest and down a challenging "spine" section.
Colorado
Crested Butte
401 Trail Loop
13 miles of climbs, descents and steady terrain through some of Colorado's most scenic landscape makes the 401 Trail one of the best trails to ride all three warm seasons, but the bursting colors of several aspen groves, paired with shots of Crested Butte's high peaks, makes this ride the best in the autumn west. Marked as an advanced trail with several tough climbs all at about 11,000ft, there's absolutely no shame in taking a break to take in the scenery.
Gunnison County
Monarch Crest Trail
Every Colorado rider I asked immediately suggested Monarch as one of the best view-filled fall rides in the west. 14.5 miles of single track (with more down than up) along a ridge line in the central Colorado Rockies just cannot suck this time of year.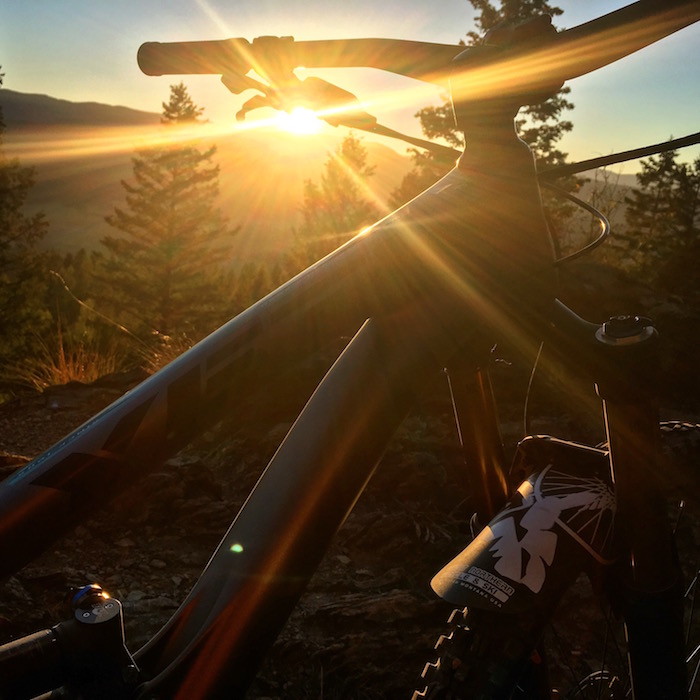 Oregon
Mckenzie Bridge
Mckenzie River Trail
Highly considered one of (if not THE) best mountain bike trail in America, McKenzie River offers every type of terrain and landscape one could ask for. Mostly gradual downhill with a few technical sections, the trail weaves through mossy forests, waterfalls and volcanic rock formations. Ride in the fall, and all that Pacific Northwest greenery and underbrush turned ablaze with fall color will light the way.
Montana
Bozeman
The Bangtail Divide Trail
Locals love this trail because of its vicinity to town and out-of-this-world views. 25 miles gives you 36,000 feet of climbing, several switchbacks, ridge rides, AND views of seven (count 'em) SEVEN mountain ranges. Ranked the number one ride in the Bozeman area and all of Montana, the Bangtail is a must-do, several times over, for any rider, any time of year.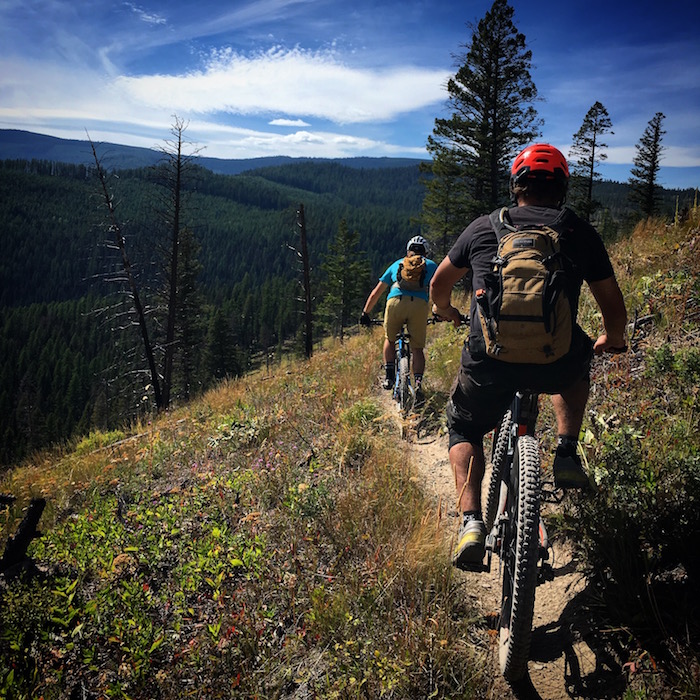 Whitefish
Bill Creek, Trail 800
Beta on this trail is hard to find, but once you get yourself out of town and up one or two Montana dirt roads, you'll be glad you committed to this gorgeous, varied, all-day adventure. The 800 trail is split up into three sections, so you can choose to do as many small options as you want or create a big day and do all three. Local bike gurus suggest parking between Ashley and Bill (at the bottom of linked map), then doing Ashley to Bill, following the same drainage back to your car for one of the coolest rides you'll ever experience.
Washington
Spokane
Trail #140 Mt. Spokane
Either shuttle from Bear Creek to Vista House or make a loop by riding up the double track and around to Vista House, either way, you'll be treated to a world of pleasure on this flowy, challenging fall adventure. Enjoy views of the entire north and east Spokane Valleys before navigating this 6.1 mile ride, considered locally as one of the best rides in the Pacific Northwest. Be sure to hit this trail before mid-October as the park will close in anticipation of early snow, and if you're really feeling excited for autumn, be sure to stop by one of the many Green Bluff apple orchards and pick a few post-ride treats on your way back to the city.
Idaho
Ketchum
Fox Creek Loop
Starting in either the Lake Creek or Fox Creek parking lots, this loop offers the best in rolling, smooth terrain, river spinning, light climbing and valley views. Riding along the Big Wood River gives you cool autumn air, and leafy, colorful tracks before you ascend several switchbacks to take in stunning views of the mountains north and valley south. Clocking in at about 6 miles, this short ride is perfect for the after work crowd and is accessible to most riding levels.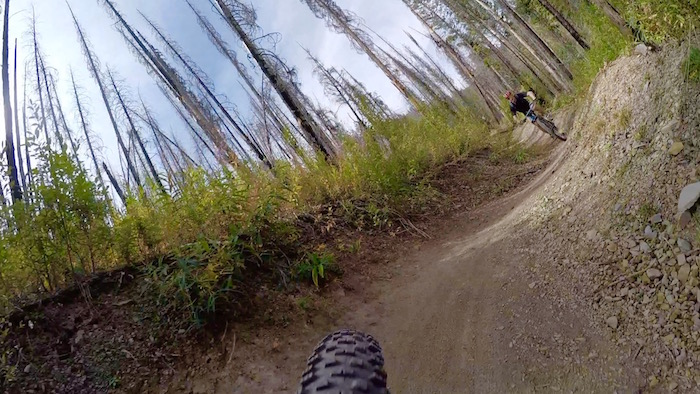 Sandpoint
Selkirk Recreation District Trails
Whether you're starting high and finishing low on some of the area's best flowy trails or gearing up for a longer endurance ride, the Schweitzer trail system provides some of the best opportunities for fall riding in the Idaho panhandle. Wrapping around and the down the ski mountain, riders can enjoy views of Lake Pend Oreille and the surrounding Selkirk Mountains, or opt to fly down huge banked corners and roller coaster tracks to the base of the hill. If you choose to do the latter, a shuttle up from the bottom of Lower Basin Train to the village is highly recommended.
Wyoming
Jackson WY
The Putt Putt Trail
One of the more mellow rides in the Jackson area, this 3.2 mile singletrack has some of the highest possible foliage to intensity ratios in the Teton Valley. Take this trail as a short out and back or connect to other Cache Creek trails. The proximity to town is a huge plus, too, which makes that post-ride warm drink all the more accessible.