Spring is currently springing all around the Mountain West and that means that trail networks are quickly continuing to dry out. It also means it might be time for a fresh pair of lightweight trail running/hiking shoes for many of us out there who are looking to get after it early and often. Many of the current shoes that fall into the "trail running" category tend to continue to be comfortable yet soft, lightweight yet flimsy, and simply not durable and one dimensional. Looking for something that is rugged enough for technical hikes, can literally do it all on any terrain, and boasts lightness and comfort to boot? Enter the brand new MAGMA from Tecnica.
An industry leader for decades in the fields of ski boot and recreational shoe technology, Tecnica is based in the Province of Treviso just south of the world famous Dolomites in the Italian Alps. We were fortunate enough to get our hands (feet) on some pairs of the do-it-all MAGMA for some testing on some of our favorite on-trail and off-trail routes in the Rocky Mountains of Southern Idaho. Tecnica's goal with this new model was to create a hybrid that takes the best of both the trail running and hiking worlds and fuses them into a one-quiver trail shoe. Check out our review below.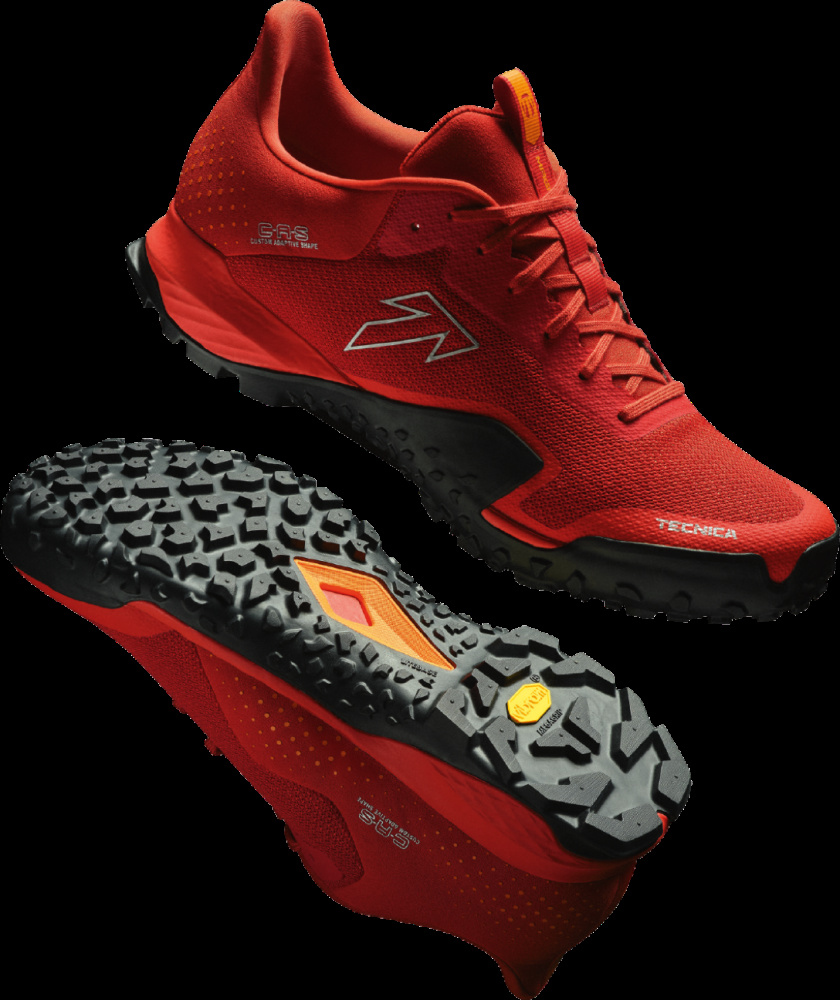 First off, one of the most important components of any trail shoe out there is the outsole. Tecnica has bestowed the MAGMA with quite literally the grippiest, most rugged, and best shock-absorbing sole in the game. It's called VIBRAM LIGHTBASE GRIPTM technology and is designed with a unique multi-traction tread pattern that was actually inspired by mountain biking enduro tires. The MEGAGRIP TM compound rubber material enables optimal grip on all surfaces both in the dry and the wet. Whether sprinting up a steep pitch of dry dirt covered in gravel or flying down a damp single track pocked with wet stones in a rain storm, we quickly found that Tecnica's advertising about this sole is spot on. And for all the weight weenies out there, granted this sole adds a little more weight than the average ultralight pure trail runner's tread. But the sureness of foot from the traction it gives, as well as its far superior durability, are definitely worth the few extra grams if you ask us. This heavy duty outsole also gets an extra thumbs up because it performs like a sturdy hiking shoe in technical walking conditions.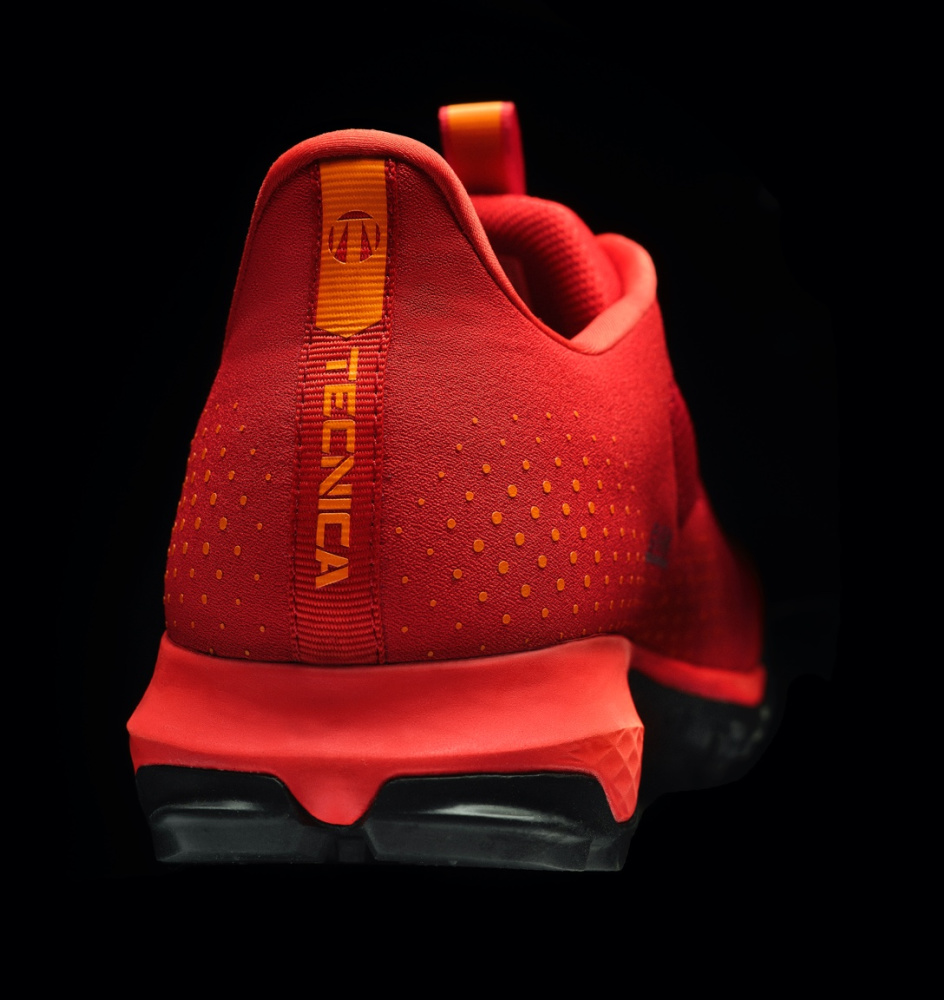 Another notable aspect of the outsole is an innovative oversize heel design that lets the user maximize downhill and technical traversing performance. Two rubber stability fins on either side of the back of the shoe are meant to provide a whole new level of braking on sketchy descents that include scree, gravel, loose rock, etc. Trusting any trail shoe on loose terrain, especially while picking your line at a high pace while running, can be somewhat unnerving. The sole design of the MAGMA definitely gives us more confidence when hitting loose, rocky, and dry descents than any other shoe designed for trail running that we've been familiar with. Simply put, it's rock solid.
Moving on to the midfoot area of the MAGMA, we see several more unique aspects to this shoe's design that serve to set it apart. A high rebound compression molded EVA midsole is there to absorb heavy impact on descents. With an ESS SHANK to control torsion and a rock plate to protect the forefoot against rough terrain, your feet are armored to do battle with the roughest trails and scrambles you can throw at them. One complaint we've always had with pure trail running shoes is how easy it is to get your feet sliced up (sometimes literally) by jagged rocks if you feel like hitting some rough stuff. The MAGMA has given us better shock absorption on descents AND side, upper, and toe protection than other trail runners. Plus, the outer material of the shoe isn't as prone to holes and tears. Keeping with the midfoot area of the shoe, the MAGMA features pre-molded EVA footbeds that provide superior comfort and midfoot support to prevent ankle injuries. Tecnica claims that this new pre-molded, cushioned EVA footbed delivers in instant fit without requiring customization. Is this true? In our opinion, the out-of-the-box fit felt close to the shoe being already completely broken in. This is also due largely in part to the MAGMA being equipped with a pre-shaped upper designed around a specific anatomical last. The structure and materials of both the footbed and the last provide greater midfoot support and heel hold than average running shoes.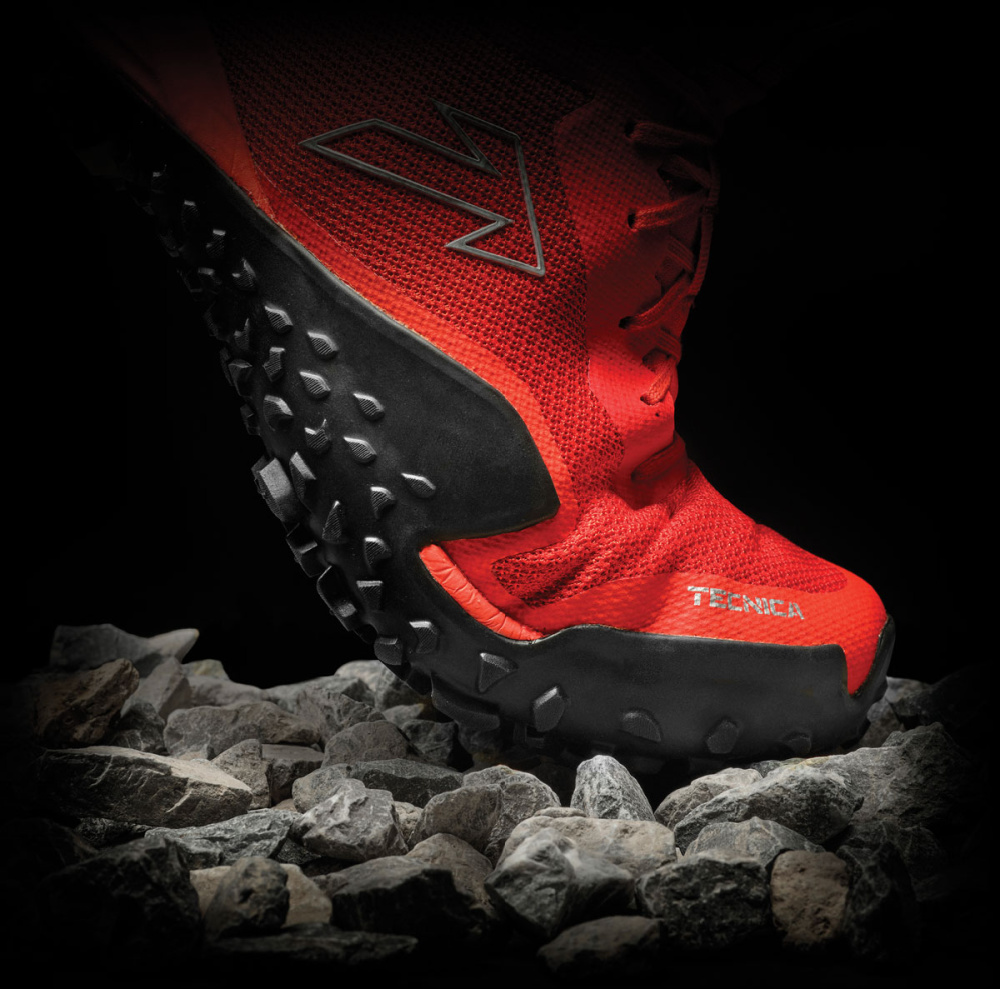 Rounding out the MAGMA's long list of innovative features is a micro adjustment integrated lacing system for improved fit precision, a fast transition rounded toe design for fast accelerations and transitions, and a GORE-TEX upper liner for waterproofness and breathability. Yep, I think we've found our new trail shoe quiver killer.