Ginger is a flowering plant and its rhizome (underground stem—not root) is used for cooking. It is also known for helping with nausea. In colder months, grow it inside and harvest small pieces within three or four months. Store it in the freezer and always have it on hand. Bonus? Ginger is easy to grate when frozen.
Salmon Poke Recipe
Hector Armendariz 
Chef at The Brass Tag Restaurant, Deer Valley Resort, Park City, Utah
Prior to joining Deer Valley, Armendariz was Chef de Cuisine at the Grand America Hotel. His sous chef experience includes time at Snowbird's Aerie Restaurant, Sundance's Tree Room Restaurant, and Montage's Apex Restaurant. Born and raised in Heber City, Utah, Armendariz says, "I love playing with Asian flavors. The fresh ginger purée in this recipe is the key ingredient because it lifts up the other ingredients in the dish to help them shine." Many of these ingredients are available at Asian markets.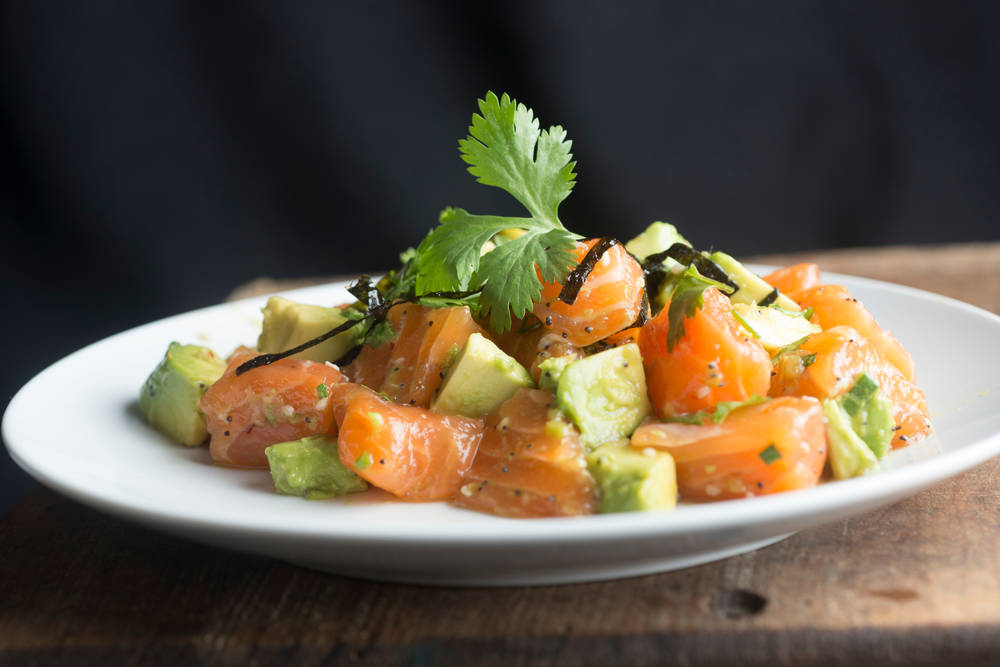 serves 3-4
12  oz Verlasso salmon (found at Harmon's Grocery Stores, a family-owned grocery store around the greater Salt Lake City area) or Atlantic salmon (ask for medium dice).
2  tsp kosher salt
2  tsp togarashi spice
1  tsp ginger purée (2 oz of fresh ginger poached in 4 oz of water until fork tender, then blended in a blender)
4  oz ponzu sauce
2  oz tamarind glaze
4  tbsp green onions, finely chopped
3  ripe avocados, medium dice
1  tbsp roasted seaweed, thinly sliced for garnish
½  c cilantro, finely chopped for garnish
Add the salmon to a metal bowl and season it with the salt and togarashi spice. Mix well so the spices are evenly distributed. In a separate bowl add the ponzu sauce, tamarind glaze, and the fresh ginger purée. Mix until the ginger purée is fully incorporated. Add the sauce to the salmon, let marinate for 2 to 3 minutes. Add the green onions and avocado to the bowl and mix gently. Serve with desired amount of seaweed and cilantro.
---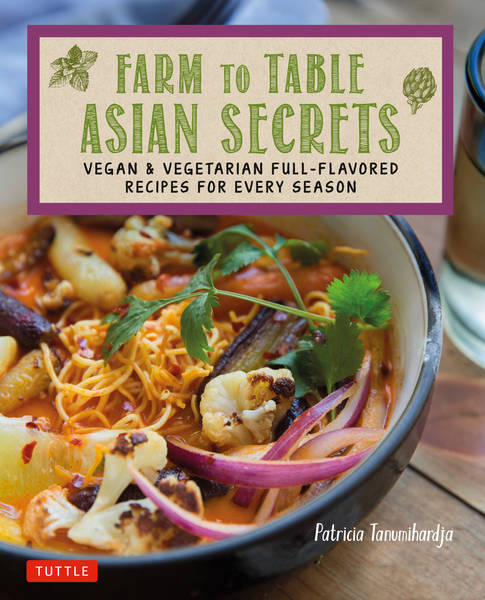 Wondering what to do with all that chard? Patricia Tanumihardja puts it in her Rainbow Chard Korean Pancakes recipe and also uses it instead of seaweed in her Swiss Chard Brown Rice Sushi Hand Rolls. An abundance of zucchini? Try Pat's Thai Basil Zucchini or Turmeric Zucchini and Carrot Stir Fry. One of our favorites is her Golden Fresh Corn Fritters. Hands down, this is one of our favorite go-to cookbooks.
Butternut Squash Potstickers
With its glossy, dark tan skin, the baby-sized honeynut butternut squash is a new addition to the market. With a honey-sweet flavor, even non-squash eaters will be pleased.  If you can't find any, use regular butternut squash, or any other winter squash like delicata, sugar pumpkin, or acorn. You'll probably end up with more squash purée than you need for this recipe (small squashes are hard to come by), but you can save it for making soup or baby food. Or freeze it to make more potstickers. If you're keen on convenience, canned pumpkin purée is a quick and easy option.
If you can't find dumpling wrappers to make these Butternut Squash Potstickers and don't feel like making your own dough, then look for egg roll wrappers and just cut them into circles.
Serves 4-6
1 small (12 oz/360 g) honeynut butternut squash
2 tsp soy sauce
¼ tsp freshly ground black pepper
1 tsp sesame oil
½ cup (65 g) frozen peas and/or carrots
3 tbsp finely chopped green onion (scallion)
2 tsp grated fresh ginger
25 round dumpling wrappers vegetable oil for pan-frying
Spicy Soy Sauce (recipe follows)
Preheat oven to 375°F. Halve the squash, scoop out the seeds and stringy bits and place the halves cut side down on a greased baking sheet. Roast until tender, 20 to 30 minutes, and allow to cool.
Scoop out the flesh from the skin into a large bowl, discarding the skin. Mash with a potato masher or a fork until smooth.
Measure about 1 cup of the purée, setting aside any extra for future use. Mix in the soy sauce, black pepper, sesame oil, vegetables, green onions, and ginger. Taste and adjust seasonings as needed.
To assemble the potstickers, set up your work station: stack the wrappers in one corner of your work surface and cover with a damp cloth so they don't dry out. Line a baking sheet with parchment paper, and fill a small bowl with water.
Peel off one wrapper and hold it flat in your left (or non-dominant) hand. Place 1 tablespoon of filling in the middle. Moisten the edges with your fingertip and fold to make a half-moon shape. With your thumb and index finger, make a row of pleats from left to right. Press together all the pleats to seal, making sure that the filling doesn't ooze out, and place seam-side- up on the baking sheet.
Repeat with the remaining wrappers and filling.
Swirl 2 tablespoons vegetable oil into the bottom of a large nonstick or cast-iron skillet to coat evenly. Set over medium heat until shimmering hot. Arrange about 10 potstickers (or however many fit without crowding) in a single layer seam-side up in the skillet and cook until the bottoms start to brown, 1 to 2 minutes. Shake the skillet periodically to make sure they don't stick. Carefully pour in about 1 cup (60 ml) water and cover with a tight-fitting lid. Reduce the heat to medium-low and steam for 4 to 5 minutes or until most of the liquid has evaporated and the wrappers are translucent. Loosen the potstickers gently with a spatula and transfer them to a serving dish. They should be crisp and golden brown on the bottom. Wipe out the skillet to remove any remaining water and repeat until all the potstickers are cooked.
Tip: Potstickers freeze well.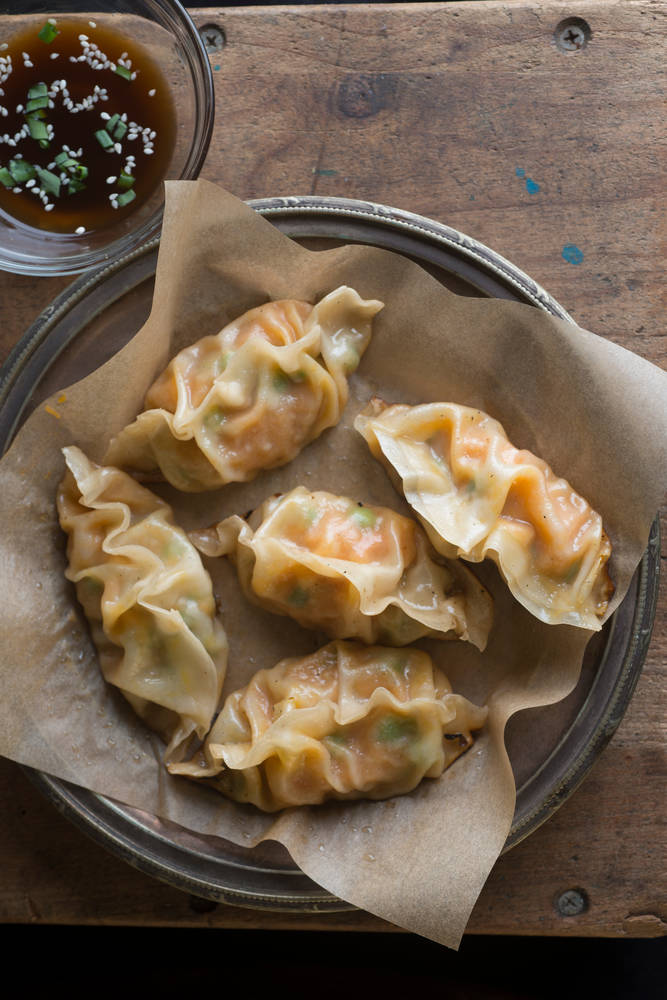 Spicy Soy Dipping Sauce
The dipping sauce can be made up to 1 day ahead, but wait till the last minute to garnish with ginger, green onions, and sesame seeds.
Makes 1 cup
½ cup soy sauce
⅓ cup rice vinegar
1 tbsp toasted sesame oil
2 tsp sambal oelek (or to taste)
1 tsp granulated sugar
1 tbsp slivered fresh ginger
1 tbsp chopped green onions (scallions)
1 tsp toasted sesame seeds
Whisk together the soy sauce, vinegar, oil, sambal oelek, and sugar in a medium bowl until the sugar completely dissolves. Garnish with ginger, green onions, and sesame seeds. Set aside until ready to serve.
*Reprinted with permission from Farm to Table Asian Secrets copyright 2017  Recipes by Patricia Tanumihardja.Published by Tuttle Publishing. Book cover photograph copyright 2017 by Sarah Culver