It's finally that time of year again. You know what I'm talking about—mountain biking season. The trails are drying up, the streams are roaring, wildflowers are starting to pop, and you're probably looking to upgrade to a jersey and short combo that'll raise the stoke factor even higher. And let's be honest, no one really wants to see you rocking that sheer, almost see-through lycra bib short or those baggies that you pretty much blew the rear out of last season when you were getting all sendy on those flow trail hits. 2017 is the year to look the part once again in pieces that are equally functional, comfortable, and stylish. We decided to do the hard work for you (if you consider testing mountain bike kits on the trails of glorious Sun Valley, Idaho hard work) and came up with our takeaways from the latest offerings from four of the choicest brands. Decide what you're really digging, get the goods, and get flowing out on the dirt.
Based in Idaho's southern Rockies, Club Ride is a brand that has firmly established itself at the very top of the mountain bike clothing game. Club Ride was one of the first brands to come up with the idea of producing highly functional bike clothing that is also perfectly stylish enough for kicking around town pre or post ride. It's an act of mercy, really. Who wants to have drinks with someone outfitted in lycra from head to toe?  Club Ride prides itself on being pioneers in the fields of design and technical features as well as always promoting good vibes and equality between all levels of riders. It's a home-grown company that has achieved international acclaim while staying true to its original philosophy and intent.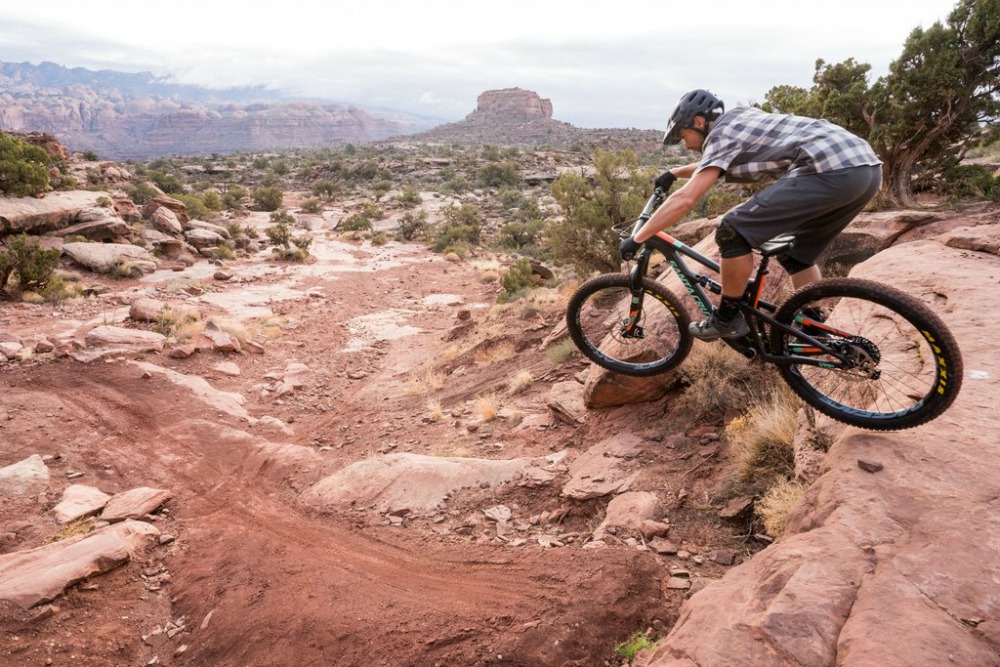 Bolt Jersey (Birch Plaid) $79.95 + Fuze Short (Black) $99.95    
The Bolt encapsulates the core of Club Ride's products to a T: stylish Western-themed shirts that are the perfect marriage between function and fashion. A snap button, collared shirt that performs as well or better than a full-zip road jersey? You best believe it. Club Ride produces the Bolt in their signature RideDryWear fabric that wicks and quick-dries with the best of them. I noticed this the most when I arrived at the top of sustained climbs and the jersey was adequately drenched, yet a few minutes later while hitting the descent I was completely dry again. Mind boggling. The Bolt also has breathability in spades. While riding on a sunny day in the mid-70s, I wore a light base layer and was never close to overheating. Underarm and side panel mesh venting also do a great part in making this possible. Another plus from this jersey is the zippered rear storage pocket with a media port for your phone and two buttoned chest pockets up front. If you're like me and don't usually like riding with a pack, this is huge. I also found the snap button system to be convenient when wanting to open up the front of the jersey for extra air during long ascents. One could argue that a full-zip would do this better but then this piece would lose a lot of its excellent style. And boy is there style. What can I say? I am a huge fan of the asymmetrical plaid pattern on the right shoulder and solid color on the left. It definitely stands out.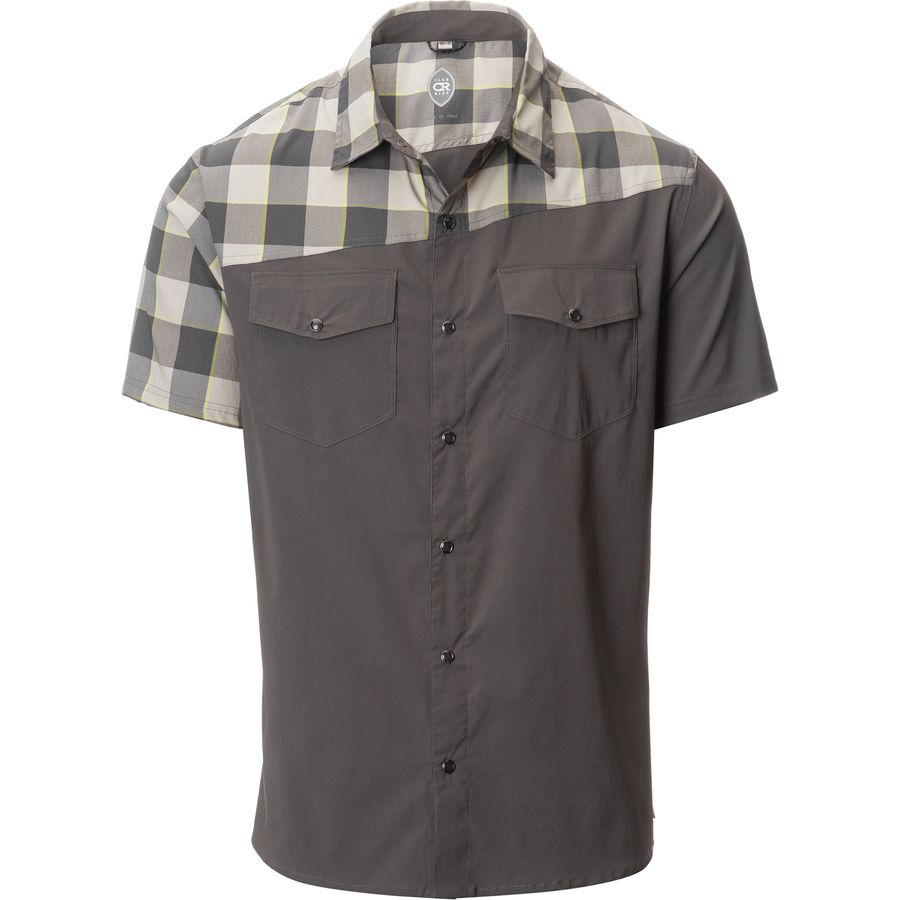 The Fuze is everything that a mountain biking short should be with equal parts versatility, comfort, and style. Another plus is that they come with Club Ride's Gunslinger removable chamois which gives the old undercarriage a comfortable amount of padding. The Fuze is made with a midweight stretch double-weave fabric with spandex material added to the inner thigh area to provide breathability. The fairly thick outer material also came in handy when I inadvertently decided to see just how tough the Fuze is by sliding out on some gravel and slick rock. No blemishes or rips whatsoever—the only damage done was to my pride. Other handy features include an interior Velcro waistband adjuster, two-zip side pockets, and two hand pockets. The Fuze short is definitely the real deal.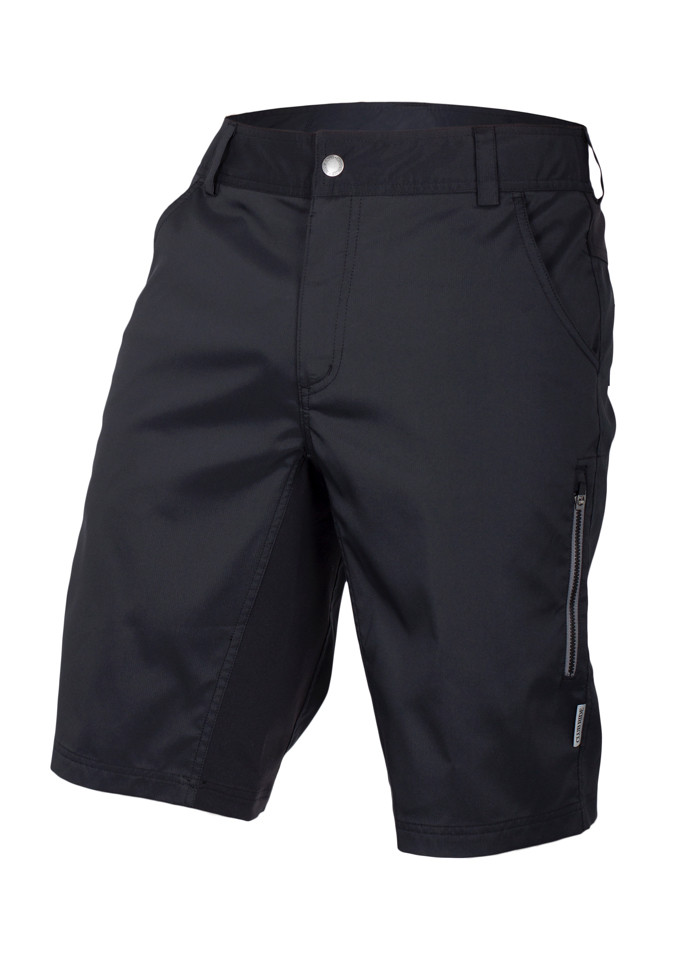 New West Jersey (Sapphire Plaid) $79.95 + Commander Short (Graphite) $99.95
An updated take on one of the first tops ever produced by Club Ride, the current New West shirt features a more modern plaid pattern than its predecessor. Materials and features are nearly identical to those described for the Bolt above. The only noticeable difference is that this jersey has a single, no-button left chest pocket instead of two snap button chest pockets. This might be a slight annoyance for those of you who prefer to store things in your jersey while riding. Other than that, the New West is the Bolt with more plaid. Choose either or both and you simply can't go wrong.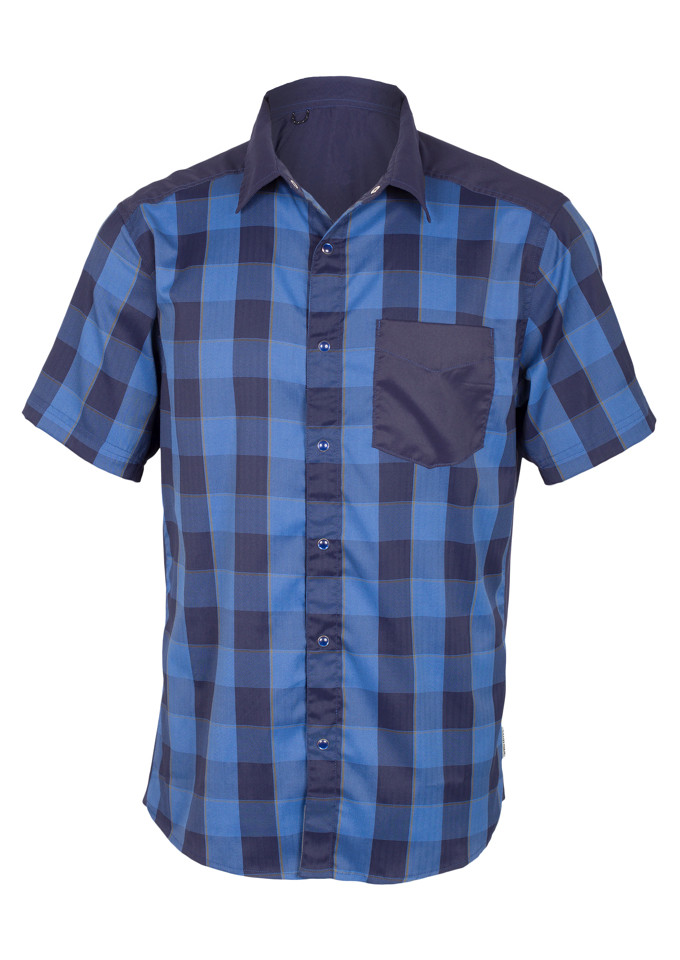 Unlike the Fuze, the Commander shorts do not come with a chamois liner—but that's not a problem because you can wear whatever liner you prefer with them. The shorts are solid and stylish. With two hand pockets and two cargo pockets each with a zip outer and Velcro inner, the Commander has all of your storage needs covered. Achieving a custom fit around the waist is also highly efficient with an inner Velcro waist adjuster and outer belt loops. Fit and function while climbing, descending, and generally flowing is also quite superb. I love how tough and slightly stretchy the outer material is but, unlike the Fuze, the Commander has no lighter spandex inserts in the inner thigh areas which makes it less breathable. While this short is a perfect go-to for cold to fairly warm days, riders may want something lighter for those scorching mountain rides that can happen often in July.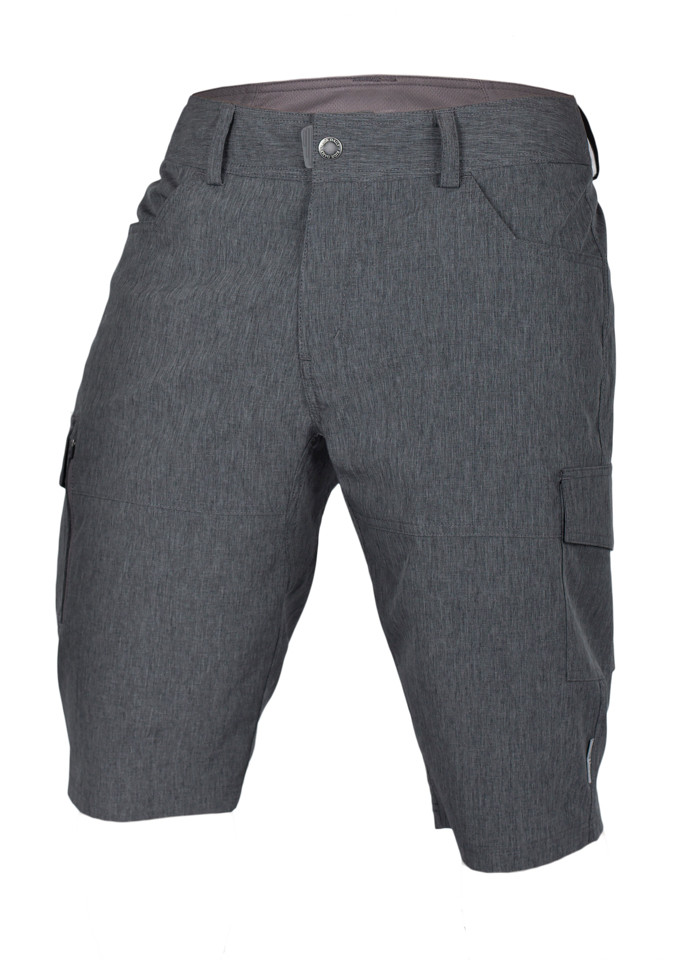 Hailing from Carlsbad, California, this company created the first mountain biking-specific shorts (baggies) around 20 years ago. ZOIC is a grassroots brand that enjoys getting involved in trail maintenance projects and putting disadvantaged youth on their very first mountain bike. Dedicated specifically to cutting-edge tech-blended materials and an excellent variety of styles, this company does clothing for fat tire riding right.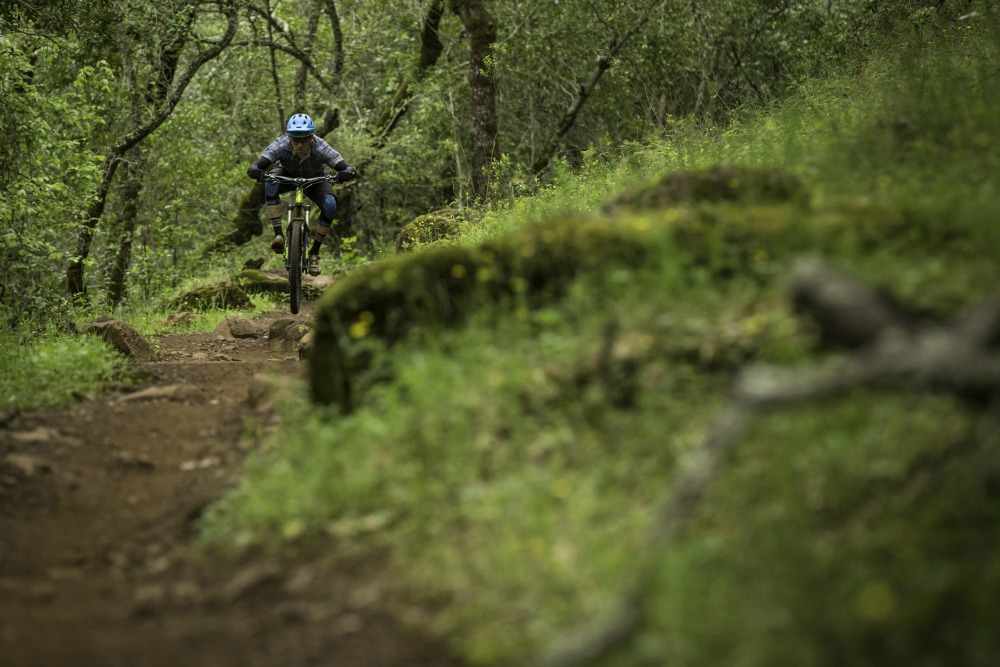 Square Jersey (Grey Heather) $50 + Ether Camo Short (Rock Camo) $75 + Premium Liner $45
The Square is easily one of the best tech material t-shirts designed specifically for mountain biking that you will find in what has become a rather crowded marketplace. I was surprised to learn that this jersey is made with 100% polyester because of the subtle mesh pattern and ultra soft feel. It is comfortable worn next to skin or with a base layer and the cut is just right (think not too baggy or too tight and long enough for when you are hunched low over the bars during intense efforts). The breathability of this jersey is outstanding. This jersey can quick-dry with the best of them. The key is in what ZOIC calls their ZO-Wick moisture management properties. The company doesn't reveal just exactly what these are, but all I know is that the Square was completely dry after just a few minutes of standing at the top of the climb. My only gripe with this jersey is the fact that it has no pockets. But for days when you don't need many extras or if you do ride with a pack, the Square could easily be your new go-to.  And last but not least, the styling of this piece is highly attractive and versatile. The three-tone coloring is simultaneously at home on the trail, in the gym, or at the pub.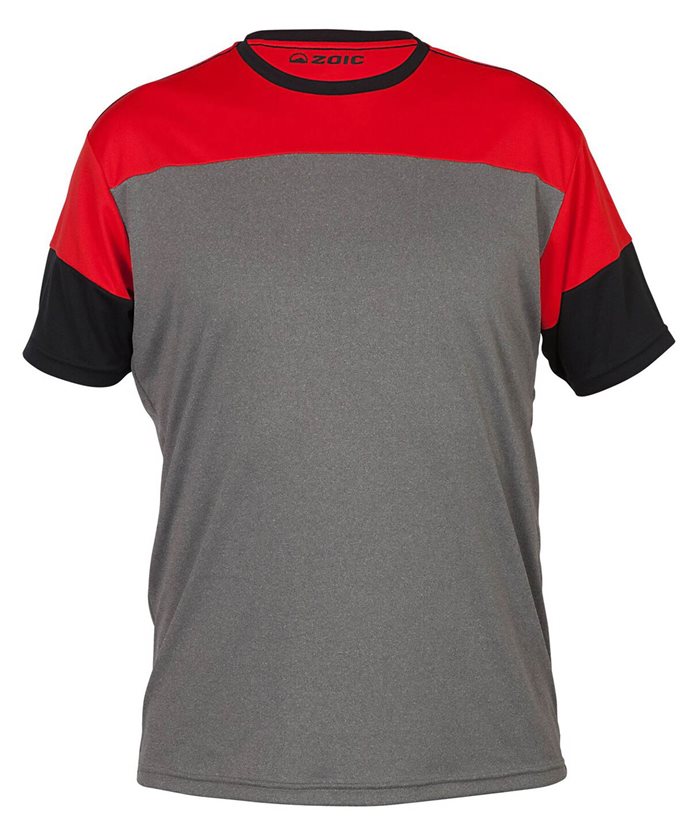 The first thing you notice about the Ether Camo short is its soft, smooth, breathable material and general comfort factor. Not unlike wearing a pair of board shorts, the material is lighter than that of the other shorts on this list. The Ether utilizes a polyester and spandex blend with a bit more spandex than most brands which enables it to have more stretch and breathability. Also adding to the superb airflow are mesh ventilation panels below the back waistband and down the inner thighs. Another feature of this short that is executed to perfection is the waistband system. Not only does the Ether have Velcro side-adjuster tabs to dial in the perfect fit, it also has an inner elastic waistband which makes everything extremely easy and comfortable. For storage, this short has two hand pockets, two zippered leg pockets, one zippered rear pocket, and a zippered side tech pocket with a headphone cord control grommet and loop. So if you're running the Ether with a pocket-less jersey like the Square, it's all good. As for the appearance of these shorts, I was digging the grey Rock Camo pattern. It might be a little too radical for the office or certain restaurants, but it definitely looks sharp on the trail.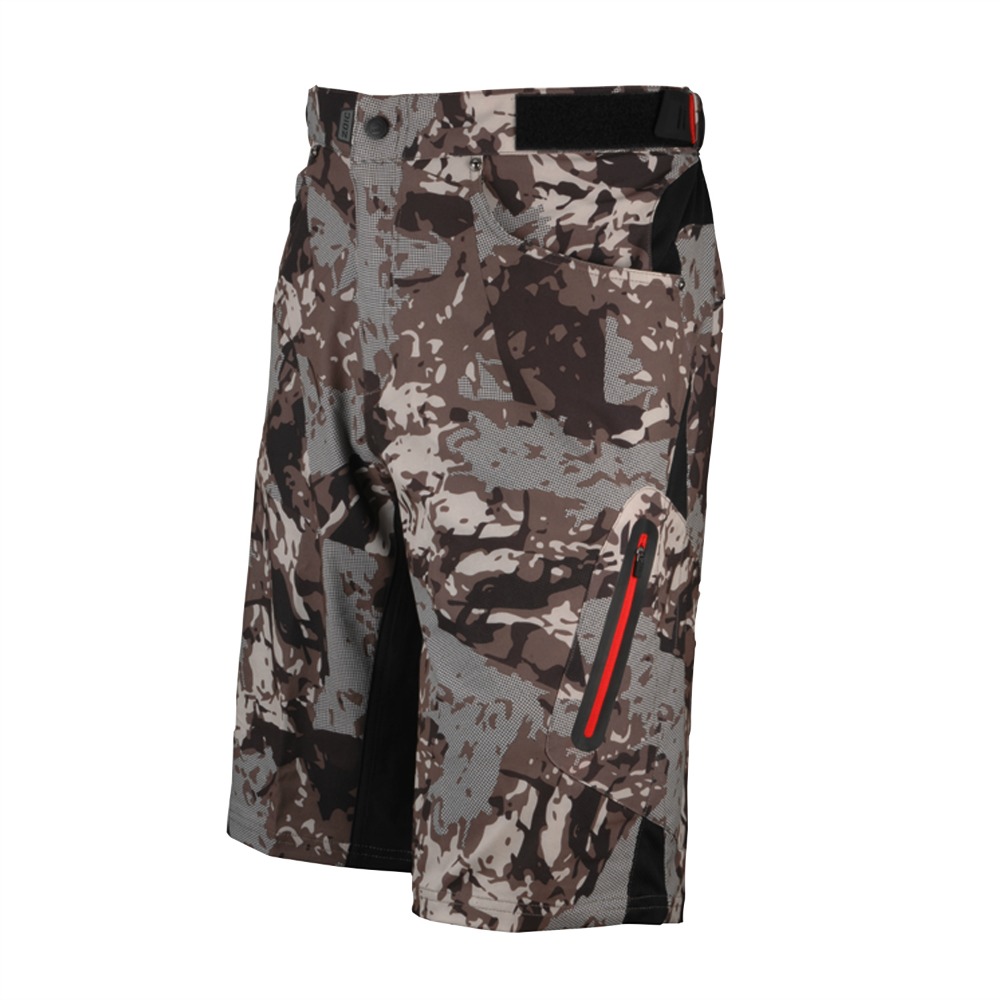 Having used many detachable chamois liners for mountain biking shorts over the years, I have to say that this one is the best I've ridden in. The Italian-made chamois is made with ergonomic foam and has amazing four-way stretch. This means comfort no matter where you are on the saddle or how many unexpected bumps you're hitting. This liner also shines in the breathability department due to its spandex shell which enables stretch and wicking as well. Adding to the comfort factor is reverse stitching that places seams away from the skin. To sum it all up, these are the most comfortable padded boxer briefs you will ever wear.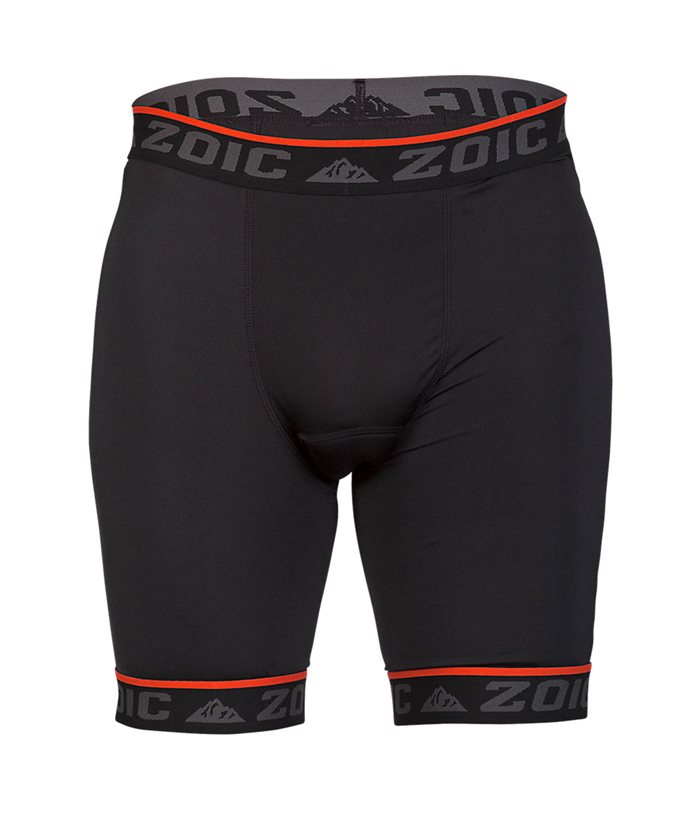 Bonus: Beta 12" Short (Black/Risk) $85
Not feeling the camo? No worries. ZOIC produces several different models of shorts and each one comes in a variety of color options and patterns. The Beta 12" features the same blend of materials as the Ether Camo and sports a longer inseam than its original for that perfect kneecap-zone coverage. An inner elastic waistband and outer nylon webbing belt have you fully covered on fit issues. Two zippered hand pockets and two zippered side pockets round out the functionality package. The Black Risk color scheme and design is definitely on point. You don't often see asymmetrical styling on mountain biking shorts and they look extra cool in black and red. The Beta 12" also comes in solid colors if that is more your thing.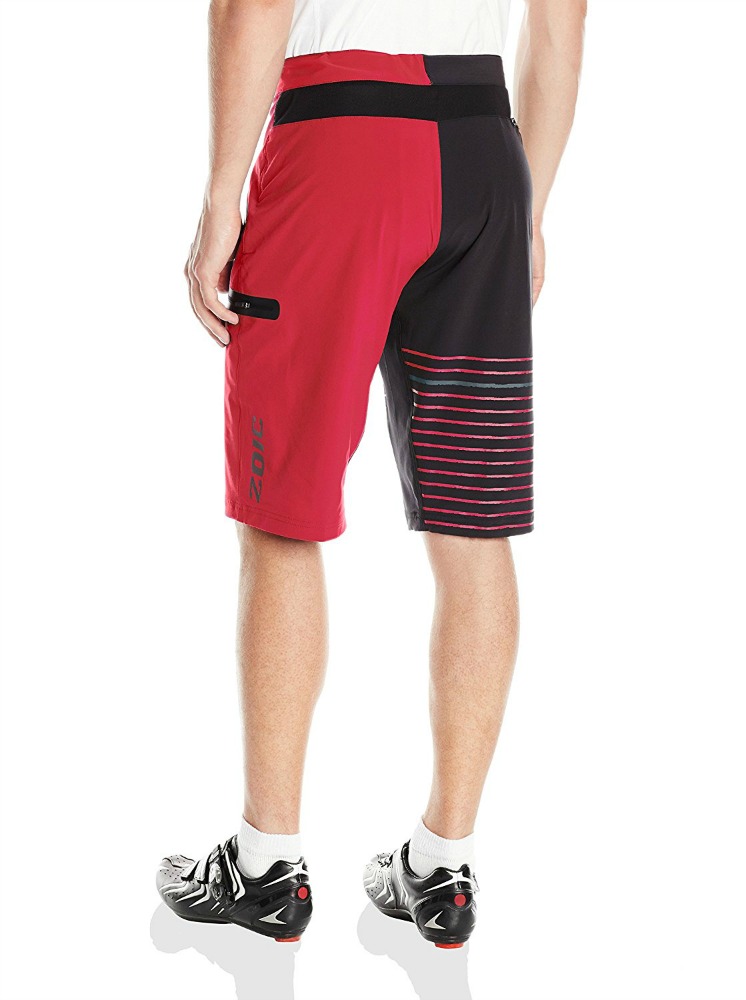 This grassroots brand made its debut in ski clothing in 2005 with co-founders and Colorado natives Greg Steen and Dan Abrams at the helm. From the beginning, their priority was to make performance clothing that was stylish and fit perfectly. Fast forward to the past few years and Flylow has branched out into the mountain bike apparel game with the same approach that they successfully executed in ski wear. Enter another authentic company from the Mountain West that is making some awesome kits for fat tire riding.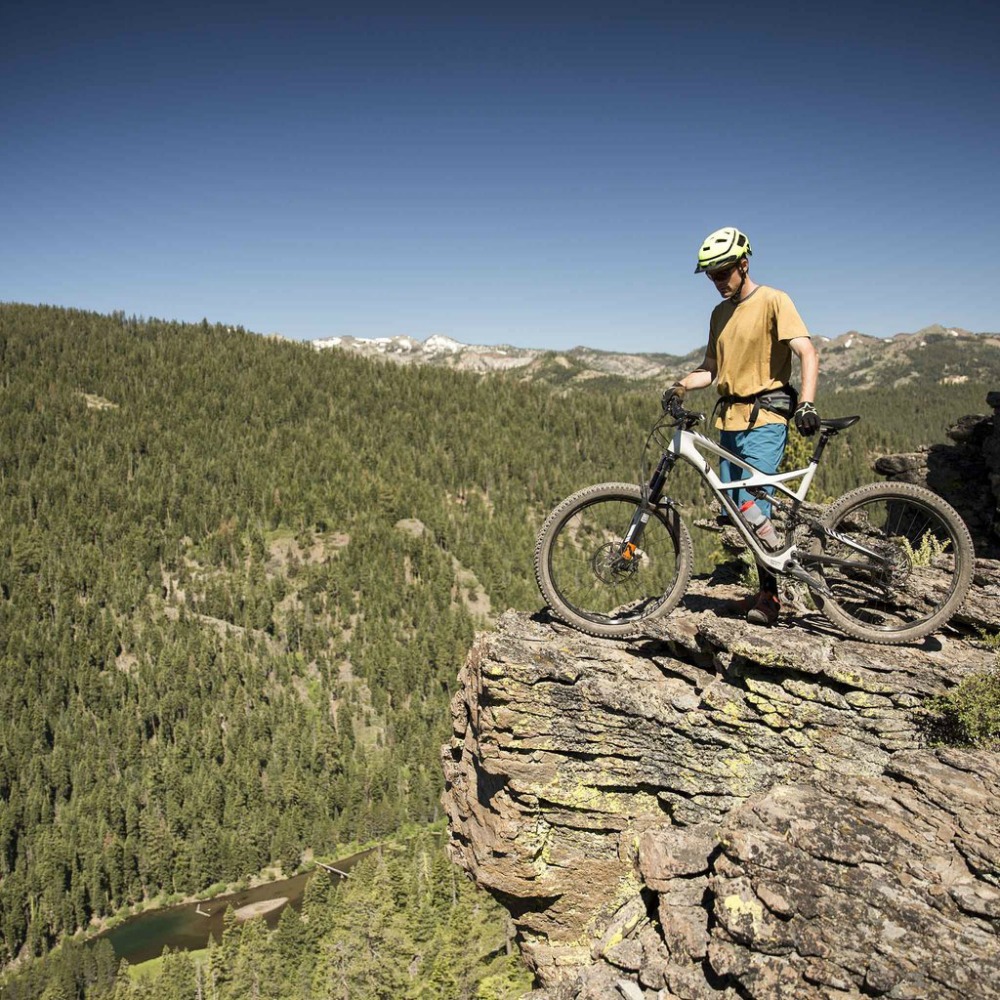 Johnny Shirt (Maize) $50 + Cash Short (Coal) $85
The Johnny follows the popular trend in many mountain biking tops moving to the light, breathable, technical material t-shirt genre. This shirt is made with 94% polyester and 6% spandex which make it highly comfortable, stretchy, and quick-wicking. Even without having a zipper or buttons for more temperature regulation, the Johnny shines in the breathability department. I have to admit I was a bit skeptical about riding in a t-shirt without pockets, but many people prefer to wear some kind of pack which makes this a non-factor. And if it's a warm day with non-inclement weather and you don't need to pack a jacket, the Johnny is an excellent go-to sans backpack. This top comes in the attractive colors of Coal or Maize.The Maize color is definitely unique and you could easily be comfortable quaffing a few at the local brewery post-ride in this thing.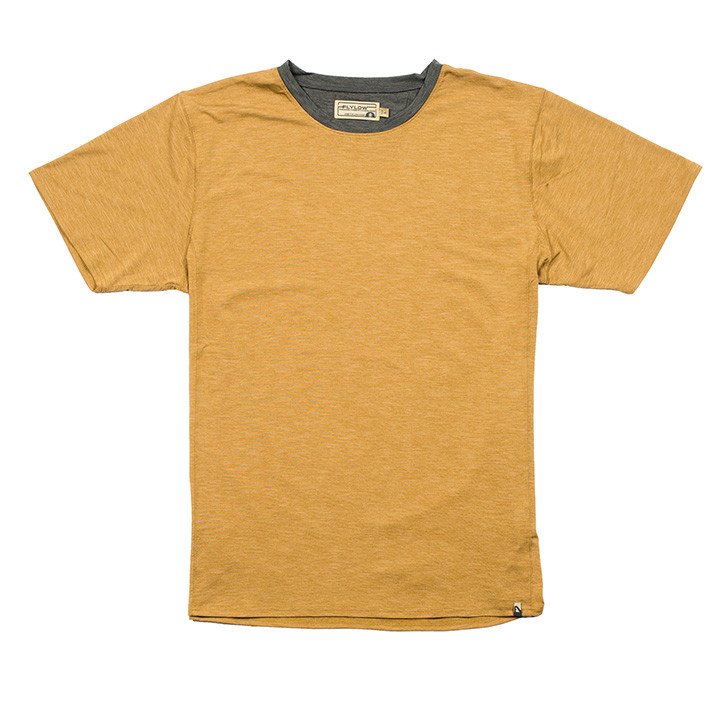 The perfect pairing to the Johnny shirt is the Cash short. Flylow stresses that the two most important things for mountain bike shorts are breathability and durability. Check and check. I was a big fan of the medium-level thickness that has you covered for both. For breathability, the secret is in the diamond-patterned interior material for superior airflow. Flylow calls it the Intuitive IQ fabric that features Peaks technology. Another big plus in the design of the Cash is the pockets. Two deep hand pockets with zip closers and a lower side left zip pocket proved to be exceedingly handy, especially when wearing a jersey with no pockets. The right-hand pocket even has a small cutout for headphones if you feel like rocking out. The Cash comes without a chamois liner which may be a negative for some. It has belt loops but no inner waist adjuster so make sure you get the right size. Overall, these shorts are definitely worth getting because of their superb material, stylish and functional design, and fully apparent cool-factor.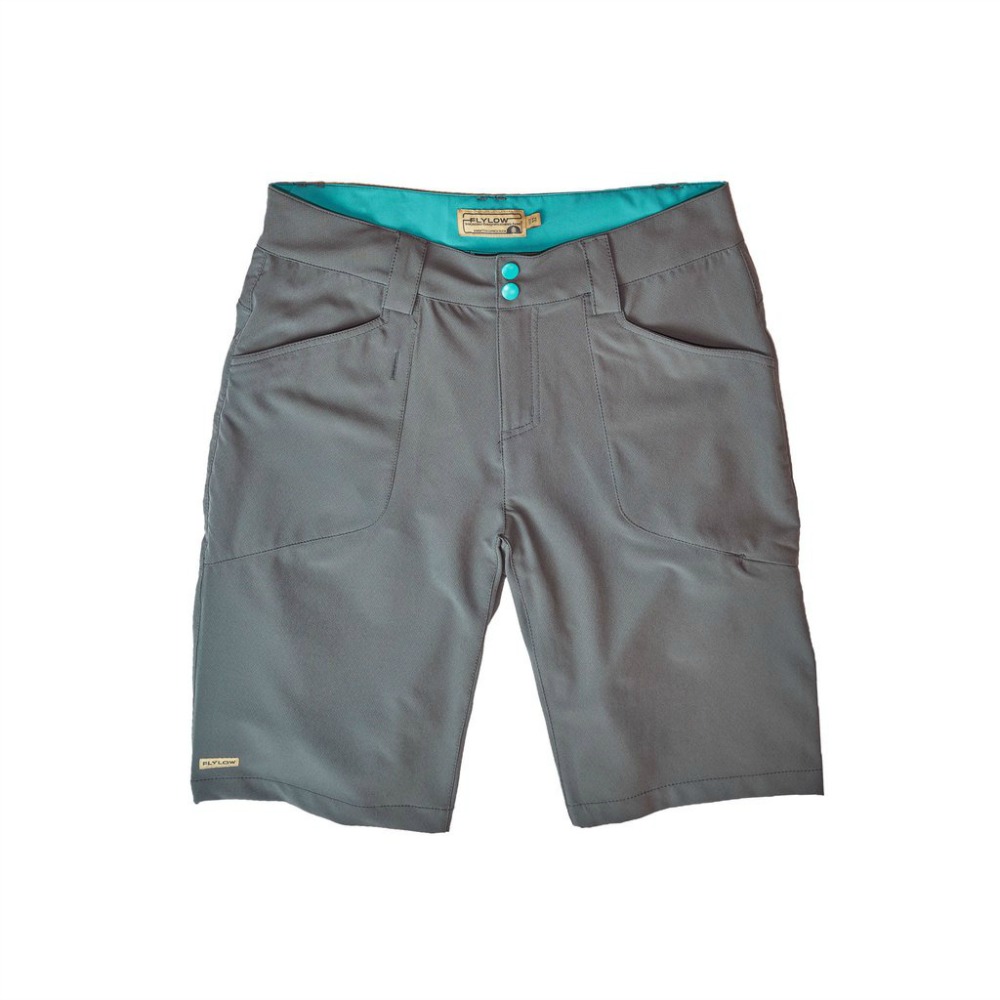 Beginning in 1979 in Maui as a surfing accessories company, Dakine moved its headquarters to the base of Mt. Hood in Hood River, Oregon in 1986. The area would become a mountain biking hotspot by 2005 and this move proved to be essential to developing and testing their trail riding products. Dakine has innovated several products related to the sport such as tailgate guards for hauling bikes in the bed of your truck, breathable full-face helmets and pads, and rack systems that allow you to carry trail tools while riding. With this kind of background it is no surprise that nowadays this brand offers several types of high quality performance mountain biking clothing. And although Dakine has become an international brand and household name, this company stays true to its roots, taste in style, and fun vibe.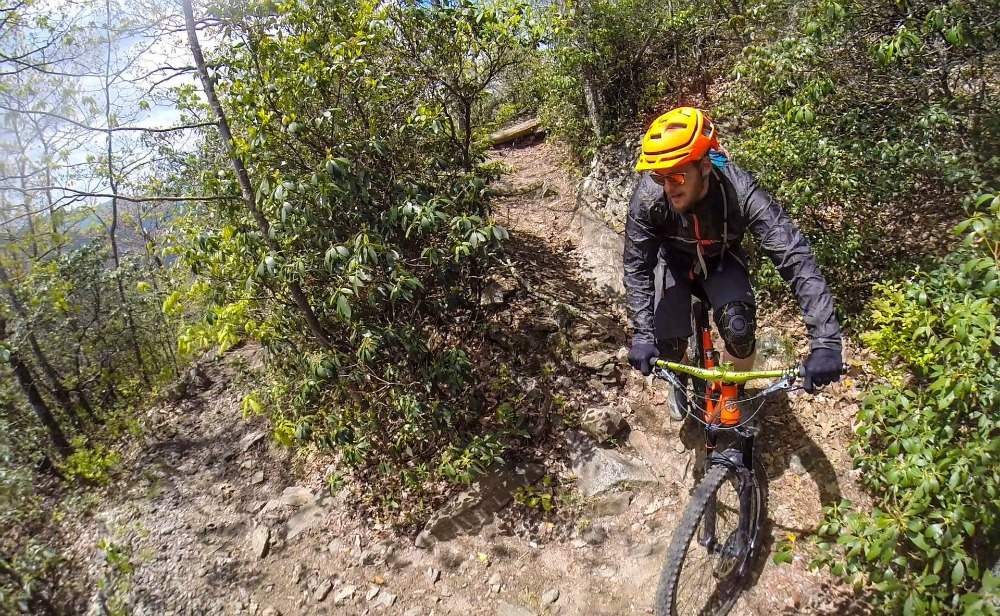 Boundary Jersey (Shadow/Black) $55 + 8 Track Short (Buckskin) $95
Four-way stretch material allows this crew-neck jersey to have a superb fit with zero pulling and bunching. For air flow and moisture management, a pin-hole mesh polyester material is used. The Boundary feels extra comfy and smooth on the skin and, because of the pin-hole mesh design, is perhaps the airiest of all of the jerseys on this list. Able to dry quick enough so that you're not soaked while ripping the downhill, this piece will keep you happy all ride long. And the fabric also has odor-control technology which will enable you to not scare off the ladies during the post-ride party. I probably would not recommend the Boundary as an outer layer for those colder days when the temperature doesn't get any higher than 60. It's also another jersey without pockets, zippers, or buttons so you will likely want to ride with a pack if you plan on going on a particularly serious mission. The styling of the Boundary is very simple and restrained with subtle color variations at the armpits and collar. This allows it to look good in almost any situation.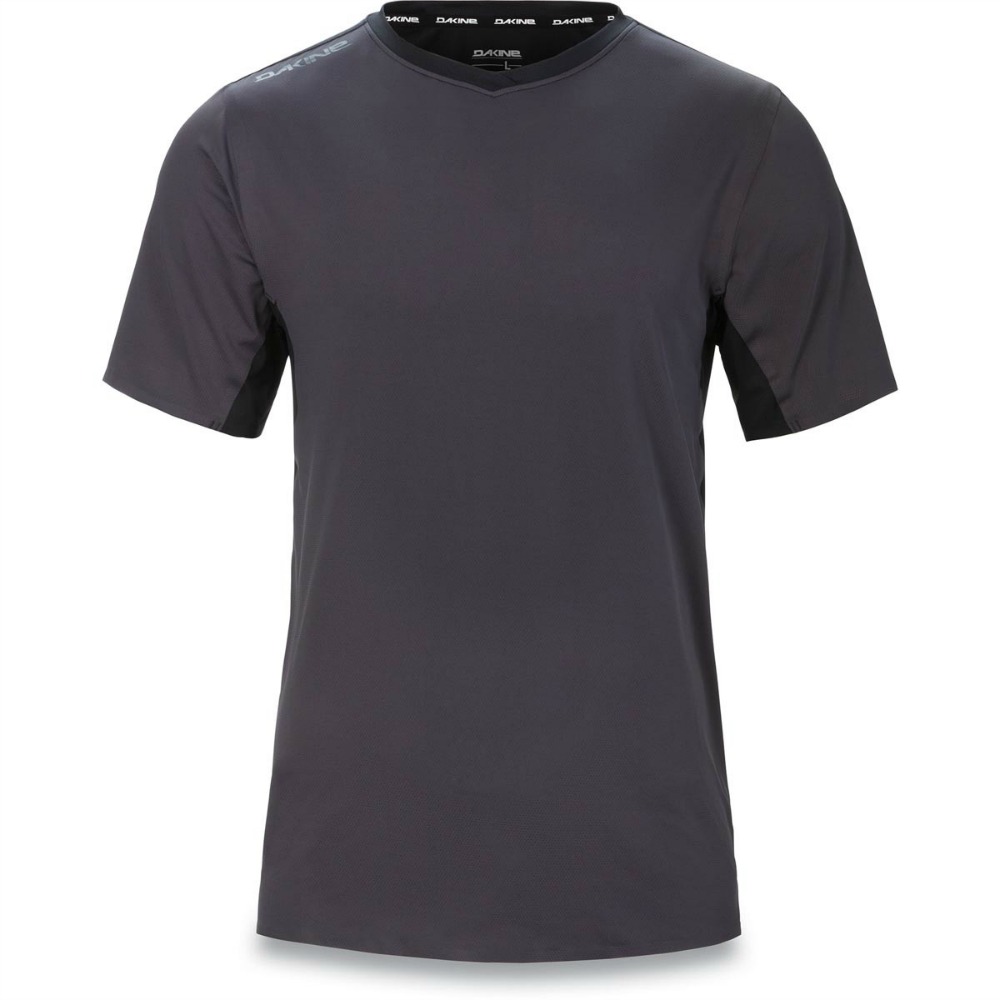 The 8 Track short was designed with a nod to the Enduro and Downhill crowd. Extremely durable and on the thicker side, it is cut with a lengthy 15-inch inseam and special patterning at the knees to comfortably pair with pads. While I thankfully didn't go down while riding in the 8 Track, I have no doubt that these things can take multiple beatings if they have to. They are 100% polyester and come in Durable Water Repellent coating. The only negative of the heavier material and the lack of vents is breathability. Cross country riders who enjoy long climbs may not be too keen on this fact. For fitting, the 8 Track has you dialed with a Velcro interior waist adjustment and outer belt loops if you need them. Two hand pockets and a side zippered pocket for adequate storage needs round out the package. This short does not come with a chamois liner. As for style, the 8 Track in the Buckskin color definitely has that classic Northwest work wear thing going on and it looks great with the Boundary jersey in black. The black panel on the rear upper section also gives it more cool points. Those who get themselves a pair of these will likely want to where them in any type of scenario.