Most of us skiers and snowboarders have traded the boards for bikes and goggles for sunglasses at this point of the year. Whether it's riding mountain, gravel, road, or all of the above, an excellent pair of shades that offers protection, better vision, comfort, versatility, and more is always one of the most important parts of a cyclist's kit. And to be honest, it doesn't hurt if they make you look cool at the same time. But all too often, quality eyewear for bike riding comes at a premium price tag that usually falls between roughly $180 to $230. It can be hard to justify spending those hard-earned dollars on something that can get lost or damaged quite easily. Enter DAS Optics.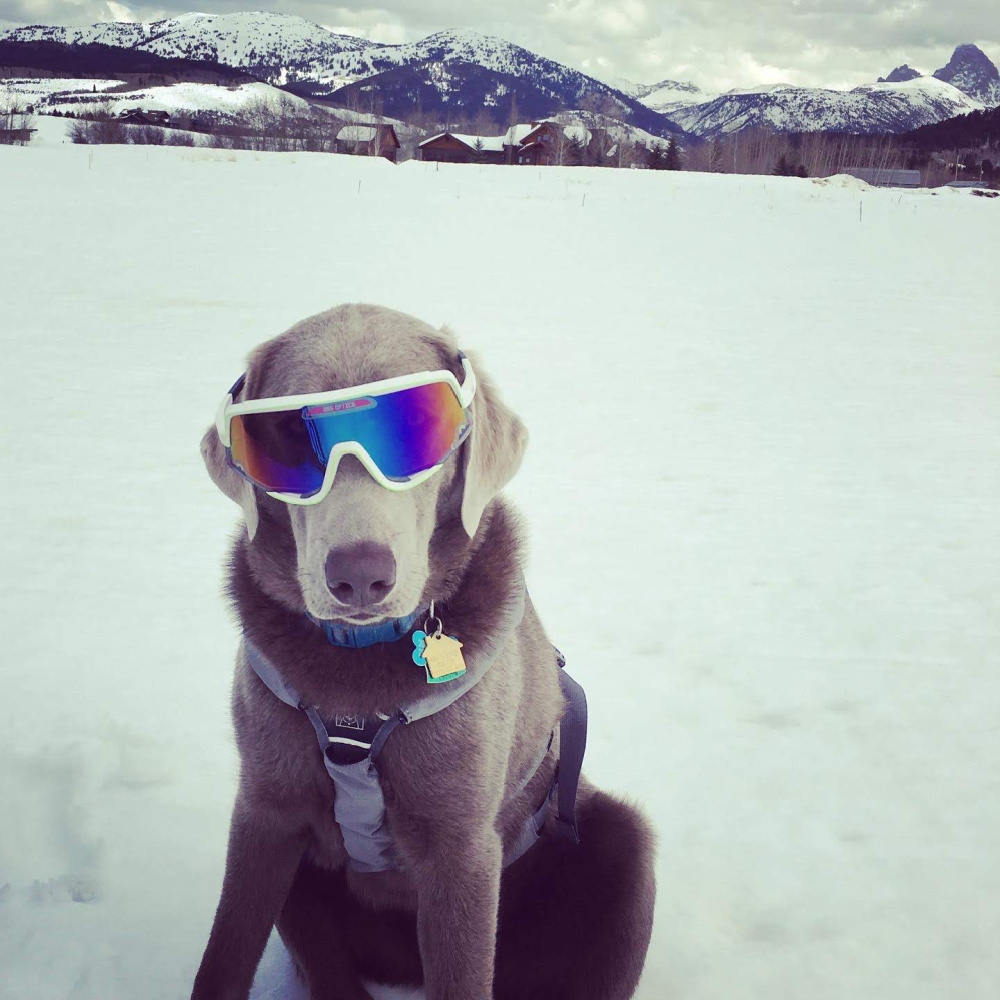 Fully owned and operated in Driggs, Idaho by the Jensen family, DAS Optics is lovingly named after their dog Das. He's even the brand's mascot, although everyone is still not sure if he's aware of this or even impressed. Das' name is an ode to the Jensen's favorite ski run "Das Boat" at Grand Targhee Ski Resort.
DAS Optics came to be when Chris Jensen and his son Grady decided they wanted to create high performance sunglasses at low prices while raising money for their local skiing and biking teams simultaneously. In keeping with this ethos, $10 are donated to the organization of the customer's choice with each pair of DAS Optics shades sold. And buying directly from the manufacturer enables this small team to source some of the best materials and keep prices low. Seriously, really low. With the help of mom Jenny as CFO and daughter Penelope as VP of Marketing, this is literally a homegrown eyewear brand with the Jensen family guest room serving as the inventory warehouse. DAS Optics also produces quality ski goggles. They might need to get a bigger guest room.
We were fired up to recently get our hands on and eyes behind the SENDEES 2.0, DAS Optics latest performance shades model at the start of biking season here in Central Idaho…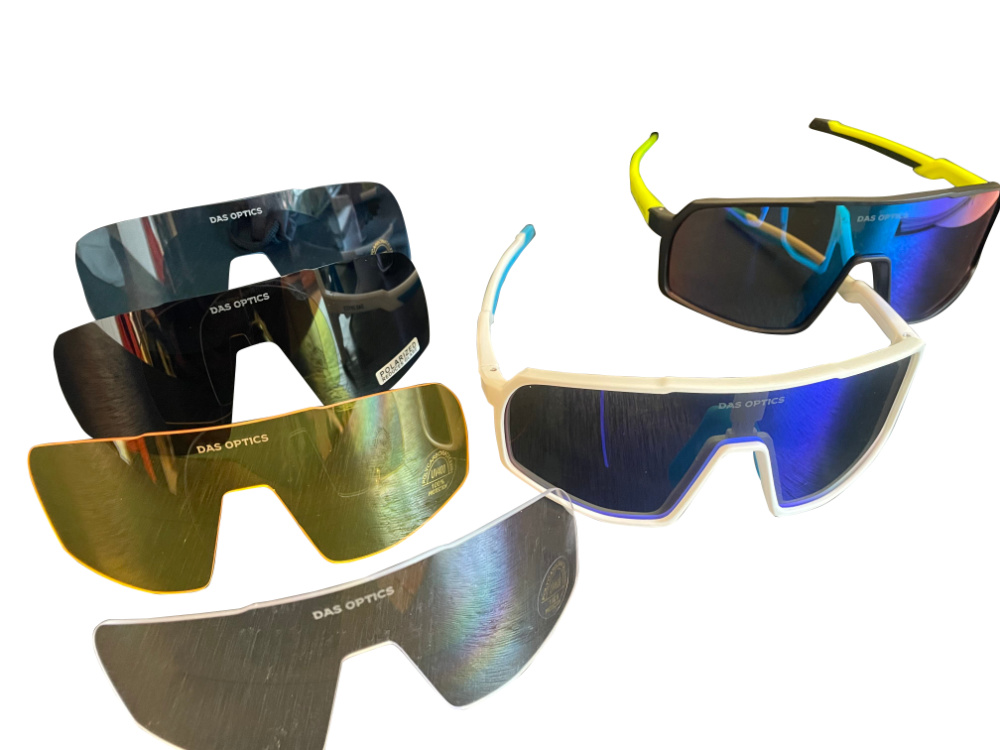 SENDEES 2.0 – Interchangeable + Polarized, $49.99
Let's start from the beginning. The SENDEES 2.0 come to you in a sturdy, sleek, and bombproof zippered case. It's noticeably tougher and more padded than cases that we've used from the big name brands. Packaging is important, especially in this day and age. We're off to a great start.
After opening the case, you're treated to a nice assortment of the sunglasses in a soft bag, a microfiber cloth for extra cleaning, and a whopping five different interchangeable lenses for various light conditions to choose from. Each extra lens comes in its own plastic protection baggy and all extra lenses are stored neatly in another soft bag. Because, it's the little things right?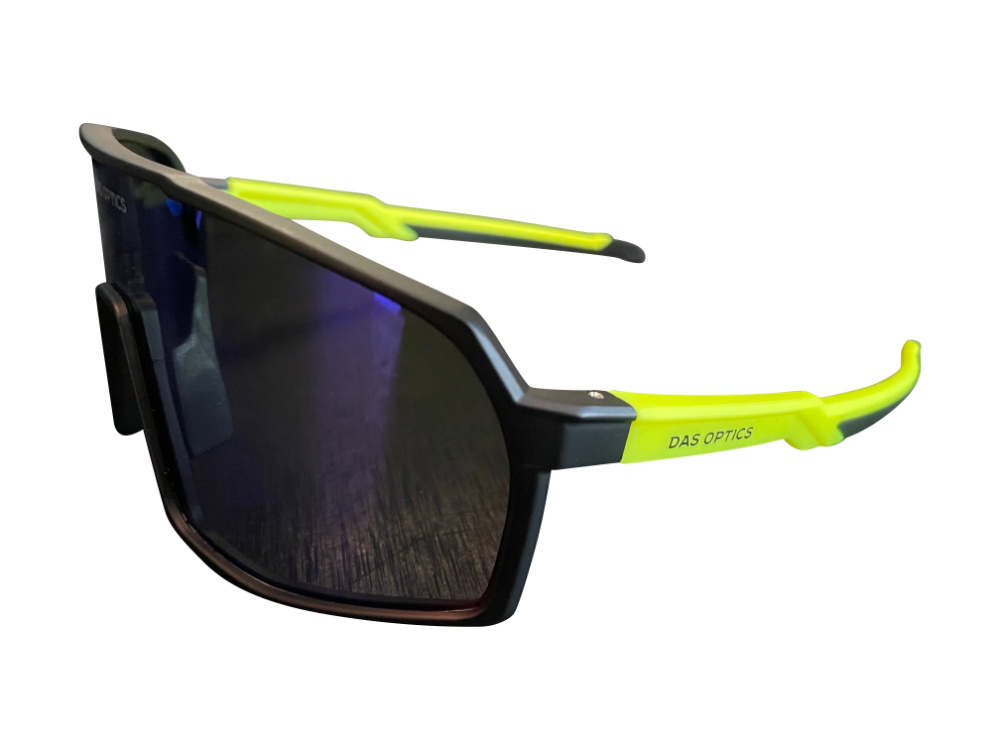 When you put these shades on for the first time you'll notice the ample face coverage right away. Even for someone who has a large dome, the frame shape and lens size of the SENDEES 2.0 is noticeable. As far as we're concerned, this is a positive because it provides ample peripheral vision which is paramount whether you're riding trails or in traffic. It's a shape similar to the popular cycling frames out there, but a tad lighter in weight and doesn't have an MSRP of around $180 or higher.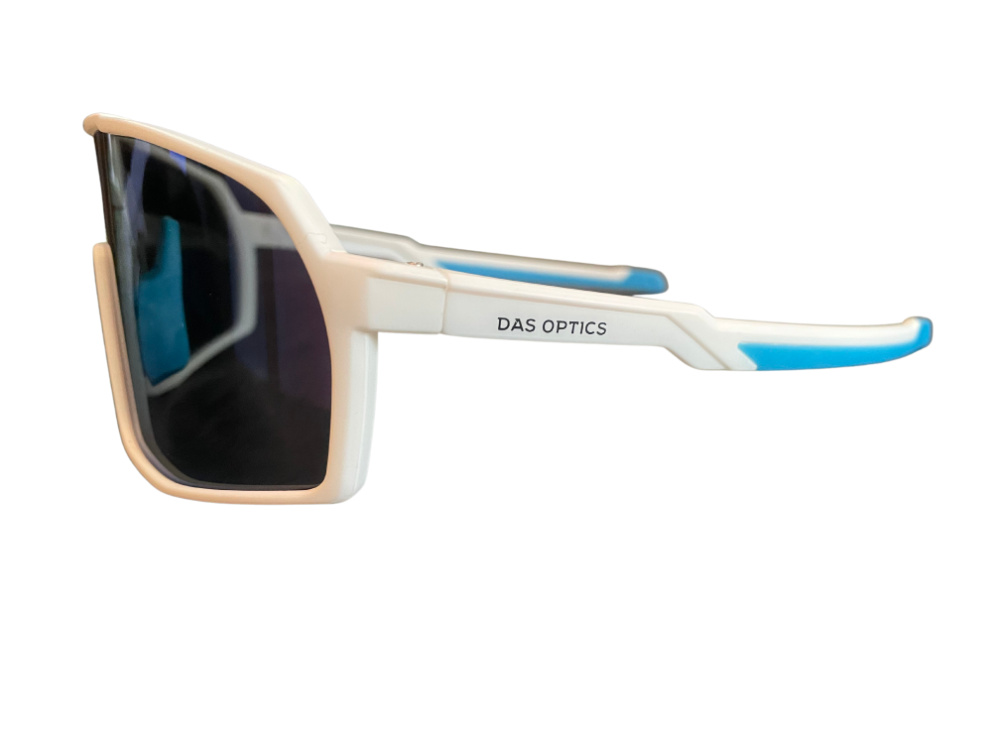 The arms of these sunglasses are long. As in really long. When wearing them with a size large Lazer G1 helmet, the ends of the arms sometimes tend to interfere with the retention system in the back which cause them to get pushed slightly forward once in awhile while riding. Obviously, this is a very minor annoyance. They fit seamlessly with a size large Bell Gage, so there you go. If you're like us, you like to lodge your shades in your helmet vents when going up long climbs. For both of the helmet models mentioned above, the SENDEES 2.0 will only fit in the vents precariously and won't fully lodge in. Again, another minor annoyance and one that similar styles of shades share. The nose-piece and slightly grippy material on the lowers and ends of the arms top off a superb overall fit with no slippage.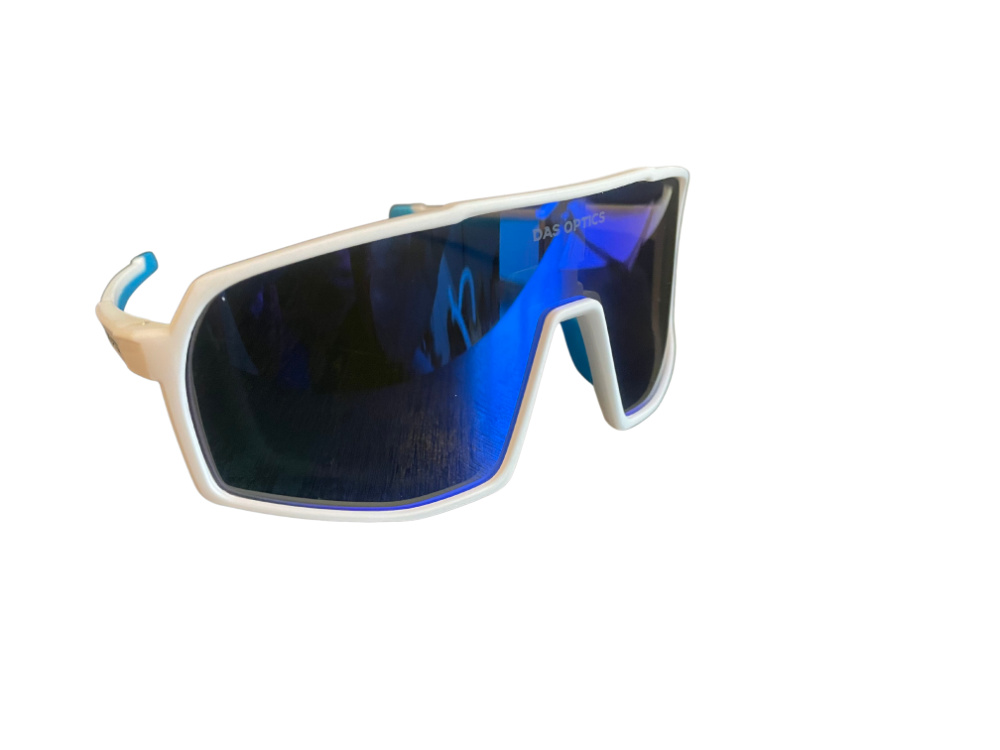 Let's get into the lenses, shall we? Changing a lens out on these puppies is quite easy and intuitive. They pop out like a charm. Head to dasoptics.net/blog/how-to-change-lenses and Grady will personally show you exactly how it's done. The SENDEES 2.0's five interchangeable lenses are Clear, Blue, Yellow, Polarized, and Standard. Our go-to has to be the aptly-named Standard in all of it's aqua blue and purple mirror lens glory. It performs effortlessly on rides that start out bright and sunny, take you through a rolling spring thunderstorm downpour, and bring you out through the other side into the sun again. Ahhh, spring time in the mountains. You'll also notice very minimal moments of the lens fogging up compared to similar models from the bigger brands that are also full-framed with no lens vents built in. We put this to the test with intense climbing on some hot, cool, and especially muggy days. The SENDEES 2.0 honestly surpassed the performance of lenses currently on offer from the big-name brands. Well done.
As for the other lenses, the Polarized black mirror lens is perfect for those bluebird days when you need to reduce glare and want extra contrast to spot specific rocks, ruts, and roots on the single track. We tested out the light Blue on a few dark, grey, rainy days on tarmac and gravel roads and concluded that it definitely helps enhance the rider's vision while being sufficiently water-repellent. That's right, you can actually leave these on when you're getting rained on and dealing with road or trail spray.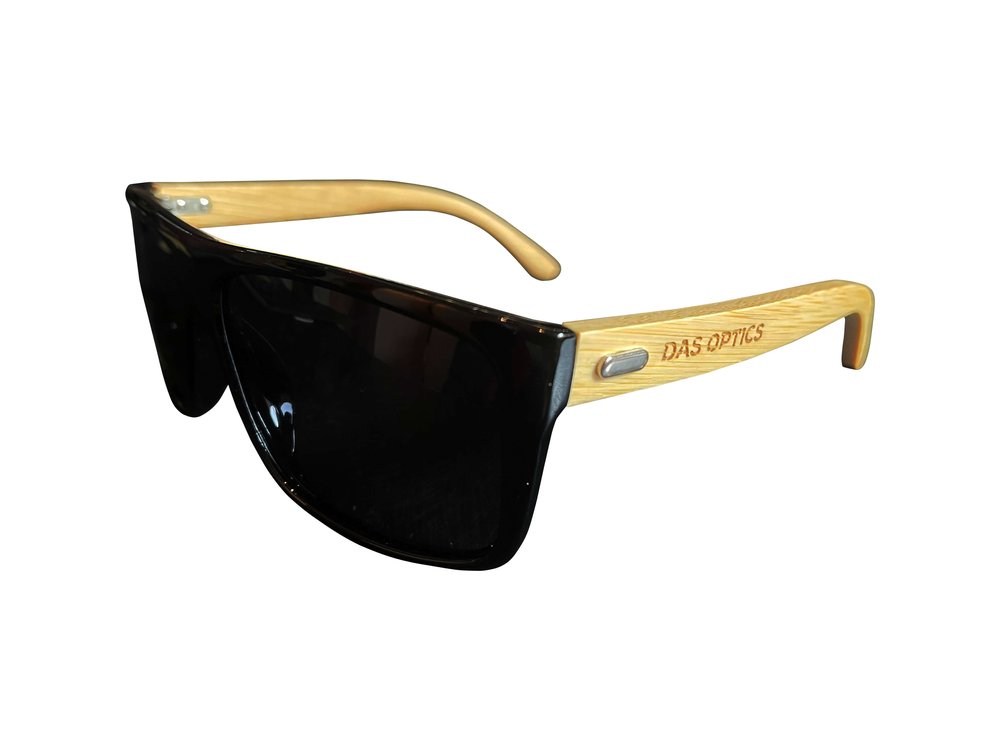 BONUS: Bamboo Daily Driver – Polarized, $39.99
Looking for a great pair of casual shades that come polarized to boot? Look no further than the Bamboo Daily Driver, the second round of DAS Optics' "Daily Driver" series and made with eco-friendly bamboo. The frame and lens shape is absolutely timeless and fits almost any sized face out there. We also like the arms that grip slightly inward enabling them to stay on securely or rest on top of the head or a bill of a hat with ease. And with a brilliant polarized lens, the Bamboo Daily Driver is right at home when you're standing in the river making casts, shooting clays at the range, navigating rapids in the kayak, or simply taking it all in on the edge of an alpine lake.