Challenge Aspen (CA) is dedicated to impacting lives through year-round adaptive experiences for individuals faced with cognitive or physical disabilities. This includes service personnel. CA is fully committed  to creating life-changing opportunities by encouraging participation in activities that redefine limits, recognize abilities, and transfer newfound courage to everyday life. Lindsay Cagley, at the helm as newly appointed CEO, continues growing and developing this unique, local, and inspiring nonprofit. Celebrating her one-year anniversary with Challenge Aspen, Cagley has a long list of goals and missions for this unique and meaningful non-profit organization. Upcoming events for Challenge Aspen guarantee an action-packed summer ahead full of excellent times, including a trip to Aspen's sister city in Argentina and a fundraiser trail race "from lake to sky" around Lake Maggiore in Verbania, Italy.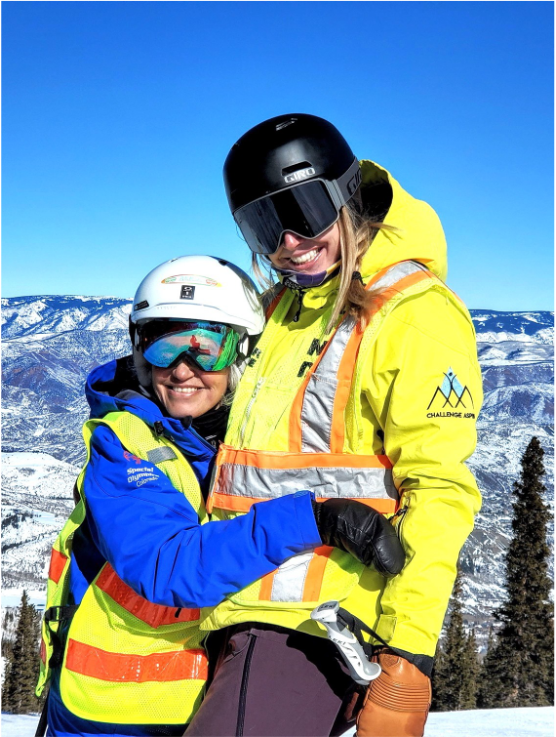 ARGENTINA-BOUND
Through the Aspen Sister Cities program, Challenge Aspen will send two professional adaptive ski/snowboard instructors to Bariloche, Argentina to volunteer and support Bariloche's adaptive program in September. Cre-Arte, a cultural center for people with disabilities in Argentina has ski events planned where the demand for instructors with adaptive skills can't be fully met by the local providers. The program is named after Challenge Aspen — Desafio Bariloche (Challenge Bariloche). This is a unique Sister Cities opportunity to bring adaptive expertise to international programs and to have the CA pros enjoy growth through travel and cultural experiences.
ITALY-BOUND
Saturday, October 1st – Challenge Aspen Marathon in Verbania
Travel dates are Sept 17-Oct 3.
Challenge Aspen is over the moon about this year's 2022 Sole Mates Trail Marathon event! I mean, who wouldn't be? Participants are crossing the ocean once again with breathtaking Lake Maggiore in Verbania, Italy near the Swiss border as the destination. The October 1st Ultra Trail Lago Maggiore race events offer an 18K, 37K, 52K, or 81K trail race on stunningly beautiful terrain.
Those interested in signing up for this fundraising, training, and racing experience please contact Jenni at jenni@challengeaspen.org. The fundraising commitment to train and travel with the Sole Mates 2022 is $3900, benefitting Challenge Aspen's programs.
Space is limited.

CHALLENGE ASPEN 2022 CALENDAR – LOCAL EVENTS
Friday, July 18 – 22 – Challenge Aspen Music and Dance Camp w/performance of The Greatest Showman at TACAW, on Friday, July 22 
Open to all ages and disabilities. Participants will rehearse, enjoy meals together, and then perform a midday show. Open to the community.
Link to register: https://challengeaspen.org/summer-camps
Saturday, July 23rd – 6:00 pm – 10:00 pm – Challenge Aspen Denim and Diamonds Gala at T-Lazy 7 
Get stoked for a summer evening of dancing and revelry to celebrate Challenge Aspen. Gather to support the courageous cause of creating possibilities for individuals with disabilities.
Guest list is limited to 150 attendees // $350 individual tickets // $4500 VIP Table (table of 10)
To register contact Brenna Sandstrom, Business Development Manager, bsandstrom@challengeaspen.org.
Live-stitched gifts by RangerStitch
Heavy hors d'oeuvres
Exciting live auction and paddle raise
Attire: western chic.
Monday, August 1st – 10:00 am Tee Time – Challenge Aspen Golf Classic at The Snowmass Club
Supporting the Challenge Aspen Scholarship Fund: creating possibilities for individuals with disabilities.
Tournament limited to 100 golfers // $250 per individual // $1,000 per foursome
To register contact Brenna Sandstrom, Business Development Manager, bsandstrom@challengeaspen.org.
Highlights include Subaru Hole in One contest, closest to the hole prizes, and a long drive competition to win a trip to Pebble Beach. Registration includes green fees and carts, breakfast, and après.
BALL DROP: $10,000 Grand Prize: $100 donation earns a 1 in 250 chance to win. Registration is not required to win.
Saturday, August 20th – 10:00 am – 4:00 pm – Challenge Aspen Cornhole Tournament at Crown Mountain Park, El Jebel, CO
64 Team w/ 128 players
$100 per team
Save the date and register online at www.challengeaspen.org this summer
Over $5,000 in prizes awarded to winners
Details: Bouncy House, Family event, BBQ lunch