The Mountain West region of the good old USA is currently in the middle of a gloriously snowy winter. And if your passions are at all similar to those of us at BigLife, this means getting after it outdoors whenever time allows in the modes of alpine skiing, snowboarding, ski touring, Nordic skiing, snowshoeing, fat biking, spike hiking, running, and more. This mentality inevitably results in the need for the latest and greatest in winter active wear because doing these awesome activities full gas means working up a sweat. Being wet from sweat in below-freezing temps isn't always fun. Throw in constantly changing weather conditions that can often be unpredictable and the need for functional, comfortable, breathable, and quick-drying items of clothing is downright essential.
Without a doubt, two of the most important clothing categories that make up one's winter active wear quiver are layers and socks. A male tester here at the magazine was lucky enough to have the "job" of trying out some of the newest models of men's base layers, mid layers, and socks from none other than international mountain apparel brand LÉ BENT. The same LÉ BENT that sponsors and develops products with world-class athletes such as Cody Townsend, Xavier De Le Rue, Elyse Saugstad, and Sammy Carlson? Yep, that's the one. Read on to learn about this brand's raison d'etre and interesting origins as well as our testing takeaways.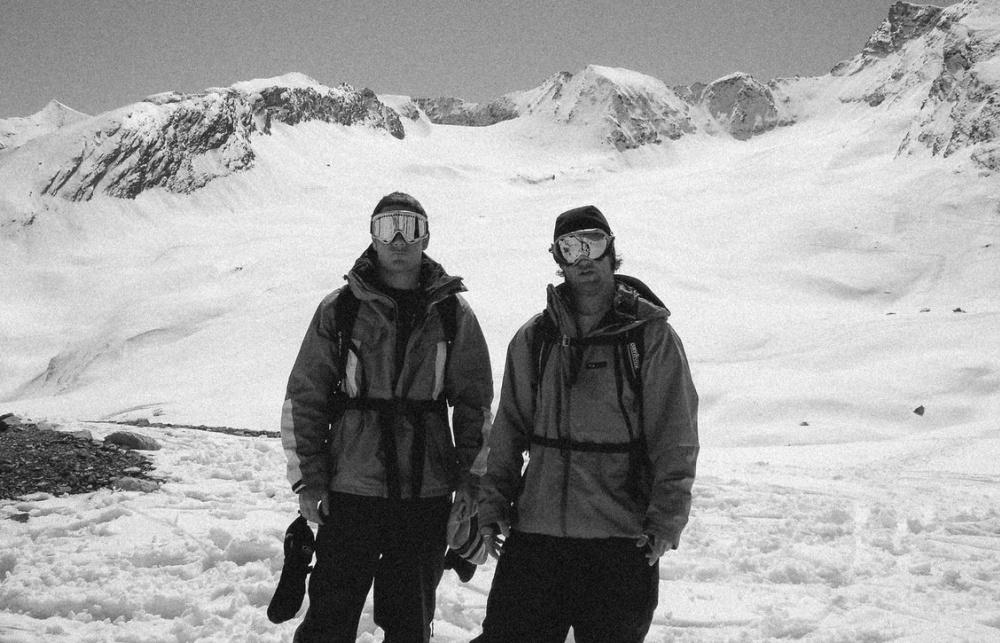 ORIGINS AND ETHOS
The origin story of LÉ BENT is a story of lifelong friendship, or as the Aussies say, mateship. Australian co-founders Simon and Anthony grew up in the '80s as next-door neighbors. From early ages, they shared a combined love of alpine sports, resulting in a wealth of experience achieved over a decade of professional ski boot fitting and ski bumming. After ditching corporate careers and professional skiing and living the dirtbag van life of surfing, skiing, and snowboarding, they fatefully linked up again in Val d'Isere, France. Aside from chasing big mountain lines and living the Euro mountain life to the fullest, Simon and Anthony worked in one of the world's preeminent ski boot fitting labs. One thing they noticed was the lack of consideration for socks in regard to the highly important synergy of foot + sock + ski boot. Thus, the original LÉ BENT product launched was the very first technical snow sock that combined unrivaled comfort, performance, and fit. Having recently turned ten years old, today this brand crafts technical first-on-skin layers that blur the lines between luxurious comfort, performance, and style.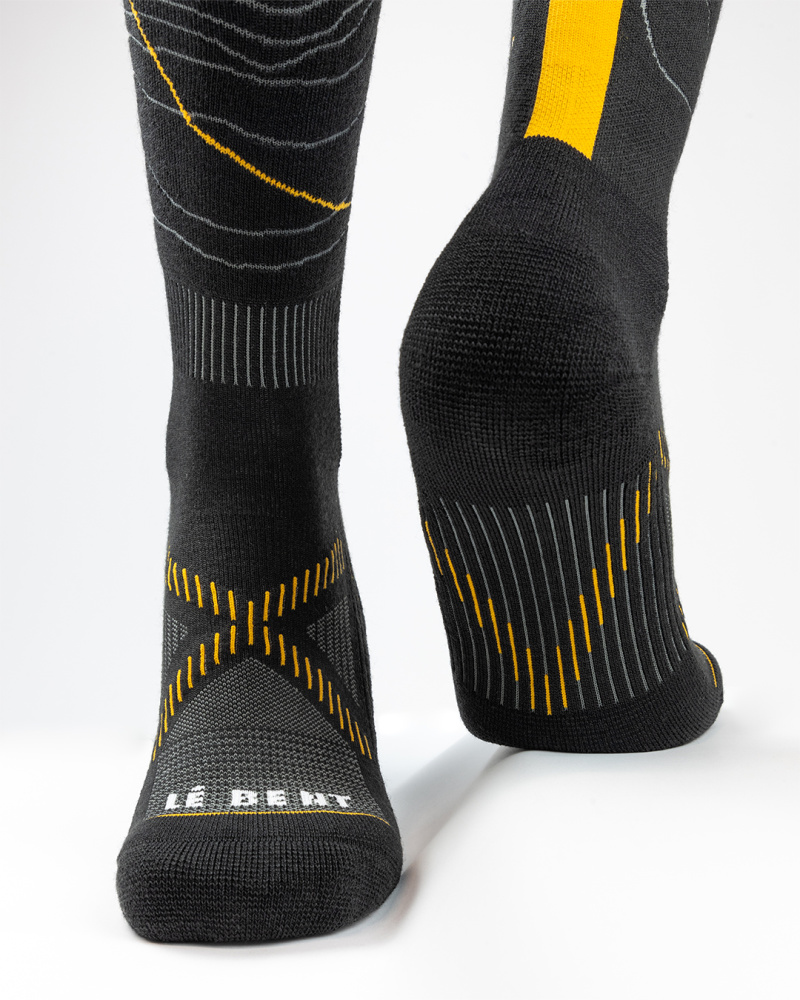 This is how both founders sum up the ethos of LÉ BENT, "Our ambition is to inspire good times and adventure in the products we make and lifestyles we lead. We create products we use ourselves and these products enable our global tribe to lose themselves in their outdoor experiences."
Wondering why they went with the name LÉ BENT? The "LÉ" part is an homage to Simon and Anthony's years fitting ski boots in French Alpine Val d'Isere. The "BENT" part represents bending or twisting the normal, being strongly inclined or determined i.e. being "hell bent", and the defining characteristic of a sock. It's a heck of a clever name if you ask us.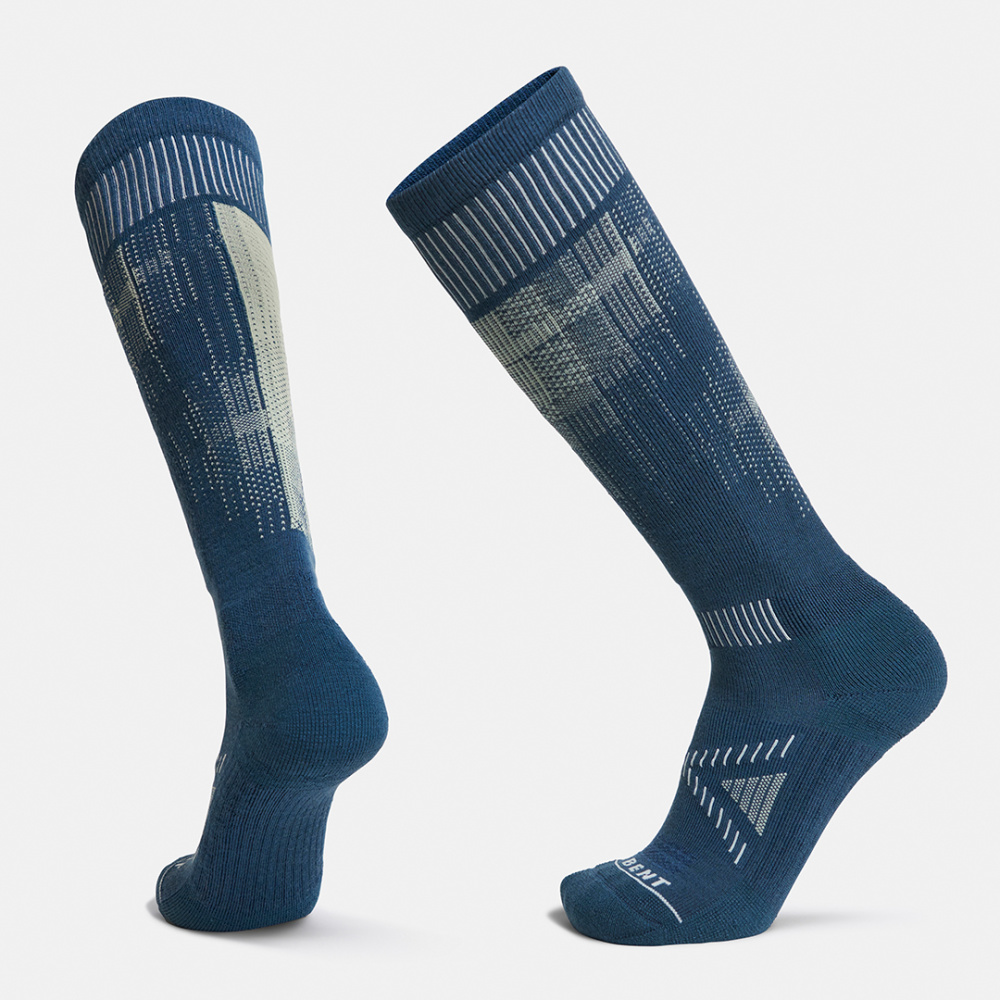 PIXEL LIGHT SNOW SOCK
First up is a pair of socks that are made with a combo of innovative stitching techniques and a visually striking drop needle design aesthetic. In other words, they will make virtually any foot comfy and look super cool. On first impression our tester's somewhat narrow US size 12 feet reportedly found the general fit of the Pixels in XL to be just a tad loose. So if you find yourself on the low edge of a size range we advise sizing down. That being said, the overall fit improved after some solid days of snowboarding and skiing combined with some washes.
Indeed, this sock is packed full of innovative technical features that truly make a difference. LÉ BENT trademarked these approaches to design as their Definitive Fit System. DFS is the concept of utilizing elastics and strategic stitching to provide target support in all key areas from the toes to the top of the shin. An elasticated instep is included to make everything secure and snug with no wrinkles or bunching. From his experience on the skis, on the snowboard, and on the XC ski trails, our tester agrees. He also was all smiles and enthusiasm about the built-in shin pad that prevented boot bang and extra comfort in the achilles and ankle band areas. No dreaded heel lift was reported. Another major plus was how astonishingly effective the memory stretch material moulds to the feet every time these socks were pulled on.
LÉ BENT uses innovative and highly sustainable materials in the Pixel's Signature Merino Blend. It consists of 41% rayon from bamboo, 18% merino wool, 39% nylon, and 2% elastane. The results from this interesting combination of fabrics are exceptional breathability, superb temperature regulation, and ridiculously good soft-on-skin comfiness. This blend also excels at eliminating itchiness and controlling nasty odors. Our tester agrees, it's a full win in all of these areas.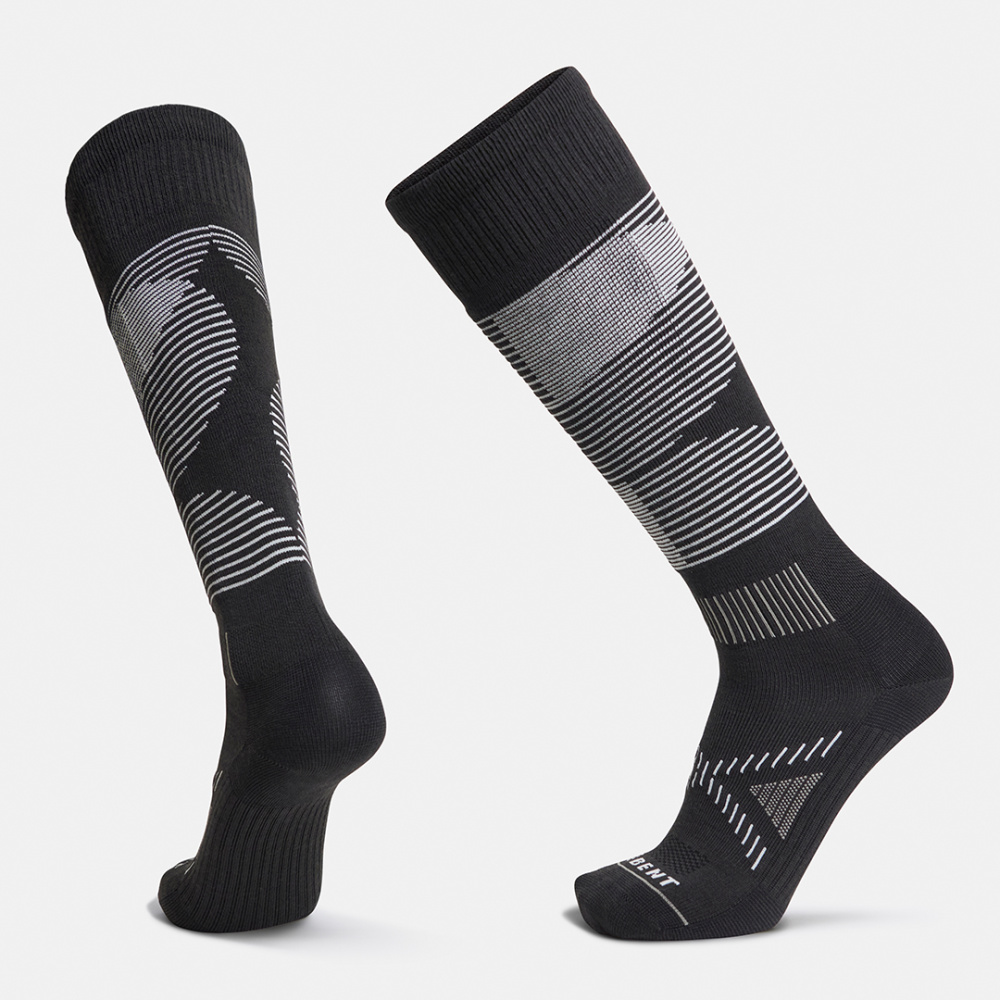 SHRED ULTRA LIGHT SNOW SOCK
Our tester found the Shred to be extremely similar to the Pixel in design and fit. Its fabric blend uses significantly more nylon to make it lighter and more airy. The Shred also features the exact same technical design features as the Pixel. We think these puppies are best suited to ripping big carving turns on groomers at high speeds. As with the Pixel, they come in an eye catching exterior stitching pattern and an array of sharp color combos.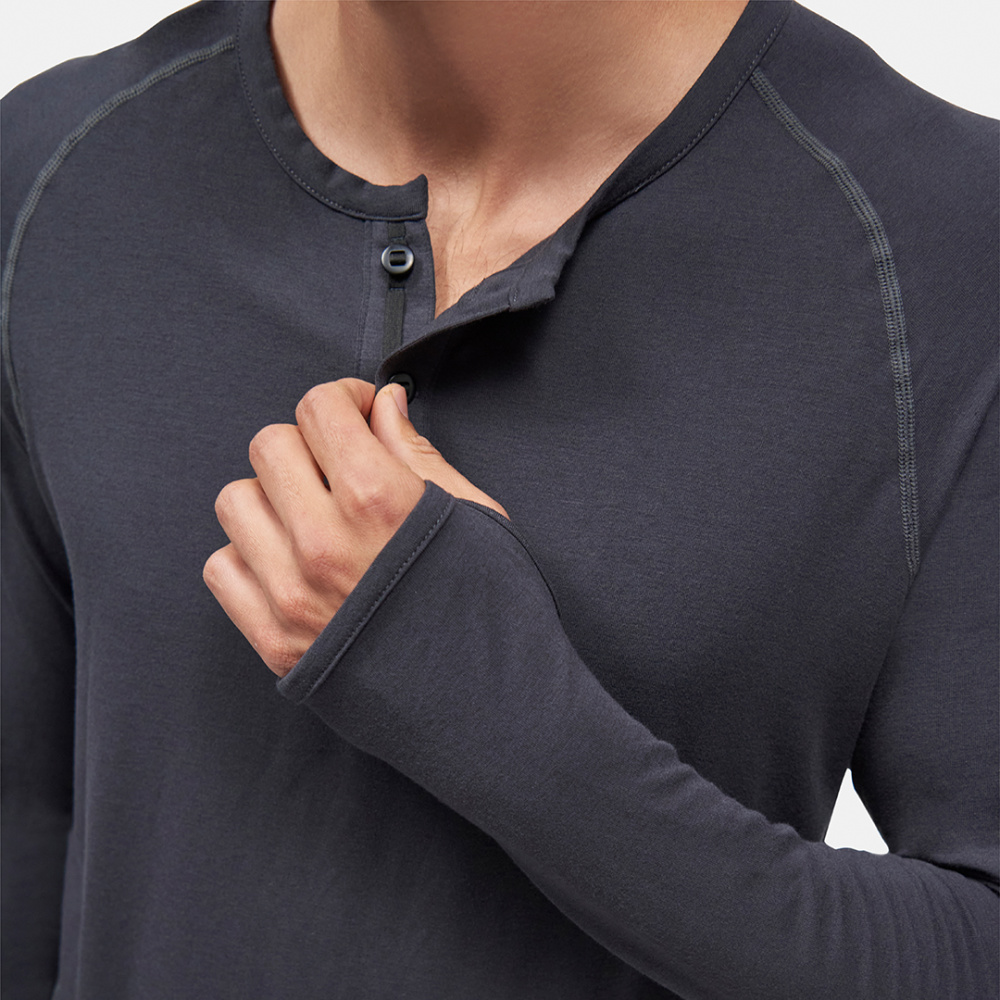 200 HENLEY TOP
The first thing that might stand out to anyone who pulls on the 200 Henley for the first time is its unique fit. LÉ BENT bills this piece as a performance base layer and doubles as a casual wear shirt. And they executed perfectly. The fit is just somewhat loose compared to the average clinging base layer. We agree that this can easily be worn during a full day of shredding the mountain AND at the bar for some well-deserved après. The only thing about the fit that our tester didn't like was the sleeves being a tad too short. But that's only if you have freakishly long arms like he does.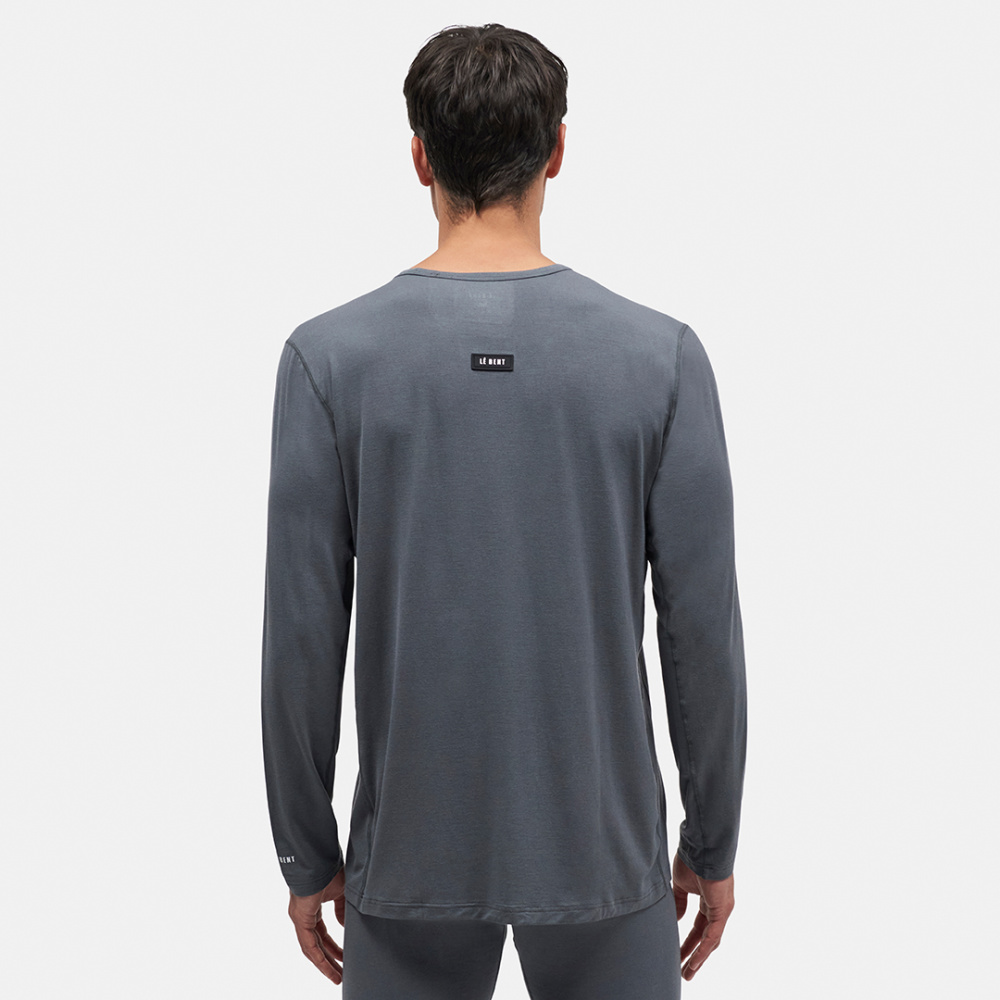 The 200 Henley features LÉ BENT's mid-warmth 200g Signature Merino Wool Blend which is designed for superior breathability, temperature regulation, and unrestricted movement with 4-way stretch. They weren't kidding. Our industrious tester said he was shocked at the amount of warmth this featherweight shirt provided in very cold temps. Our buddy also was quite impressed with this top's stretch factor. It refused to constrict movement no matter what kinds of ridiculous body contortions it was put through. This can be credited to the 200 Henley utilizing the trademarked LÉ BENT FlowState Sleeve System. Body-mapped panels are implemented to move in concert with the body. Made with 66.5% rayon from bamboo, 28.5% merino wool, and 5% elastene, this base layer is absent of itchiness, is warm in the cold and cool in the heat, stays remarkably dry, and fights against stink from sweat. It's a winner in our book.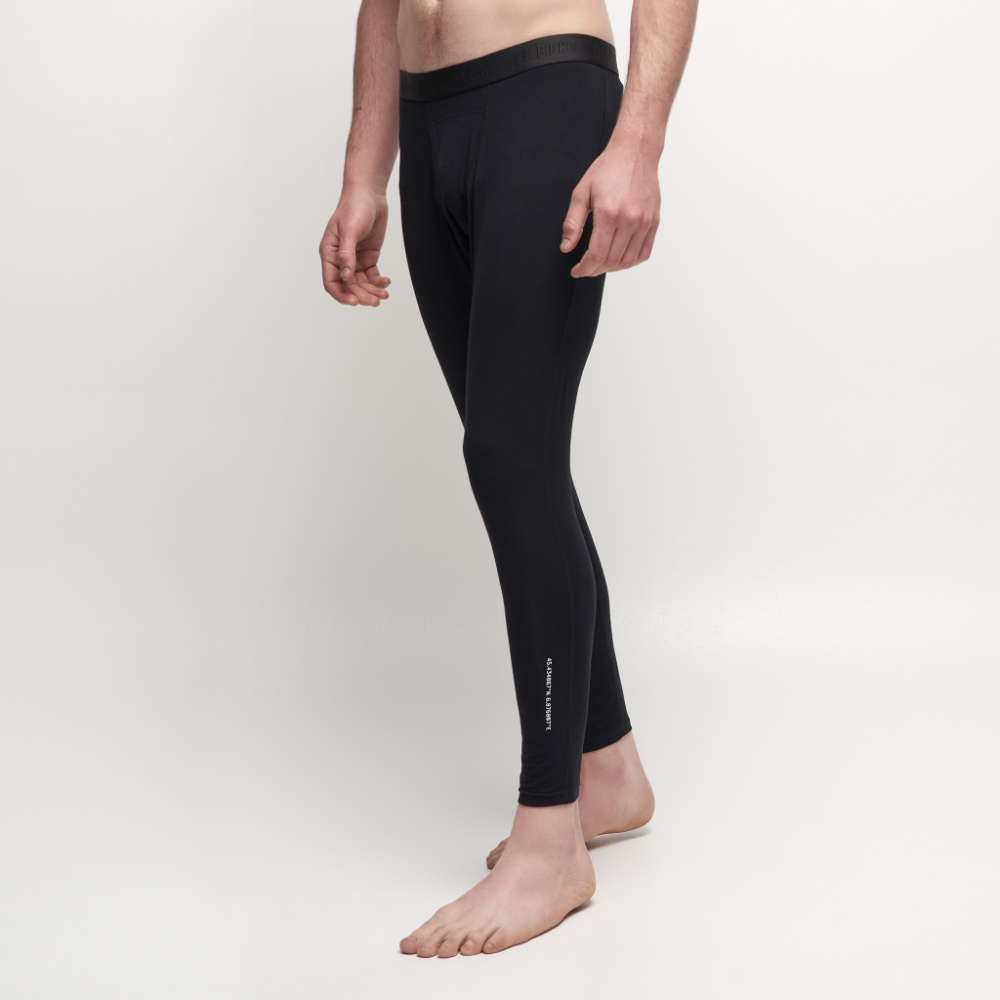 CORE 200 BOTTOM
The Core 200 has the exact same blend of fabrics of that of its 200 Henley sibling. It's also packed with all of the tech features listed for the 200 Henley above. Created with flat seams to prevent chafing, sculpted panels to provide a next-to-skin fit, and a wide waistband to distribute pressure and ensure a hold that stays in place, these long underwear bottoms have proven to be incredibly comfortable and versatile. They are also very lightweight yet retain warmth with the best of them. Absolutely zero gripes from our tester.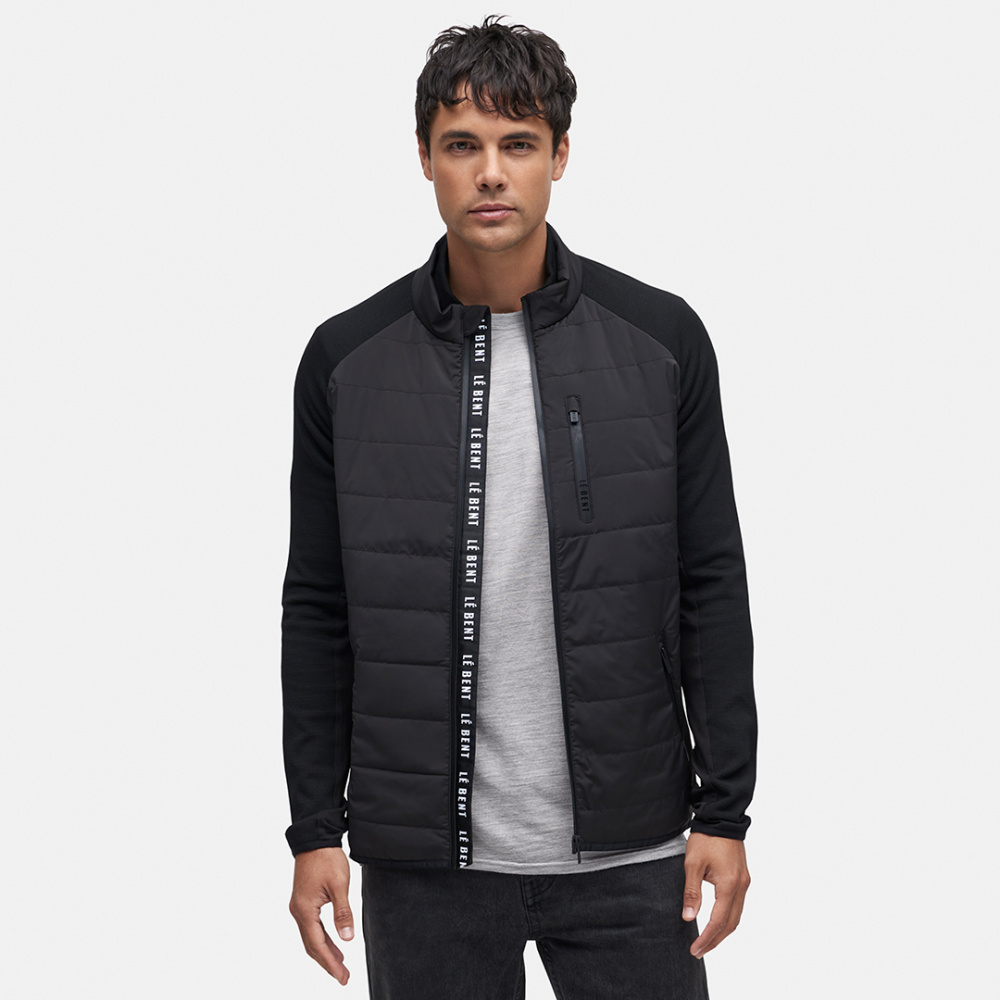 PRAMECOU WOOL INSULATED HYBRID JACKET
We've come to the last and perhaps coolest item of this review. LÉ BENT describes the Pramecou as a mid layer that moves with you, not against you. Our consensus is yes and then some. Like the 200 Henley, this piece features the FlowState Sleeve System to give the wearer unrestricted movement and enhanced breathability no matter what the situation is. Its interior face fabric is engineered with a 3-D grid waffle texture for extra micro-air-pocket heat and extremely gentle softness on the skin. The frontal core area receives added warmth due to the placement of 100g insulated wool panels. As per our tester, the Pramecou does an exceptional job of retaining heat and facilitating breathability in all the right areas. The frontal torso area is fully protected against nasty headwinds while heat is being simultaneously dumped out of the shoulder, arm, and back areas. This is especially a great piece of clothing for use while cross country skiing. But be aware, the Pramecou is surprisingly warm for how minimalist it appears so be sure to layer accordingly.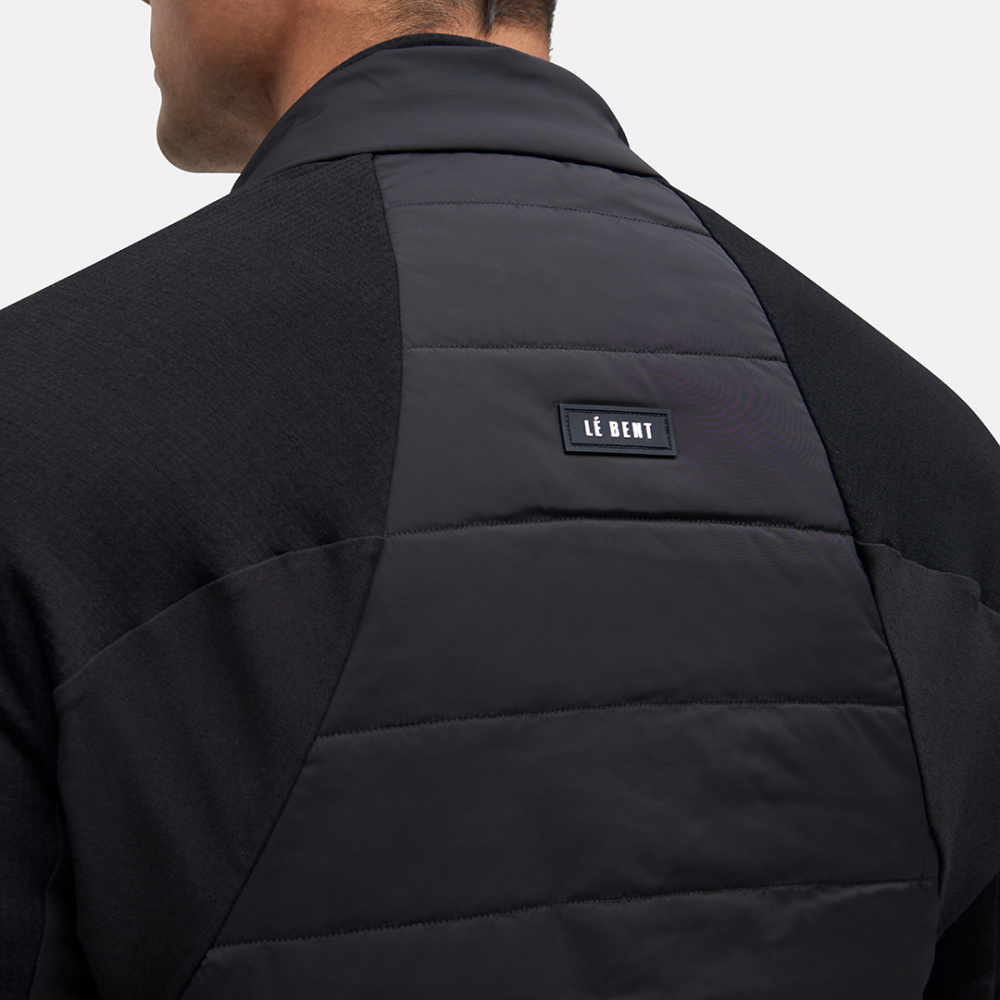 The Pramecou also features elasticated sleeve cuffs for locking out the chill, a drop-tail hem to cover your backside, and a double-layered inner neck collar that is amazingly soft. This is a jacket that's a perfect choice for a mid layer on a frigid day of downhill skiing or an outer layer for almost any day of Nordic skiing. We think we would describe its style as a French, Italian, and Anglo mountain town blend of active and leisure wear with a solid lean toward the active side. The Pramecou is hands-down one of the most innovative and versatile pieces of mountain apparel we've come into contact with.