Embrace the cold winter days with these warm flavors. Light a fire, open a good bottle of wine, and invite friends over to enjoy these tasty soups.
CURRY COCONUT SOUP WITH GINGER BITES (pictured above)
Andreas Heaphy, Chef/Owner at Rickshaw Restaurant
Ketchum, Idaho
Andreas received his culinary training at Western Culinary Institute in Portland, Oregon. He apprenticed at New York City's Bouley as the saucier. In 1993, he moved to Ketchum, Idaho, to chef at China Pepper, a long time favorite local eatery. Andreas opened Rickshaw in 2005 to capture the cosmopolitan yet laid-back feeling of Ketchum. Let this soup warm your body and soul—the secret is in the ginger! It is excellent served over noodles, steamed jasmine rice, or simply as a delicious soup on its own.
SERVES 4
1 stalk lemongrass, finely diced
1 small shallot, diced
2 c chicken stock
1 c coconut milk
2 inch piece ginger, peeled and julienned
4 Makrut lime leaves, bruised
2 tbsp fish sauce
2 limes, 1 juiced, 1 quartered (for garnish)
4 Thai chilies, finely diced
½ tbsp curry powder
½ tsp ground turmeric
1½ tbsp brown sugar
6 oz chicken breast, thinly sliced
½ c shitake, sliced
½ c scallion, 1" lengths
1 c baby bok choy, roughly chopped
¼ c cilantro, chopped (optional garnish)
In a small sauce pot add the lemongrass, shallots, chicken stock, coconut milk, ginger, lime leaves, fish sauce, lime juice, Thai chilies, curry powder, turmeric, and brown sugar. Bring to a rapid boil. Remove from heat and let steep for 10 minutes. Return pot to a gentle simmer, add the chicken and simmer for 2-3 minutes. Add shitake, scallion, and baby bok choy for additional 1-2 minutes. Remove from heat and ad just seasoning. Spoon into serving bowl(s) and garnish (optional) with cilantro and lime wedges.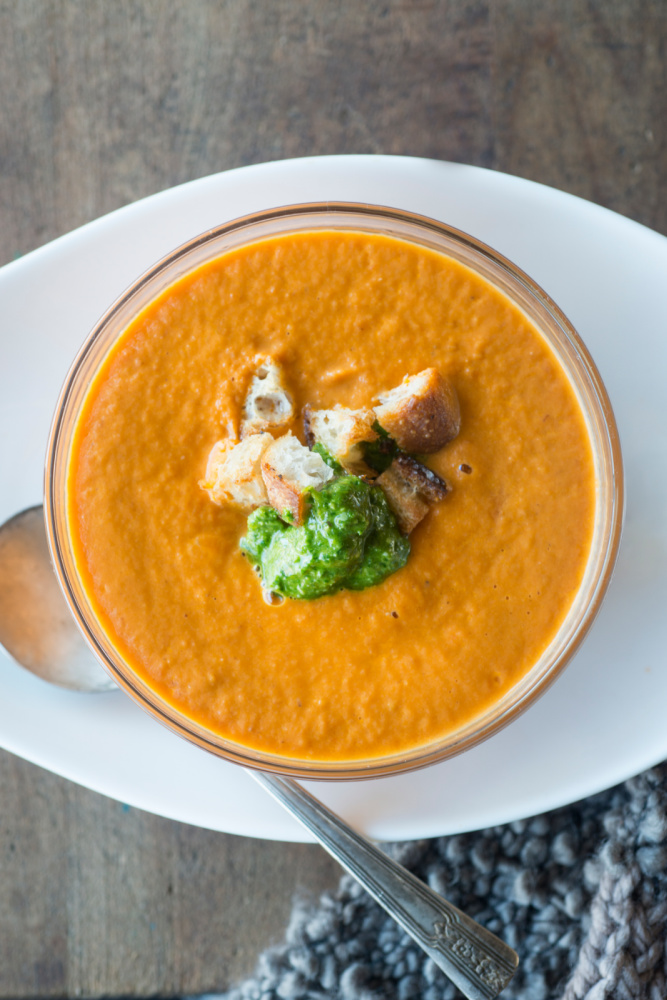 TRIO'S BLT SOUP
Paul Wireman and Will Brad of Trio, An American Bistro
Jackson, Wyoming
Trio is located in Jackson Hole and owned and operated by chefs with a passion for good food in an enjoyable, relaxed atmosphere. This soup is a play on the classic sandwich.
SERVES 6
½ lb bacon, diced
1 onion, diced
½ head of celery, diced
2 tbsp diced garlic
1 large can crushed tomatoes
8 c brown chicken stock
½ lb butter
1 c white wine
Render the bacon in a stock pot. Add the mirepoix (onion, celery, carrots) and caramelize in the bacon fat. Add the garlic and brown. Add the white wine. Add tomatoes and stock and simmer for 10-15 minutes. Add salt and pepper to taste. Use a blender to blend soup. Pass the soup through a china cap or fine-mesh strainer.
ARUGULA PESTO
¼ c pine nuts
1 tbsp garlic
½ tsp salt
¼ tsp black pepper
1 blender full of baby arugula
½ c extra virgin olive oil
¼ c Parmesan cheese, grated
Place pine nuts, garlic, salt, and pepper in a blender, then fill with baby arugula, and pack down until very full. Pour oil over top and blend, adding the cheese at the end. Blend until smooth.
BACON CROUTONS
2 c crustry bread, cut into ½-inch cubes
2 tbsp bacon fat, salt and pepper to taste
Use whatever crusty bread you like, dice in ½-inch squares, mix with bacon fat and salt and pepper. Bake on low until light brown.
Serve the soup in a large bowl, topped with the croutons and arugula pesto. Enjoy!
TOM KHA KAI: CHICKEN HOT AND SOUR COCONUT SOUP
Taveesak Chanthasuthisombut, Owner of Dang's Thai Cuisine
Hailey, Idaho
"This is a popular and traditional dish of Thailand, and very popular in our Hailey, Idaho restaurant. We want to give our customers authentic traditional Thai food and this soup fits the bill."
SERVES 4
6 thin slices of galangal (similar to ginger with a more citrusy and piney flavor)
1 large white onion, cut into thick wedges
2 stalks of lemongrass, smashed and cut into 1-inch pieces
6-10 Makrut lime leaves, torn
2 chicken breasts, 1-inch slices
4 c coconut milk
2 c water
1 tbsp salt
½ tbsp brown sugar
2 tbsp tamarind concentrate
1-2 tbsp lime juice
2 handfuls mushrooms
1 large tomato, cut into thick wedges
6 Thai chilies, sliced
1 tbsp chili paste
1 small bunch cilantro
In a large pot, add 2 cups of coconut milk, 2 cups of water, Makrut lime leaves, onion, galangal, and lemongrass, and bring to boil at medium to medium-low heat, simmer about 5-8 minutes.
Add chicken and ½ tablespoon of salt. When the chicken is almost fully cooked, add 2 cups of coconut milk. Bring to boil, then add mushrooms, tomatoes, brown sugar, chilies, chili paste, tamarind concentrate, and ½ tablespoon of salt (or add more according to taste). Bring to gentle boil until all ingredients are fully cooked. Turn off the heat. Add lime juice. Serve and garnish with cilantro.