Fall is arguably the best of the four seasons to travel. There are smokin' hot deals on flights—domestic and abroad—and National parks, famous monuments, and popular international destinations are pleasantly quiet. Here are BigLife's two luggage must-haves for any on-the-go explorer as we transition from autumn to winter.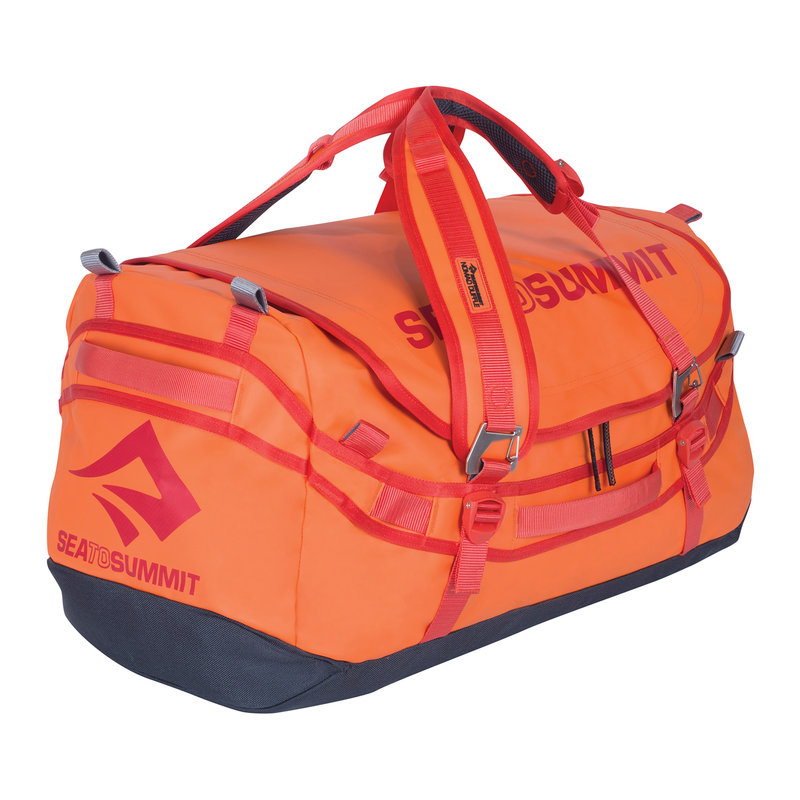 Tim Macartney-Snape, co-founder of Sea to Summit, completed the very first solo ascent of Everest from sea level, thus the name of the company and its drive to make the best gear for serious adventures. They've been doing just that since the mid '90s.
Because they call it like they see it at Sea to Summit they named this go-to bag the Duffle Bag and it embodies what Sea to Summit is all about: innovative ideas, materials that can take a beating, and top-notch construction. Speaking of innovation, this bag can be carried as a backpack, shoulder sling, or classic duffle. There are even magnets inside the carry straps that keep everything in the perfect position. For durability, the Duffle Bag is made with a waterproof tarpaulin laminate outer, 1000D nylon base, and steel gated hooks. All of the stress points of this piece are integrated into a 360-degree yoke for good measure. No more worrying about that disgruntled TSA employee taking it all out on your bag. Available in four different sizes, this versatile piece of luggage can be a go-to for short and long excursions. The Duffle Bag comes in bright blue, bright orange, or subdued charcoal. Pack up, it's traveling time.




Although Dakine has become an international brand and household name, this company stays true to its roots, taste in style, and fun vibe. This brand continues to be the cream of the crop when it comes to making the best luggage for all of the gear that your various adventures necessitate.
Both the High Roller and the Boundary upgrade the travel experience by redesigning the quintessential snow gear rollers. The High Roller can hold two boards (one pair with bindings mounted), and one pair of boots and outerwear. The Boundary holds two pair of skis, one pair of boots, poles and apparel. Both bags have removable internal bags that allow for separating boots and outerwear so you can take them up to your hotel room quickly while leaving the rest of your kit in gear check. For when you're on the move, the end handles have been designed to pair with rolling luggage for one-handed operation on both models. Additional features include a 360 degree board and ski padded protection, lockable main zipper, two external padded zippered pockets, and durable over-sized urethane wheels. Get rolling before you get carving.