I found myself in a foreign world, vastly different from where I had grown up. Connecticut, like the rest of the North East, is beautiful. It has snow, and skiing and fall colors, lakes, rivers, even the ocean. It isn't captivatingly beautiful though. The beauty doesn't stop you and take hold of you the way that the Sierra and the Tahoe Basin does. I left Connecticut because even though I grew up there I felt lost. I was an outsider and constantly in search of a much grander purpose. I needed room to spread my wings.
The first time I drove to Tahoe I got lost. I drove north from Mammoth through a blinding February snow storm. This was before GPS and I was relying on a print out from Map-Quest. As my Jeep pushed northward, I had know idea what to expect. To be completely honest, before this trip I had never even seen an alpine lake.
I knew nothing of the Tahoe region other than that I was going to be meeting up with some snowboarders for a photo shoot. Of course, I had seen photos labeled as "Tahoe Backcountry" in various magazines and had seen video segments of skiing and riding at Tahoe area resorts but, frankly, I had never really considered the lake. That all changed. I knew Tahoe was special as I caught my first glimpse of the lake through the near-blinding snow. I knew I needed to explore the area. It was love at first sight.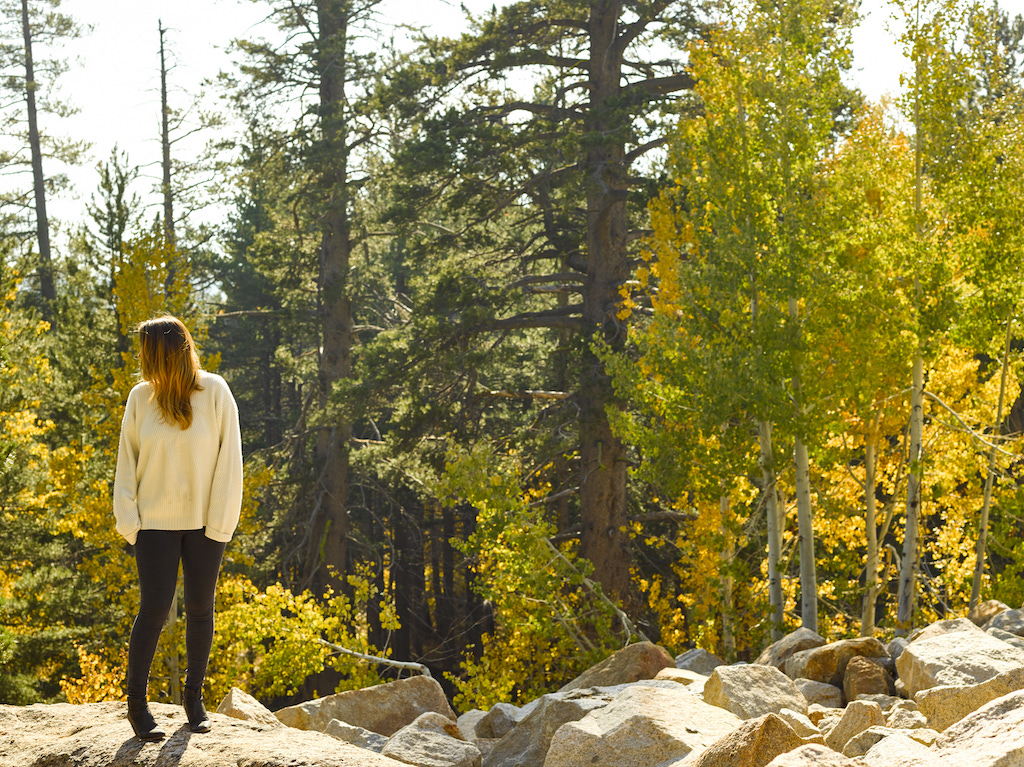 There are a few terms that are used to define Tahoe. "The Basin" or everything included in the lake Tahoe watershed. 505 square miles of mostly public land, it all drains into the jewel of the Sierra. Also, "The Tahoe Region:" everything from Hope Valley, Highway 88 and Kirkwood to the South as well as the Jackson Meadows, Little Truckee Summit area to the North. The Tahoe Region is huge. More than half the size of my home state. Plenty to explore. Something for everyone.
The local saying, "come for the winters but stay for the summers" rings true. My first summer in Tahoe was a blur. All of a sudden I had an endless expanse of hiking and mountain biking trails, dirt roads to drive, high alpine lakes to swim, and rivers to float. The downside, though, is that summer has crowds. Winter has crowds. Heck, even spring has crowds.
But then, there's Autumn
We're left with Fall, a beloved shoulder season.
People talk about solace, and finding tranquility, or transcendence in nature. That whole Thoreau-and-Emerson-inspired mentality. The quest to constantly be at peace with nature. I feel it most during autumn. Watching the colors change across a mountainscape, witnessing the power of nature, the metamorphosis of seasons. Nature in harmony.
But, why Tahoe? With such a vast and diverse ecology, a plethora of trails to explore and nearly endless opportunities to get off of the beaten path Tahoe has been my most special place to experience the changing fall colors.
The best advice that I can provide to anyone hoping to experience fall colors in Tahoe, or any other high alpine region, is to follow the water. Deciduous trees grow in wet forests. Aspens, Willows, Cottonwoods and Mountain Alders grow in moisture rich environments between 5,000 and 12,000 feet. Find rivers, creeks, and remote alpine lakes. Make this adventure your own. I did.