Two New Items from an Outdoor Industry Icon
Jet-skis have often been called Waverunners. In-line skates have been referred to as Rollerblades. And to this day, eyewear retainers are known as Croakies. In fact, we are willing to bet that nobody out there uses the term "eyewear retainer" in regular conversation. It speaks volumes when a brand can invent something that fills a widespread need in the world of outdoor gear, turn this invention into a successful business, and continue to see their original product be referred to as a "croakie" while other imitations from competitors keep popping up.
Back in 1977, a Jackson Hole Mountain Resort ski patrolman named Robbie Fuller wanted to create something that would keep his sunglasses intact in all kinds of weather conditions. His first prototype was made from the neoprene from an old wetsuit. Despite its crudeness, it proved surprisingly effective and soon became a hit with the entire JHMR ski patrol. And the buzz just caught on like a wildfire all over the Mountain West from there. Fast forward to present day and you have an international brand that remains true to its Rocky Mountain roots. Still headquartered in Jackson Hole, Wyoming, Croakies now produces the majority of their wares in Bozeman, Montana. Aside from the namesake original product, this brand has started to produce highly functional and intricately artistic guitar straps, dog products, and belts that are made for the active mountain lifestyle. Their commitments to incorporating comfort, durability, functionality, and style have never faltered since the late 1970s. Happy 40th anniversary, Croakies.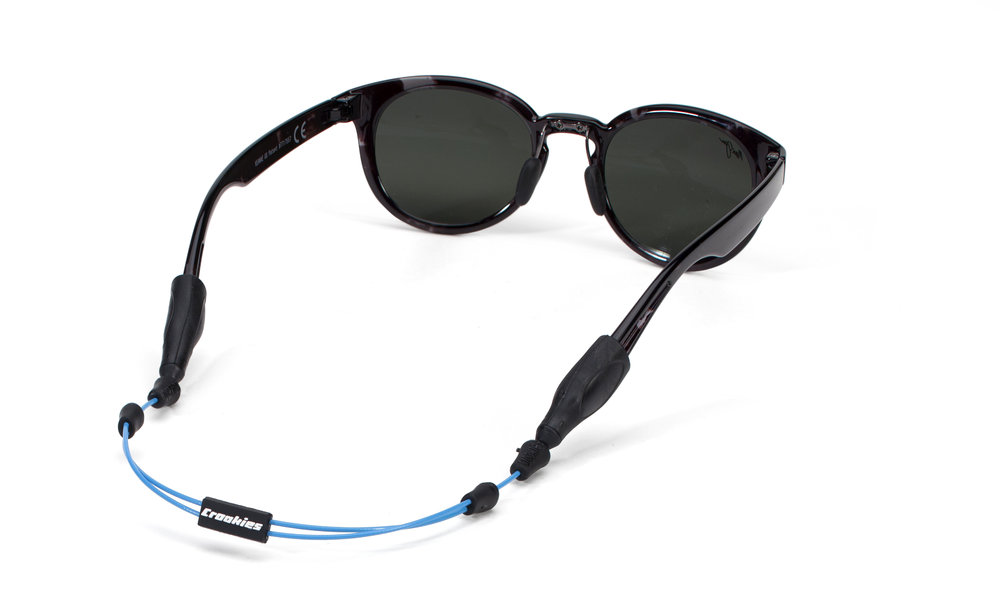 Croakies bills the ARC System as the most technically advanced line of sport retainers in their vast quiver. Interchangeable attachment pieces and cable lengths (sold separately) allow the user to fine tune a custom fit with any pair of shades. Relax, your sunglasses and your croakie will now be in perfect harmony. The ARC Endless croakie features advanced cable adjustment technology. What does this mean? It means that you now have the ability of endless adjustment for the length of your loop. And finally, the ARC Endless even allows for a custom ANGLE for your croakie loop due to articulating cable technology. No more worrying about things sliding or getting knocked off your head. We found this to be quite helpful when in the river looking down to tie a fly and when wearing a high-collared jacket or hood in general. The ARC Endless comes in a variety of sharp-looking colors and in 14",16", 18" cable lengths. Get it here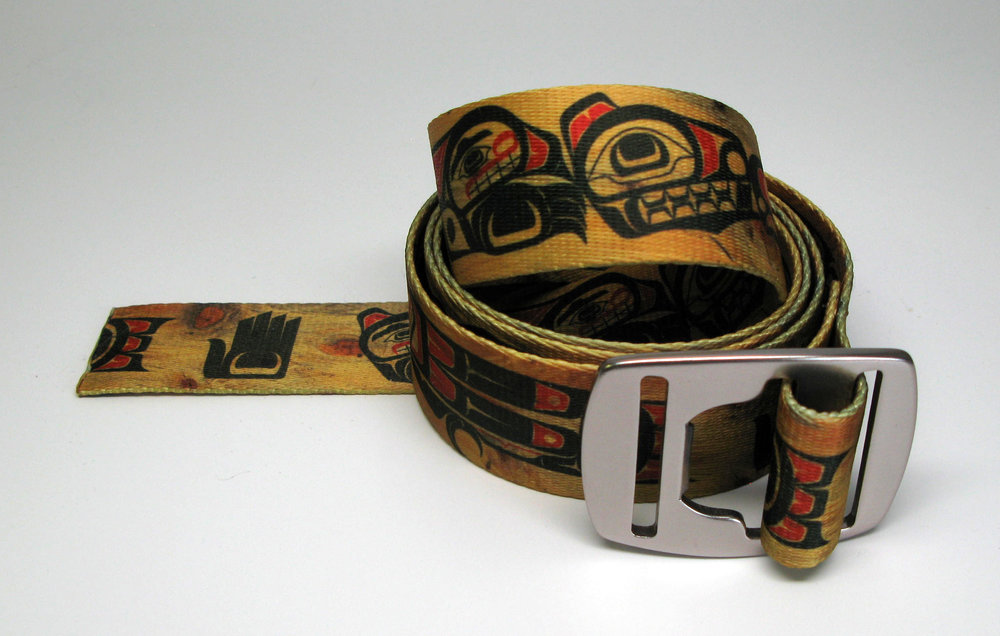 Tired of that plain brown, cracked leather thing you've been wearing around your waist? Enter the wide array of Artisan Belts by Croakies. The Artisan 2 line features designs ranging from patterns and motifs to wildlife and camouflage. Each graphic is printed on 1.5" polyester webbing. We thought that this webbing material proved to be more comfortable than the average belt and it gave just the right amount of stretch. It shines in any active outdoors situation. Each belt can be easily trimmed after determining your desired length and they are all made to order. To top off the technical side of things, each piece from the Artisan 2 line gives you a choice from four different belt buckle options. Yes, ours came with the bottle opener buckle. We weren't exactly disappointed.
N-grained Inc. is the name of a Bellingham, Washinton-based art collaborative with Mark Landvik and James Johnson. For the Bear Eagle design, James Johnson tapped into his ancestral heritage to create an authentic work that is rich in culture. Johnson is of Tlingit (Native Americans originally from Southeast Alaska) descent. He belongs to the Ch'aak' Dakl'aweidi (Eagle Killerwhale) clan. For this design, he started by emulating the formline style and traditional color scheme that his ancestors used so long ago. The result is a striking piece of wearable art. It pays homage to the heritage and natural world of the Pacific Northwest. Get it here