The Ultimate Outdoor Prescription for Breast Cancer Survivors: YETI x Casting for Recovery x Boarding 4 Breast Cancer
With quotes tied to new stand up paddle boards like, "Adventure and inspiration are in my blood," "Exploration is what you do when you don't know what you are doing," "Until you cross the bridge of your insecurities you can't begin to explore your possibilities," and "Design a life you are inspired to live. Explore. Imagine. Dream," ten women who knew each other for less than 24-hours took those words to heart as they walked slowly with boards under arms towards Brooks Lake to paddle on clear water beneath the cornflower sky. All under 40-years old, all breast cancer survivors, and all wearing smiles, they began another day of what would be new territory; territory made possible by organizations and companies that encourage and endorse nature with their missions, products, and philanthropy.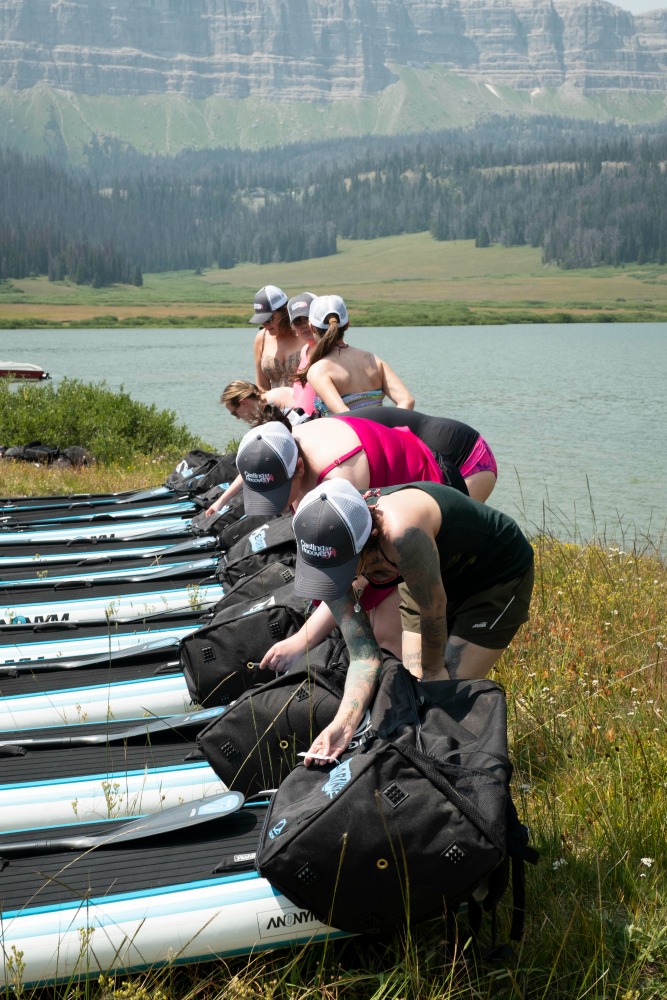 At YETI, it's simple. They partner with those that celebrate a life outdoors. As for Casting for Recovery, now in its 22nd year, their principles resonate in the natural world where they believe women with "breast cancer deserve one weekend – free of charge and free of the stresses from medical treatment, home, or workplace – to experience something new and challenging in a beautiful, safe environment." And, at Boarding 4 Breast Cancer, the original youth-focused breast cancer education and prevention foundation, which is also in their 22nd year, their goal is for those affected to "celebrate life at every turn, both on and off a board."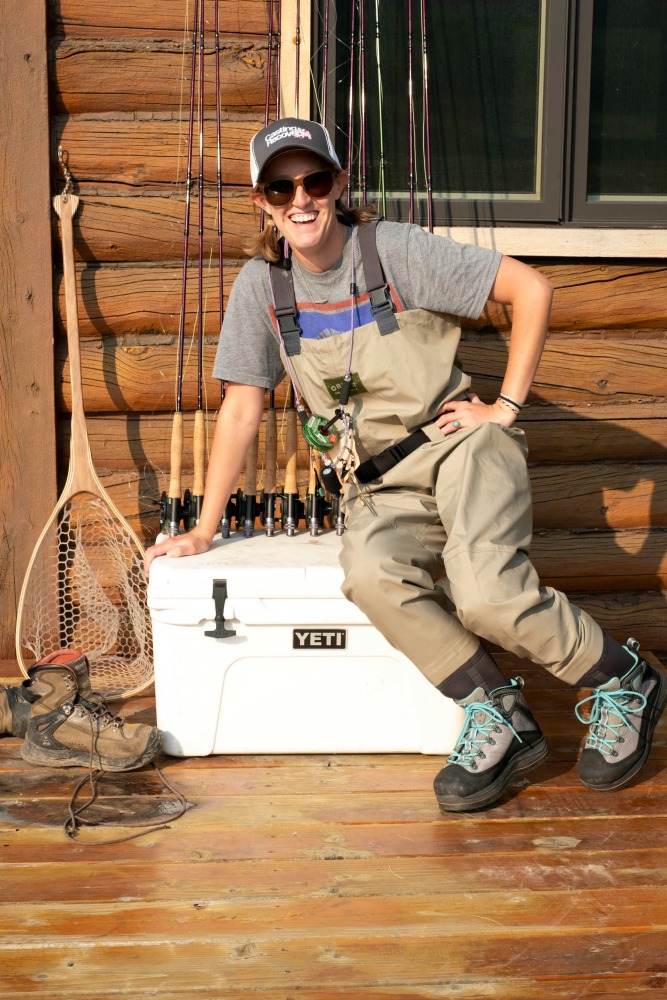 Nearly 22 years ago when my daughter was born in Los Angeles, two floors below the maternity ward in the same hospital, my aunt would endure a modified radical mastectomy followed by reconstructive surgery. While I left with a newborn, she was sent home after her three-day stay with a stack of post-op instructions and appointments. There were few if any women's groups to connect her with, and rare was the retreat-type scenario. I remember her feeling anxious, sore, and lacking the tools to begin the next part of her life. Because I was privy to her slow burning depression, the summer after my daughter's first birthday, I chose to participate in the inaugural Avon Breast Cancer 3-Day walk from Santa Barbara to Malibu. It was during those 60 miles that I discovered the camaraderie that I knew my aunt could benefit from.
Flash forward to today. My daughter knows to do her monthly self-examination, my aunt volunteers with multiple breast cancer organizations, and here, at 3 Spear Ranch in Dubois, WY, I am witness to the authentic and spontaneous connections made among these ten women who remind me how far breast cancer education and support programs have progressed.
Outdoor companies like YETI who have chosen to connect health, recreation, and nature know that research shows time outside restores mind, body, and spirit. By coordinating their efforts with retreat programming from Casting for Recovery and Boarding 4 Breast Cancer, the weekend of fly-fishing, board sports, yoga, meditation, and an introduction to Traditional Chinese Medicine was a picture of acceptance and community. Bridging health and recreation is not entirely new as a primary part of a survivor's recovery; rather the transformational effects are seen now as an essential ingredient to an overall healthy lifestyle that leads to long-term survivorship. Both CfR and B4BC aim to meet the specific needs of women with their nature-based wellness retreats. For many of these women, it was their first time holding a rod, donning waders, standing on a paddleboard, or practicing yoga.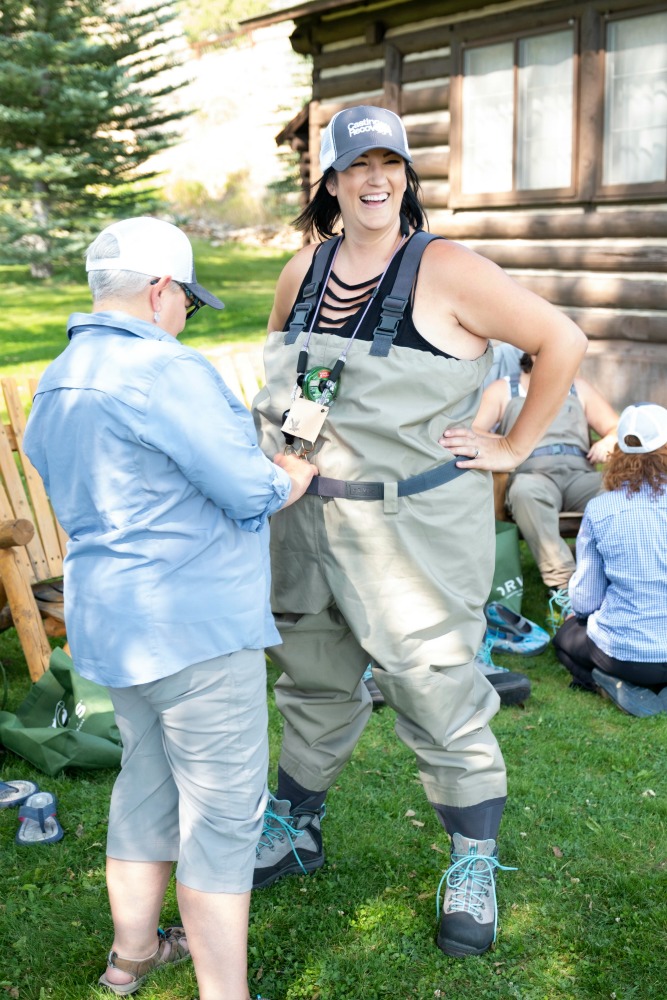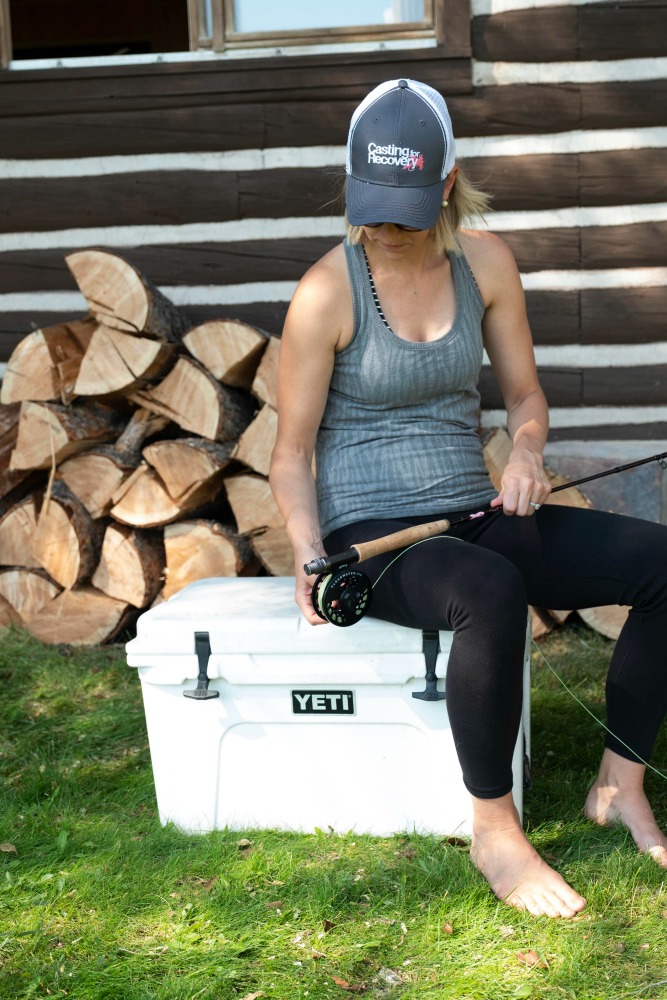 Vulnerability and introspection
Surrounded by the Shoshone National Forest, the women paddled out with professional snowboarder Megan Pischke, an ambassador and retreat leader from B4BC, and a Stage 3 breast cancer survivor herself. Her positive words and actions created a lively and welcoming environment on the water, where the women giggled and strived to keep balance. "Even though I was not graceful, and was extremely shaky, I did it! I was proud that I challenged myself to try something new!" claimed Lindsey Chaquette. A few hours later after familiarizing themselves on the boards, the group formed a tight circle, boards bobbing gently on the water to share thoughts only they could understand from their journeys with treatment, surgeries, work, family, friends, and their own expectations of a life beyond cancer. Moments later and reflection aside, they hollered triumphantly as survivors when asked to hold their paddles high for a group photo. They were sisters now.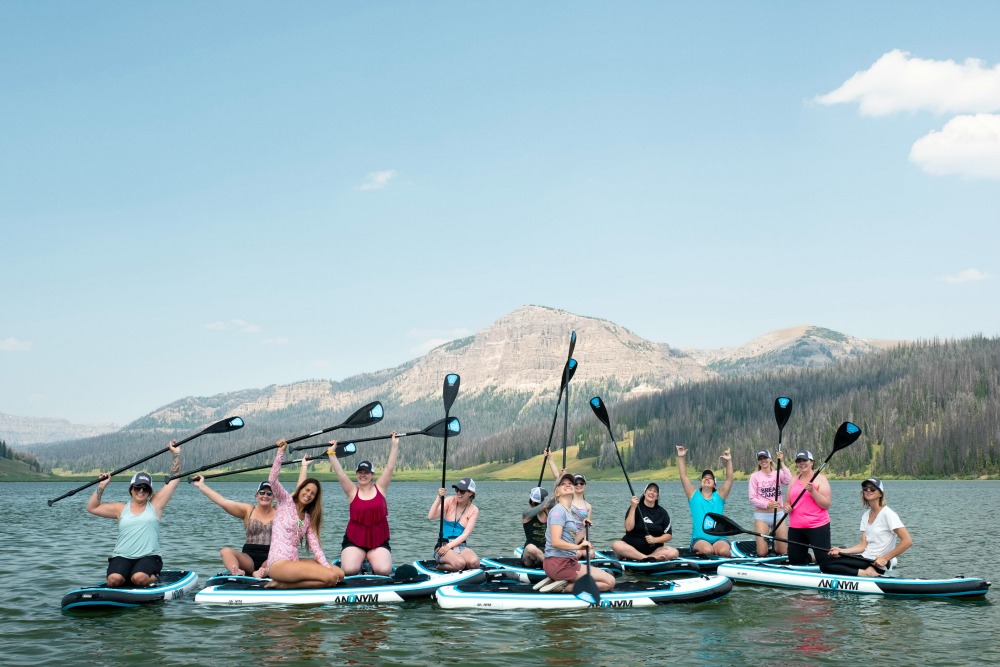 With morning scheduled for learning the art of casting and an afternoon sampling paddleboards, the late afternoon's yoga held in a cabin below the main ranch proved excellent for a well-deserved stretch and guided meditation led by a Jackson Hole wellness expert who fused an hour of restorative yoga with acupuncture for the group. It's these moments where the women truly let go because there is little to do other than to be still. The energy in the space was dream-like.
In the midst of this magic, these women found peace, protection, and purpose on this remote ranch surrounded by mature pines and cottonwoods, amid wandering horses and creeks under lush clouds and Wyoming's open sky. "You're in nature. You see life. You breathe it in. It heals you as you're in it," says Tawny Gonzales.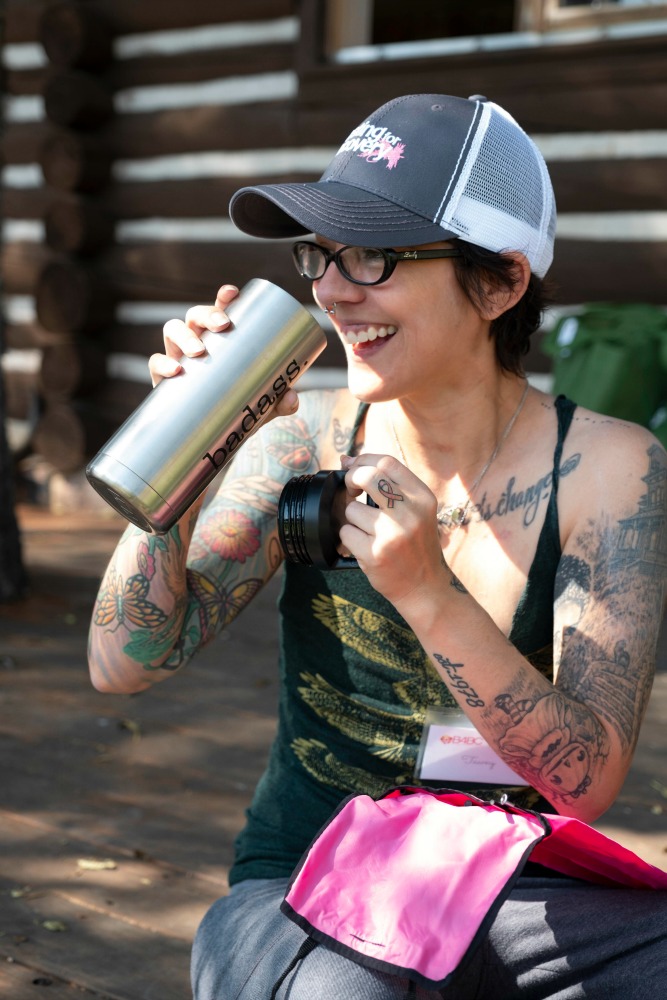 Mindfulness increases wellbeing, which aids in recovery and fosters a sense of belonging and self-esteem. Therapeutic landscapes are known to decrease anxiety and adventure-based experiences bolster confidence. These retreats are the next step in managing life after cancer. They are regionally based so that the participants can stay in touch with each other. They further demonstrate that a life beyond cancer can be active, engaged, and fulfilling. Focusing on wellness and staying healthy is key. Being in nature replenishes the soul, but also inspires and evokes gratitude.
YETI and BCAM
The outdoor companies who consciously participate with their vision of adventure and wellness are part of the solution for survivors who face challenges, both known and unknown. There's no nice way to pretty up breast cancer rates when the CDC reports that the most common cancer in women regardless of race or ethnicity is breast cancer, and that it remains the most common cause of death from cancer among Hispanic women. By supporting these companies and organizations, their two-decade long history proves people connect through experiences and those experiences are life changing.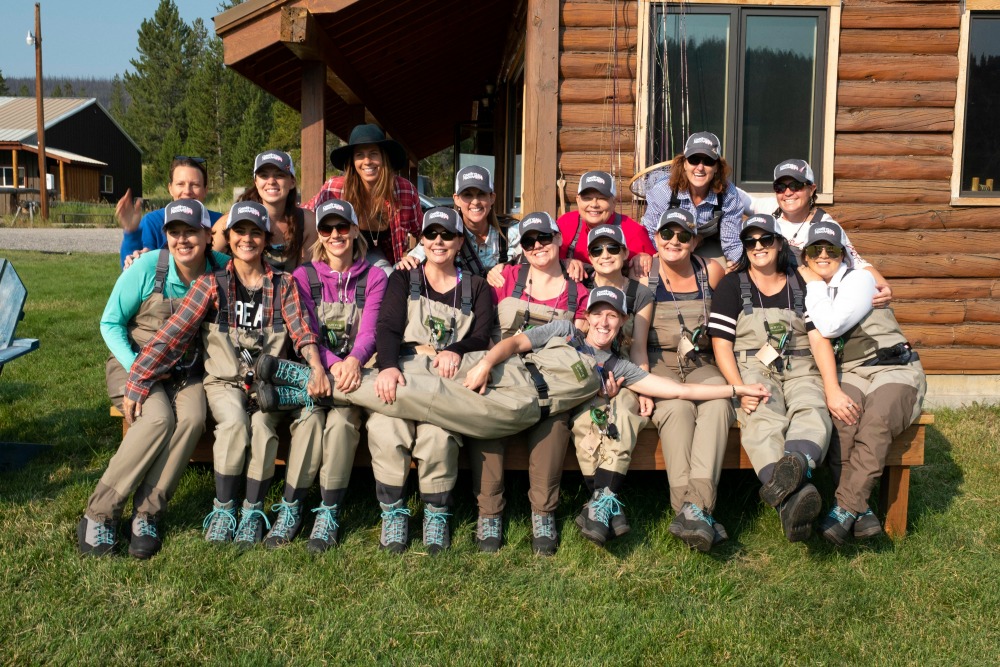 Big props to Maria, Lynna, Lindsey, Hannah, Tanya, Tawny, Sarah, Danielle, Ali and Rachael for your fearless devotion to life. Kudos to the incredible volunteer support teams from CfR, B4BC, and YETI. Thank you Susan, Sarah, Sue, Lise, Melanie, Claire, Beth, Megs, Molly, Missy, Angela, Lauren, (and Thacher at Backbone Media). These unique wellness collaborations are bound by your tireless work and indelible wisdom.
If you're in Jackson, WY this week, Lise Lozelle from Casting for Recovery and Megan Pischke from Boarding for Breast Cancer will speak at ShiftJH on Thriving with Cancer in Nature. See schedule and get tickets here.
In support of Breast Cancer Awareness Month, YETI is making a collective $100,000 donation to Casting for Recovery and Boarding 4 Breast Cancer.