It's no secret that the wide-open beaches and rocky headlands of Washington State's coastline are uncrowded, wonderfully raw, and ruggedly beautiful. It's also well-known that the old towns located on that same windswept and wave-beaten coastline tend to reflect the downtrodden timber and fishing industries that built them. Which makes the small, relatively new, and elegantly designed beach town of Seabrook somewhat unexpected. Situated upon a coastal bluff, tucked neatly between a couple of coastal creeks, with an expansive white sand beach out front and surrounded by the lush coastal forest, Seabrook's tidy town square, incredible walkability and numerous young local families are all a pleasant surprise.   
Founded in 2004 by Casey and Laura Roloff, Seabrook was built on a foundation of new urbanism design with an emphasis on walkability, community, convenience, and safety. Inspired by towns like Seaside, Florida, with an emphasis on quality of life and environmental sustainability, Seabrook now features over 450 homes spread throughout several different neighborhoods, 17 parks, a Town Hall, Montessori School, numerous hiking, and biking trails, and of course that big, beautiful beach and Pacific Ocean. 
The result is a walking and biking paradise where everything visitors and locals need is just a short walk or bike ride away. Add in a community amphitheater, oceanfront park, playgrounds, fire pits, horseshoe pits, an indoor pool, and dozens of shops and restaurants all within walking distance of each other and it's easy to see why Seabrook is making waves as a vacation destination and for full-time residents alike.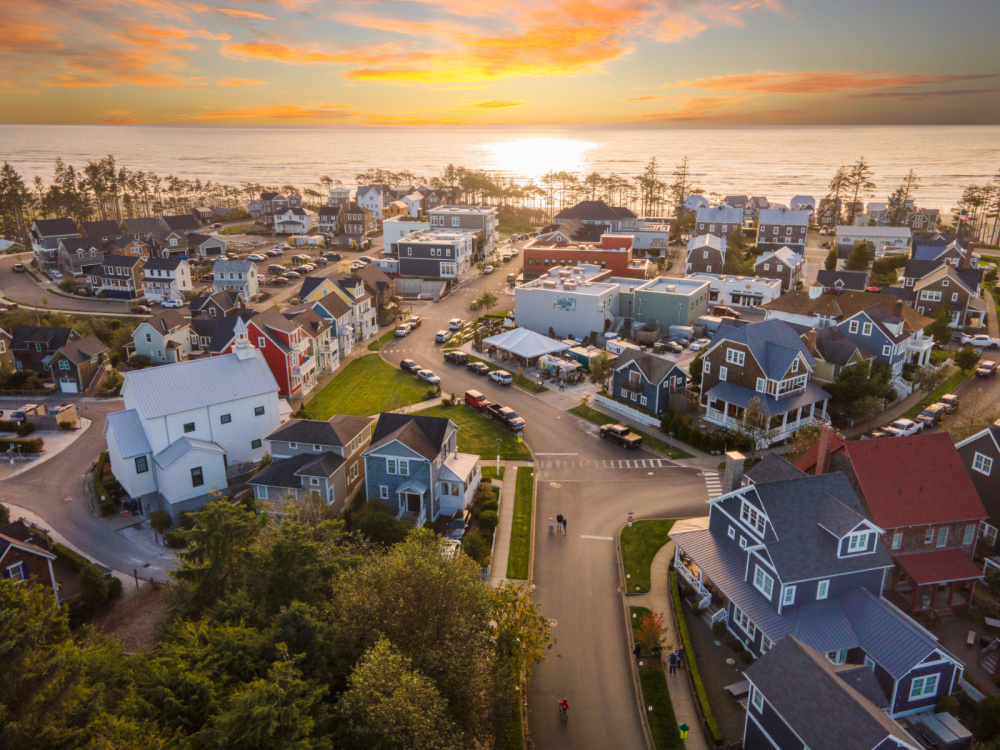 How to get there + The pre-game to your Seabrook adventure 
Seabrook is a beautiful and incredibly scenic 3-hour drive from Seattle's Sea-Tac International Airport. Depending on your schedule, a night or two at the Thompson Hotel in Downtown Seattle on your way to, or after visiting, Seabrook is highly recommended. The hotel's ideal location within walking distance of Pike Place Market, The Seattle Aquarium, Pioneer Square, and the Waterfront offer a great selection of everything the Emerald City has to offer without ever having to get in a car, which keeps it right in line with the Seabrook experience. The building itself, along with the rooms, are stylish and modern with an emphasis on the magnificent views of the city and Puget Sound. A highlight not to be missed is one of their signature craft cocktails and an appetizer on the rooftop, just be sure to make a reservation as it's quickly become one of the hottest spots in town.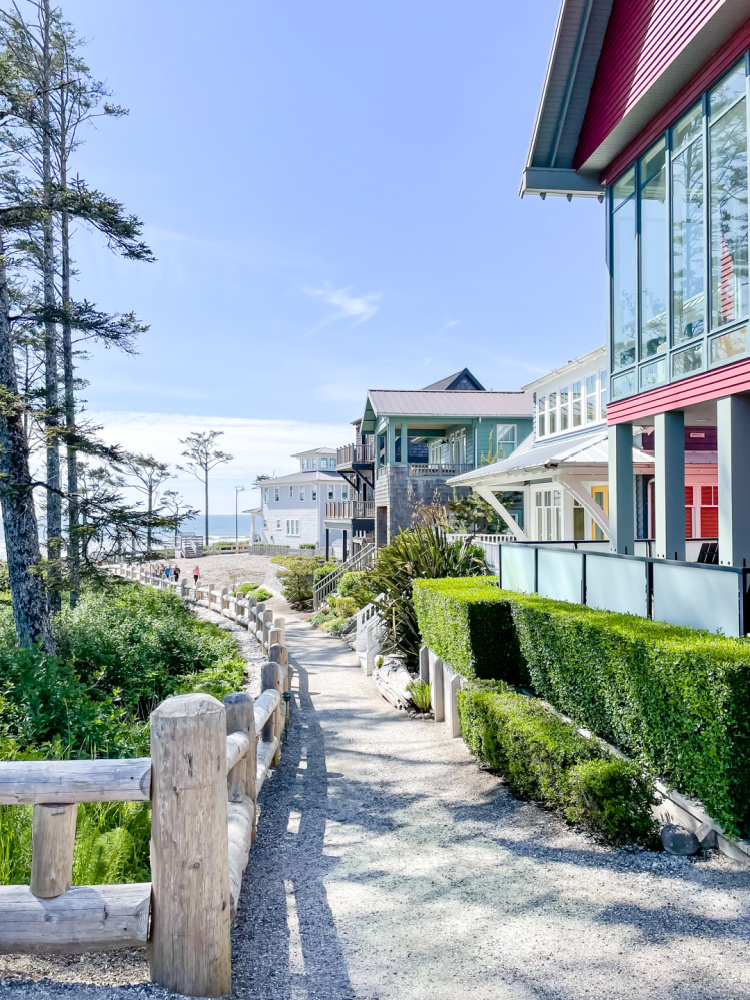 Where to Stay
One of the coolest parts about Seabrook are the 250 houses in their vacation rental pool. Ranging from cozy cottages to large beach homes and everything in between, each house is unique in its character, size, layout, and location. Every home has a fully equipped kitchens and are within walking distance of the beach, trails, restaurants, shops, and all of town's amenities. Here are a few of our favorite vacation rentals in Seabrook. 
This 6 bedroom, 6 ½ bath, oceanfront home offers the space and luxury to easily accommodate large families or groups. Breathtaking views, easy access to the beach and just minutes away from hiking and mountain biking trails. There's a carriage house above the garage with its own kitchen and the lower floor features an amazing great room that includes four bunk beds, giant flat screen tv, arcade games and a cozy reading nook.  
This 4 bedroom, 3 ½ bath 2400 square foot oceanfront home boasts some of the best views in Seabrook. A heated oceanfront porch is the perfect place for family and friends to gather and watch the sunset and spacious enough to accommodate multiple families but cozy enough for a romantic getaway for two. The well-stocked kitchen and open dining area are great for entertaining, and the hot tub is perfect for star gazing. The upstairs media room includes a 50" flatscreen TV, great DVD collection, Xbox 360 and plenty of toys and kid's games. The Master Bedrooms panoramic ocean views, private balcony and luxurious King size bed make this home a favorite for visitors.   
This 5 bedroom, 4 ½ bath is perched atop the coastal bluff with incredible ocean vistas. Just a few steps down the crushed seashell path that runs in front of the house is the wooden staircase down to the beach. A family-oriented home lovingly decorated to bring the feeling of the magnificent northwest coast indoors. The sunshine-y yellow and beachy blues and greens complete the interior and the panoramic ocean views found throughout the house and the bedroom on the top floor at the pinnacle of the house is super cozy and perfect for kids.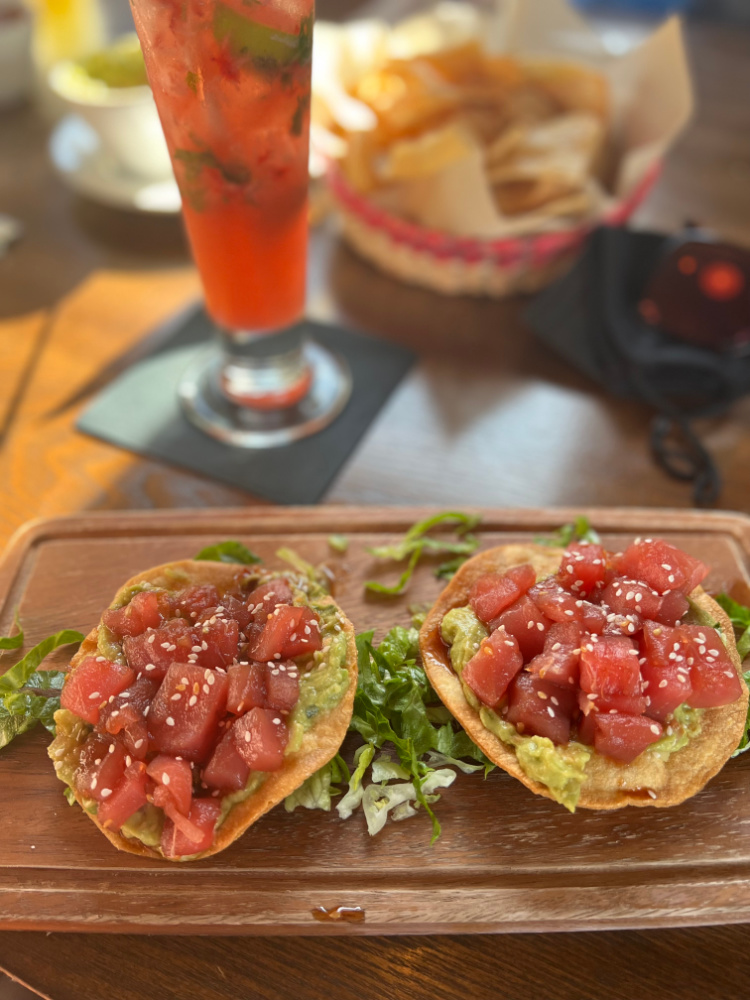 Where to Eat
One of the best and most unexpected parts about Seabrook is the wide variety of high-quality restaurants all within walking distance of the town center. Handmade baked goods and fresh coffee, tacos and tequila, some of the best fried chicken in the country, delicious pizza, homemade ice cream and amazing pub fare are just some of the options available. 
Offering an assortment of fresh and exciting baked goods made fresh daily, a full coffee and tea bar, Vista Bake Shop and its proprietor Grace Bryan along with her baking team are known for their mini pies, cruffins (a delicious combination of a croissant and a muffin), cookies, and giant cinnamon rolls.  
The fresh and gourmet pub fare at Rising Tide Tavern includes an array of burgers, fish and chips, a great kid's menu, and craft cocktails right in the center of town. Supporting the local community by working directly with local farmers, foragers, and the Quinault Indian Nation for their ingredients, most of the produce used at Rising Tide Tavern comes from Sky Island Farm in nearby Humtulips. The seafood used in the restaurant comes from Quinault Pride, the fishing arm of Seabrook's neighboring Quinault Nation. The mushrooms are foraged locally by Wild Spores in Hoqium.  
Keep an eye out for the blue and white checkered truck parked just off main street in Sea Brook for some of the best fried chicken in the Pacific Northwest. The delicious seasoned chicken. Savory side dishes and homemade sauces all come from the talented hand of Brian "Cookie" Chandler and his Louisiana based crew. Cookie learned how to cook fried chicken in Louisiana where he prepared meals for the crews working in the oil fields. With a strong belief that food can stay simple while bring people together, it's important that it feeds the heart and soul, too. 
No beach town is complete without a gourmet ice cream parlor and candy store. In Seabrook, that's Sweet Life. Featuring delicious homemade ice cream that is both all natural and made with local ingredients along with an assortment of sweets and treats to satisfy every sweet tooth. Rotating flavors make sure there's always something new to discover at Sweet Life.  
Featuring a delectable selection of homemade, modern Latin cuisine, Koko's Restaurant and Tequila Bar prides itself on making the freshest, made from scratch food, ensuring that every dish is fresh-to-order. The ocean views from the outdoor patio are spectacular and go well with one of Koko's signature margaritas.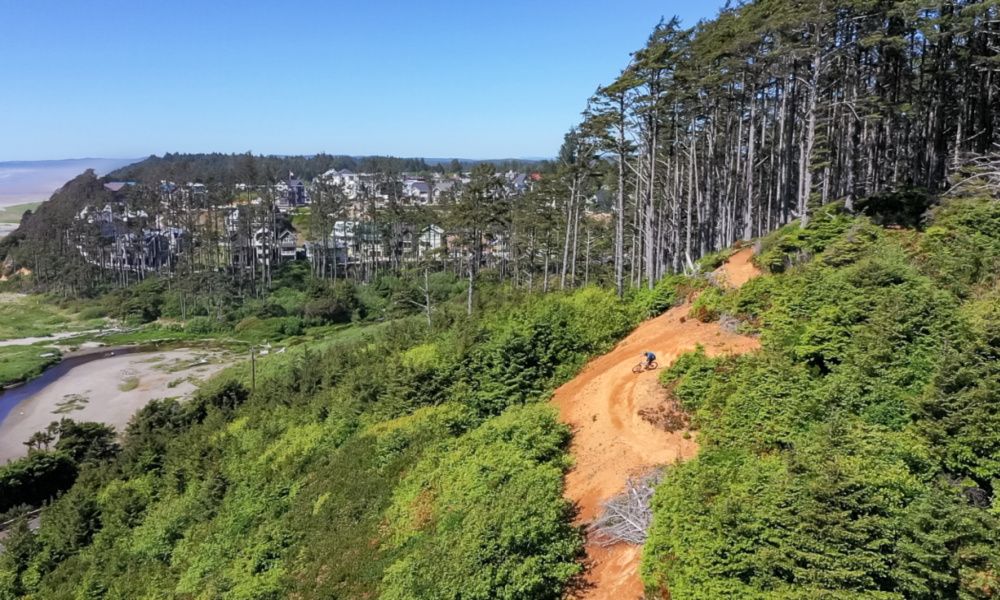 What to Do 
BIKING
Bikes are a big part of life in Seabrook. Riding on the beach with fat-tire bikes, cruising around town or jumping on a mountain bike to explore the custom-built mountain bike trails in the surrounding area are all great options. Here's a quick rundown on the bike trails and be sure to check in with Buck at Buck's Northwest in Seabrook to rent any necessary gear and get the lowdown on which trails are riding the best. 
Narnia Trail 
Narnia is a great trail for the most direct access to the brand new DNR trails! This 1/2 mile "out and back" trail is found at the end of Horizon Street in the Farm District and takes you right to the DNR Trails Trailhead!  
DNR Trails 
The DNR Trails offer an excellent variety of difficulty for all mountain bikers young and old! A great place to learn to mountain bike as the trails are wide, clearly marked, and you never get too far from where you started. 
Mike-O-Rama 
Mike-O-Rama is a half-mile long and has 113-foot elevation change. This trail flows very well with a good climb in both directions. The Mike-O-Rama trail has a one-of-a-kind-view halfway through your experience. 
Wormhole 
Wormhole is a 700-foot-long trail with 45-feet of elevation drop. This trail features six berms, three rollers, and two tabletops. This track is a lot of fun for everyone. Downhill traffic only. 
Zipline Trail 
Zipline Trail is a quarter-mile long track with 50-feet of elevation change. The Zipline Trail is a flow trail with fun turns, a couple hips and rollers, a cedar bridge, and rock crossings. 
HIKING
Getting out in nature and enjoying the fresh air and great outdoors is so easy any time of year in Seabrook. Lush vegetation, giant trees, budding flowers, green grass, and beautiful trails abound. Here are a few great options to hike around Seabrook. 
North Glen Hiking Trail 
Try out one of the many access points of the North Glen hiking trail and meander through varying forest terrain for a shorter or longer distance, depending on your preference. This newer trail winds seamlessly through the forest, ending at the North Glen neighborhood with pathways leading to the beach access staircase. 
Townside Hiking Trail 
For a quick dip into the forest, the Townside Hiking Trail is another one with varying terrain with paths leading back into town at several points. Whether you begin in the Madison, Alderwood, or Mill District, these trails make for a quick and refreshing hike.  
Alderwood Hiking Trail 
The Alderwood hiking trail winds through one of the dense forests between the beautiful Seabrook neighborhoods. The trail slops gently downward with several pathway options to drop off into neighborhoods if you want to take a shortcut or take part in a shorter hike. Be on the lookout at trail crossings with possible mountain bikers.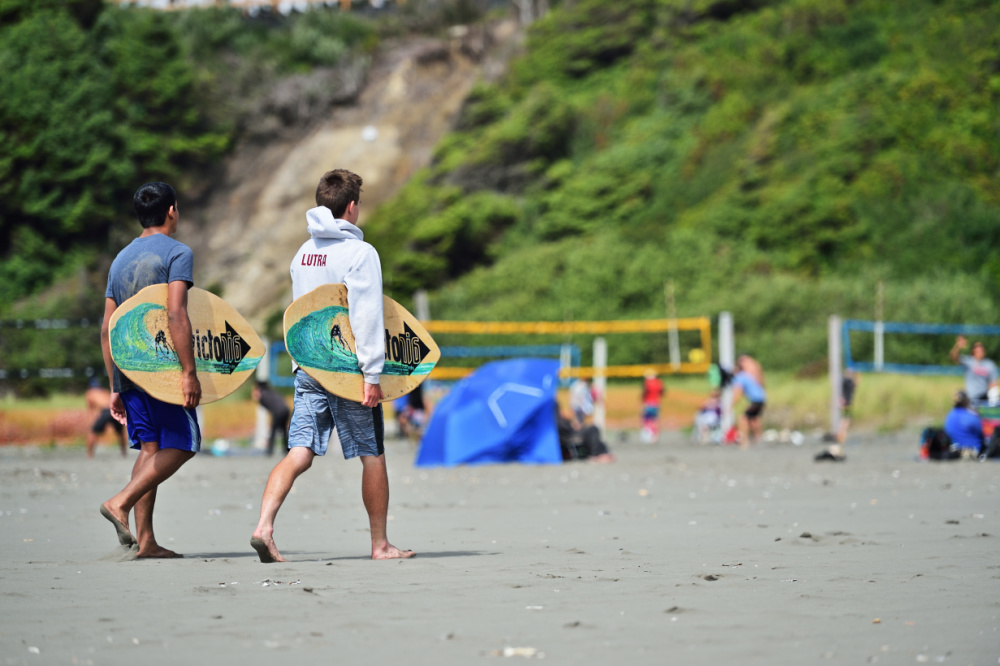 SURFING 
The Washington State coastline is the third longest in the U.S. If you are a surfer, then you're probably well aware of this fact and know exactly where and when to catch a break. 
Homeowners of Seabrook and residents of Grays Harbor County surf the waves right at Seabrook, where the beach is, on-average, a 5-minute walk from anywhere in town. If you're interested in trying the waves, then visit Buck's Northwest so they can provide more insight into what can be done immediately in the area. Located on Front Street, you can practically see your waves and plot your course. 
At Bucks Northwest, they offer all equipment rentals, as well as lessons, of various water "surfing" related activities! Each instructor is knowledgeable and also Red Cross Lifeguard Certified. 
FISHING
It's no surprise that the Washington Coast is a destination for fishing, but you might be surprised to learn that the fishing isn't limited to the Pacific Ocean. The nearby Lower Quinault River is well-known for Chinook, Silver Salmon and Steelhead fishing during the fall and winter seasons. Anglers are welcome with a Quinault Tribal Guide.  
Deep sea fishing is available out of nearby Westport, with charter boats available for salmon, albacore tuna, ling cod, rockfish, halibut and other types of bottom fish pursuits. Surf fishing is also a popular sport, with surf perch, salmon, and steelhead common catches along the beach at Seabrook's front door. 
Spring - Check out the local lowland lakes during the spring for ideal trout fishing. 
Summer - Take your pick of the local fishing options! Summer is prime time for saltwater and freshwater catches. 
Fall – It's River fishing for salmon season! From chinook to king salmon, you can look forward to a great catch of the day. 
Winter - Winter steelhead fishing trips are sure to be bountiful!