It is one of the deepest days of the season.  The snow is the perfect combination of cold and dry, and there isn't a breath of wind. The sun, peering in and out of the clouds, fashions both sharply contrasted shadows and dead flat light. No one minds the cold. No one minds the moments of flat light and, of course, no one minds the streams of snow billowing over their shoulders as we descend slope after untracked slope. It is one of those days where there are no thoughts beyond the present moment. A day of stoke. It has snowed 30 inches in the past 48 hours, and I am standing among 43,000 acres of untracked terrain asking myself, did I just find the hidden gem of powder skiing?
Well, the cat is out of the bag now.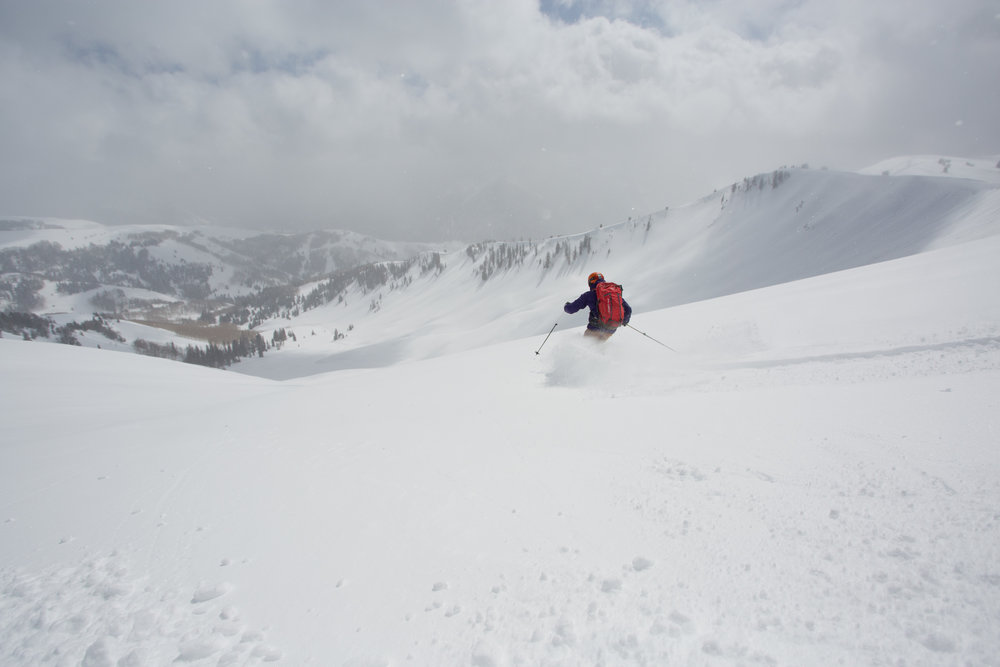 For the past 25 years, Park City Powder Cats has been the unassuming mecca for Lower 48 snowcat skiing. The diverse terrain is a part of the family-owned Thousand Peaks Ranch in the Uinta Mountain range outside of Park City, Utah. As soon as the snow starts to fall, the thriving sheep and cattle ranch turns into a home for three snowcats and a group of powder skiing enthusiasts. The comfortable, heated 'cats' serve as the chairlifts, delivering a group of eight to ten clients with two professional guides to the top of untracked backcountry slopes. On an average day with the Powder Cats, you can expect to ski 8 to 12 intermediate to advanced backcountry runs. The cats are stocked with plenty of snacks, water, a gourmet lunch, soup to warm your bones, and tunes to keep the energy rocking. The cat rides provide the perfect rest between powder runs and are a great time to debrief with the group about who found the best line and deepest powder of the morning. In other words, the up is almost just as fun as the down.
Today, my group is lucky to have Ron Baldis, Powder Cat owner, GM, handyman, purveyor of powder skiing, and head of the Powder Cat family, as our guide. Ron took the reins in 2004 and the business has been growing ever since. But not too much, as Ron has only allowed growth that matches the amount of terrain on the menu. Ron is in the business of powder skiing, so he must ensure that there will be enough powder for his clients by not overloading the terrain with skiers. On average, PC Powder Cats runs two or three cats per day, each with a maximum of 10 clients. That adds up to 30 people skiing a potential of 43,000 acres of terrain. With a booming operation and a waitlist of clientele, Ron could easily grow from his usual three cats and 30 clients per day but he doesn't want to. "With 80% of our business from returning customers, customer satisfaction is our highest priority," he says.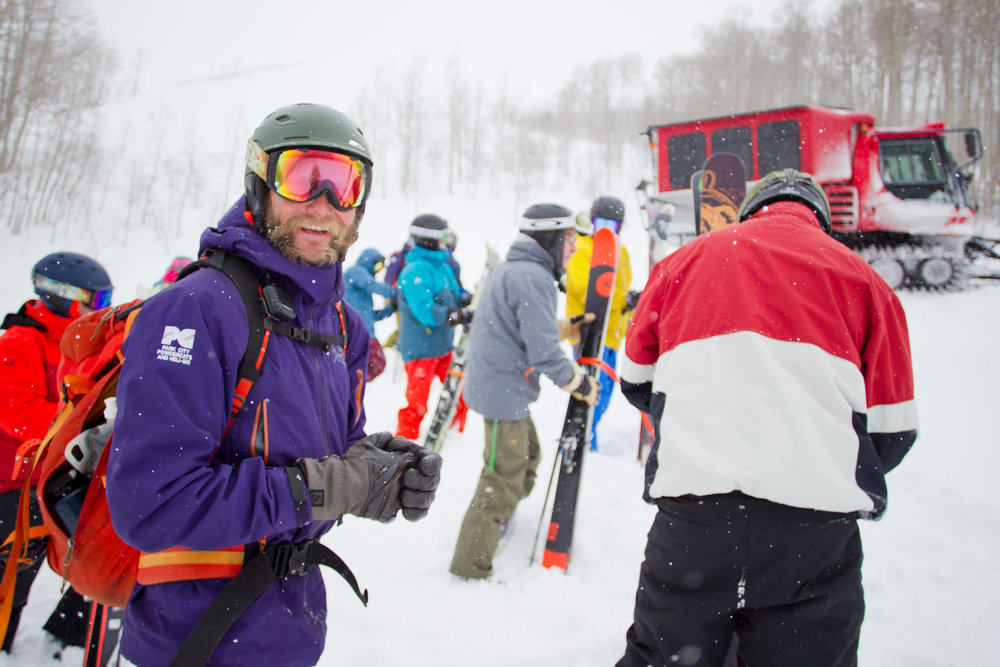 Rebekah Stevens, Powder Cat's professional photographer, marketing guru, and 14-year Powder Cat employee, also joins our group. She is snapping photos for the clients to be shared at the end of the day. It's a safe assumption that clients want a few photographic keepsakes from their powder hunt.
For our fifth run, the clouds part and the cat crawls up a steep ridge into the alpine. Our group of 10 clicks into our gear (skis or snowboards) and shimmies to where Ron is standing at the edge of a small cornice. My ski tips peek over 1,000 feet of perfectly pitched porcelain, completely untouched—so clean it is sparkling. The bowl reaches down into a glade of sparse evergreens, ending in a wide valley bottom. Ron rolls over the edge and disappears, leaving a trail of smoke and his signature in the form of opposing identical half- circles. One by one we drop in, choosing a fresh swath and leaving our own unique signatures. The earth slows its spin and the run lasts 5…10…15 minutes, time is negligible. Could it be one of the best runs of my life? Possibly. Bekah snaps photos of each skier, hooting with encouragement as they ski by with smiles so big they could be sold as Colgate ads. I have never seen so many grown men, most of whom were strangers before today, giggle like schoolgirls, sharing in high fives and hugs. A picturesque display of ultimate joy. We load up the cat and begin the trek to the next bowl of untouched cold smoke.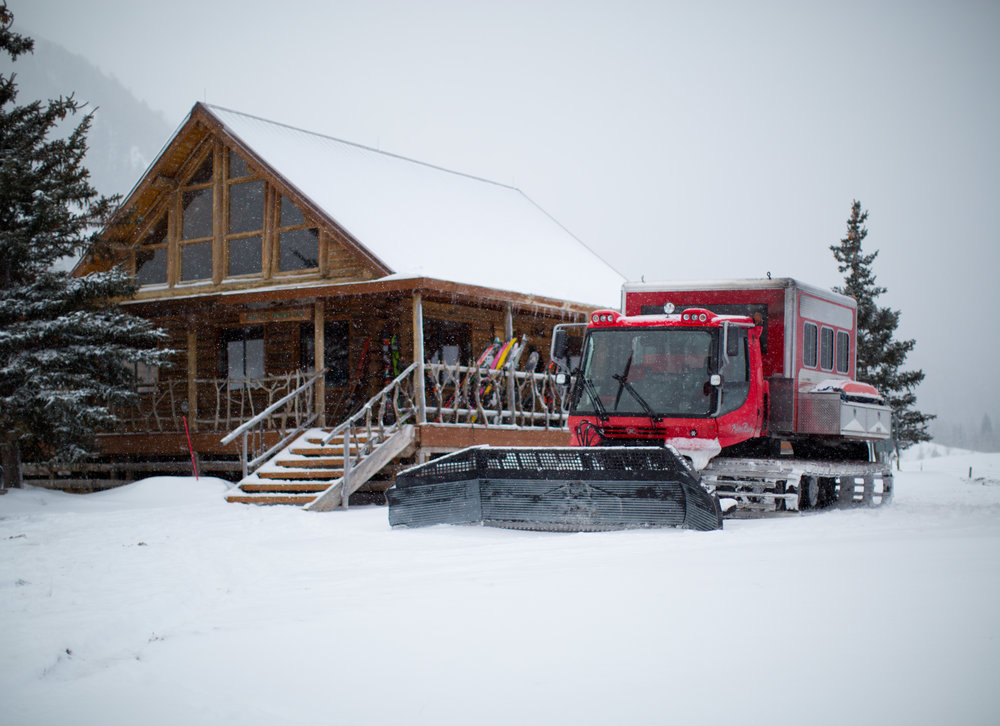 The day concludes with a proper après in the Powder Cat cabin, a small wood structure originally built for a Grizzly Adams movie that doubles as the Powder Cat's base of operations and après lounge. The cozy room is buzzing with the day's excitement as the clients look at Bekah's photos. I realize that although I had just experienced one of the best ski days of my winter, my experience was the norm for this operation. The Powder Cats do not like to cross tracks and this is what makes them stand out above others. They have avoided overloading their operation so that they can ensure fresh terrain to clients during periods of high traffic. "We want it to be a place where you can come skiing 10 days after a storm and not cross a single track, still finding fresh snow," explains Ron. With a smile he adds, "Well, the guides don't enjoy crossing tracks." So that is how it is. They are there because they love to ski powder, and they love the land. It is an operation that is incentivized by skiing rather than the earning potential. A guide chimes in from the foot of the cabin's wood burning stove, "Less ego, more amigo… we're a family here, a family that loves to ski powder." I nod in agreement, take a swig of my beer, and only half joking, ask Ron for a job.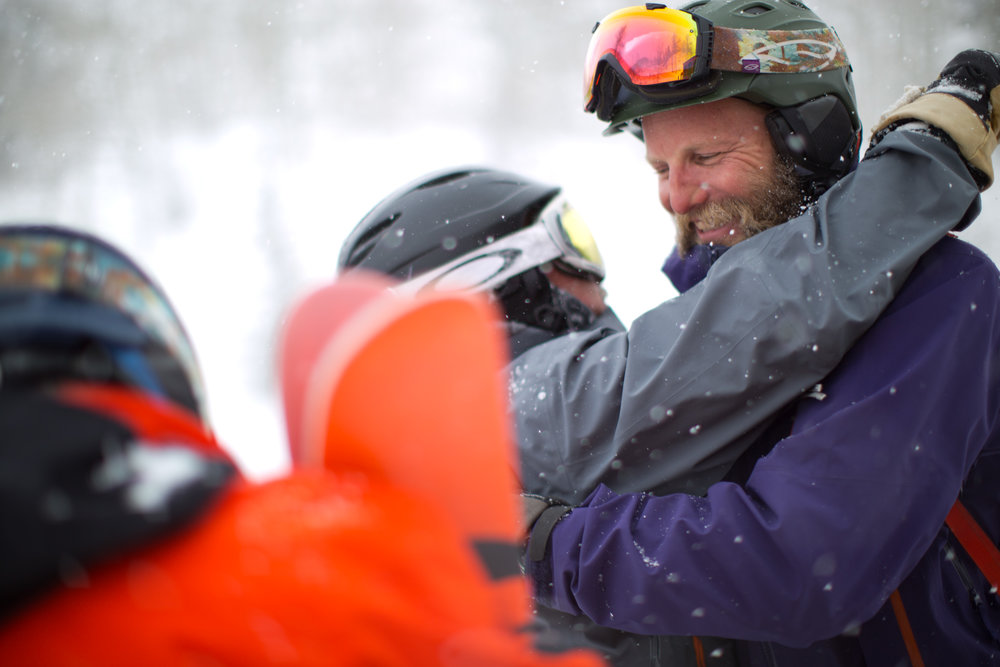 2017-18 rates 
$589 per person for an all-day tour.
Book early. There is limited space.