Rebecca Rusch is a professional cyclist, but that title hardly begins to describe her accomplishments and incredible character. No. It would be more apt to call her an adventurist or an untamable athlete. Rusch has not only won national titles in several mountain biking disciples, she also holds world records in infamous endurance races and has world titles in whitewater rafting, adventure racing, orienteering, and cross-country skiing. She has created the SRAM Gold Rusch Tour, an event that helps get more women riding their bikes through skills clinics, social events, and group rides, and she's thoroughly involved with several biking organizations, including International Mountain Bike Association, World Bicycle Relief, PeopleForBikes.org, and the Wood River Bicycle Coalition. It's hard to believe she finds time for much else, but Rusch also manages to live a pretty "normal" mountain town life in Ketchum, ID, where she works as a firefighter and EMT with the Ketchum Fire Department and gets out on her bike to cruise local trails throughout the Wood River Valley.
If you're not exhausted just thinking about Rusch's list of endeavors, maybe you can muster up the energy to get out for a little bike ride yourself.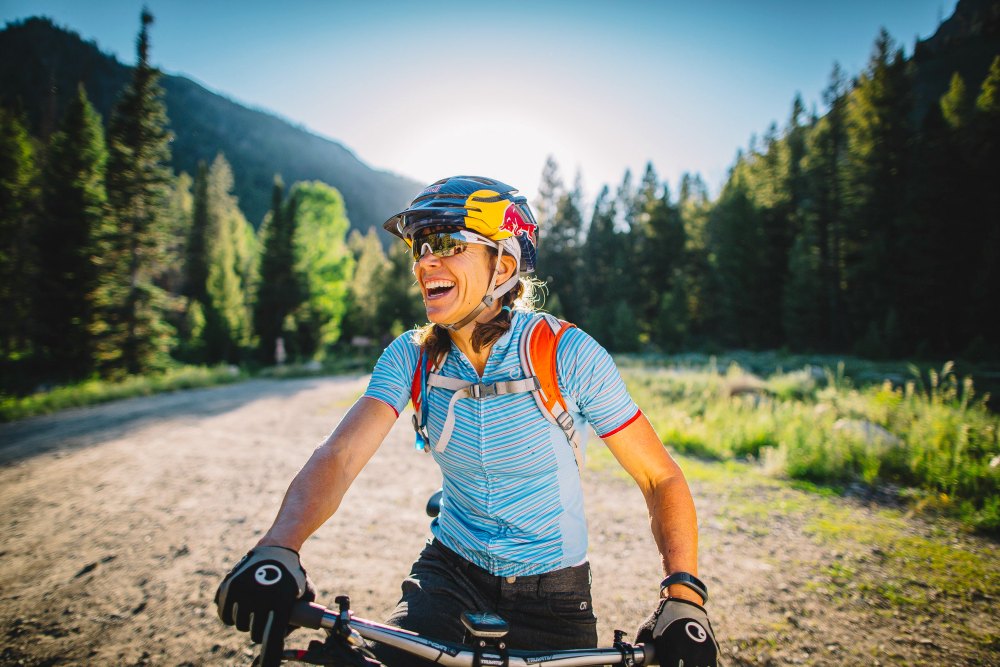 This September 3-4th, Rusch is hosting her annual (and very grueling) gravel road race in the backyard of her hometown. The race, called Rebecca's Private Idaho, has 100 and 50 mile options and leads racers over Trail Creek Summit into the Big Lost River drainage, Wild Horse Creek canyon, and the famed Copper Basin, all beneath the Pioneer Mountain range.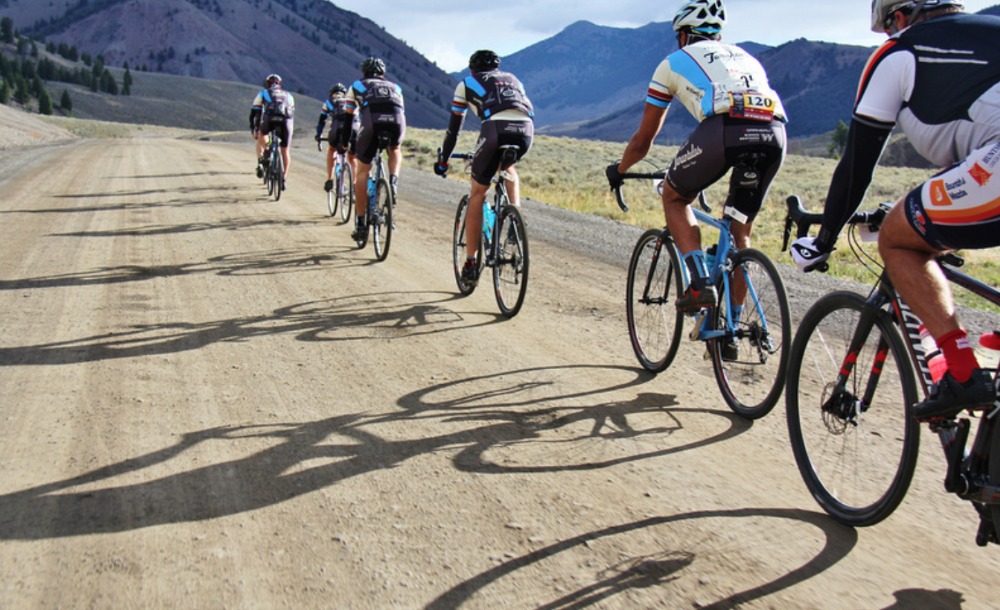 If racing (or gravel) are not quite your style, we caught up with Rusch to get her advice on some great mountain bike trails throughout the Idaho wilderness. Here are some of her favorites.
If biking is not your thing at all, we hear you. Maybe beer drinking is? BigLife will be joining Rusch at the end of the Private Idaho race this September to take part in the post-race festivities. For more information, visit rebeccasprivateidaho.com.
RUSCH'S FAVORITE IDAHO RIDES
NORTH OF KETCHUM
Harriman Trail
The Harriman Trail flows north from the SNRA Headquarters to Galena Lodge, offering stunning, near-constant views of the Big Wood River and the Boulder Mountains. Consider breaking it up into shorter sections by continuing on Hwy. 75 and parking in the Baker Creek or Prairie Creek turnouts.
Total Length: 18.99 miles (one-way)
Level of difficulty: Easy

Galena Trail System
Charming Galena Lodge, the hub of this extensive network of dirt roads, single track and cross-country ski trails, provides the perfect lunch spot to anchor a day of exploring.
Number of trails: 9
Total Length: 35.9 miles
Easy/moderate: Valley View Loop (1.18 miles), Titus Lake (7 miles), Galena Summit Toll Road (5 miles)
Advanced/intermediate: Grinder Loop (10 miles), Psycho (4.75 miles), Cherry Creek Loop (4 miles), Gladiator Pass Trail (varies), Rip & Tear (3 miles)
Prairie Creek Trails
Subalpine lakes, intimate mountain scenery and a variety of ride combinations distinguish this system, which by far sees the most traffic on gradual Norton Creek.
Number of trails: 3
Total Length: 13.66 miles
Easy/moderate: West Fork Prairie Creek (0.74 miles), Norton Creek/Prairie Creek 134 (9.12 miles), Miner Creek/Prairie Creek 132 (1.79 miles)
Advanced: Miner/Norton 135 (2.75 miles)
Baker Creek Trails
Make it a loop: climb the deserted Alden Gulch, where you'll access the Warm Springs Ridge Trail. Keep climbing. Be patient and you'll find Fox Peak Connector, which lets you bomb home via the East Fork of Baker Creek Road.
Number of trails: 6
Total Length: 15 miles
Advanced/intermediate: Norton Creek/Baker Creek (4.29 miles), Apollo Creek (2.68 miles), Baker Lake (1.6 miles), Easley Gulch (3.1 miles), Alden Gulch (2.85 miles), Fox Peak Connector (0.91 miles)

Fox Creek (and Oregon Gulch) Trail System
Always lapping Adams? Don't forget, Ketchum has other killer gulches! Pound out Fox Creek through Chocolate Gulch (counterclockwise, please) to jog the memory.
Number of trails: 6
Total Length: 23.3 miles
Advanced/intermediate: Oregon Gulch (6.22 miles), Oregon-Fox Connector (3.9 miles), Fox Creek (6.8 miles), Chocolate Gulch (2.79 miles), North Fork Loop (1.67 miles), Saddle Trail (1.88 miles)
Edge of the World (Baker Creek to Oregon Gulch)
Epic. Idaho. Ride. (If you can.)
Number of trails: 2
Level of difficulty: Advanced
Total Length: 16 miles
East of Hwy 75
Single and ready to mingle? Check out Boulder City for the history (well-preserved mining structures), Silver Lake for the allure (steep cliffs, splendid lakes) and Murdoch Creek if you're new to the game (painless out-and-back).
Number of trails: 3
Easy: Murdoch Creek (3.2 miles), Eagle Creek Road (distance pending)
Intermediate: Silver Lake (1.58 miles), Boulder City (4.47 miles)

KETCHUM/SUN VALLEY
Lake Creek Trail
Teach the kids a thing or two about Idaho's mining history while on this beginner ride. The Auburn, Homestake and Lake Creek mining sites are detours worth claiming.
Level of difficulty: Easy
Total Length 4.88 miles
Adams Gulch Trail System
Tucked away yet accessible. Ride Shadyside for a quickie during lunch and discover your inner athlete on Eve's Gulch later that day. From uphill grinds and cross-hill madness, to a spankin' new flow trail, Adams Gulch has it all.
Number of trails: 7
Total Length: 26.4 miles
Easy/moderate: Shadyside (1.64 miles), Citizen's Trail (1.18 miles)
Advanced/intermediate: Griffin Butte Connector (1.51 miles), Adams-Lake Creek Connector (1.45 miles), Eve's Gulch (8.1 miles), Forbidden Fruit (1.05 miles), Adams Gulch Loop (10.4 miles)
Warm Springs Trails
The Warm Springs "system" is chalk full of a handful of out-and-backs like-minded ascents from roadside trailheads in a beautiful and remote setting. Don't get lost out there.
Number of trails: 10
Total Length: 63.12 miles
Advanced/intermediate: Red Warrior (7.89 miles), Warfield-South Fork (9.17 miles), Red Warrior-Warfield Connector (1.32 miles), Red Warrior-Lodgepole (4.4 miles) (connects to Greenhorn Gulch), Barr Gulch (3.89 miles), Warm Springs Ridge (11.75 miles), Castle Creek (7.35 miles), Placer Creek (3.93 miles), Middle Fork Warm Springs 150 (6.15 miles), Middle Fork-South Fork 199 (7.29 miles)
Expert: Rooks Creek (4.38 miles)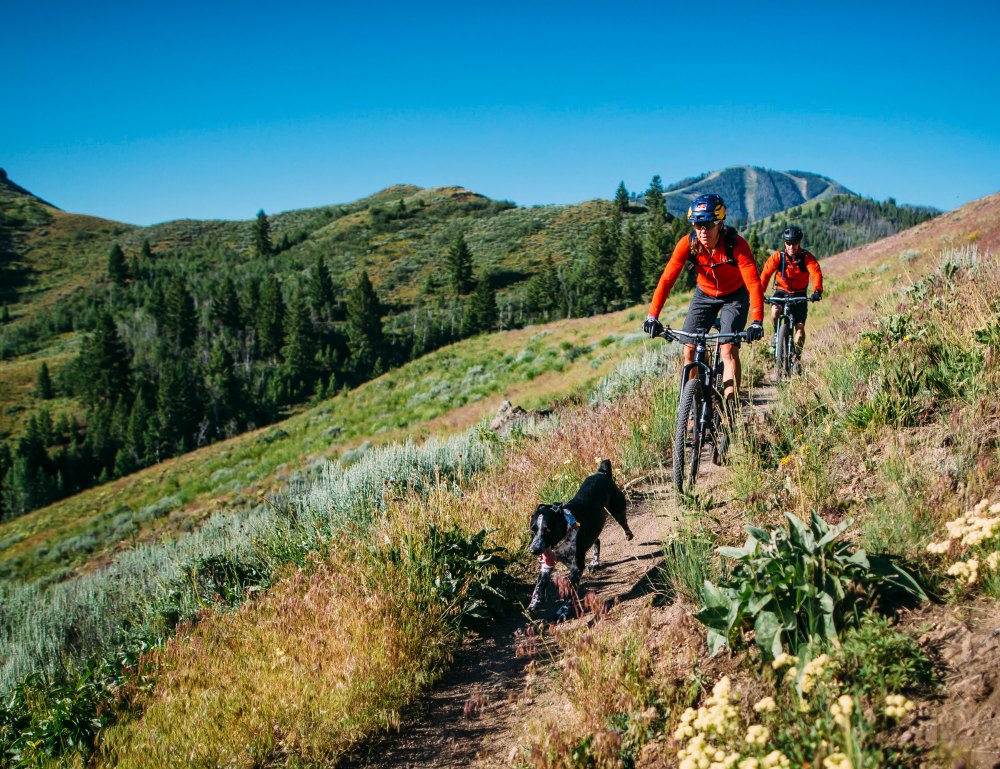 Bald Mountain Trail System
Whether on climbing skins in January or a bike in July, there's nothing more satisfying than conquering Baldy—if only for the burn-inducing, 3,000-foot downhill.
Number of trails: 5.5
Total Length: 32.3 miles
Easy: Roundhouse Connector (0.71 miles)
Advanced/intermediate: Bald Mountain Trail (7.24 miles), River Run (3.17 miles), Warm Springs Traverse (1.5 miles), Warm Springs (10.7 miles), Cold Springs (9 miles)
Note: Be sure to avoid Proctor Mountain and Aspen Loop as they are hike-only loops.
Trail Creek Trails
"The Higher You Get, The Higher You Get," muses the roof of Pioneer Cabin. After climbing the trail's 23 switchbacks, it definitely starts to feel that way. Still, the toil is justified: views of dramatic peaks and wildflower meadows are a not-so-subtle reminder of why we bike.
Number of trails: 3
Total Length: 32.65 miles
Easy: Corral Creek (2.77 miles)
Advanced/intermediate: Long Gulch (4.88 miles), Pioneer Cabin (3.6 miles)
Pioneer Mountain Trails
Make it a (killer) loop: take Corral Creek up to Pioneer Cabin, where you'll descend Johnstone, and probably have to change your underwear at the bottom. From there connect to Bear Gulch via Hyndman Creek Road. Cross over into Parker Gulch and hang on for another harebrained downhill to round out a massive 30 miles.
Number of trails: 6
Advanced/intermediate: Johnstone Creek (5 miles), Hyndman-North Fork (4.15 miles), Hyndman Creek (3.6 miles), Big Basin (1.95 miles), Bear Gulch (3.5 miles), Parker Gulch (3.2 miles)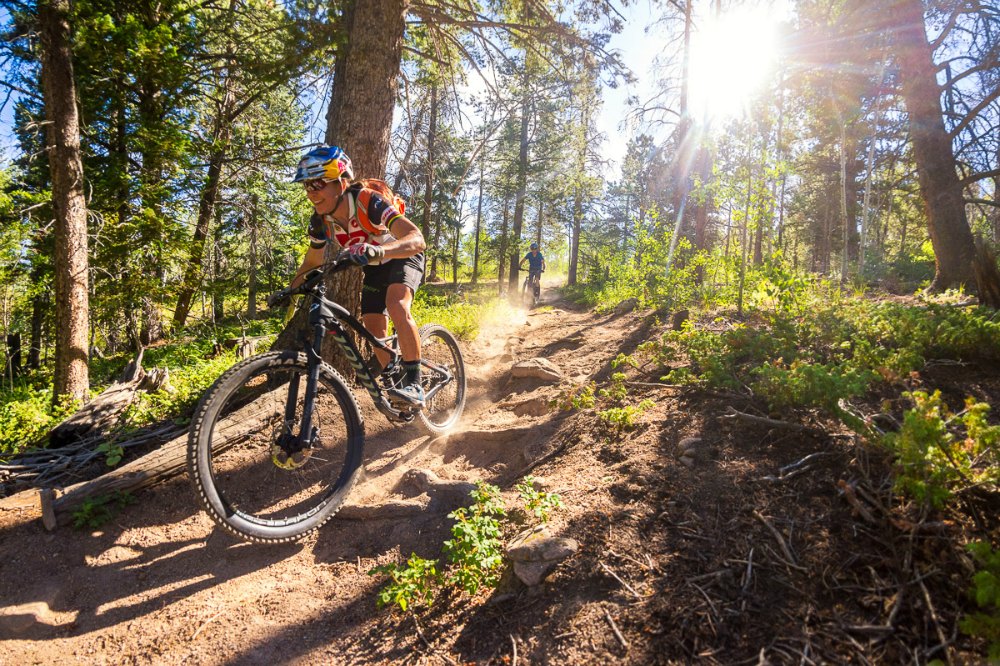 Greenhorn Gulch Trail System
In 2007, the Castle Rock fire intensely burned Mahoney drainage. Wrap through the north portions of Greenhorn Gulch to behold the charred evidence of five years ago, perched above of the now endless acres of wildflower meadows and new growth.
Number of trails: 7
Total Length: 40.1 miles
Easy: Greenhorn-Imperial Connector #974 (0.63 miles)
Advanced/intermediate: Cow Creek (3.9 miles), Cow Creek Shortcut (0.68 miles), Mahoney Ridge #153 (3.1 miles), Mahoney Butte #821 (12.8 miles), Mahoney-Greenhorn #156 (8.96 miles), Imperial Gulch (10 miles)
Deer Creek Trail System
The Deer Creek network makes bikers earn their mileage, if only to remind the ignorant that many of Hailey's "rolling" trails are in fact rugged challenges.
Number of trails: 9
Total Length: 33.9 miles
Advanced/intermediate: Panther-Imperial Connector (1.2 miles), Howard's Trail (3.21 miles), Wolftone Creek Road (4.38 miles), Wolftone-Curran (9.45 miles), Kinsey Creek (3.54 miles), Kinsey-Curran Connector (2.31 miles), Deer Creek (4.81 miles), North Fork of Deer Creek (3 miles), Lick Gulch (2 miles)
Croy Canyon Trail System
Shade is sparse but the views unceasing out Croy Canyon. Hidden Valley in the late afternoon, with a beer stop at the Power House afterward, is a local favorite!
Number of trails: 13
Total Length: 37.5 miles
Easy: Croy Creek Trail (1.3 miles), Democrat Gulch Road (3.93 miles), Wilson Gulch (0.75 miles), Nadyas Trail (0.25 miles)
Advanced/intermediate: Lambs Gulch (4.7 miles), Two Dog (3.7 miles), Centerline (1 mile), Punchline (1.3 miles), Bulldog (3.2 miles), Bullion Connector (2.7 miles), Bullion Gulch (4.3 miles), Hidden Valley (6.2 miles), Colorado Gulch Road (4.15 miles)