Very few words can ignite a bar fight between cyclists. They're usually too busy or exhausted, burning up kilojoules and asphalt. The exception would be to utter the name, "Armstrong." No, not that one. In fact, forget that one and instead, every time you hear the "A" word, shout like you just chugged six PBRs, "Go KRISTIN!" After all, how many 42-year-old moms do you know who are racing for their 3rd gold medal in Rio?
That's one of the more amazing things about this Idaho Olympian. Despite two gold medals respectively, in Beijing 2008 and London 2012, most people don't know Kristin Armstrong's name. No matter, since celebrity has never been her target. This Armstrong's goal is simply to become the most decorated (and oldest) female in Olympic cycling history—and, she's accomplishing this feat using data, not drugs.
When Armstrong is not on her bike, she navigates daily life just like the rest of us, dropping her 5-year-old son, Lucas, at kindergarten, rushing to her community service job at St. Luke's, realizing she forgot to defrost the hamburger, asking her husband, Joe, to pick up pizza… Just like us, right? Well, almost, if we got up at 5am and rode a bike 80 miles. Up and down Boise's Bogus Basin Road. Four times. Five days a week.
I'm not saying Kristin Armstrong is Wonder Woman. I'd just wager that no one has ever seen her and Wonder Woman in the same room.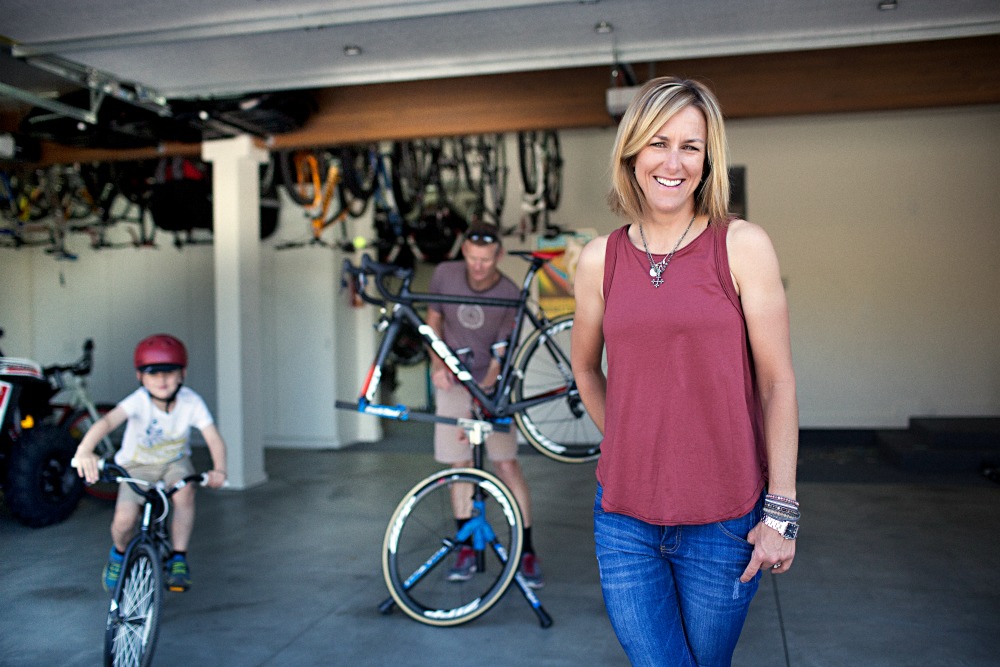 Armstrong is a 5'8" blonde with chiseled arms and tanned cheekbones and legs. People tend to be fit and sun-kissed in this recreationally-driven town, but her uber-athletic attractiveness causes air turbulence. Several people look up from their phones and lattes. I wonder if they recognize their current U.S. National Cycling Champion and Idaho Olympian? If so, these locals are too polite or too cool to stare.
I ask Kristin if she's ever deluged for autographs. She says, "Not often, but I was on the front page of the USA Today Sports section yesterday and received a few congratulatory emails. Most of my fans are 40-plus women, moms, who simply think they can't."
Said article positioned Armstrong in an elite group of "older" athletes competing this August against the 20-somethings who will predictably dominate the Rio podiums. Her posse of Olympic veterans could fill a Brinks truck with their golds, silvers, and bronzes including volleyball player, Kerri Walsh Jennings, pounding the sand at 37, champion swimmer, Natalie Coughlin, backstroking toward 34, and Sarah Hammer, cycling Rio's indoor track at 33.
This female wave of "older versus younger" offers a new reason to cheer for underdogs. Still, there's an expiration date on every athletic career and the majority of competitors hang up their cleats and spandex before age 30. Certainly, there are notable exceptions, but women's sports tend to discard and destroy early. Armstrong, however, plans to prove that knowledge, nutrition, and Google Earth can win against doping and youthful quads.
"People ask me about my age all the time," she says, ordering a glass of water. (I quickly bury the remainder of a chocolate muffin in my napkin.) "But all my contemporaries say the same thing, even though we're from diverse sports. What we have in common is experience and tactics. Quality over quantity in training. Rest days and recovery rates. Nutrition. Technology. And also, knowing how to handle pain." She shrugs breezily, as if crushing a collarbone and three hip surgeries are part of her job description.
"When you're 25, you don't know what it is to suffer. You think you do, but you haven't pushed your body to its limits because you don't know its limits….yet." She stops talking and a slight smile hints at what's inferred. "When that gun goes off, I know what I'm in for."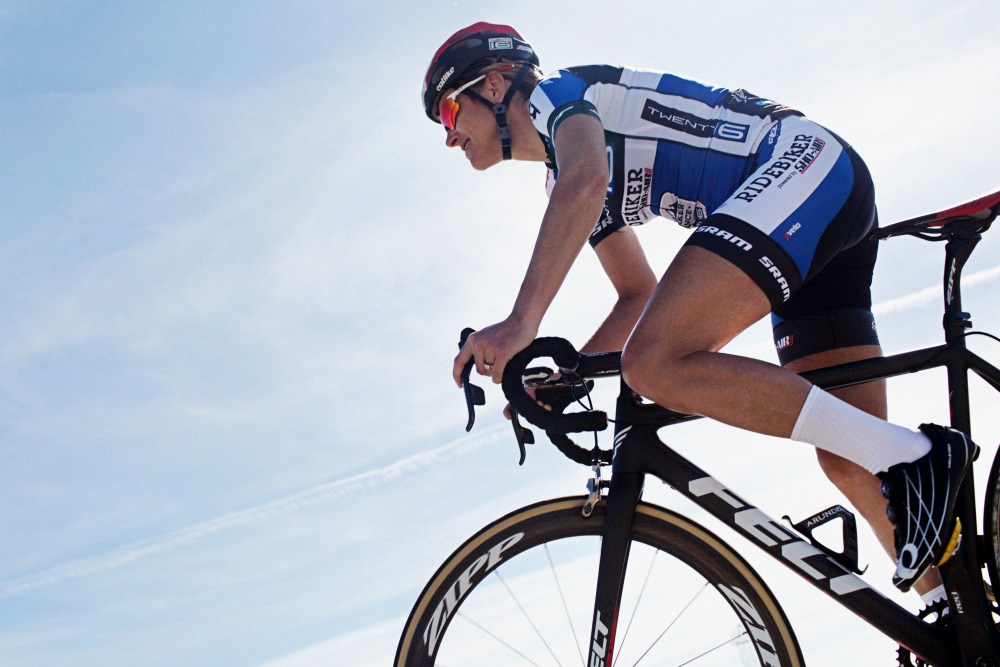 Armstrong earned a PhD in athletic suffering long before cycling became the kind of pain she can't live without. Her original asphalt addiction was running. An early diagnosis of osteoporosis in her hips ended all pavement pounding and serious aspirations of "going big," as Armstrong puts it.
That was in 2001, and Kristin admits suffering depressing dopamine withdrawal, flirting desperately with chocolate, and competitive swimming-­—until one day, she climbed on a crappy bike, in tennis shoes, and pedaled twelve miles across town to work. Twelve miles swelled to a twenty-five-mile daily commute. She joined a local female bike team that rode and drank beer with a men's team where she met Joe Savola, her husband and data-analyst-bike-mechanic extraordinaire. The HP Women's Challenge came to Boise and Kristin's team entered. At the end of the race, she had three contract offers to race professionally. A gold medalist was born, albeit, after thousands of miles and plenty of pain. She was 29 years old.
"I don't think I would have become a serious cyclist if that race had not come to Boise," Armstrong tells me. I doubt that. Ultra-athletes like Armstrong seem genetically-programmed to win at whatever they do. Her entire family, Armstrong admits, would probably agree.
When her family gets together, it's game on. "We have 30-plus people playing board games at Christmas," she says. "Somebody always has to remind me—'It's just Dominoes, Kristin!'"
Research says babies are not born competitive. Anyone who is a middle child will disagree, but scientists claim children develop a dominate or be-killed mentality to survive the playground and/or family-as-trainwreck scenario. Armstrong has no dysfunctional excuses, though she loosely attributes her hyper-focus on winning to birth order and being "a military kid."
"My dad was in the Marine Corps, so between kindergarten and high school, I was only in America three years. My brother is four years older, and I wanted to do whatever he did. So wherever we were living­—Okinawa, Italy, South Carolina—I followed my brother into soccer, volleyball, track, tennis. I was raised in the generation when girls were encouraged to do every sport and I loved it. Now, if kids are naturally athletic, they're hounded to pick one sport, which is sad."
Would she want Lucas to become a cyclist when he's older? "We just want our son to be his own kid, though he did already break his leg on his bike," she says, laughing. "It's a blessing to have a child. Lucas keeps Joe and me focused on what's important—family and community. Especially now, when I'm still fighting to be selected for TEAM USA to get to Rio."
Huh? Did Armstrong just say the current U.S. National Champion and first-place American female in the World Championships is "fighting" for a place on TEAM USA?
Indeed, the current TEAM USA rules for Olympic cycling qualification only allows for auto-placement if the racer competes and places in the top three at World Championships. Rewind to Richmond, Virginia, September, 2015, when Armstrong placed first among Americans, but fifth overall. Doubts were raised in the press. Tears were shed in private. Armstrong's "golden" resolve was forged in the firestorm.
"Kristin had a good race," says Jim Miller, her longtime coach and former Vice President of TEAM USA. "But it was her first race in her second comeback. So now, just like all her American competitors, she HAS to beat everybody, at every race, to prove she deserves to be on the Rio Team. And, now, she's doing just that."
None of those American competitors are over 30 years old, none of them has a full-time job or a child, and none of them is forgiving of veteran Armstrong taking what could be their once-in-a-lifetime chance at a gold medal. One competitor has even filed a grievance, claiming Kristin should not be chosen because she didn't race the European circuit this winter, which is not a requirement for Olympic qualification, but offers bonus points leading up to TEAM USA selection.
The 2016 U.S. National Championships was held on May 22 in Winston-Salem, North Carolina. Armstrong dominated. Team USA is announced on June 24. Armstrong's last shot at making Olympic history is August 10. The next day is her 43rd birthday.
"Kristin always says she can only control her controllables," says her husband, Joe. "Doping is more than prevalent in cycling, but Kristin won Beijing, London, three World Titles, and five National Championships with data, not drugs. We're following the same plan for Rio."
Besides being a dad, an engineer, and computer geek, Joe is Kristin's principal bike mechanic and shoulder to lean on. He boots up his MAC to show me the Olympic Time Trial course on Google Earth.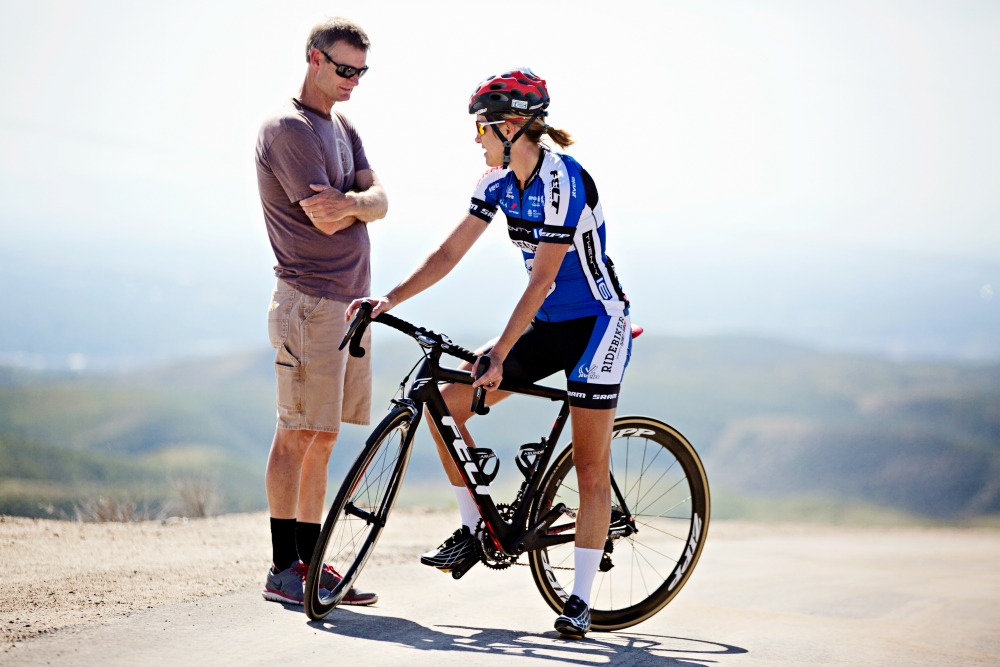 "These climbs are super steep," he says, dragging the cursor along a bright red line across a blue street map of Rio. "But I analyze all the gradients on spreadsheets. Then we design a course here in Idaho so Kristin can train on the exact same topography. "
It takes a village to get every athlete to the Olympic Village, including a supportive family, a killer coach, generous equipment sponsors, excellent doctors, dedicated physical therapists, strict dieticians, and lots of money.
"The International Olympic Committee mandates that sponsors must provide financial backing only for male cyclists," Joe explains. "Women riders must fend for themselves and depend on the little income available from team sponsorships. We're lucky to have a Boise local, Nicola Cranmer, as owner of our Twenty 16 Team. She understands the challenges of being a female athlete. "
Until 1900 Olympic glory was for men. Then, women began to take part in tennis, sailing, croquet, (No. Really?) equestrianism, and golf. But now, a century later, there is still progress to make on behalf of female athletes. The USA women's soccer team, three-time winner of the Women's World Cup, was awarded $2 million for their first-place finish while the USA men's team received $9 million for losing in round 16! Who can blame these golden girls for threatening to boycott Rio? Imagine network television announcers saying, "Let the games begin! And let the women compete but earn less!" Frustration is mounting for the women at the top levels of their sport and the fans are beginning to understand why.
"It doesn't get any easier," says Armstrong, checking her watch as she gets up to leave. "And after my fifth place in Worlds in Richmond, people kept asking me why I was coming back. I had a lot of sleepless nights, trying to come up with the "right" answer. But in the end, it's because I can. It's that simple."
Kristin Armstrong's reason for wanting to win may be simple, but her journey to Rio is not.