Maybe you've heard of it: "The Relay of all Relays," "The Overnight Endurance Frenzy," or "That Race You Said was Crazy and You'd Never Do." That's Ragnar.
Named for the 9th Century Scandinavian conqueror, Ragnar Relays are designed around teamwork, endurance, an appreciation for breathtaking scenery, and for having a damn good time. Having run for over a decade (no pun intended), the relays are known for their on-road mileage, but over the past six years, there's been a surge of interest in the Ragner trail series.This, friends, is where the triple dog dare comes in. BigLife will be fielding a  2018 Snowmass Ragnar trail series team… and you should too. (See our special BigLife offer below!).
While we're altogether enthused to be sending it to Aspen to run through the night come June, we've popped out of the holidays feeling less springy and not sure when or where we will feel our running legs come back. We talked to Josh Korn, multi-time Ragnar finisher and market development manager for the organization, on how to train through the winter and feel ready to rock and roll this spring.
First, buy a headlamp
"It's inevitable that you will do at least one night leg," says Korn. "Because your depth perception is off, you're going to have to slow down your pace to stay in control, even with the brightest headlamps you can get."
Lucky for us, running during the winter gives us plenty of opportunities to practice running with a headlamp. If you're running before 8 or after 5, you're likely going to be running in the dark. Pick up a headlamp that is as bright as possible, and preferably one that has a visible light in the back as well (because traffic) (we use the Black Diamond Spot Headlamp). Logging a few hours in the dark will make you more aware of your space and pace.
On the bright side (pun intended), running in the dark will feel faster than running in broad daylight. When you can only see the objects closest to you for reference of speed, they seem to fly by you faster than when you can see your entire environment, so says science.
Then, get some cold weather gear
Much of the West has seen a rather dry winter thus far, but icy corners and chilling mornings still lurk in our future. Don't blow your chances of having a good race by getting injured during your training: wear layers and sticky shoes. If you actually want to run on trails, we suggest trying the Salomon Snowcross on snowy, packed down trails. If you're hitting the roads, at the very least get yourself some rubber spikes to keep you upright.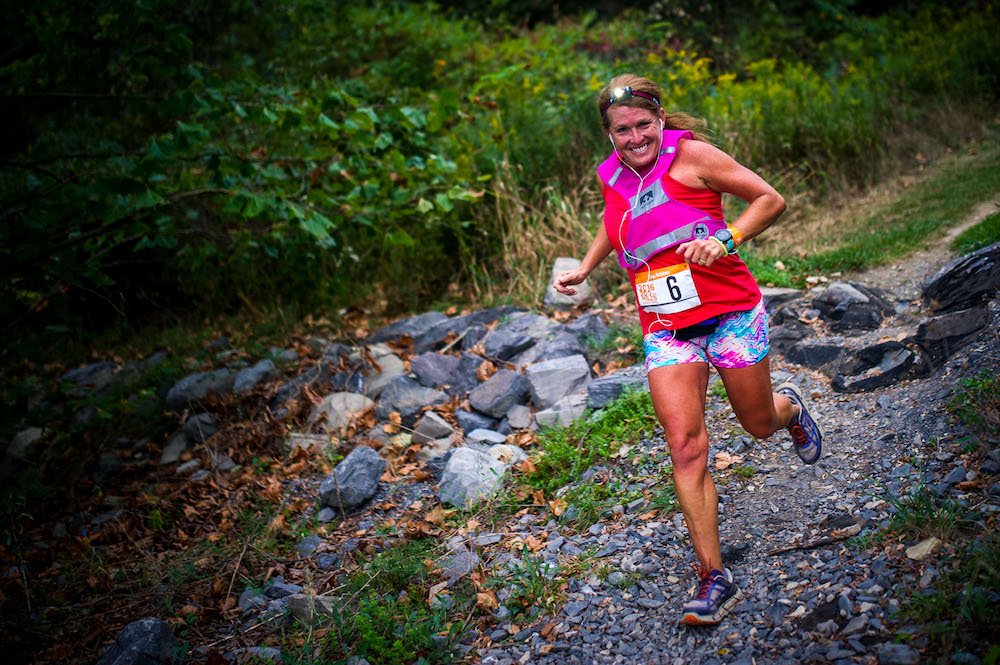 And, on the coldest of days, add layers rather than subtracting training hours. "Mentally, there are going to be days that suck," admits Korn. "If it's snowing sideways and below zero you're going to have to grow some thick skin to get through it." Good news is, if you can handle a subzero snowstorm in the dark on metal spikes, you're probably going to have a good time on-trail during a summer Ragnar.
Finally, find your people. Get to training.
We're currently deep in the season of fitness goals and revived resolutions, why not make it a group effort? The beauty of the Ragnar relay is in its inclusivity. There's a home base where all of the teams camp, cheer on their teammates, and make merry. There are awards for best team name and Instagram photo. The entire philosophy of the event is meant to be shared. What better way to get out the door than knowing that your teammates are doing it, too—that you're participating in something bigger than yourself?
We'll be training all winter, and plan to be checking in with our teammates on a weekly basis (yeah, team, you read right). Join us! Use our BigLife code when you register and get a discount on your entry fee and membership to the BigLife | Ragnar tribe (amenities of which will, at best, include a Facebook group and a 30-rack of light beer to share).
Use code SM18BIGLIFE for a
Ragnar Snowmass 2018 Discount! Join us!