Our goal was to search for the most versatile, do-it-all glove on the market for the upcoming winter season. We're talking about a glove that lets you shred the mountain AND shovel your driveway in comfort. We put a few of our favorites to the test (so you don't have to) and here's what we came up with.
Outdoor Research Rivet Gloves
At first glance the Rivet is a tough, old school, no-nonsense leather work glove. But upon further investigation, this glove combines modern features and a mix of materials with the rugged and straightforward aesthetic. The outer is tough, coffee-toned waxed goat leather with suede overlays for added durability and grip. The Rivet is stuffed with lightweight, water-resistant EnduraLoft insulation on the back of the hands and palms. You notice this amazingly soft and comfy feel when putting on the gloves for the first time. They do not feel like your dad's old cracked leather work gloves. There is also a hook-and-loop Velcro wrist closure which lets you keep out as much of the elements as you want. Outdoor Research claims this is the perfect glove for "on-snow professionals". Our testers think it works well on the mountain minus those ultra-cold days. It is durable enough for doing winter chores and versatile enough to wear from the top of the mountain to the grocery store parking lot.
$85.00 MSRP | Shop for this glove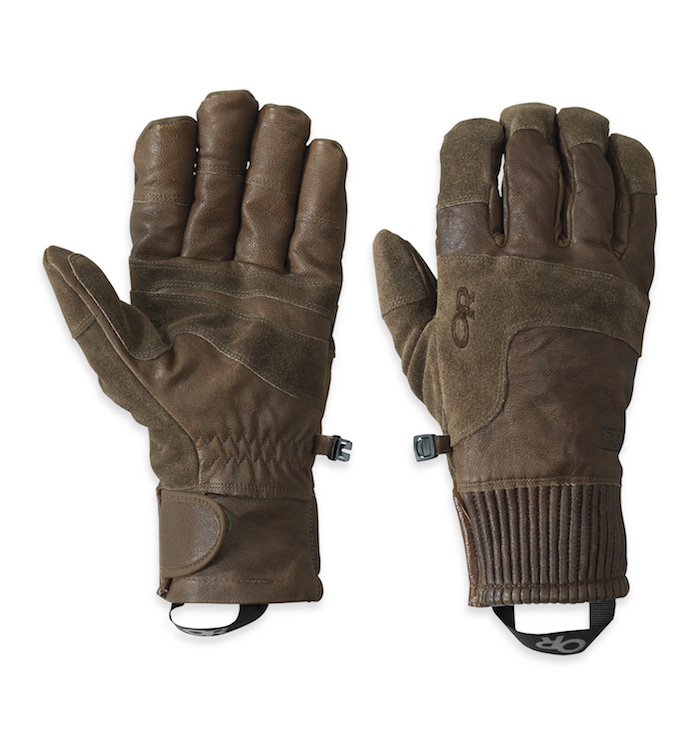 FlyLow Ridge Gloves
The Ridge features a simpler design than the Rivet but its lower price reflects this. These are some of the toughest winter work and play gloves currently on the market. They're made from pigskin leather, coated with waterproofing Snow-Seal, and then triple-baked to ensure maximum dryness and durability. While perfectly comfortable, the ridge has less of a soft, plush feel on the hand than the Rivet. The heartier folk could wear a pair of liners under these and use them for any activity – from shoveling to shredding. We found ourselves drawn to this glove's "tough work" aesthetic, and are pretty sure ski patrollers, lift mechanics, and cat operators will love them. The Ridge comes in old-school tan leather with a blue cuff or black leather with a black cuff.
$45.00 MSRP | Shop for this glove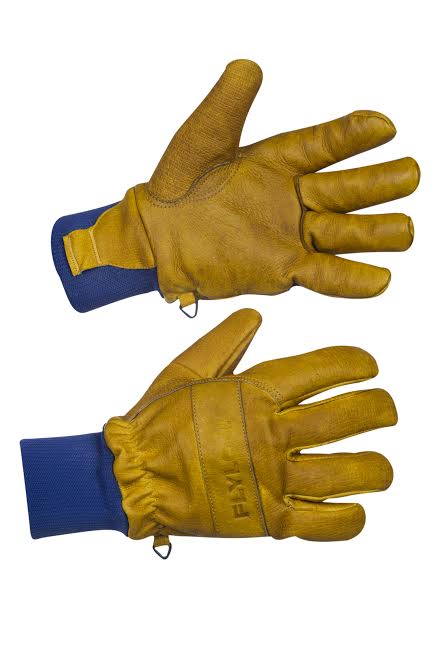 Give'r 4-Season Gloves
The 4-Season has a rugged leather outer with an attached inner liner that is made of knit wool and down material. Give'r calls it their 40 gm Thinsulate Insulation Lining. These gloves are 100 percent waterproof and have that option of being coated with all-natural wax for extra protection from the elements. When slipping these on for the first time you definitely notice how soft and comfy they feel. This is a glove that stands up well to ultra-cold temperatures and surface abuse alike. From backcountry missions to dog walking, these truly seem like the ultimate do-it-all winter glove. They are worth the extra bit of cash. Plus, each pair of Give-r gloves is made-to-order and includes customized hand-branded initials.
Starting at $99.00 MSRP | Shop for this glove