Mammut and The Lady Alliance are teaming up again to host a second virtual Adventure Safety Tour, in response to an overwhelming positive and successful first event in June of this year. Mountain safety and outdoor gear brand Mammut and The Lady Alliance, a community providing opportunities for women to find empowerment through adventure and each other, created these virtual events as engaging, enjoyable and educational experiences. The summer event in June of 2020 featured legendary Mammut pro-athlete Steph Davis, Rocky Mountain Adventure Medicine Inc.'s wilderness first aid instructor, Alanna Thompson, and Azzah Ahmad, host of the Az I Know It podcast and partner of The Lady Alliance.
Mammut and The Lady Alliance are proud to announce the second iteration of the virtual tour, a winter focused event happening Friday, November 13th – Thursday, November 19th. 
The 2-hour online event will focus on snow safety, and feature four main components;
Safety in the mountains and beacon work with Mammut ambassador and ACMG guide Holly Walker
Trip planning with Mammut Safety and Red Bull athlete Michelle Parker
Snow recognition, including conditions, identifying terrain and smart decision making with Mammut Safety athlete Elyse Saugstad
Red Bull Media House Originate episode with Mammut Safety Athletes Michelle Parker and Elyse Saugstad
The Lady Alliance x Mammut Adventure Safety event is a 2-hour online experience that goes live at 8:00 am in each timezone of The Lady Alliance's 34 chapters, from Vancouver BC to San Francisco CA, Washington DC to Saskatoon SK. Women and members from all over the United States and Canada can tune in to absorb a wealth of skill-building, community focused immersive experiences, including words of wisdom from both Mammut and The Lady Alliance athletes and ambassadors. As we enter into a new snow-season, one that is increasingly centered around the growth of human-powered, back and side-country skiing and snowsports, this second virtual event will be focused on educational snow safety, inspiring skiing content and unifying the community. As more women discover and excel in the arena of snow-sports education and immersion, Mammut and The Lady Alliance are dedicated to the support of ongoing snow-safety learning, and breaking down obstacles or challenges that have traditionally faced women in the sport.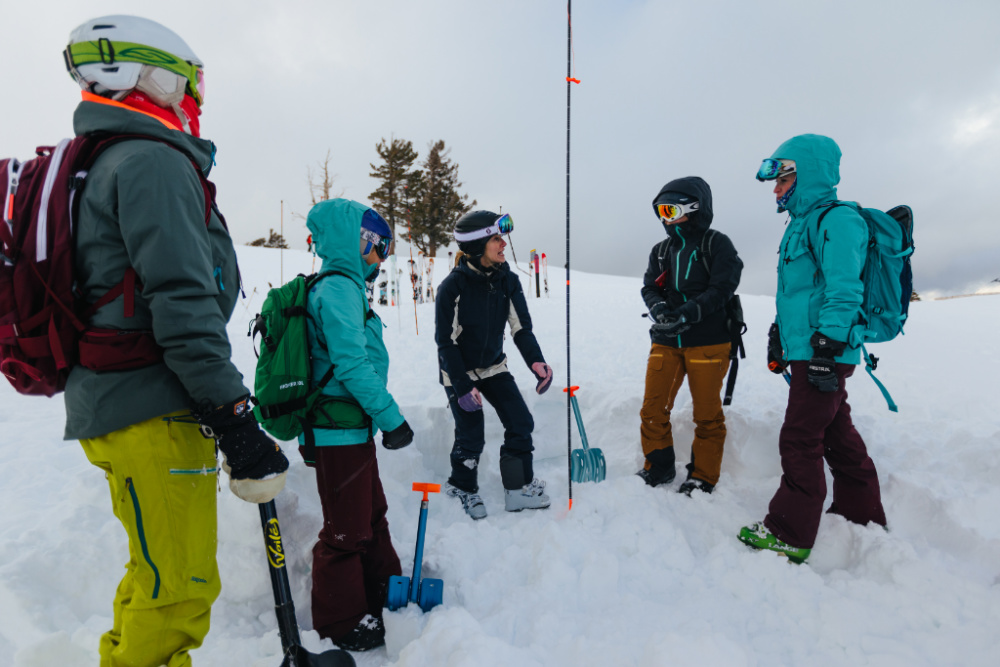 "At Mammut, we want women to feel included, empowered, and safe in the outdoors," said Mammut Marketing Director Maddie Petry. "We designed this tour to offer resources and education around safely approaching and traveling in the backcountry. We recognize that backcountry skiing and splitboarding have long been pursuits with significant barriers to entry, and want this tour to be a starting point in breaking those down. We are thrilled to be teaming up with Mammut ambassadors and incredible partners in The Lady Alliance and Colour the Trails, who have also made this their mission to share their knowledge and expertise in this space."
This event is open free to The Lady Alliance and Mammut communities. To join this event, women can head to www.theladyalliance.com and register, or join their community on Instagram (@theladyalliance), facebook (www.facebook.com/theladyalliance) or in their local Facebook chapter to celebrate with women from their hometown.
There is an optional donation-based initiative for those who would like to further support Colour The Trails, a group for BIPOC & allies interested in outdoor activities including hiking, camping, mountain biking, kayaking, skiing/snowboarding and more.
"With the devastations of this year we've become more focused on connection and community, and seen an increased motivation to experience outdoor adventures that are close to home," said The Lady Alliance Founder Kieren Britton. "2020 has seen an abrupt increase in local adventures, and with the upcoming snow season that means a lot of adventurers will be exploring the mountains. Together with Mammut, The Lady Alliance wants to promote safety and encouragement for women, and all those who identify as women, to adventure in the outdoors. We want to build confidence by sharing knowledge, and thanks to Mammut and their athletes we are able to create an event that highlights the best of the best."
This event will go live on Friday, November 13th at 8:00AM EST, CT, MT and PST.