How mountain towns are transforming their riverfronts into recreational outlets and revenue drivers. 
Nowadays, it's not uncommon to hear the traditional coastal saying, "Surf's up!" making its way into conversations around mountain towns and along their riverbanks. A wave of sophisticated and sustainable whitewater parks have started rolling into these towns, ushering in a new era of water-based recreational playgrounds for inland communities.  
Like ocean waves, these whitewater parks come in all shapes and sizes—from big–dollar recirculating parks like RiverRapids in downtown Oklahoma City to simple, one-wave structures on downtown riverbeds. No matter their size or scope, whitewater parks have established themselves as a revitalizing and re-energizing force, transforming riverfronts into revenue-generating, recreational hot spots. Even the local fish populations benefit, with many parks replacing traditional dams, improving riparian habitat via bank stabilization and creating improved fish passages and migration corridors. 
"These parks are really becoming the focal point of their communities," says Scott Shipley, a three-time Olympian kayaker whose firm, S2O Design and Engineering, is one of the leaders in whitewater park design and construction across the country. "They turn otherwise seldom-used stretches of river into true recreational amenities that are fun for the whole family. And they pay for themselves through increased visitor revenue." 
While the trend is nothing new—Golden, Colorado, developed one of the first "recreation-oriented" whitewater parks in 1996 on Clear Creek of Coors beer fame—their design and the technology they use have improved dramatically over the years, with cutting-edge engineering and hydraulic models creating high quality waves and other river features perfectly suited for recreation. Many new parks even boast adjustable waves, allowing their features to be fine-tuned for different uses, from slalom paddling to board surfing. A new park in Boise, Idaho, can be dialed-in to create waves for shortboard surfing one day and kayaking the next, with certain days reserved for each.  
"It's pretty awesome," says Boise local Joe Carberry, an editor for surf website The Inertia. "I can go down to the river one day on my surfboard, surfing the wave for 10 minutes at a time, and the next day I'm in my kayak, all just minutes from my front door."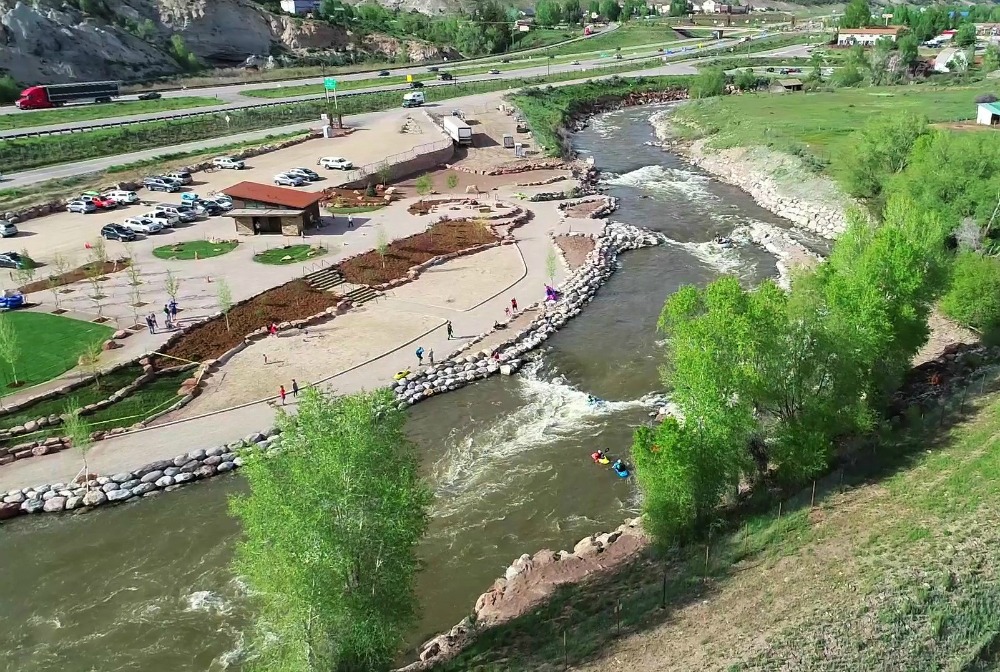 River parks are also helping grow paddling and river surfing communities in these towns, making both more accessible and inclusive. Vail's annual GoPro Mountain Games centers its paddle sports events entirely around a manmade feature in the village center.  
"Building the river park here was the crux move in creating the Mountain Games," says organizer Tom Boyd, whose event draws in more than 83,000 spectators and 3,000 athletes every year. "It's the cornerstone of all the freestyle whitewater events—we couldn't host the Games without it—and it helped everyone in town realize how important the river is here." 
Over in Buena Vista, Colorado, former pro kayaker and real estate developer Jed Selby recently opened the new 24-room Surf Hotel on the banks of the Arkansas River, right at the edge of its heralded Buena Vista Whitewater Park. "The park has been a huge driver for the local community," he says. "It's transformed the entire downtown into a pretty vibrant scene. People are coming here specifically for the river park." 
So far, Colorado is leading the way in this whitewater park-building craze. In the past year alone new river parks crafted by S20 Design have opened in Eagle, Fort Collins, and Cañon City, which join a slew of existing parks in Durango, Lyons, Golden, Buena Vista, Vail, Steamboat Springs, Montrose, and others across the state. A river park on the Arkansas River in Salida cornerstones the town's annual FIBArk Festival, which draws thousands of visitors to town. In Glenwood Springs on a big water year, you'll see more board surfers on its Colorado River wave than you will kayakers.  
One of the more talked about Colorado whitewater parks opening up this past year is the Eagle River Park, along Interstate-70 in the town of Eagle. Built for $7 million in tax proceeds, matching grants, and private donors like Bonfire Brewing, the four-feature park is a great example of how whitewater parks benefit both the public and nature, improving fish migration and riparian habitat while also creating a world-class whitewater venue. It also added a much–needed amphitheater for concerts and other community events for non-paddlers to enjoy along with a walking path and riverside park.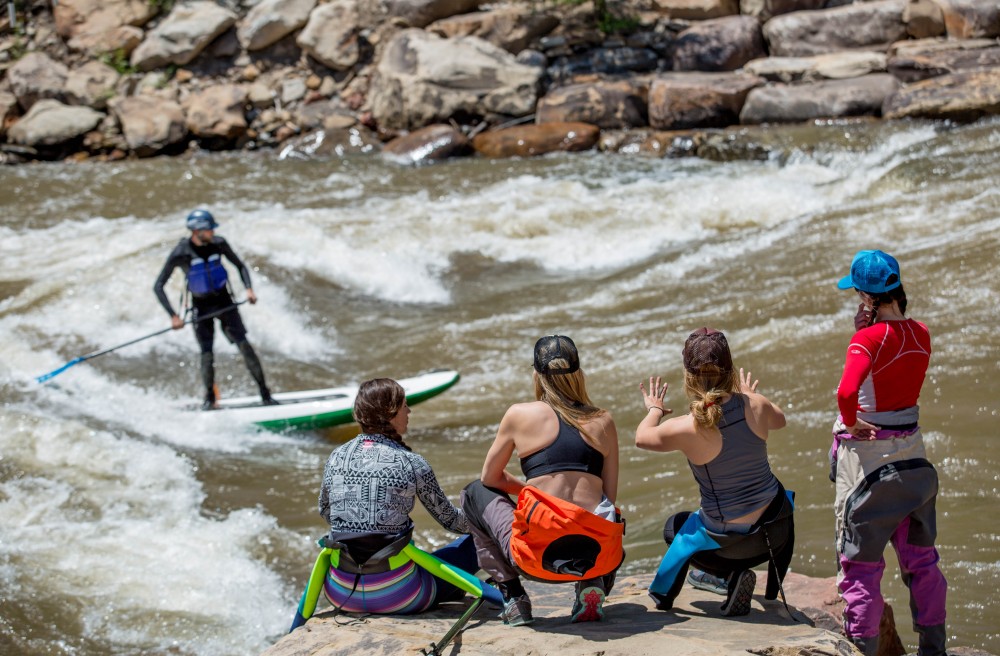 "It's a pretty amazing project," says Shipley, whose firm handled its planning, design, and construction—including building hydraulic models of its water features. "It's also the first time we've used our adjustable RapidBloc technology in an instream park, which lets us fine-tune the features however we need to." 
In its first year, the park has already proved a resounding success, drawing surfers, standup paddlers, rafters, and kayakers to an area of town that before only harbored a dirt parking lot. "It's going to make a huge, positive impact on the town as well as neighboring communities," says former pro paddler Ken Hoeve, adding it's also perfect for competitions and festivals. "And it's all visible from I-70, which will pull in even more people."  
Farther south, Cañon City added its own park on the Arkansas River, which offers reliable flows year-round—enough that the new park is already slated as a training venue for the Canadian National Kayak Slalom Team. "It's going to be the catalyst for us becoming a great river town," says project committee member Warren Hart. And this, according to town officials, is something that will help the city's bottom line. "Historically, this part of the river just saw industrial use, so it's great to restore it for broader community value," explains city economic development director Ryan Stevens. "From an economic development perspective, it's a great asset for our outdoor and visitor economy." 
In Ft. Collins, a whitewater park on the Poudre River boasts a series of waves for rafters, kayakers and stand-up paddleboarders as well as a safe wading area for families. The $11.5 million project also served another purpose: it converted the dangerous Coy Diversion Dam, which was a barrier to fish passage, into a usable park area while enhancing fish migration.  
Colorado is far from alone when it comes to developing and reaping the benefits of river parks. Already close to some of the best whitewater in the country, Boise, Idaho, is now on paddlers' and surfers' radars for another reason: the completion of Phase II of the Kathryn Albertson Family Foundation Boise Whitewater Park, which includes an adjustable wave for surfers and kayakers. 
Spaced 25 to 50 yards apart, the new waves let users put in at the existing park and circle back through Esther Simplot Park ponds and Quinn's Pond, ending up back near the start without having to get out of their boats and walk.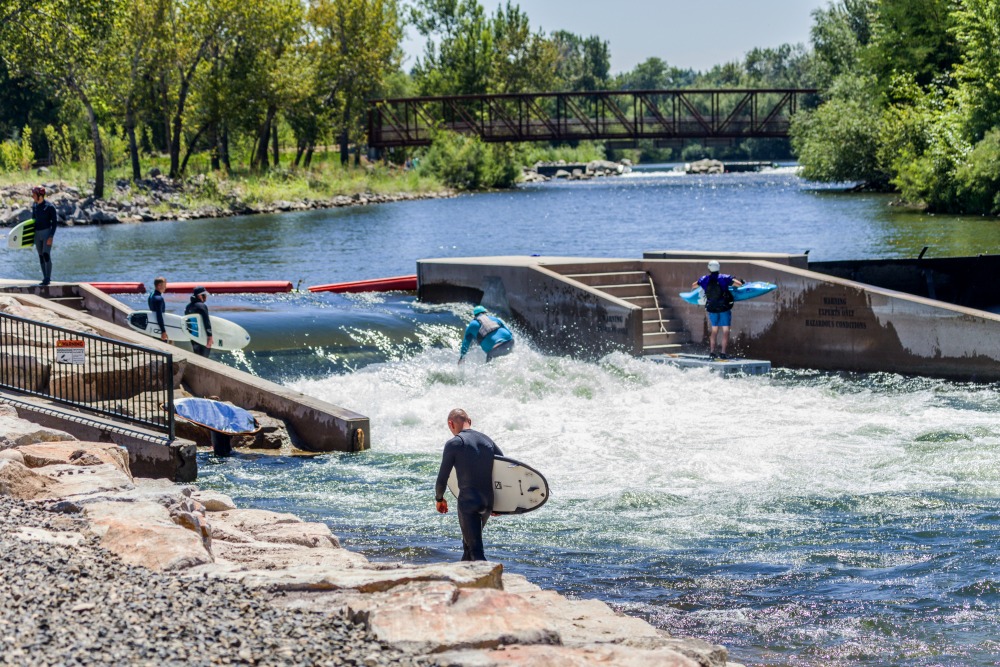 "It's kind of two parks in one," says Boise Parks and Recreation Director Doug Holloway, adding the recently completed "aquatic complex" includes spectator seating and multi-use Greenbelt paths along both sides of the river.  
Employing S20 Design's adjustable RapidBloc technology, one feature—tested via a 1:4.5 Froude-scaled hydraulic model constructed in a flume at the University of Idaho—can transform from a green wave to a recirculating hole, each perfectly tailored to suit either board surfers or kayakers, depending on the day of the week. "The model let us create a hydraulic similarity between simulated flows and those in the proposed channel," says Shipley, "It's a perfect river and location for this type of park and should become a great focal point for the town."  
Purpose-built river parks like Boise's are helping increase paddle sports participation, helping communities connect with their rivers and boosting local economies. 
According to the Outdoor Industry Foundation, more than 17.8 million Americans currently participate in paddle sports. Nationally, it is estimated that there are over 1,000 rivers suitable for whitewater paddling. Combine these two statistics and it's clear there's a growing trend to keep developing river parks throughout the country. This has in turn spawned a smattering of companies devoted to designing and building them, including Recreation Engineering & Planning, River Restoration, McLaughlin Water Engineers and S20. All of which are based in Colorado.  
Whitewater parks also improve locals' quality of life and allow their communities to brand themselves as destinations for outdoor recreation. While a park's economic contribution depends on its scale and market size, some parks attract over 100,000 user-days a year. This resultant incremental spending can range from a few million dollars a year for parks in places like Eagle, up to economic contributions topping $19 million annually for places like the US National Whitewater Center in Charlotte, N.C.  
The four-day-long GoPro Mountain Games alone, says Boyd, has an estimated $7.3 million annual impact on the town—a significant contribution to a community otherwise mainly relying on winter tourism. 
And the craze isn't about to dry up anytime soon. Spreading from the mountains to the Midwest and beyond. Shipley's firm is currently working on a new, $50 million recirculating park in downtown Montgomery, Alabama; a park on the South Platte River for a new real estate development in Denver; as well as a pump–powered whitewater park for a sultan in Dubai.  
At last count, estimates list more than 70 such purpose-built whitewater parks in the U.S., with 10 more in progress, ranging from projects replacing dangerous low-head dams and converting them into recreational amenities—as with a recent park in San Marcos, Texas—to multi-featured parks like the one in downtown Reno, Nevada, in the heart of its casino district, enticing visitors to surf instead of hitting the slot machines. The parks can also help regions devastated by natural disasters, as evidenced by the new Lyon's Whitewater Park in S20's hometown of Lyons, Colorado, which restored a reach of river after the Front Range floods of 2013.  
"It's a case of augmenting something Mother Nature has already given us and helping it reach its full recreational and economic potential," says Shipley. "If you have a river in your community, there's no reason not to look into creating one."