The Making of an Adventure Filmmaker
"Ooooh oooh OOOH!" Joey Schusler is obsessed with what he's seeing in the back of his camera. A mountain biker in teal cuts through shafts of honeyed light that illuminate the aspen trees dropping their golden riches to the forest floor outside Crested Butte, Colorado. "YEEESSSS!" he says, his eyes widening. Mountain biking all over the world—and making films about it—is Joey's job. An envy-worthy job, perhaps. But if there's one thing that comes across about Joey, it's that he doesn't take that for granted.
The thing is—one of the sparks that launched Joey's career in filmmaking was a literal spark, which burned down his family's home in Gold Hill, Colorado. A junior at the University of Colorado at the time, Joey was living at his parents' home for the fall semester to save some money and focus on training for mountain bike racing—he was a pro, racing for Golden, Colorado-based Yeti Cycles. "It happened in the morning and a wall of flame came up the hill—we only had minutes to get out of there," he says. The reverse-911 call system had failed, giving them no notice. "If it had happened at night when we were sleeping, we most certainly would have died. As we raced out of there, flames were on either side of the car and we barely made it out." The intensity of the fire stuck with Joey, plaguing him with post-traumatic stress disorder for a couple of years. "I could barely sleep, and my hair started falling out—super weird," he says.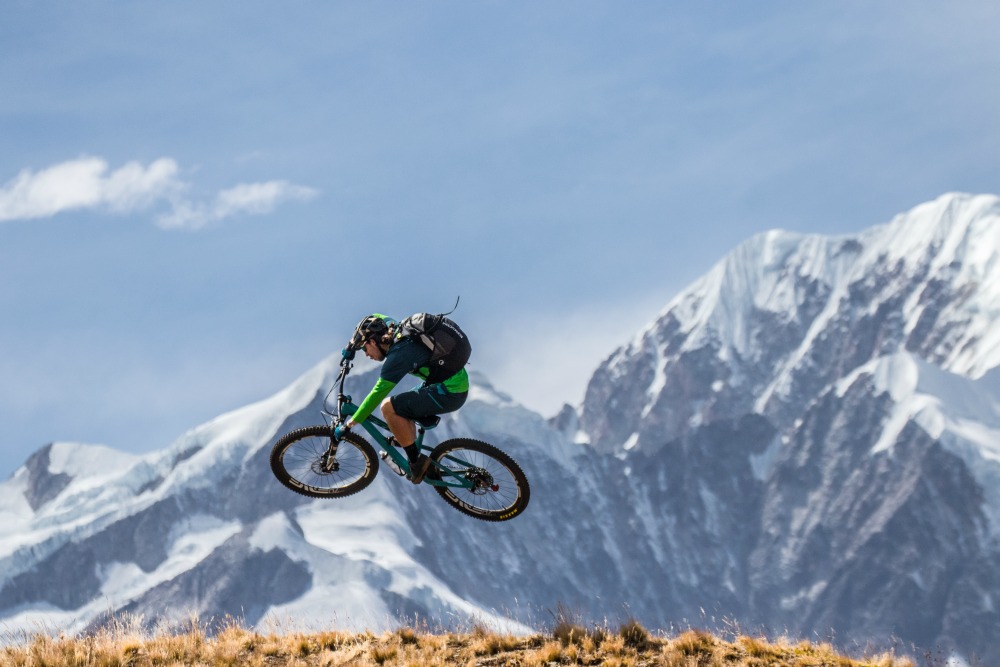 The house—which his mom had begun building from an old cabin when she was just 19, and where his older sister was born—was completely destroyed. But, in the wake of the fire, his family grew even closer than they had been, and an unexpected opportunity opened up: Joey received a couple of checks from the Red Cross and from the University of Colorado. And instead of using the money to buy new clothes or nice, new furniture for a house or apartment, he went all-in on his objective of becoming an adventure filmmaker, spending it exclusively on camera gear.
But a fancy camera rig does not automatically make a successful or lucrative adventure filmmaking career. Joey had already been shooting occasionally for Yeti when he bought his full pro camera setup, but he didn't exactly have a cadre of clients lined up. He started working full time in Yeti's offices after graduation, and learned as much as he could from other filmmakers Yeti worked with. In his spare time, he put together a couple of short films about adventure road trips with his buddies that played at a number of film festivals. But his big break came in 2013 when—armed with his new pro gear—he stuck his own neck out, planning to film a trip that, if he pulled it off, would produce a mountain biking film unlike the typical shred edits cluttering YouTube and Vimeo.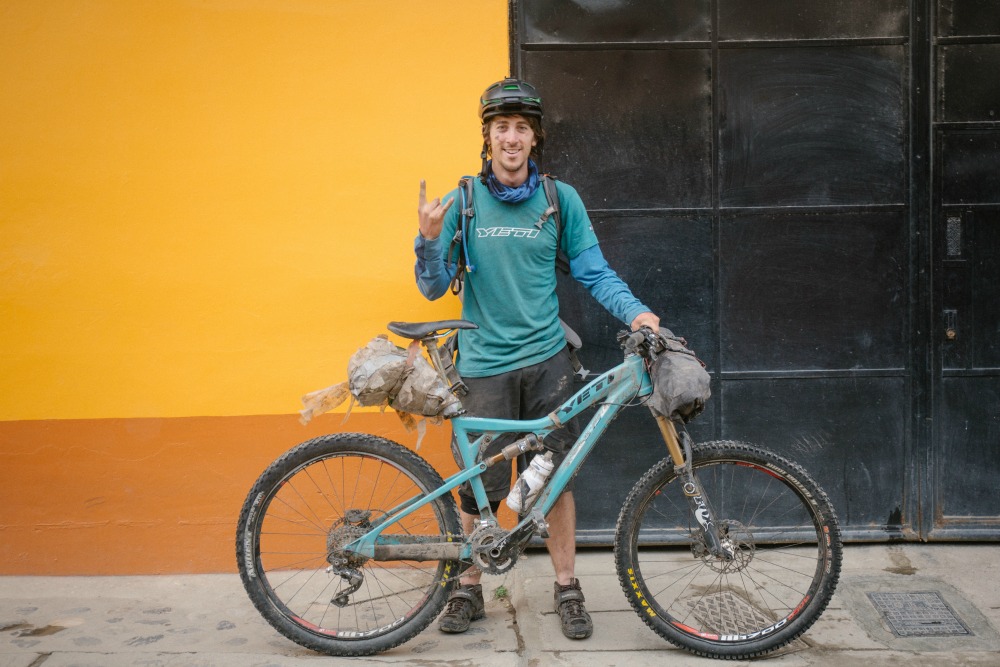 The plan was to fly to the Andes and explore the Cordillera Huayhuash range self-supported by mountain bikes, carrying all their camping gear—and camera gear—strapped to either their bike frames or themselves. "At that time, people had been bikepacking for decades, but it wasn't really a mainstream thing, or even called 'bikepacking," Joey says.
With no financial sponsors, Joey and his two friends Thomas Woodson and Sam Seward cleaned out their own savings accounts, barely scraping together enough for the plane ticket, lodging, and food. They launched out on the ride only to have multiple things go sideways—including one blackout concussion, a gun being pulled on them along the trail, and some severe altitude sickness. But they made it back, and put together the footage into a film that won a Vimeo Staff Pick and showed at film festivals around the world. It seemed audiences were hungry to see real, raw adventure by bike.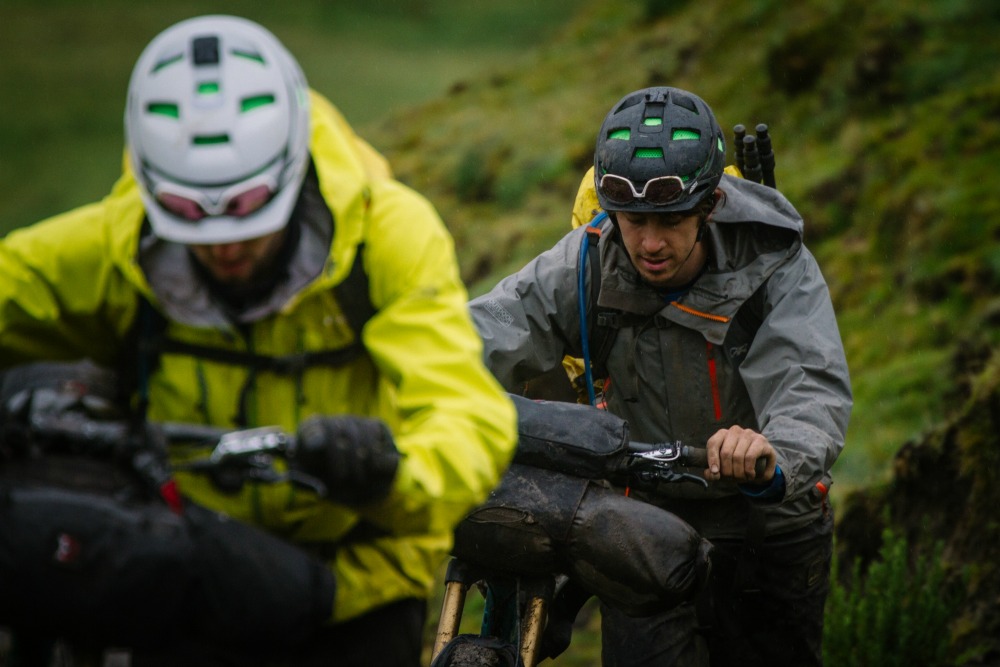 After that, Joey—again with Sam Seward and other friends—rode through the Caucasus Mountains in the Former Soviet Republic of Georgia, linked up bikepacking and packrafting in a remote corner of Mongolia, and climbed and skied Orizaba in a weekend trip from Boulder, Colorado—all while capturing it for films, which brands like Yeti and Outdoor Research have jumped on board to support. It was the perfect moment for Joey to transition from a role as pro mountain biker to a role as adventure mountain biker and filmmaker. In 2017 he left his job with Yeti to launch out on his own, though he keeps tight ties with the brand.
"We just realized that we could take our bikes to these wild places, and document it, and that was just as valuable," he says, comparing it to the more traditional way of making a living as a mountain biker—by racing.
For his latest project, Joey flew to Nepal to shoot a documentary about a four-time Nepali national downhill champion Rajesh "RJ" Magar—who built his own first bike by hand, welding pieces from the junkyard together himself. The film premiered at the Five Point Film Festival in Carbondale, Colorado, in April and will be online June 25.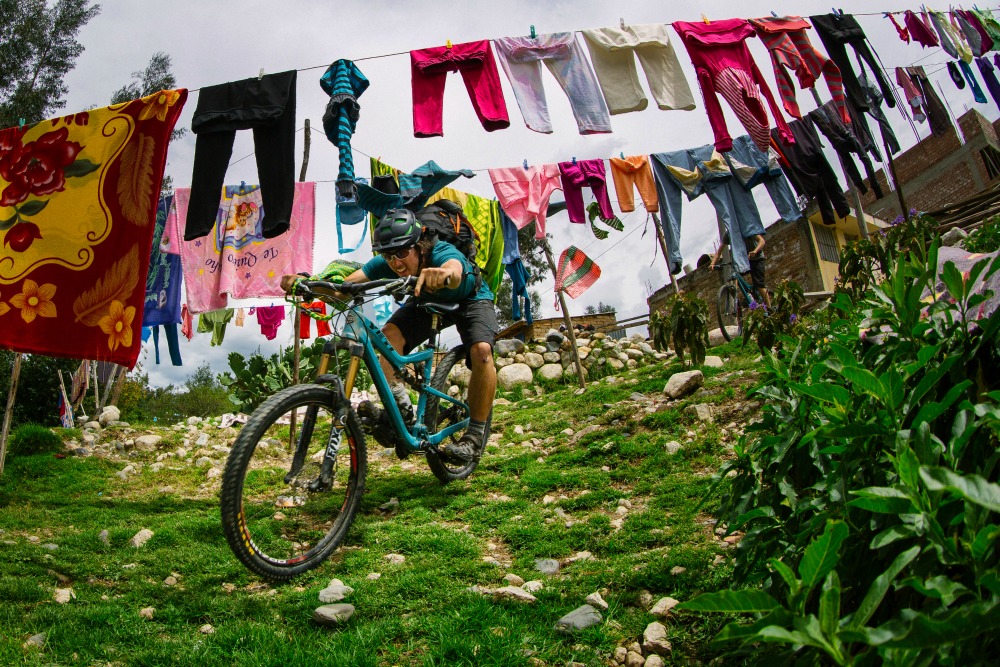 When he's not bombing down an old goat trail in a far-flung corner of the globe with packs strapped to his bike or obsessively editing footage from his latest trip, Joey tries his best to chill at home in Longmont, Colorado, with his girlfriend, Jenna Gann. But "chilling" for Joey is just as likely to include climbing and skiing mountains in his backyard range, the Indian Peaks, as it is relaxing with a beer. And, in recent years, he's also been passing the adventure torch to his young nephews.
In an effort to spend quality time with his older sister's three sons, he developed what he likes to call Joey's Outdoor Leadership School—or, JOLS, for short. Taking the boys—ranging in age from 8 to 15—on adventure outings, he awards them JOLS merit badges for things like camping and skiing. "The last proper JOLS camp was two summers ago in Glacier, Montana," he says, chuckling. "The oldest nephew and I did a 30-mile backpacking trip two days and one night—and he carried the RED camera the whole way."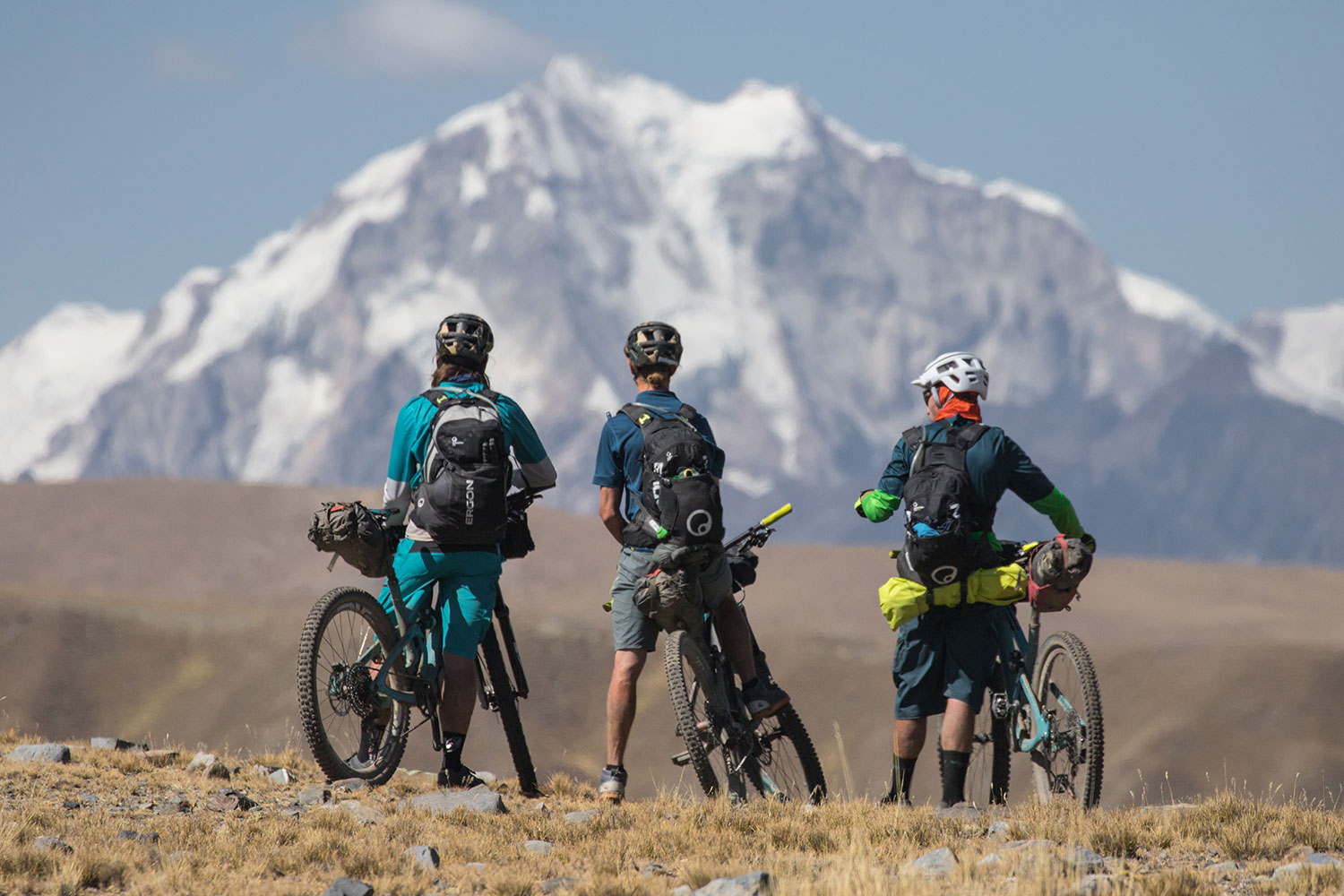 Back at the Crested Butte trailhead, the golden light is fading and Joey is packing his camera gear into his nondescript black Tacoma, when he's recognized by a passing mountain biker. "Hey man, are you Joey Schusler?"
Joey nods and smiles, humbly.
"Man, I love your work! It's so awesome!"
"Thanks!" Joey responds. And a few minutes later, cruising down the dirt road, he's devouring a Snickers bar because he was so obsessed with filming all afternoon he didn't notice he missed dinner. But he doesn't miss the aspens going by in the twilight. "OOOh! OOOh!"
To learn more go to: