After a truly epic winter (and early spring) of record snowfall, mountain recreationists can once again look forward to the beauty of exploring familiar and new dirt and rock routes on foot. Although hiking in mountain environments is a wonderfully simple pastime, the quality of at least few pieces of a good quiver of gear is always key. We would put the choice of footwear and the choice of rain/wind shell at the top of the list of importance. This is one of the reasons why we were extremely stoked when none other than outdoor apparel industry stalwarts Saucony and Eddie Bauer sent BigLife some of their latest innovations for us to hit the trails with. Check out our experiences and takeaways.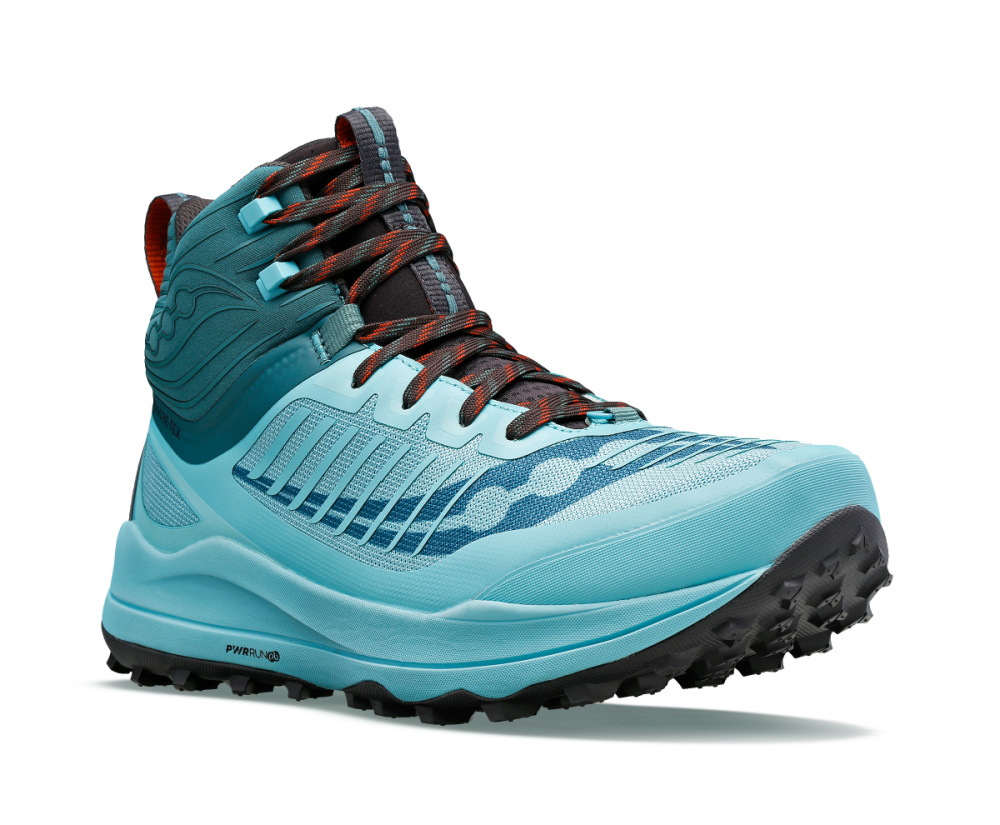 Saucony Men's and Women's Ultra Ridge GTX Hiking Boot
Founded over a century ago in 1898, Saucony is known as both the original American running brand and one of the world's leading running companies. Their trademark triple dot logo is an homage to the company's humble beginnings in Kutztown, Pennsylvania. It's inspired by water flowing around three distinctive boulders, which symbolize the three guiding foundations of the Saucony ethos: good performance, good health, and good community. Their products have long been famous for being some of the comfiest, durable, innovative, and stylish pieces in the game. The folks at Saucony wholeheartedly continue to believe in existing to inspire and serve everybody out there to live their best lives by providing access to best-in-class running shoes, running apparel, and timeless retro footwear. And now, they've taken these approaches to the hiking genre by recently creating their first-ever hiking boot. Enter the Ultra Ridge GTX.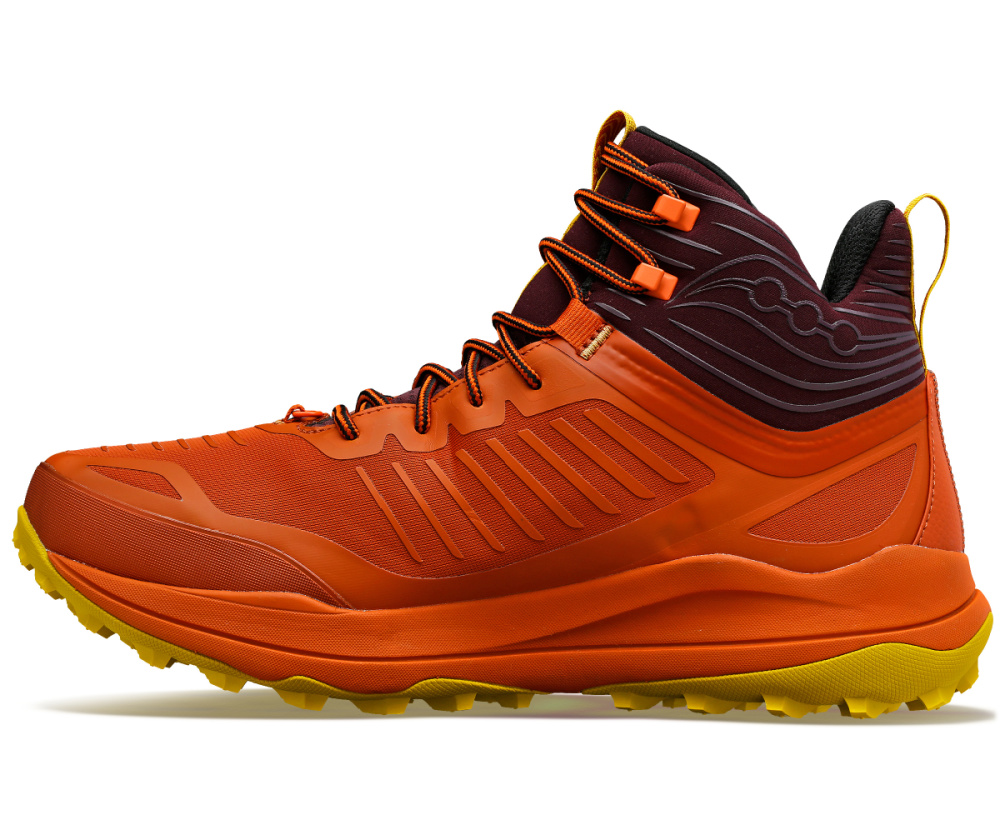 Saucony's approach in designing the Ultra Ridge GTX was to take all the underfoot technology that is on their long-distance trail runner, the Xodus Ultra, and apply it to a lightweight, higher cut, weather-protected option for hikers who are seeking a more modern boot fit, feel, and look. The goal of their design team masterminds was to create a piece of footwear that has not only the protection and durability of a traditional hiking boot, but the cushion, grip, and performance features of a trail running shoe as well. They wanted a true SUV of the trails. And from the tests that we've had the pleasure of doing so far on the lower trails in our neck of the woods, we've found the Ultra Ridge GTX to be exceptionally versatile.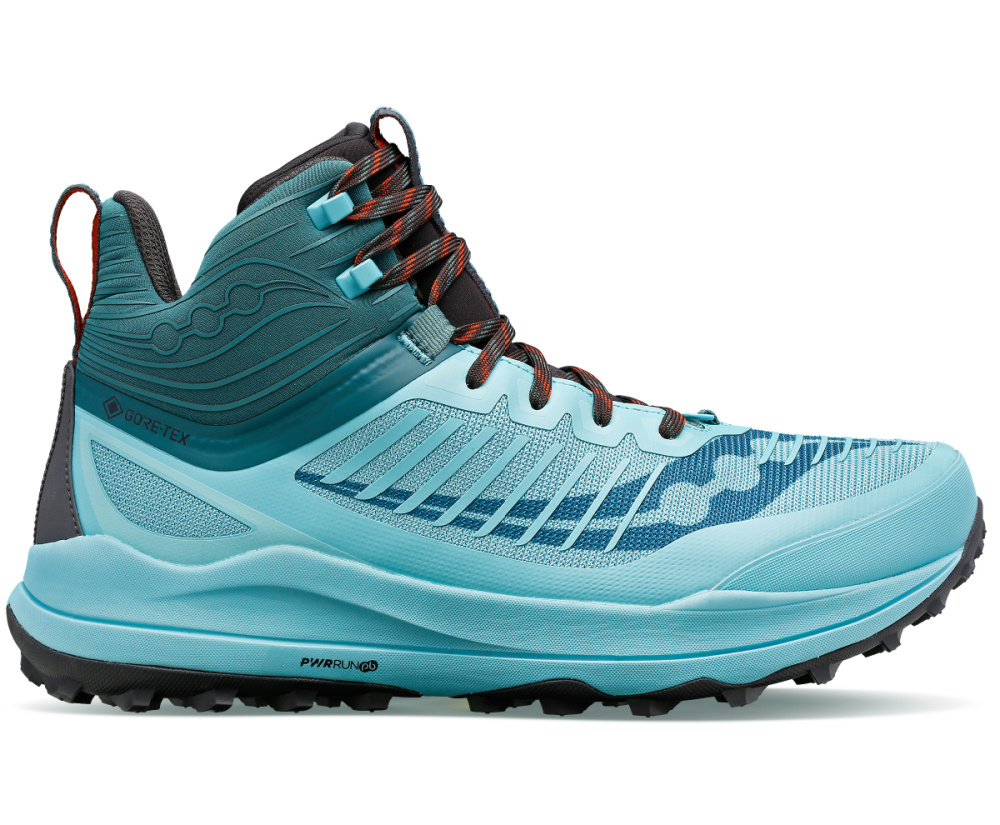 Indeed, one of the first things we noticed on our maiden stroll with some sustained steep uphills is an astonishing lightness for a mid-length hiking boot. With a pair of Men's Ultra Ridges weighing 12.6oz and Women's weighing 11oz, the fleetness of foot is palpable. How is this kind of weight possible on a hiking boot with heavier features such as deep lug soles, cushioning, and Gore-Tex waterproofing? One of Saucony's lead designers explains it like this: "By using the same formula as our Xodus Ultra trail runner, we were able to utilize a combination of our premium PWRRUN PB foam and our responsive PWRRUN foam to create a lightweight and maximum cushioned underfoot feel. Additionally, we were able to use durable and breathable meshes along with Gore-Tex Invisible fit technology to create a protective, yet lighter-weight upper than more traditional hiking boots." These innovations allowed us to comfortably put the Ultra Ridge GTX through the paces of endurance hiking, speed hiking, and even a bit of trail running.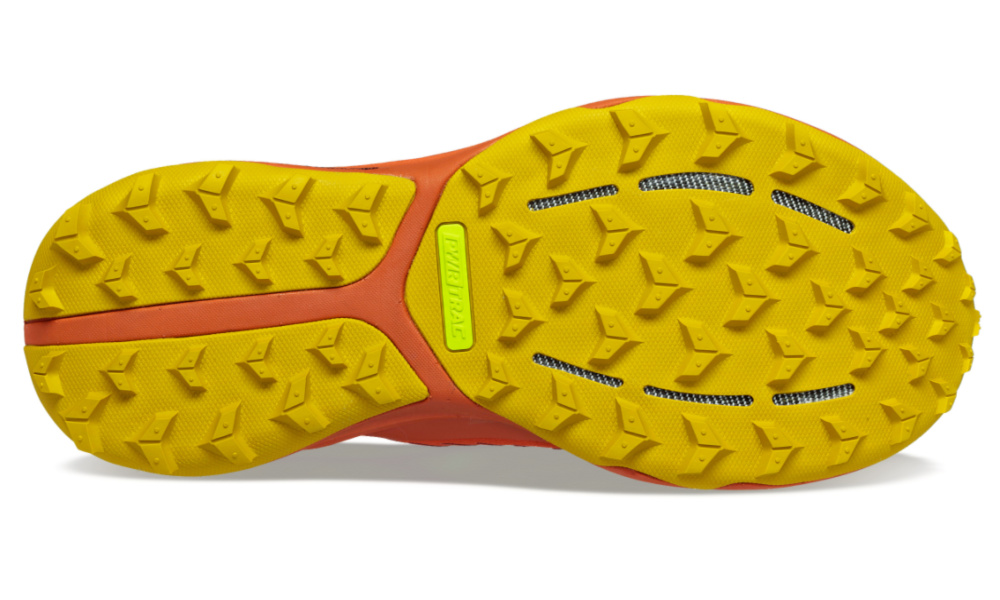 Did we mention cushiness, comfort, and support? Right out of the box, these boots proved to have zero break-in time, none of the daunted heel rub that happens with a lot of hiking boots, and a shockingly comfy feel on the feet. The pillowy bed of cushioning is complimented by a plush mid-cut collar for added comfort and protection. Even after completing several hikes of ten or more miles on mixed dirt, mud, gravel, and rocky terrain, we were pleased to report no hot spots or egregious foot soreness. The outer sole of the Ultra Ridge GTX, with its toothy lugs and grippy PWRTRAC material, also performed very well in general with minimal slippage on the steep and loose stuff. This outsole also features Saucony's trusted rock guard for added protection underfoot. It remains to be seen just how long the tread on this sole will hold up, but after a few months of solid use and abuse there are no major signs of wear.
In conclusion, it's unanimous among us that Saucony has entered the hiking boot game with absolute aplomb.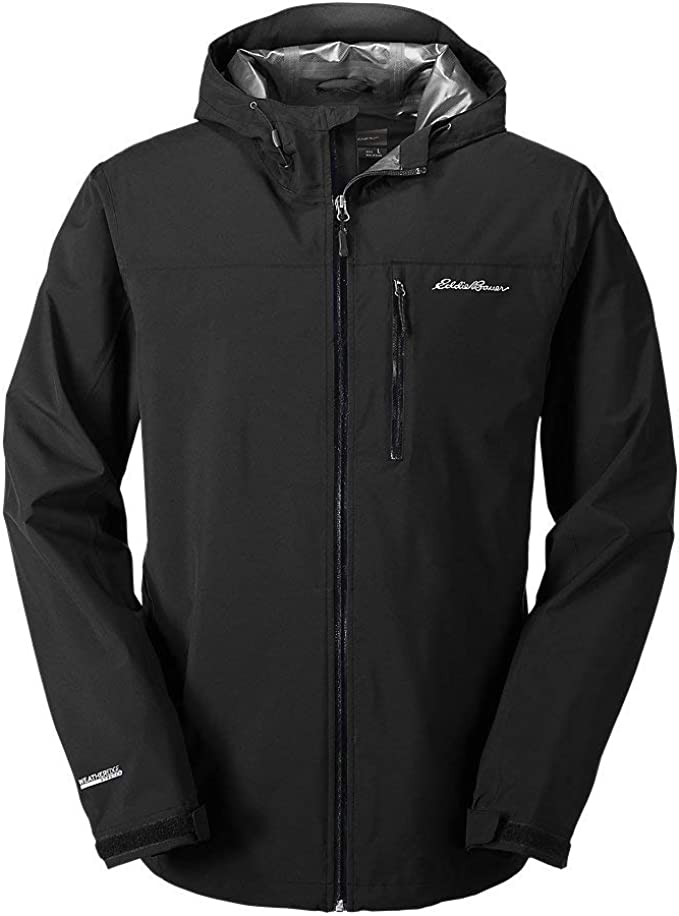 Eddie Bauer Men's and Women's Cloud Cap 3L Rain Jacket
It was way back in 1920 when outdoorsman and guide Eddie Bauer launched his eponymous outdoor recreation brand in a small Seattle store called "Bauer's Sport Shop." He would go on to be one of the leading innovators in the outdoor industry by doing things such as inventing America's first patented down jacket, designing the first down flight suit for the U.S. Army in WW2, outfitting the first American ascent of Mt. Everest, and many more. In more recent years, the Eddie Bauer brand has launched their award-winning First Ascent line of expedition-class technical gear and invented the EverTherm Down Jacket with revolutionary Thindown technology, among others. Simply put, they always make high-performance, technical, and stylish stuff that gets people outside.
One example of this is the Eddie Bauer Cloud Cap 3L Rain Jacket. Introduced just a few months ago, the Cloud Cap 3L is a new high-tech, three-layer waterproof and breathable shell that has quickly been proven to provide best-in-class waterproof protection. Being equally waterproof and breathable always seems to be the Holy Grail of mountain apparel pieces and can undoubtedly be impossible to get 100% right. We put this jacket to the test with some intense climbs in not-so-chilly temps just to see how breathable it really is. What we quickly learned was that breathability is somewhat minimal when all zipped up (go figure), but when the wearer opens up the sizeable zippered pit vents heat is dumped and the air flows through quite nicely.
Out in the elements, we also had moments of getting precipitated on with everything from corn snow to a cold, solid downpour. This shell definitely shines when it comes to keeping moisture at bay. The designers at Eddie Bauer credit this to the Cloud Cap 3L's combination of the WeatherEdge® Plus 10K/10K waterproof/breathable membrane with fully seam-sealed construction and StormRepel DWR Plus coating. We're not exactly sure what all of those things mean, but we do know that they do exactly as intended.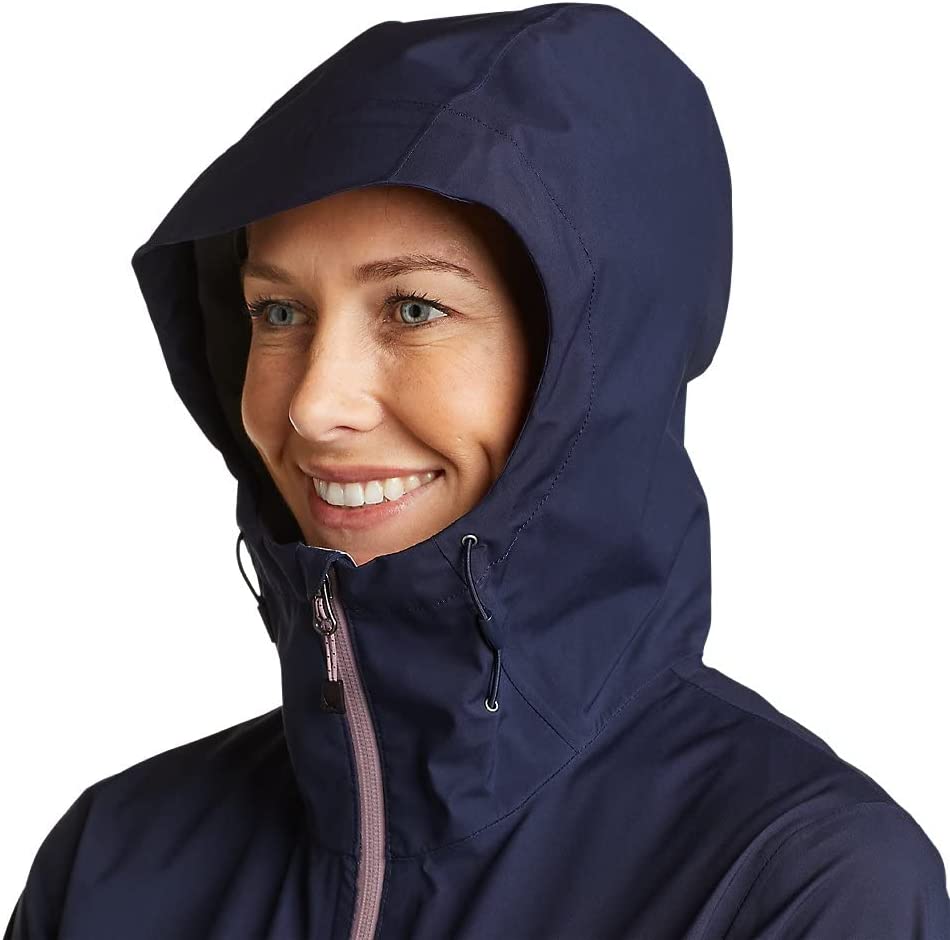 As far as overall and adjustable fitting goes with this jacket, there are many options. First off, the regular men's fit runs a tad boxy and short in vertical length if you're on the tall and slim side. One of our male 6'4", 180 pound testers complained of this. But Eddie Bauer has this problem covered because they smartly offer the Cloud Cap in Tall as well as Regular sizes. Other features that this piece has for dialing in the fit and adjusting for the weather include an on-the-flay adjustable hood and hem. And, storing this shell in the backpack is a breeze because of its 12.8oz weight and ability to easily compress.
To sum it all up, Eddie Bauer has once again created something that is essential for any hiker's trail pack quiver.